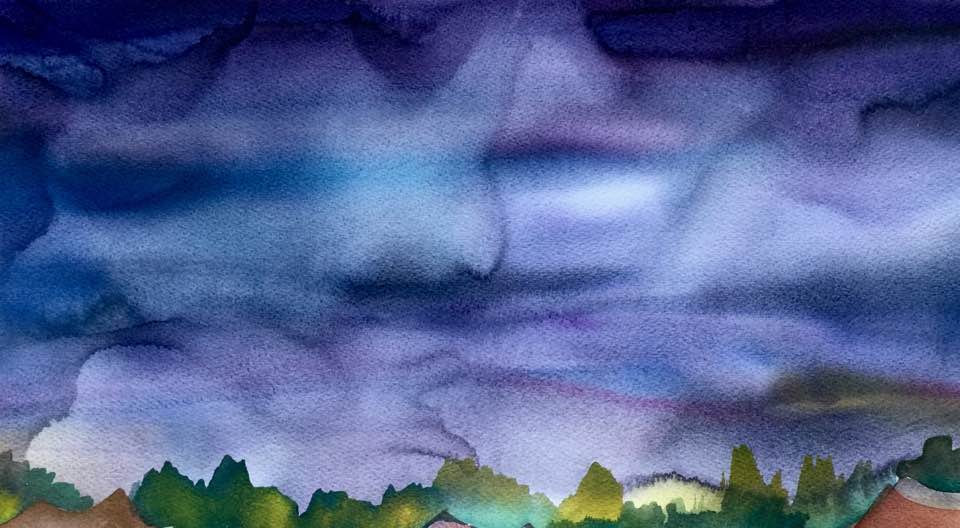 By Marne Kilates
What could be colder than the sky
Pregnant with rain? What depths of blue
Could seize the heart just before it unlocks
The dams of memory? Nothing can hold back
The cold ferment: no stars sparkle behind
The mid-season's swirling ramparts of regret:
The kites of March snapped from their strings,
Irretrievable beyond the horizon, May's
Inundations brought in by the unseasonable
Monsoon. And the dry season, like all childhood,
Suddenly ends. In Paete the Santacruzan
Hurries on to the Todos los Santos, in my hometown
The sweet rice cakes are served, and the men,
To honor the dead, drink over the tombstones.
The gelid clouds swirl on the hemp canvass
Of Baldemor, they scud over the brick walls
Of the Nagcarlan catacombs; at monsoon's end
The yellow train of the Bicol Express crawls
Like a centipede towards a city beyond
The mountain shoulder, and from the vantage
Point of the Church on the Hill, the herons have
Abandoned the paddies on the foothills of Mayon.
Marne Kilates
(24 January 2023)
---
About the Poet:
Marne Kilates is an award-winning poet, freelance writer, editor, and translator. He has published six books of poetry and translated works by leading Filipino poets such as National Artists Rio Alma, Bienvenido Lumbera, and Lazaro Francisco. He has won the Philippines' Palanca Memorial Awards, the National Book Awards, and the SEA Write Award given by the Thai royalty.
If you liked what you just read and want more of Our Brew, subscribe to get notified. Just enter your email below.