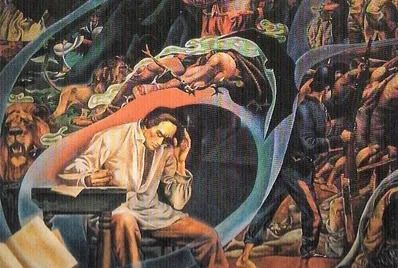 By Marne Kilates
In the corner of an almost lost mural
The painter creates the poet.
In grand gesture and translucent colors,
"Balagtas!" Botong (probably) exclaims
Under his breath, himself quite surprised
As the poet takes shape, as he
Savors or limns fugitive racial memory
In the tongue, slipping past 𝘤𝘶𝘢𝘳𝘵𝘦𝘭
And 𝘨𝘶𝘢𝘳𝘥𝘪𝘢 𝘤𝘪𝘷𝘪𝘭, as he draws an arc
Like God, towards Malakas and Maganda,
At the flick and daub of 𝘱𝘪𝘯𝘴𝘦𝘭
Of squirrel or camel hair, squeezing
Figment from pigment, conjuring
Sinew and tissue from segment of bamboo.
His arms are his arms, his colors are his
Verses. He gives him the face of Lapu-Lapu
(Another rib from his side, another shade
From his palette): muscular, strong-chinned,
Tight-jawed. How we want our race to look
And how we've forgotten it. He gives him
His anguish and his tenderness.
The poet creases his brow, touches his
Temple and grips his 𝘱𝘭𝘶𝘮𝘢 as he writes
The 𝘍𝘭𝘰𝘳𝘢𝘯𝘵𝘦 𝘢𝘵 𝘓𝘢𝘶𝘳𝘢, allotting his breath
In twelve syllables, carefully marking caesura:
𝘚𝘢 𝘭𝘰𝘰𝘣 𝘢𝘵 𝘭𝘢𝘣𝘢𝘴 𝘯𝘨 𝘣𝘢𝘺𝘢𝘯 𝘬𝘰𝘯𝘨 𝘴𝘢𝘸𝘪,
As the ghosts of Albania swirl around him,
​Strewing strophes and antistrophes,
Stanzas and alexandrines, weaving
Romance and revolution in trope,
𝘛𝘢𝘺𝘶𝘵𝘢𝘺 and code—the code of freedom
And humanity that will poison the minds
Of Hermano Pule and Gomburza,
Paciano, Marcelo, Graciano, Juan, Jose,
Andres, Emilio, Antonio, Macario,
Until all of them are rewritten into
Scoundrel, recalcitrant, 𝘤𝘪𝘮𝘢𝘳𝘳𝘰𝘯, 𝘣𝘢𝘯𝘥𝘪𝘥𝘰,
Under the new code of Manifest Destiny.
The painter tries to retrieve the code
From the petroglyphs of San Mateo,
But instead he is enchanted by shades and
Hues—Thus his murals are epic, his epics
Murals. But now because of our ignorance
And neglect, they rot at City Hall or are stained
With beer in some bar for journalists.
Or finally restored with tender hands and
Enshrined at the Museum of the Filipino.
Entranced guest, code-addict, the poet is smitten
All over again by the Code, and in drunken
Haze re-creates the painter in his words.
𝗠𝗮𝗿𝗻𝗲 𝗞𝗶𝗹𝗮𝘁𝗲𝘀
(24 May 2009; 16n April 2011; Rev. 16 February 2018)
NOTE: National Artist Carlos Botong Francisco's painting used to languish at one time or another at the Manila City Hall or the bar-restaurant of the National Press Club. The closing parts of the poem recall its eventual relocation and restoration.
If you liked what you just read and want more of Our Brew, subscribe to get notified. Just enter your email below.