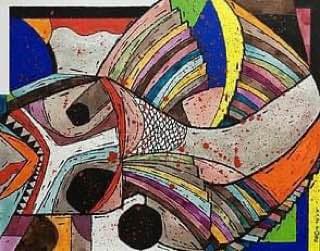 By Marne Kilates
Salt is what separates us from poverty or death,
If death be bland and poverty the absence of taste.
Sweetness cloys and often its excess is waste,
And sour, too, the words that come with spoiled breath.
And thus they brought us riches, these royal fish—
Ábo and Nyúlok, saviors of our famished faith:
One had fine scales, white and light-pierced as a wraith,
The other as dark as the tin under the enamel of dish.
Both reigned to prolong life as well as life on shelf,
By munificent and abundant salt they were regent
Queen and king: though with nature's ready solvent
You had to wash the sea's sting by pain or pelf,
To swell the taste of steaming rice and vegetable
Soup, make poverty's humble feast more palatable.
February 10, 2015; Rev. 24 September 2021
(From "Sonnets from the Tongue" cycle)
Art: Fish by Red Mansueto
If you liked what you just read and want more of Our Brew, subscribe to get notified. Just enter your email below.