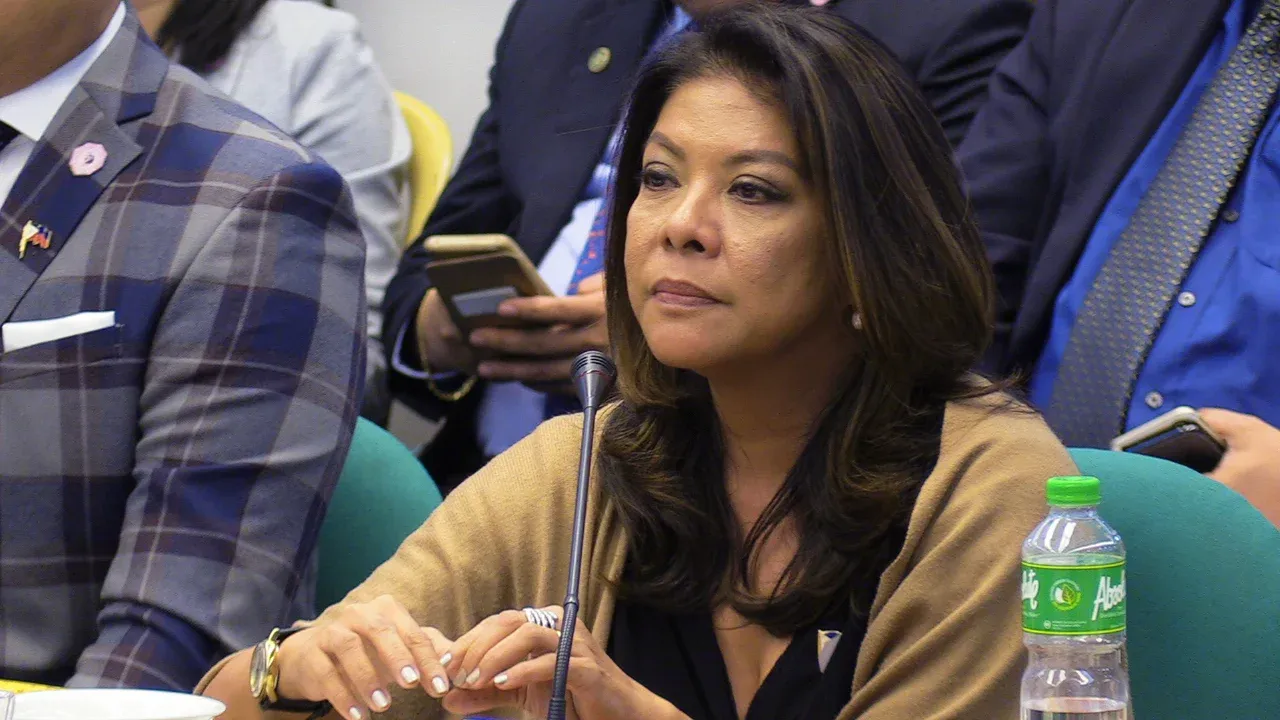 By Katrina Stuart Santiago
Every day, I spend a good hour on a Tiktok algorithm that I've nurtured since last year, when the election campaign began and I realized that the Marcos campaign was releasing videos and photographs from the old man Marcos years (Papa FEM to this Tiktok algo), which I thought then was, and think now is, important.
But also, it is on Tiktok that I catch what government is doing, every day: what the First Lady is doing, what Bongget (that's President Marcos V2 to the rest of us) is busy with, which government officials delivered the best soundbite. It's also here that one realizes how much the algorithm lives off the press briefings of Press Secretary Trixie Angeles, who is celebrated and touted as one of the better voices from the new administration. Often, this algorithm fascinates me in its complete and utter removal from the echo chambers my algorithms on Facebook, Twitter, and Instagram keep. It still confounds me, sure, but only in the way that the unfamiliar always does.
But then on certain days, even I have to say that the Tiktok algorithm makes more sense. That's what happens when you listen to Lorraine Badoy, speaking on her new show on Quiboloy-run SMNI, where for two hours every day, she is free to spout anti-activist and anti-Left rhetoric like it's nobody's business—which is to say to absurd proportions, which is to say to attack anyone at all, really, and tag anyone as "red."
In the August 8 show, Badoy and her co-hosts, through a report from "Kalinaw News," call out the Komisyon ng Wikang Filipino (KWF) and its Chairperson Arthur Casanova for publishing five books that they claim are "materials used by the CPP-NPA-NDF" in "radicalizing and recruitment."
Badoy then reads a message from her phone: "The Board of Commissioners of the KWF does not condone this publications — these subversive publications — wherein Arthur Casanova unilaterally contracted red authors. The Board has already warned him about this, but he set aside this matter, hence the Board intends to issue a board resolution against its Chairman for contracting authors who are known activists and proliferating these materials which are not part of their mandate. They are only authorized to publish materials involving linguistics, research, and language preservation."
In the course of the conversation, Badoy piles it on: "Lumalabas dito very subversive 'yung documents 'no, merong talagang encouragement to take up arms against the government." And yet once they actually start talking about the five books on their list, they fall back on highlighted lines of text, which are such a tiny fraction of the books themselves, it's like insisting that anyone who wears red is a communist, or anyone who wears black is a terrorist.
EDSA was the best thing that happened after fifteen years of Martial Law. Then a rain of misfortune: Endless coups. The strongest earthquake, floods. I wonder what's coming next? — Malou Jacob's "Teatro Politkal Dos."
Marcos:
A, ganoon ha.
Heto ang sa inyo.

Sa screen ang footage at stills ng:

– Declaration ng Martial Law
– newsclips ng naarestong personalidad (Ninoy, aktibista, atbp)
– gutom, dahas, kahirapan
– mga dyaryong may blangkong space bilang tanda ng sensura

– Reuel Aguila, "Labas, Mga Palabas sa Labas ng Sentro"
<…> at walang iba 'yon kundi rebolusyon.

<…> May umaakyat ng bundok upang humawak ng sandata.

— Rommel Rodriguez, Kalatas
Bahala na, kahit saan! Pero gusto ko sana sa Mindanao ako ma-assign. Balita ko, sumusulong nang mabilis ang sandatahang pakikibaka roon?

Kung gayo'y hindi ka kailanganin doon? Ako, e gusto ko sa urban underground pa rin. Diyan ako bagay e.

— Don Pagusara, "May Hadlang ang Umaga"
Nasadlak ang bayan sa "bilangguang" bunsod ng pasista at awtokratikong pamamahala ni Marcos.

<…> "The New Society of the Marcos dictatorship was a cultural construction fashioned out of colonial education, feudal economy, anti-communist nationalism and fascist ideology."

— Dexter Cayanes, "Tawid Diwa sa Pananagisag ni Bienvenido Lumbera"
But Badoy and her co-hosts claim that these lines and words already prove that these works are "subversive" and seek to radicalize its readers because it speaks of what they claim to be the "narrative of the CPP-NPA-NDF."
Of course they do not talk about this "narrative" they have claimed to see in these texts—after all, they were but looking at lines—but apparently those lines are enough, because as they say:
"Terminology pa lang CPP na CPP."
"Mga linya po 'yan sa CPP-NPA-NDF."
"Yung rebolusion, napakalinaw."
"May umaakyat ng bundok."
At some point Badoy claims that "Even the National Library has declared this as political"—a claim which, if true, would demand of the National Library to show us a book that is devoid of politics.
One of Badoy's co-hosts insists that the books promote armed struggle: "Ang KWF, malinaw ang mga teminolohiya, ang mga nilalaman, batay sa prinisent ng ating source at sa research ng Kalinaw News, at ng ating mga kasamahan, malinaw na ang nilalaman ng mga libro ay nagpo-promote ng armadong pakikibaka, nagpo-promote ng layunin na magdabok o magpaalab ng damdamin ng mamamayan upang lumaban sa gobyerno."
If this makes you shake your head in its absurdity, that's because it should. Yes, we take red-tagging seriously, and yes, for many activists being red-tagged online by people like Badoy has meant being red-tagged offline by the military, and being killed in real life.
But what is in Badoy etal on this new Quiboloy-funded show is a kind of desperation that wasn't there before. Because this time around, she is not a government official. And you can hear the desperation in this triumvirate to get some mileage with the new leadership. In fact, the three take great effort to speak about how they are "pro-government" and that they support the new President. But there is also a clear tendency to call out the President and, for some reason, his Executive Secretary Vic Rodriguez, whose name was mentioned over and over again, at some point in a convoluted comparison with Duterte's Medialdea. Ultimately though, the demand is for the President, or Vic Rodriguez, to take a stand on, or ensure that there are no more "subversive" publications from government agencies.
Badoy says at some point: 'Yun ang pinaka-outrageous dito, right under the very noses of our President and of the Office of the President, are coming out these subversive documents, na very faithful to the narrative of the CPP-NPA-NDF. Ito ang nangyayari."
The following day though, Badoy would be up against official government content. Press secretary Angeles was serendipitously asked a question about whether or not the Marcos government is concerned about disinformation. Angeles responded: "If any illegal acts have been committed, the proper venue for that will be the Courts. That's our only reaction here. The freedom of speech is prevailing in the country, it's guaranteed by the Constitution."
As far as one can tell, Badoy's wings are clipped, and her brand of anti-activist and anti-dissent rhetoric have no place in the new leadership. The challenge for Malacañang now is to completely draw a line—a pretty thick one—between itself and people like Badoy, lest it is presumed that the words she spews are that of the government's, and lest her and SMNI's stand on freedom of speech and artistic freedom in the country be taken as the Marcoses' stand.
That would hark back to a past that so much of the Marcos propaganda, comms strategy, and films like "Maid in Malacañang" have tried hardest to make us re-imagine.
If you liked what you just read and want more of Our Brew, subscribe to get notified. Just enter your email below.