by Desiree Carlos
Across the street, from the side of the newly-renovated church in a posh subdivision, you will immediately notice the ruins of what used to be a two-storey elegant house in the middle of a 240-square-meter lot. What a waste as I can imagine a beautiful garden with blue forget-me-nots and yellow roses dotting the garden near the walls, a lush calathea luthea in one corner, a mango tree with Cebu blue plant trailing up, and an avocado tree with a dragon tail plant hugging its trunk. It would be nice to see philodendrons like the reddish royal queen and the variegated burle marxii on big round pots surrounded by sellum plants. I can imagine a garden full of greens and flowers of different colors on all sides of the house. What a calming place that would be.
But no one lives there now, and no one seems to want to buy the house. The house become more dilapidated as the years passed. The windows are broken, the main door is missing, and dead leaves cover the ground. Humans avoid the house. Sensitive persons get goosebumps when they pass by the place. Two male ghost hunters who recently went there to do a vlog came out running scared, with one even crying and shaking.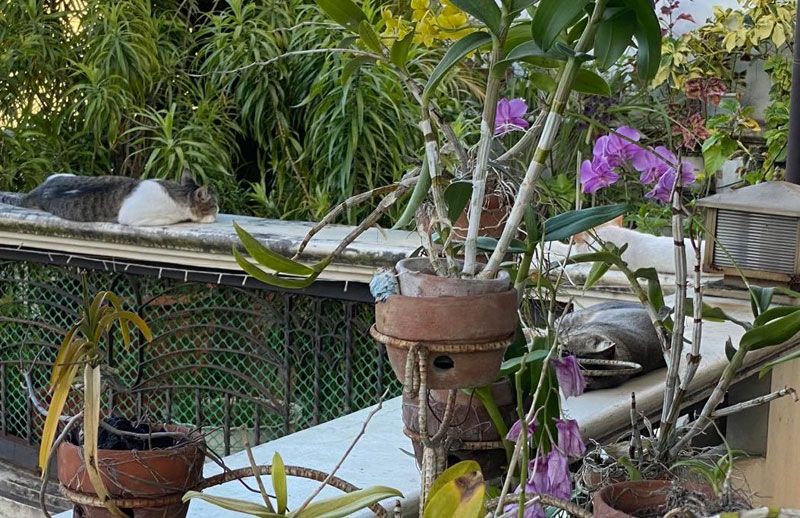 But every now and then, we would see a cat sleeping in the garden area, or coming from the entrance where the gate used to be located.
Cats do not seem to be afraid of beings from the other side, may they be ghosts or elementals. They do see them, psychic friends said. I also have read many times in different psychic books that cats see spirits, dwarves and other beings from what we call The Other Side. I believe my psychic friends because they helped me "convince" disturbed sprits to leave this house where we now live. Where there used to be many disturbances and illnesses in this house 12 years ago, now it is a place we feel so at home and relaxed. Wala ng nanggugulo na mga espirito. (There are no more spirits who used to disturb us.)
What is more amazing about cats is that they are not afraid of spirits and elementals. But while cats see dwarves, my psychic friends told me that black and red dwarves do not like cats. Malikot kasi ang mga pusa, they said.
Black dwarves are said to be the monks of the dwarf kingdom. They like dark, quiet places and thus, they hate noise and movements. They just want to be alone.
Red dwarves, meanwhile, are said to be the warriors of the dwarf kingdom and love to drink. Yes, they love liquor. They are often drunk, thus they prefer a place with no humans or other living beings, or only a few moving beings in a place. They do not want anyone bumping on them during festive drinking sessions, my psychic friend said.
Cats, on the other hand, keep on moving which red dwarves hate, and keep on stalking small moving beings, running after lizards , cockroaches and rats which go under the bed and other furniture, or places that black dwarves prefer as resting places.
Kung ano ang dapat tahimik na lugar upang makapag-isa ang dwendeng itim, doon sumisiksik ang mga butiki, ipis at daga na mga target ng mga pusa, a psychic friend said. (What should be a quiet place where black dwarves prefer to stay and rest are places where cats find lizards, cockroaches and mice.)
That is why black dwarves do not like places with cats, many psychic friends said. That makes sense. It is logical. Why would "monk" dwarves want to be disturbed all the time, right?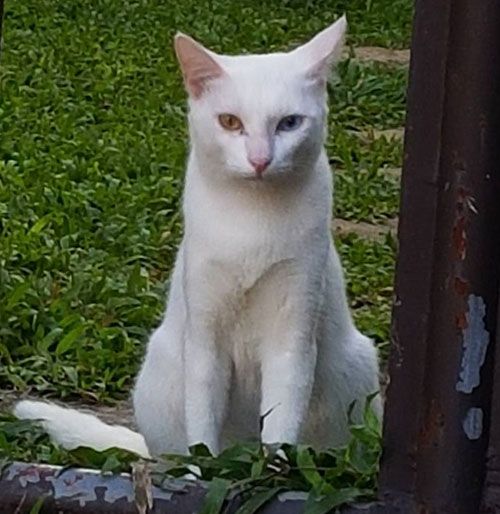 When a friend bought a house which had been abandoned for around eight (8) years, she felt a disturbing presence inside the house. "Tumatayo ang balahibo ko lalo na sa second floor. Doon sa likod, may biglang tumatakbo na maliliit, nakikita ko sa gilid ng mga mata ko," she said. (I have goosebumps specially when I'm in the second floor. At the back of the house, I saw small beings running. I can see them from the side of my eyes.)
She even saw some movements or someone watching her from the side of her eye. She knew then there was one old man from the era of barongs (national shirt of Filipino men made of handwoven cloth) and caritela (horse-drawn carriages). She would always catch a glimpse of the man from the side of her left eye in particular.
She also felt and saw several elementals, mostly 'masungit' (snobbish) black dwarves, and playful, always drunk red dwarves, again from the side of her left eye.
So she borrowed our cats. Palalaruin lang daw niya sa loob ng bahay at sa bakuran. (She would just let them play inside the house and the yard.)
But then you can not leave the cats in the garden all by themselves as they can not come back if they decide to go out of the gate because the place is still not familiar to them.
So we let the cats roam inside the house but with the screen windows and doors safely locked. A week after, the cats were allowed to roam in the garden and clothes of the caretaker was placed in strategic areas like the gate so that any cat who would stray beyond the gate can still come back. They just have to smell their way back home.
Did the cats' presence help? Yes! They no longer heard cries of babies which we surmise were imitations from the dwarves. The loud banging of doors from the second floor suddenly stopped. And the scratching and other sounds upstairs also stopped.
Something amazing also happened: batik syngonium plants just grew at the back of the house (no one planted them), and the baby angel plants at the side and in front of the house suddenly had flowers.
The reason for this, psychic friends told me, is that when the gloomy energies of black dwarves and the mischievous energies of red dwarves were removed because the said dwarves left the place, dahil nainis na sa mga cats (because they got irritated by the cats' presence), another kind of energy took over. The positive energy replaced the negative energy, and nurtured the earth to heal and grow new plants, and made plants healthy enough to produce flowers.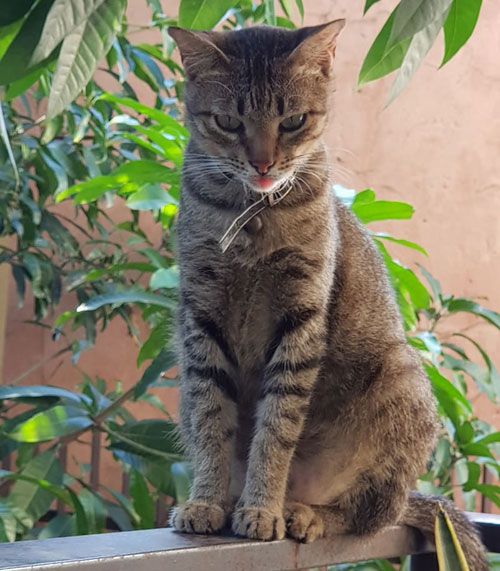 My friend was so happy her new house became more positive that she adopted the cats.
As for the old man in barong, well, he can stay, my friend said. She can co-exist with the old man as long as he will not hurt anyone in the house. But she wishes he would stop going up the stairs at three in the morning so that he will not disturb their sleep. Or if he really needs to go upstairs, that he would walk quietly.
About the author: Desiree Carlos was a writer of Frontline magazine, and a correspondent of the Daily Express and Veritas. She was also a reporter and later sub-editor of Ang Pahayagang Malaya, news editor of Manila Standard, and assistant managing director of DZRH. She was a lecturer at the College of Mass Communications in the University of the Philippines in Diliman, and head of the journalism department of Kalayaan College. She is now an animal welfare advocate, founder and president of Save ALL-Save Animals of Love and Light, a SEC-registered non-government organization.
This article also appears in the Manila Standard
---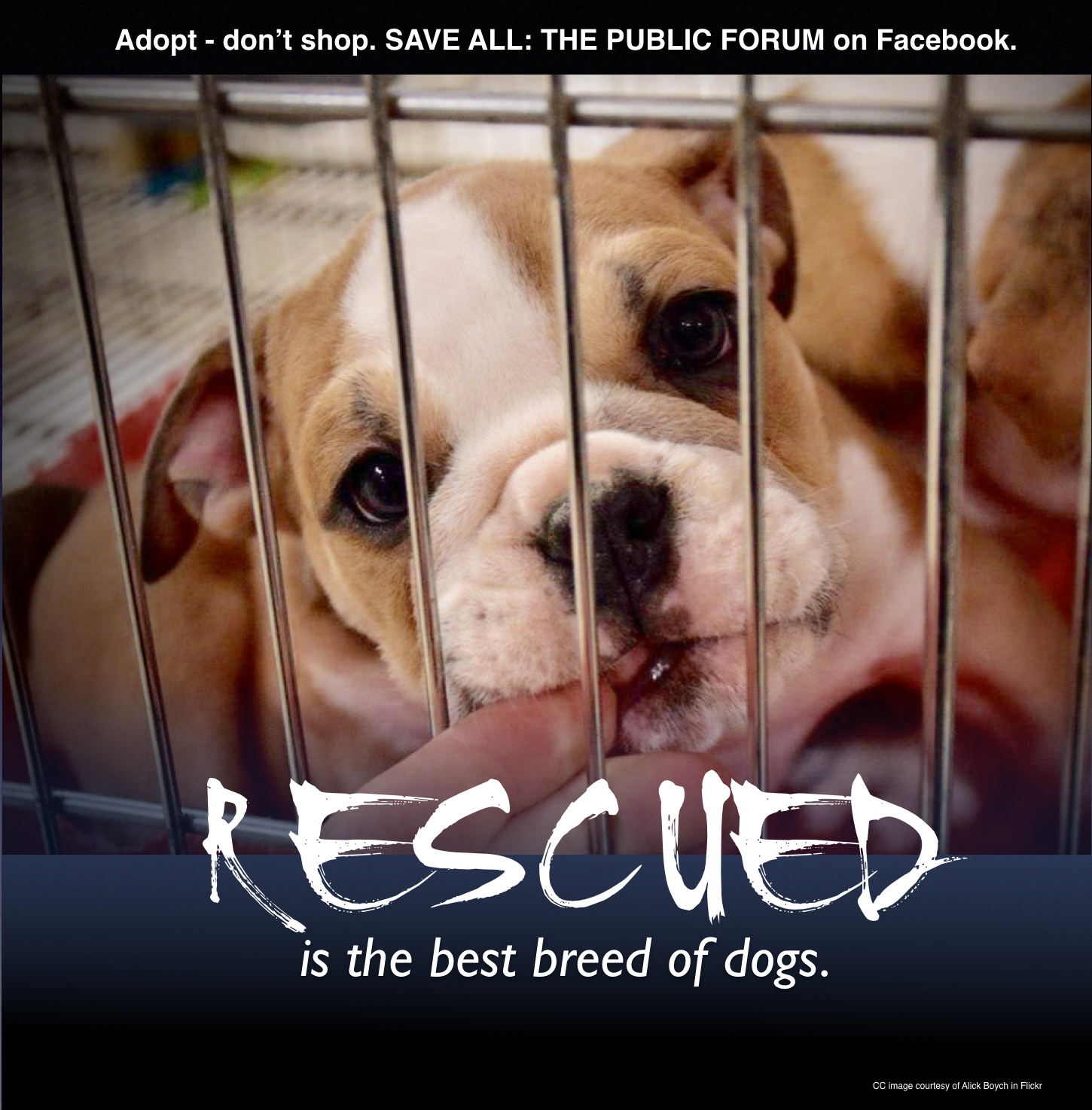 If you liked what you just read and want more of Our Brew, subscribe to get notified. Just enter your email below.