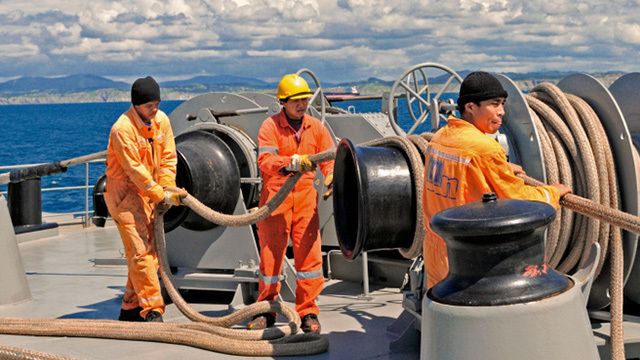 EC decides to continue recognizing Filipino seafarers' certificates
Migrant Workers Secretary Susan Ople hailed the decision of the European Commission (EC) to continue recognizing certificates of Filipino seafarers, a decision that ended months of speculation over the fate of some 50,000 seafarers aboard European vessels.
"With this decision, a crisis of monumental proportions has just been averted," Ople said from Geneva, where she is currently attending a United Nations (UN) conference.
Ople expressed the Department of Migrant Workers' "most sincere gratitude" to the EC for its decision.
"We look forward to the start of technical cooperation between the Philippines and EC in professionalizing and further improving the skills of Filipino seafarers," she said.
In a statement issued March 31, the European Union's Commissioner for Transport Adina Vălean said they appreciated the "constructive cooperation" of Philippine authorities.
He also acknowledged efforts by national government agencies to improve the system for training and certifying seafarers.
"The Philippines provide a significant and valued part of the European and global shipping industry's maritime workforce – indeed, with roughly 50 000 Filipino masters and officers currently working on EU-flagged ships," she said.
"The Philippines can count on our technical support to further improve the implementation and oversight of minimum education, training, and certification requirements, as well as living and working conditions.," she added.
In December 2021, following a detailed assessment of the training and certification system for Filipino seafarers, the Commission informed the Philippines that it would withdrawn recognition of seafarer certificates unless serious measures were taken by authorities to comply with international maritime safety standards.
These standards are set by the International Convention on Standards of Training, Certification and Watchkeeping for Seafarers (STCW).
Ople said the Commission's decision is a "testimony to the leadership and political will" of President Ferdinand Marcos, Jr.
According to Ople, the President met with European shipowners in Brussels in December last year, which led to the creation of the International Advisory Committee on Global Maritime Affairs (IACGMA).
The advisory body  now offers technical advice to the Department of Migrant Workers on seafarers' concerns.
Ople added that the President also met with EU President Ursula von der Leyen in the margins of the EU-ASEAN Summit to discuss technical cooperation to improve the education, training and certification system for Filipino seafarers. The President also issued several directives to the DMW, the DoTr, MARINA and CHED on STCW compliance.
"The President has been consistent and relentless in taking up the cudgels for our Filipino seafarers," the DMW Secretary said.
If you liked what you just read and want more of Our Brew, subscribe to get notified. Just enter your email below.