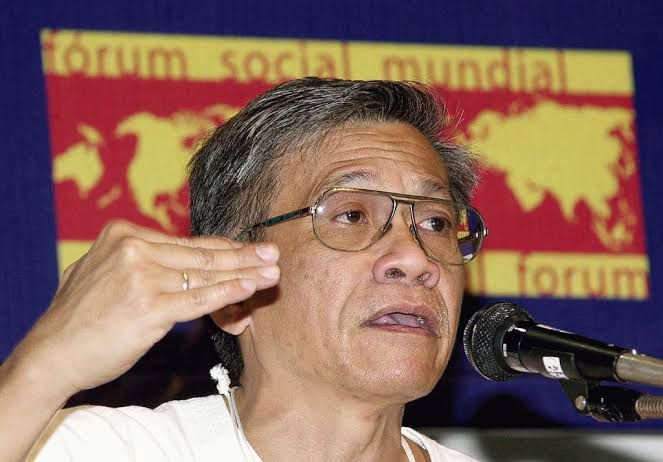 QUEZON CITY, Philippines — Walden Bello, arrested Monday on charges of cyber-libel, is an environmental and social justice advocate who is known for his vocal critique of powerful political figures. Bello was the board chair of Greenpeace Southeast Asia in the early 2000s.
Reacting to this, Greenpeace Southeast Asia Executive Director Yeb Saño said:

"Walden Bello's arrest sends an ominous signal that the oppressive crackdown on political dissent will remain the norm during this administration. Greenpeace is calling for the charges against him to be dropped, and for the government to stop the harassment of rights and justice advocates.
"Bello is a staunch human rights and environmental advocate[1]. During the 2022 electoral campaign where he ran for vice president, he advocated clear action plans on wealth, social and climate justice, calling for the protection of people and their rights over profit and political interests. The Marcos administration itself has claimed that climate action is on their agenda, and yet under this government's watch, people who defend the environment and their fellow citizens who are most vulnerable to climate change are being harassed and silenced.
"Activism, advocating for citizen participation in governance, and standing up for solutions to people's struggles are essential to a healthy democracy. Greenpeace believes that climate and environmental justice will not be attained if the government continues to repress Filipinos who are speaking truth to power.
"We call for an end to the political harassment of advocates like Walden Bello. The government must do its duty to protect people's right to dissent, focus their attention on companies, entities and individuals whose activities put profit and greed over the well-being of people and planet, and make good on their promise of climate action with concrete and just solutions to the worsening impacts of the climate crisis."
---
Note to Editors:
[1] Walden Bello received the Right Livelihood Award (also known as the Alternative Nobel Prize) in Stockholm in 2003 for his work showing the negative impact of corporate-driven globalization.
He is the author or co-author of 25 books tackling environmental and social justice issues, such as Food Wars (London: Verso, 2009), Dragons in Distress: Asia's Miracle Economies in Crisis (London: Penguin, 1990), and Development Debacle: The World Bank in the Philippines (San Francisco: Institute for Food and Development Policy, 1982).
Media Contact:
Karl Santos, Communications Campaigner
Greenpeace Philippines | kisantos@greenpeace.org | +63 9999932058
Source: Greenpeace Philippines (http://www.greenpeace.org/philippines). You can read the original article here.

If you liked what you just read and want more of Our Brew, subscribe to get notified. Just enter your email below.