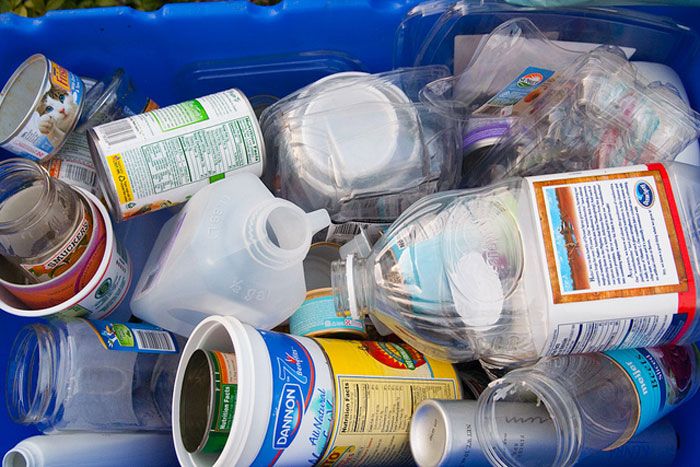 by Ingo Geiger
England bans single-use plastic products. From October, plastic tableware, Styrofoam cups and certain food packaging may no longer be sold or used. This excludes packaging for ready meals. The ban applies to retail and food retailers, as well as snack bars and restaurants. Environmental organizations criticize this as insufficient.
It is estimated that 2.7 billion disposable knives, forks, cups, and plates are used in England every year. Most of them are made of plastic. If they were strung together, they would go around the world more than 8 times. The big problem: Just 10 percent of them are recycled. Thérèse Coffey, Secretary of State for Environment, has now announced a ban on single-use plastic products. It will apply from October.
Ban on plastic plates, cups, cutlery and certain packaging
From October 2023, single-use plastic plates, cups, cutlery, bowls and trays will be banned. The same applies to polystyrene cups (e.g., from vending machines) and certain food packaging. Packaging for ready meals is exempt. In the future, these products may then neither be sold nor used in retail outlets, snack bars or restaurants.
Greenpeace criticizes the exemptions and calls the ban insufficient. The organization A Plastik Planet is also calling for further measures. Above all, they want a ban on the small plastic bags for mini-portions such as ketchup, soy sauce or cosmetic products.
Check out A Plastic Planet's co-founder, @siansutherland, speaking on Sky News this morning on the announcement of England's new plastic bans.

Sian says, "Finally, the government is enacting this ban but imagine if we went further and changed the system not just the material." pic.twitter.com/9JTrr18mKP

— A Plastic Planet (@aplastic_planet) January 14, 2023
Single-use plastic products: EU bans production—manufacturers must pay for cleaning
The European Union already enacted a similar ban in 2019. It bans the production of single-use plastic products such as plastic straws, cotton swabs and balloon sticks. Fast-food packaging made of Styrofoam is also banned.
According to the directive on avoiding single-use plastic products, all plastic bottles must also be made of at least 30 percent recycled material from 2023. In addition, disposable products that are particularly harmful to the environment (cigarette filters, balloons, and hygiene products with plastic content) must be labeled.
The ban puts the onus on producers, as manufacturers of plastic products such as cigarette filters, fishing nets and plastic bags must now contribute to the costs of environmental cleaning.
The directive aims to combat pollution of the environment and, above all, pollution of the ocean.
Every minute, a truckload of plastic enters the sea
Products made of plastic are extremely long-lasting, degrade very slowly and mostly incompletely. They often end up as microplastics in the oceans. If there is no change in the way we handle single-use plastic products, there will be more than 12 billion tons of plastic in the environment by 2050, according to the UN.
Environmental organizations like Green Peace estimate that a truckload of plastic ends up in the ocean every minute. Much of this is single-use plastic products. If this continues, there will be more plastic than fish in the sea by 2030.
First published in Scoop.me. You can read the original article here
If you liked what you just read and want more of Our Brew, subscribe to get notified. Just enter your email below.