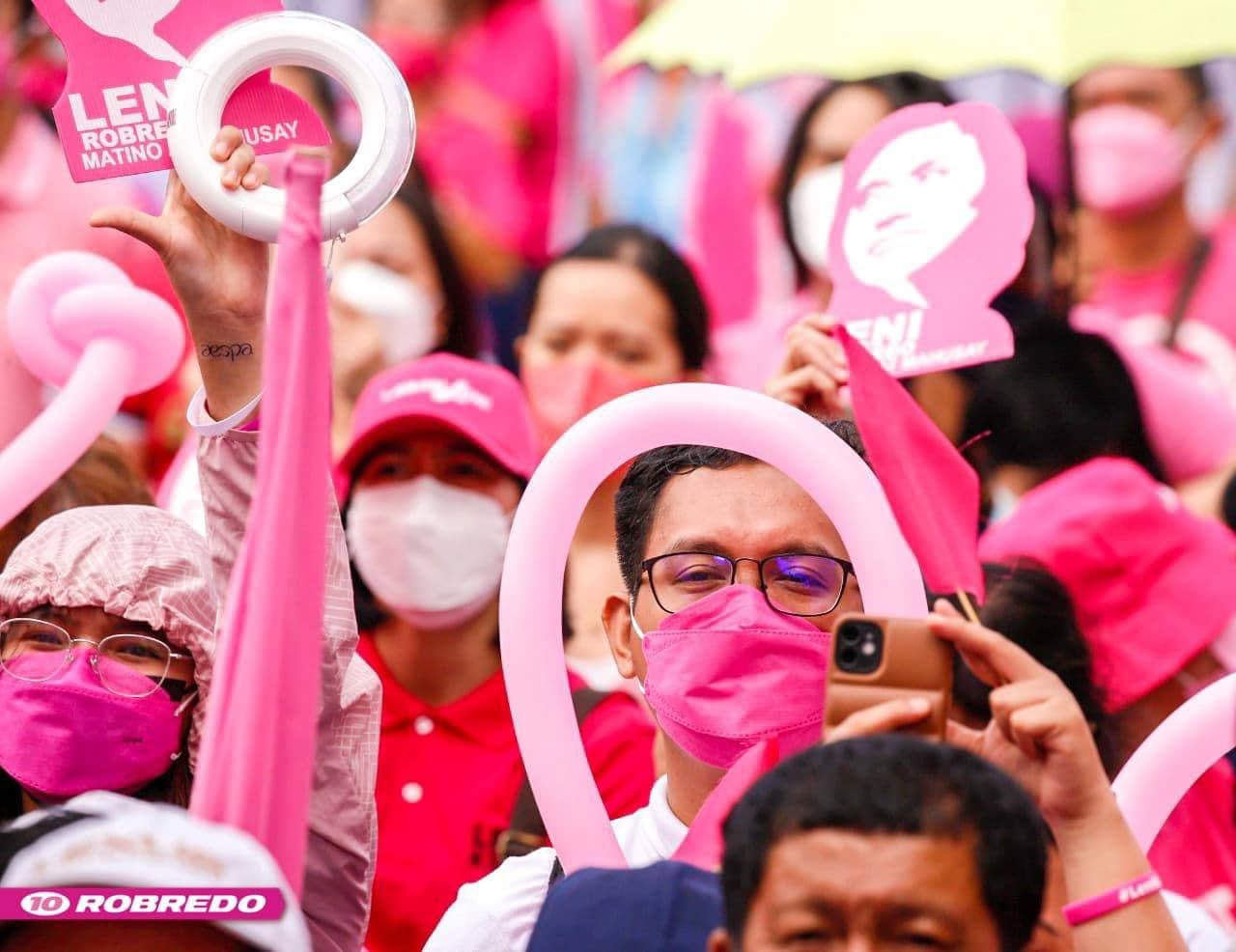 Leni Robredo will rescue us from the sinister remnants and phantoms of the past, save us from the inequities and indignities of the present, and assure Filipinos of a rosy and fulfilling future
By Rep. Edcel C. Lagman
(Last of 2 parts)
It is almost imponderable how the radars of the electoral survey outfits have missed the incessant outpouring of support for Vice President Leni Robredo's presidential run.
It appears that most of the sampled respondents have already succumbed to the outright lies and deceptive propaganda fabricated by mercenary trolls reportedly on the payroll of the leading presidential candidate.
Inordinate revisionism glorifying the regime of the dictator Ferdinand Marcos Sr. and sanitizing his grievous sins has lulled into amnesia many of those who witnessed and suffered the atrocities and pillage during the darkest years of martial law.
Countless millennials have been deliberately blindfolded to conceal the cruel truth of the oppression and misery inflicted by the dictator Marcos upon their parents, elders, and kin. Enforced ignorance on the odiousness of martial rule is never bliss. It is a malevolent travesty.
But the collective memory and recognition by Filipinos of the travails, treachery and tragedy of martial law cannot be consigned to the abyss of oblivion. Those who attempt to alter and defile history will fail because truth has the enviable capacity to prevail and persist.
For this reason, the candidacy of Leni Robredo is truly providential. And this is why legions are supporting her as the most qualified, capable, and sincere presidential candidate. She will rescue us from the sinister remnants and phantoms of the past, save us from the inequities and indignities of the present, and assure Filipinos of a rosy and fulfilling future.
The marginalized and disadvantaged, to whom Leni has an abiding affinity and enduring concern, are in the forefront of her campaign.
Various labor groups from moderate unions to militant federations like the Kilusang Mayo Uno express their unwavering support for Leni. The Alliance of Labor Leaders for Leni (All4Leni), composed of the Federation of Free Workers, Nagkaisa! Women's Committee, Partido Manggagawa, Sentro ng mga Nagkakaisa at Progresibong Manggagawa, Kapatiran sa Dalawang Gulong, National Union of Bank Employees, and National Congress of Unions in the Sugar Industry, declares that Leni's championing the workers' agenda on Ayuda, Karapatan, Kalusugan, Kasarinlan, Kababaihan, Pampublikong Serbisyo and Pondo or AKAP "solidifies our basis to support her." The potent labor sector endorsing Leni includes Overseas Filipino Workers and transport cooperatives.
Indigenous people's groups also support Leni who has long championed the rights of those on the fringes of society. The Pan-ayanon and Panay Bukidnon IPs and Indigenous Cultural Community say she is a genuine advocate of the rights of indigenous peoples.
Leni Urban Poor, a coalition of at least 15 organizations, asserts that "VP Leni is most qualified … we saw VP Leni's sincerity and her capability to make us feel that we are involved in the progress not just of the poor sector but the entire country."
Alyansa Agricultura underscores that Leni will "give agriculture, as well as the neglected and exploited farmers and fisherfolk, the necessary bright future it has been denied for so long."
The Bangsamoro Supports Leni for Justice and Peace, composed of Muslim civic groups in the Bangsamoro Autonomous Region in Muslim Mindanao, professes that Leni is the "best partner of the leaders of the Bangsamoro region in their campaign for moral governance because she has been consistent in her anti-corruption drive."
Leni's admirable track record as a human rights lawyer and protector makes her a natural ally of human rights defenders (HRDs). Human Rights Vote 2022, a coalition of HRDs, activists, and human rights organizations, proclaims that Leni will "surely provide respect and dignity to the rights of each Filipino".
The LGBTQ+ community allies with Leni who has categorically declared that "Who we are going to love and who we are going to live with is a basic human right."
The youth (First Ko Si Leni coalition, Katipunan ng Nagkakaisang Pilipino, and various regional youth groups), elderly (Seniors for Leni), students (Students for Leni, numerous student councils nationwide), professionals (Teachers for Leni, Lawyers for Leni, Nurses for Leni, Doctors for Leni, Engineers for Leni) and leaders of academe, including former Secretaries of Education, have joined the Leni-Kiko caravan.
Those previously at the helm of government also root for Leni.
Last January, 23 cabinet secretaries and senior officials of President Fidel V. Ramos announced their all-out support for Leni who will "bring out the best of servant leadership in government officials and public servants by being the foremost example of integrity, dedication, professionalism, level-headedness, statesmanship, pursuit of excellence, hard work, and true caring and sharing for our fellow Filipinos."
More than 150 former ranking officials of Presidents Gloria Macapagal-Arroyo and Benigno Aquino 3rd have also endorsed Leni Robredo, 35 of whom are former cabinet secretaries.
Moreover, four former Chiefs of Staff of the Armed Forces of the Philippines and former military officials together with 42 retired career diplomats similarly threw their support for Leni. While military and foreign service officials are traditionally trained to be apolitical during elections, these men and women have eschewed political neutrality because "the Filipino people will make a choice that will shape our future and that of future generations."
Pinunong Pinay Power, a group of elected local women officials nationwide, describes VP Leni as "a true servant-leader" whose "compassionate governance is a departure from traditional patronage politics – hers is a brand of politics that puts people's welfare front and center."
The masters of the arts are painting and the dancing "pink" for Leni. On Valentine's Day, five national artists declared their support for Leni with National Artist Benedicto "BenCab" Cabrera saying: "She's everything our current president is not. She is the only hope for our country." They were joined on March 1 by some of the most celebrated and respected names in Philippine arts and culture. They have together pledged their support for Leni and have declared a himagsikang rosas or pink revolution.
Unfortunately, due to space limitation, more friends of Leni cannot be featured. There are always unsung heroes in any movement.
Survey results are not cast in stone. Many electoral surveys had flopped for failing to accurately assess the people's will. Verily, the final survey is made on election day. The ultimate ballot corrects flawed projections and biased perceptions.
Rep. Lagman's email address is edcel.lagman@house.gov.ph.
This article also appears in the Manila Times
If you liked what you just read and want more of Our Brew, subscribe to get notified. Just enter your email below.