Photo credit: Sara Duterte Wikipedia/ Bong Go Wikipedia/ Rody Duterte Facebook page
---
'Is there a pairing where the President is the running mate of his daughter, Davao City Mayor Sara Duterte? It's been done before'
A few days ago, the Viber group chats of political operatives and PR strategists were passing around and parsing a copy of a slide with the logo of Pulse Asia.
The slide, titled "Voter Preference for Presidential & Vice-Presidential Tandems for 2022: Set A," showed five hypothetical pairings for the national elections in May 2022.
Based on the slide, the tandem of Senator Christopher "Bong" Go for president and incumbent President Rodrigo Duterte for vice president topped the list. Based on the slide, the fieldwork was done from February 10 to 19.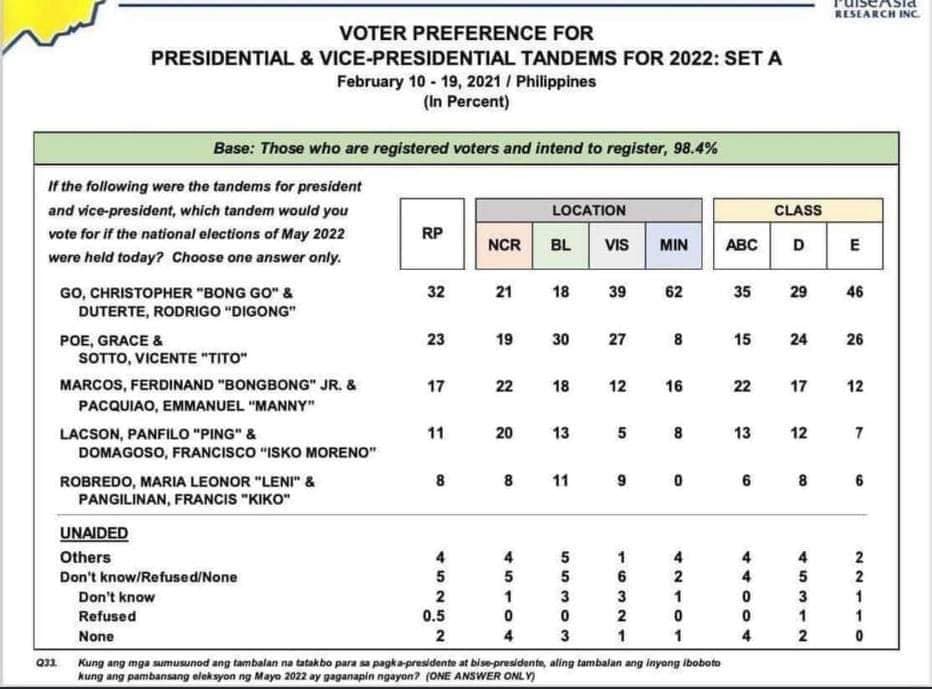 The slide would find its way into the front page of the Daily Tribune, which published the survey results to add meat to its banner story on a supposed clamor from Duterte's party, PDP-Laban, for the president to seek another term as vice president to ensure "continuity."
The story said the group that commissioned the survey "begged off from being identified."
A well-timed leak
The "leak" of the Pulse Asia slide was well-timed. It came after several media outlets reported Duterte addressing Go as "president" in several provincial meetings. Go's supporters have enthusiastically spun it as a tacit endorsement of the senator as the anointed presidential candidate. The Tribune had also previously reported that a Go-Duterte tandem was on the table and being discussed.
Davao Formula?
But the "leak" raised several questions. If the Go-Duterte pairing is labelled in a slide titled Set A, is there a Set B or even Set C?
Is there a pairing where the President is the running mate of his daughter, Davao City Mayor Sara Duterte? It's not a farfetched pairing. In 2010, because of Constitutional term limits, Duterte the father ran and won as vice mayor of Davao City, with Sara as mayor.
Likewise, while the PDP-Laban leaders supposedly urged the president to run for vice president, they did not explicitly endorse a Go-Duterte tandem.
What about Manny?
Senator Manny Pacquiao is the PDP-Laban president, elected in December last year. His  plan to run for president is an open secret, and he has performed credibly in previous surveys.
It would be nothing short of a party insurrection if these PDP-Laban leaders would reject the candidacy of their party president.
Where's the rest?
Surveys ask respondents a set of questions. In an election "horse race" survey, the most important is their choice for president and vice president, not as tandems but as individual candidates. We still elect our two highest leaders separately. And as one observer noted, Filipinos are notorious for splitting votes.
Whoever engineered the "leak" deliberately left out the results for president and vice president. This could mean that their chosen bet did not get the number one spot in the prized presidential race. Sara Duterte had previously secured the top slot.
Pulse Asia's Ulat ng Bayan, a non-commissioned survey, is expected to come out with its first quarter results soon.
If you liked what you just read and want more of Our Brew, subscribe to get notified. Click that floating subscribe button on your right.