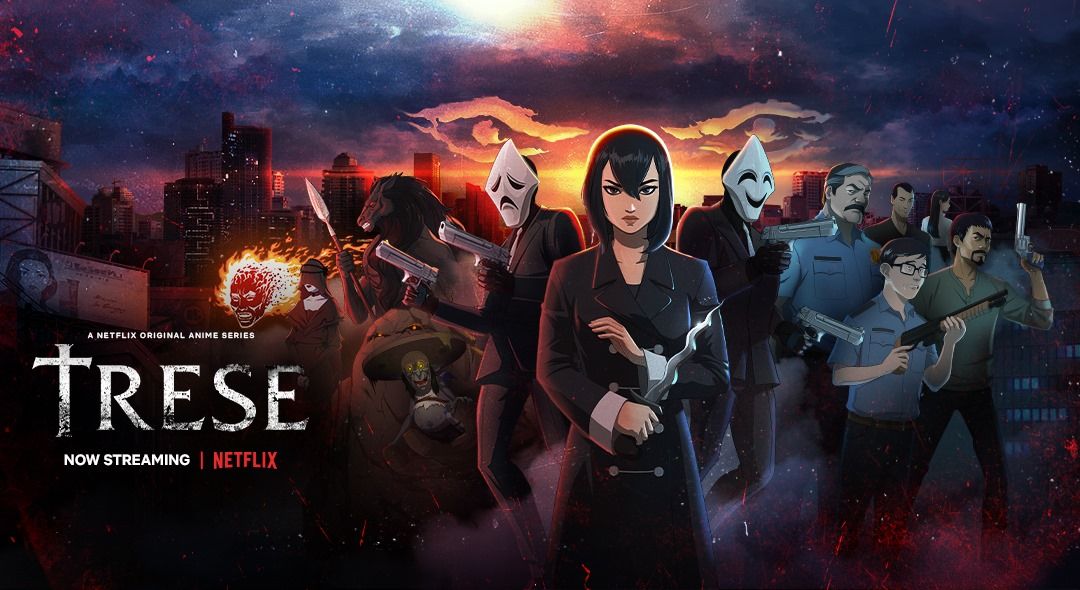 For Trese's hardcore fans, the leap from printed page to Netflix has been worth the wait
In Trese, an anime series now streaming on Netflix, we are introduced to Alexandra Trese, a private detective who is also a babaylan-warrior tapped by the police to solve crimes involving supernatural creatures from Filipino mythology and folklore.
Budjette Tan, the comics' writer, admits that Alexandra's character was inspired by occult detective John Constantine, the surly, chain-smoking anti-hero from the DC Universe. But Alexandra's black overcoat (illustrator Kajo Baldisimo's nod to Jose Rizal), martial arts skills, and the wide array of magical weapons and tools she uses to deal with enemies reminds me more of a female Harry Dresden, the protagonist from Jim Butcher's The Dresden Files series. Like Dresden, she is an enforcer of the accords designed to bring peace between humans and the denizens of the supernatural world (Pardon the geekiness).
The six-episode series is set in Manila, mostly after dark. It is a city being ravaged by murderous creatures from the underworld and these crimes are part of a grand scheme to destroy the accords that Alex's father had brokered.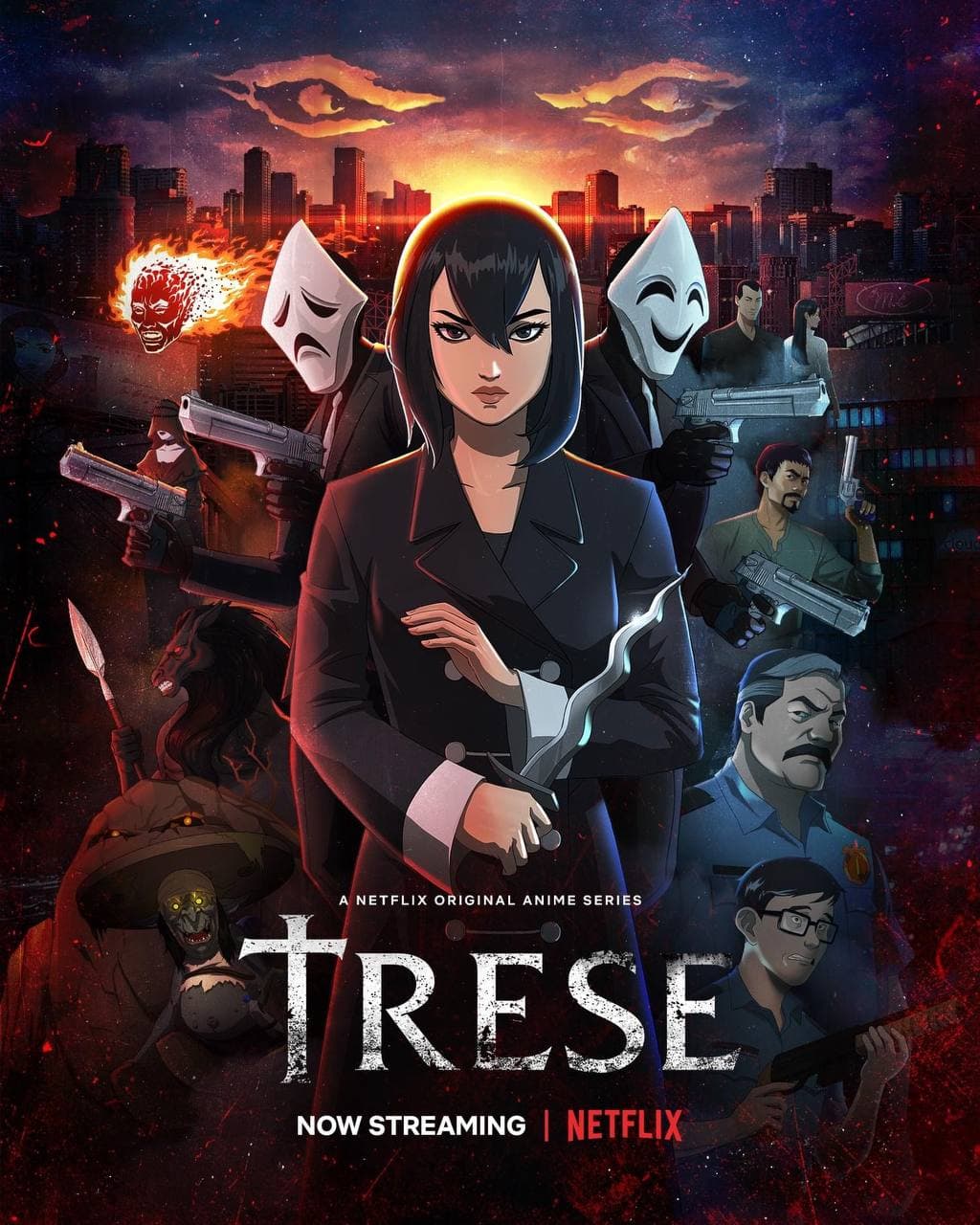 In Trese's Manila, supernatural creatures - the tikbalang, aswang, tiyanak, santelmo, nuno sa punso , the stuff of our childhood nightmares - prowl the dark corners of the city, with its familiar landscapes of slums and mansions, corporate towers and grimy warehouses, busy streets and deserted alleys. There are nods to Pinoy pop culture as well: jeepneys, MRT Guadalupe, EDSA's giant billboards, Balete Drive, and Choc-Nut among them.
Humans can be as cruel and hideous as the supernatural creatures in this series, as murderous and vile as the aswang they conspire with. But they are also capable of goodness.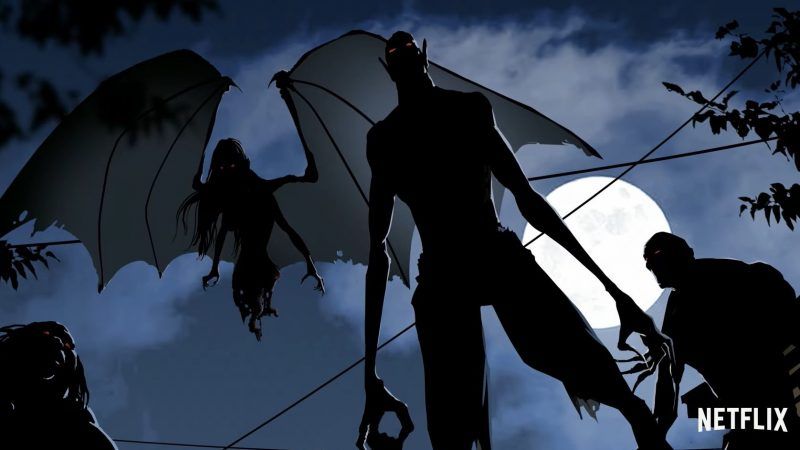 In its review, BBC saw a connection between the anime series and present-day realities.
"It's difficult not to notice parallels between what is happening on screen and what is happening in the Philippines today, a country dogged by allegations of police brutality," notes a review by Yvette Tan.
"But comics creator Budjette Tan says he had no intention of "making a statement, [or pursuing] an agenda."
"It is interesting to see how people suddenly relate to something that happened just yesterday. We wrote the story 15 years ago and somehow - whether that's good or bad - it still seems to be relevant today," Tan says in the BBC article.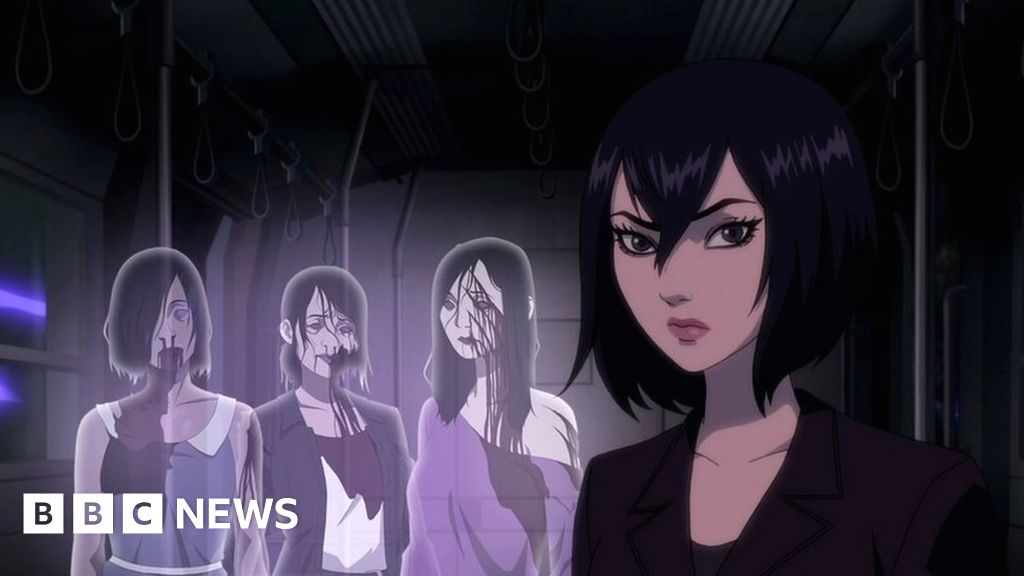 The series is ground-breaking work in many respects. It has "Filipino" stamped all over it. The opening theme music incorporates a Cordilleran song, while the closing theme is performed by alternative act Up Dharma Down. Trese introduces a foreign audience to the hitherto unfamiliar world of Filipino folklore, mythology, culture, and age-old traditions, treating them with reverence.
For Filipino creators, Trese opens up possibilities for wider recognition, the same possibilities that Whilce Portacio - and before him, Alex Niño -opened for comics illustrators (Incidentally, Whilce released in 1998 the limited-series comics Stone, pre-dating Trese and other similar local titles in featuring characters and icons from Filipino folklore).
The challenge for the series creators was to build a world that invites viewers unfamiliar with the original source material and Filipino folklore, while keeping hardcore fans happy.
Granted, there are weaknesses in the plot and narrative. And there will be times when first-time viewers would need to do a quick Google search to fill in the gaps. But the rewards outweigh the slight inconvenience. And there's nothing that a second season can't fix.
Judging by the memes, however, the fans are a happy bunch: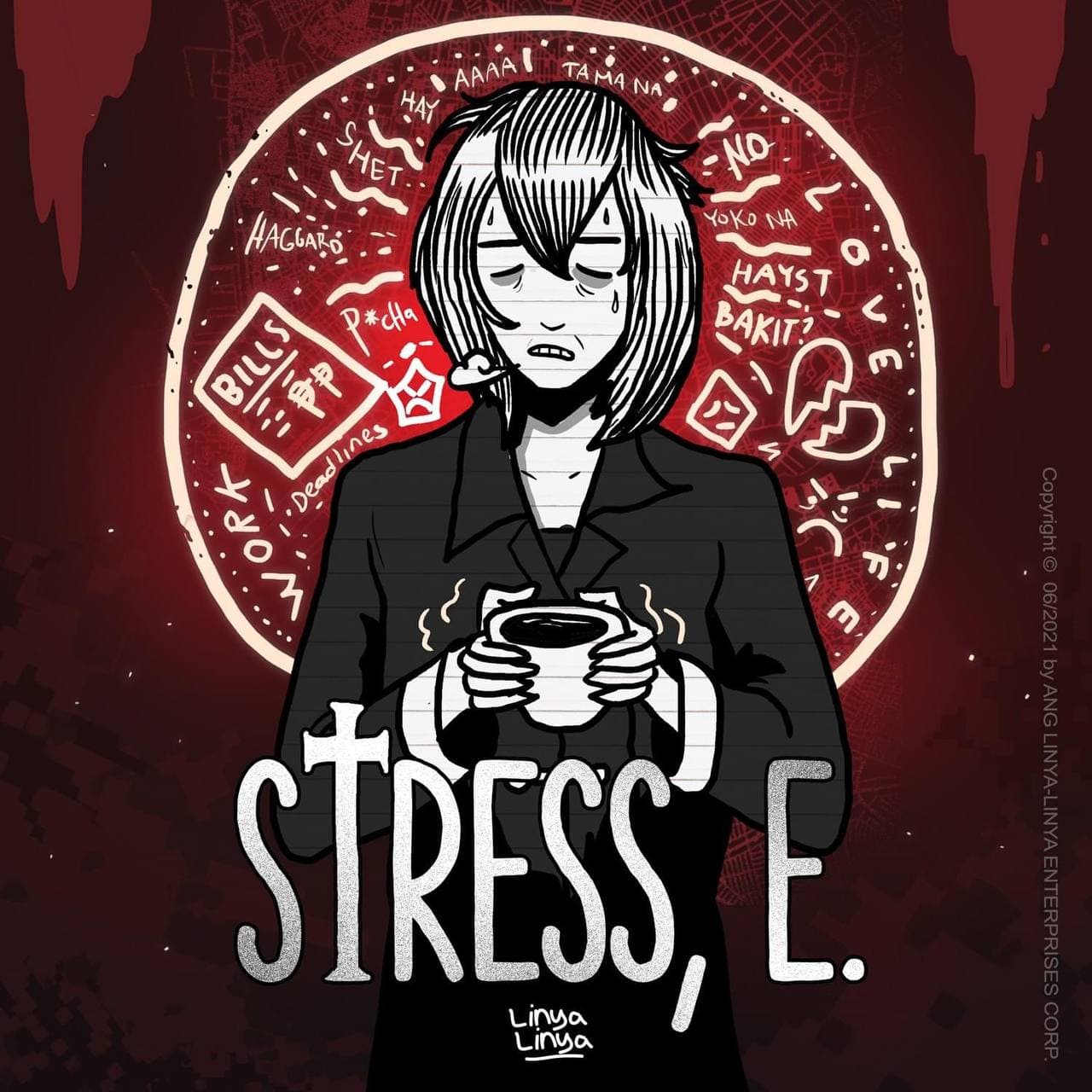 The Filipino dub features the voice of Liza Soberano as Alexandra, while the original English dub features a stellar line-up of Filipino-American and Filipino-Canadian actors.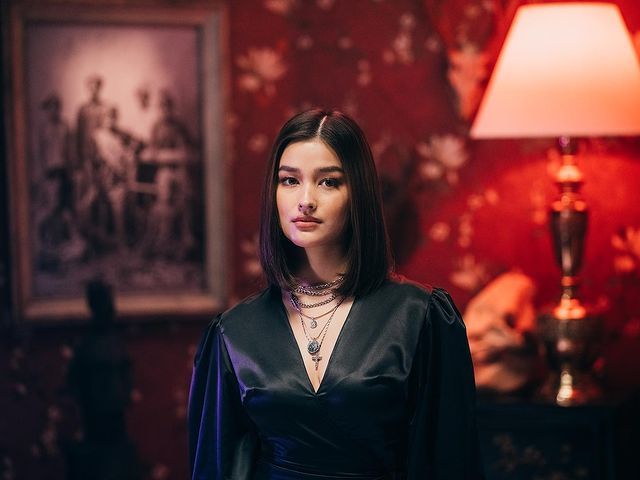 Says director and executive producer Jay Oliva in an interview with CNN Philippines Life: "As soon as they heard about it, so many actors went out of their way to get roles."
"We heard a lot of stories from Filipino actors about them having been told to hide their accent or to act like they were another ethnicity, but now we wanted them to use their natural accent," he adds.
Shay Mitchell, who voices Alexandra in the English dub, is joined by Fil-Am actors Jon Jon Briones, Dante Basco, Darren Criss, Manny Jacinto, Lou Diamond-Phillips and Nicole Scherzinger.
The marketing blitz that preceded the series deserves kudos as well.
A few days before the June 11 drop, photos of supposedly vandalized Trese billboards and videos of supernatural creatures allegedly caught in the act of destroying these billboards went viral. These images stoked the fan base, who took to posting their sentiments on the Trese Facebook Group.
The clever marketing was the work of ad agency Gigil, the guys behind the viral RC Cola commercial, and production house This Side Up Manila.
This Side Up Manila FB page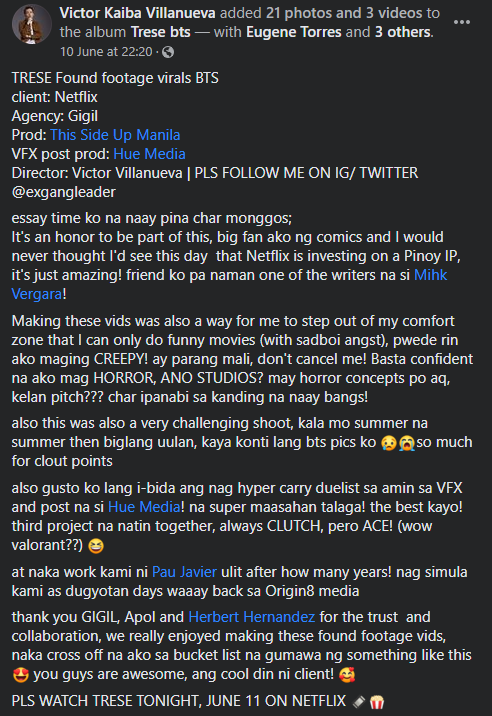 ABS-CBN also got into the act when it showed its transformation into ABC-ZNN, the fictional TV station. The June 11 and June 12 issues of broadsheets Philippine Star and Philippine Daily Inquirer carried false covers: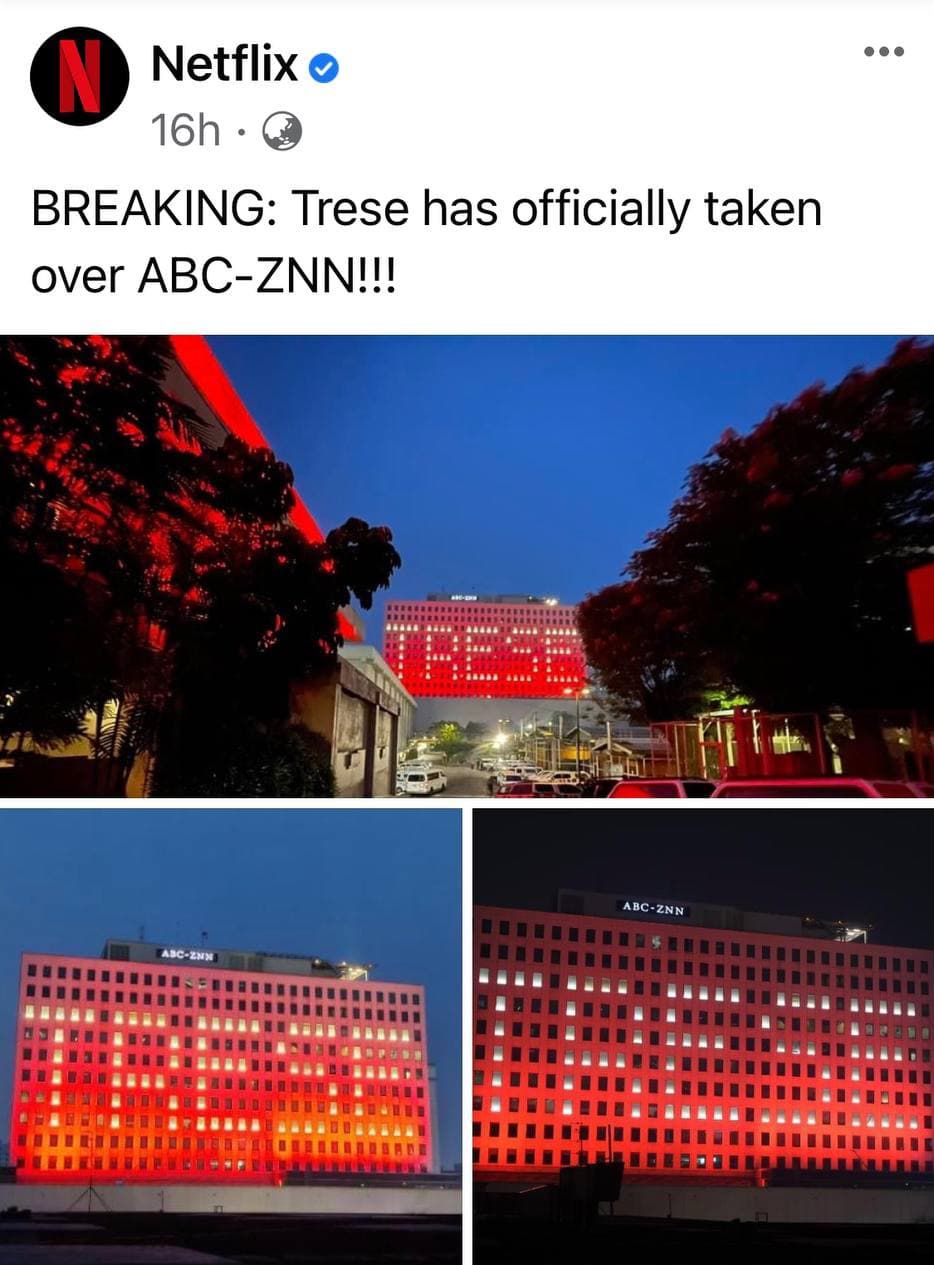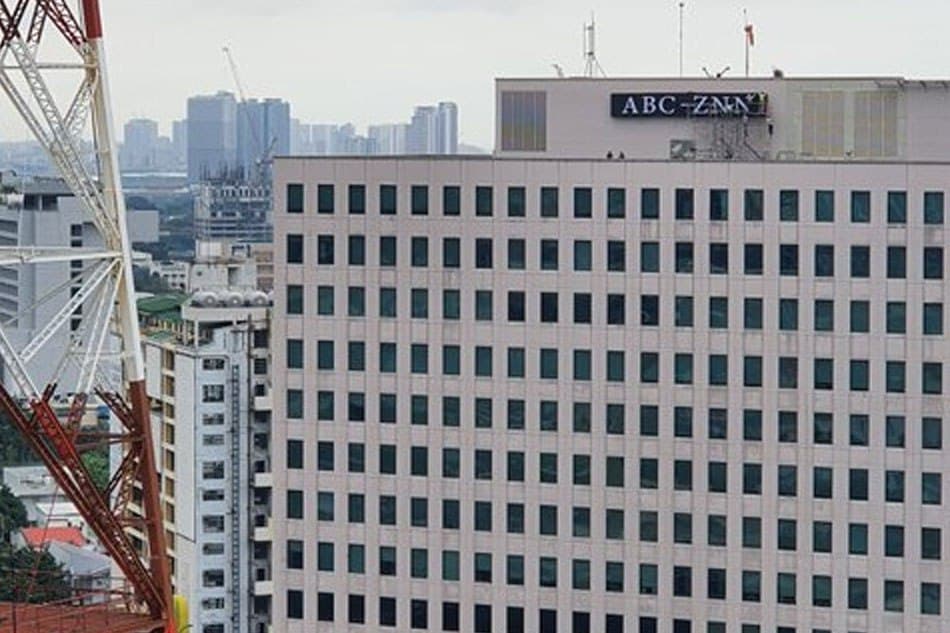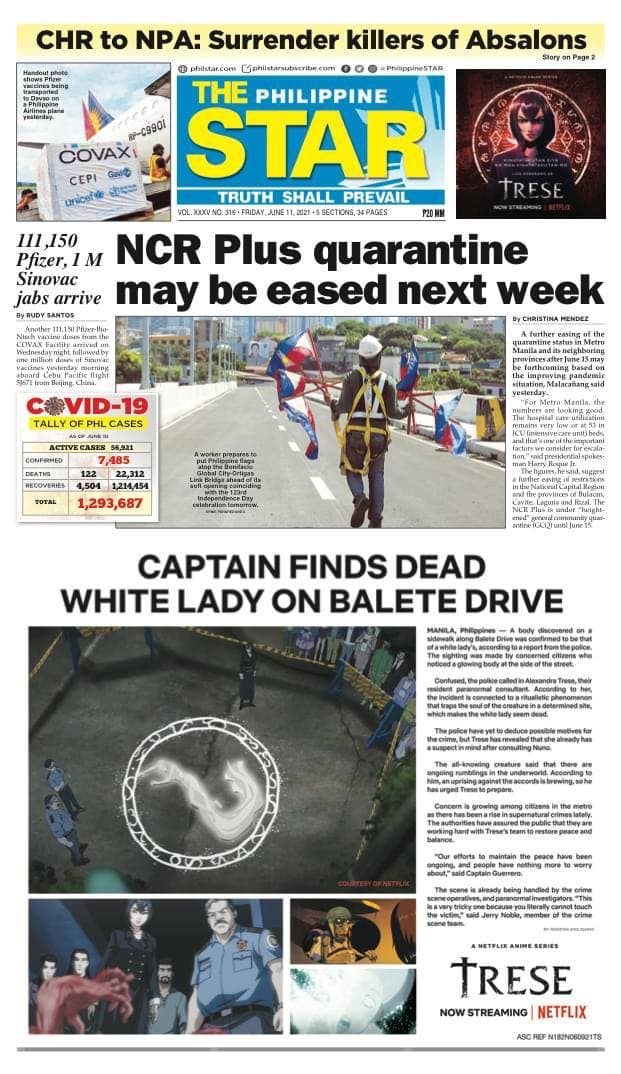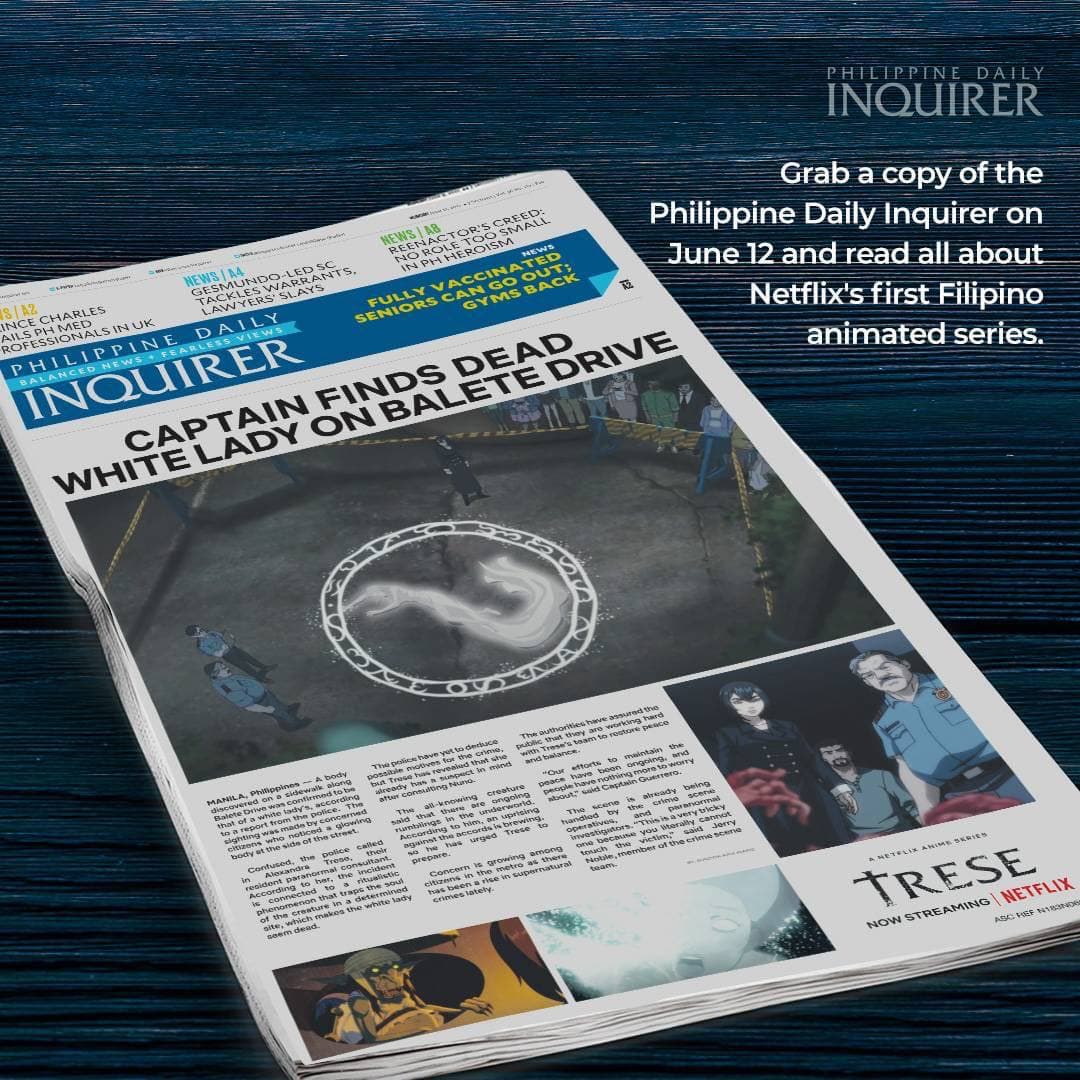 Tan, who now works in Denmark as creative director for Lego, reflects on Trese's giant leap from a 20-page photocopied comics to an anime series on Netflix:
"…I'm happy and hopeful that more people will now get to know the fantastic gods of Philippine myth and the frightening creatures of our folklore."
He adds: "I hope they'll be intrigued enough to want to know more and seek out more Filipino stories in the future." -JS
If you liked what you just read and want more of Our Brew, subscribe to get notified. Just enter your email below.