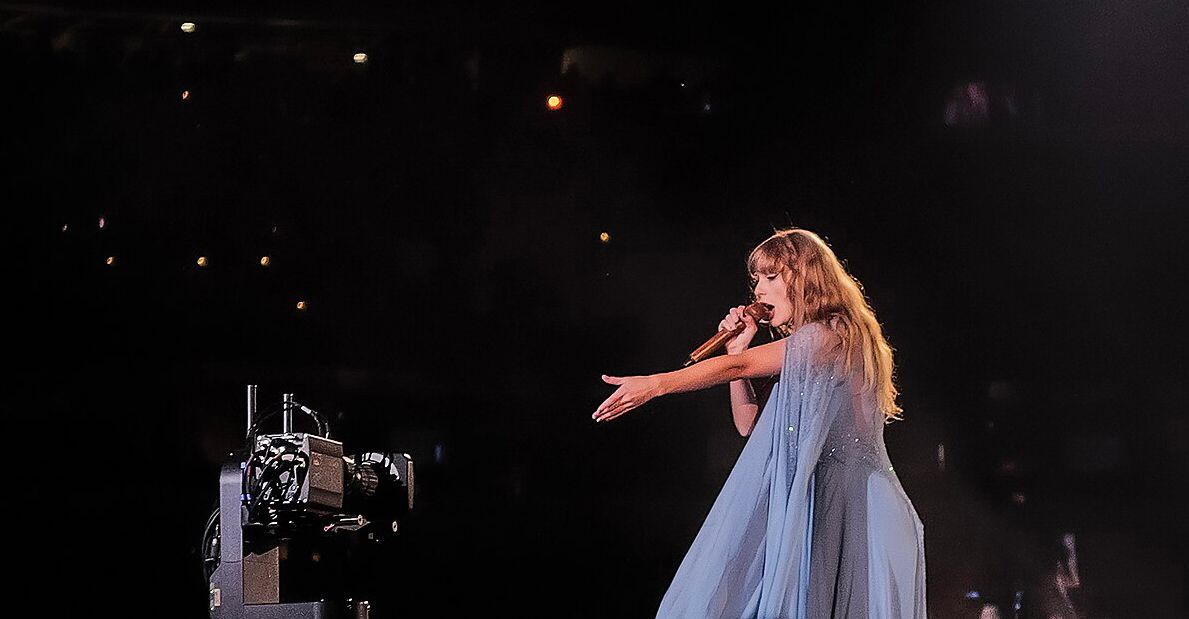 Swift's advocacy sparks a resounding call to the ballot box, highlighting the potential of celebrity activism and the rising influence young voters
by Hannah Fischer-Lauder
Pop sensation Taylor Swift has once again proven her sway beyond the music industry, galvanizing more than 35,000 people to register to vote on National Voter Registration Day.
In a recent Instagram post, Taylor Swift urged her staggering 272 million followers to register to vote through the nonpartisan nonprofit organization, Vote.org. This digital call to action saw a significant spike, with a 1,226% surge in participation within the hour after her post.

"I've been so lucky to see so many of you guys at my U.S. shows recently. I've heard you raise your voices, and I know how powerful they are. Make sure you're ready to use them in our elections this year!", Swift wrote in her post. "Register to vote in less than 2 minutes at vote.org/nvrd."
In the period following Swift's post, the Vote.org website was "averaging 13,000 users every 30 minutes," as their communications director Nick Morrow revealed on Twitter:
Fun fact: after @taylorswift13 posted on Instagram today directing her followers to register to vote on @votedotorg, our site was averaging 13,000 users every 30 minutes. 13! Let's just say her reputation for being a mastermind is very well-earned! #NVRD https://t.co/L80M5KRakq

— Nick Hutchins (@nr_hutch) September 20, 2023
Andrea Hailey, CEO of Vote.org, expressed enthusiasm about the uptick in voter registration, particularly among newly eligible 18-year-old voters, marking a 72% increase compared to 2019 and a 115% rise compared to 2022.
"The hour that [Swift] posted, we saw over a 1000% spike. That momentum really continued through the day, and by the end of the day, we had over 38,000 registrations that came through," Hailey said.
Vote.org, aiming to register eight million voters before the November 2024 election, saw an impressive 22.5% increase in registrations on National Voter Registration Day compared to the previous year. The surge underscores the potential impact of celebrity advocacy in engaging the electorate.
Dear @taylorswift13 - may these stats serve as our love letter to you for amplifying voter voices! 💌 With our collective efforts, we achieved:
👥35K+ registrations
🔍50K verifications
🎉115% ⬆️in 18yo registrants vs '22
📰1.3M+ webpage views
Together, we make democracy shine! 💫

— Andrea Hailey (@AndreaEHailey) September 20, 2023
Swift, known for her historic music records and sold-out stadium concerts, has expanded her influence to the realm of civic engagement. Since 2018, she has actively encouraged her fans to vote and has partnered with Vote.org to amplify this message.
Swift's prior endorsements and social media calls have drawn attention to critical political issues, illustrating the power of celebrities in encouraging civic participation.
This surge in voter registration reinforces the growing influence of young people within the American electorate. Political analysts have observed a notable rise in the engagement of the youth demographic, constituting a substantial portion of the voter base.
The efforts of individuals like Taylor Swift underscore the potential for celebrities to inspire and mobilize the next generation of voters, signaling a promising trend toward increased civic engagement.
First published in Impakter. You can read the article here.
---
About the Author
Hannah Fischer-Lauder
Hannah Fischer-Lauder is an anthropologist and a graduate of McGill University. After 15 years of field research in Madagascar and New Guinea, she has returned to Europe and America to study cultural diversity in western society.
If you liked what you just read and want more of Our Brew, subscribe to get notified. Just enter your email below.