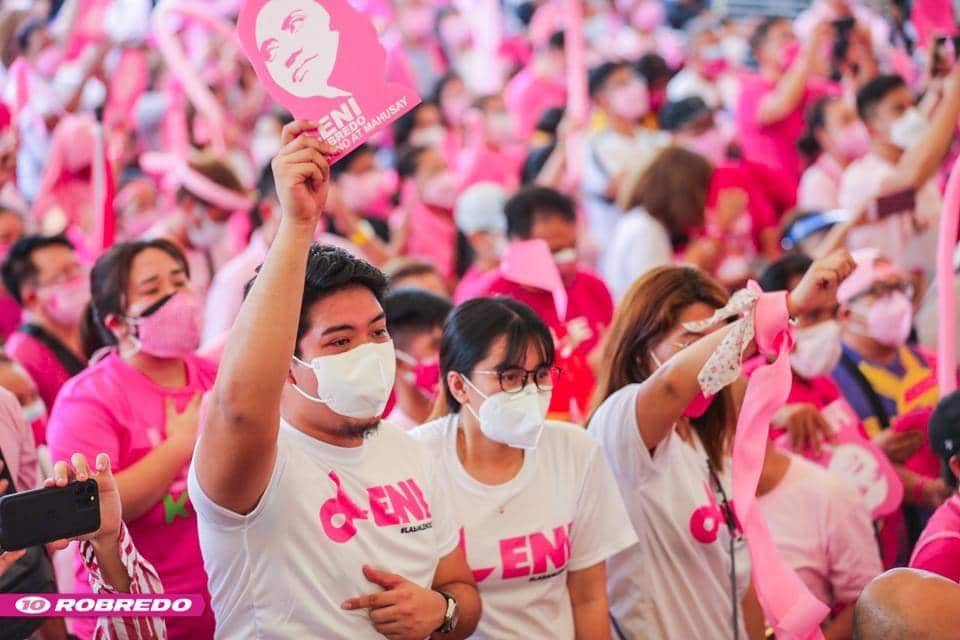 As we get closer to election day, the Robredo campaign might need to rethink its narrative. Rallies matter, but are they enough?
By Katrina Stuart Santiago
For six years we were in over our heads. We could barely keep up with President Duterte, also because we couldn't believe how he was pretty much getting away with murder - figuratively and literally.
Our institutions were discredited real quick - from basic rights, to our Constitution, to mainstream media - just as anti-people policies were implemented one after the other, and killings and violence escalated. As this unfolded the polarization was strengthened.
On one side, those of us who championed democracy and our institutions remained divided, through to the Liberal Party refusing unity slates in 2019 and 2022, and the Robredo campaign failing to claim unity and democracy as slogan for these times. It didn't help that the people, especially on this side of democracy, refused and were un-interested in fashioning unities we deem important. It's easier to fall back on the existing polarizations among us after all.
This helped the other side, the Duterte government and its beneficiaries the Marcos-Arroyo tandem, with its anti-people and pro-China policies, to build its own "institutions" as option for its ever growing base of followers who needed "alternatives" to the media, intellectuals, academicians, historians, writers they had so discredited. Part of fashioning lies and falsity as the other truth, is making sure it can be repeated over and over again.
This polarization is what we are watching unfold. And as I said earlier, these are actually two very different universes battling it out for people's votes (https://katrinasantiago.com/63-days-elections-in-a-multiverse-halalan2022-demokrasya/), and it is because of this that we cannot afford to be blinded by notions of hope and the massive rally turnouts for Robredo at this point. VP Leni herself has said "Crowds do not win elections, (https://newsinfo.inquirer.net/1566638/leni-crowds-dont-win-elections)" but I would go beyond her suggestion that people go out to talk to family and neighbors. What needs to be done is to get to those who might not even know these rallies are happening because they are not online, have no proper or efficient access to mainstream media, and are inundated with paid-for content on local radio.
At hindi ito "pagpunta sa laylayan." Hindi ito ang hinihingi. Makipag-usap sa kapwa-mamamayan. At hindi na ito mahirap gawin. Wala kaming lugar na hinanapan ng ground volunteer na hindi handang makipag-usap.
And if we ask the right questions, we get the answers we need: "Sinong iboboto ng mga komunidad? Kilala ba nila si Robredo?" Then you trust that they know these communities more than we ever could, and give them the help that they need—not the help we insist on giving them.
In the one week that we started doing the Para Sa Lahat campaign (http://bit.ly/ParaSaLahat2022), we spoke to people who are active in places that have been declared as "pink." Across the three provinces that have already been declared as such, all of them said that this only stands for people in the center. In one place, the moment you move to the outskirts, poorer communities do not even know who Robredo is; in another province, farmers and plantation workers remain beyond reach; in many provinces there's practically no materials on ground for a mass-sweep kind of campaign.
I'm not saying the rallies do not matter—they absolutely do. On ground, in places like Butuan and Tuguegarao where there is a dire lack of campaign materials, tricycle drivers started asking for stickers (this dire lack is also in places like Negros Oriental, Maguindanao, Sultan Kudarat, Eastern Samar). Content-wise, it's the only way to battle it out with the caravan content of Marcos, and maybe even their massive pull down content versus Robredo.
But is it enough? In the battle of narratives, it barely is.
If you look at the push-and-pull of content, the rally photos are taken down by both sides in exactly the same way: by putting numbers into question. And while it's easy to think that what we think is all that matters, sadly, that isn't true. What we think only matters to us, and to some extent reveals our privilege.
Case in point: on the Marcos algo, the takedowns of the numbers in Robredo rallies are done very efficiently by (1) putting into question the numbers in whatever way (those silly manual head counts on photos, those comparisons with other places with the same capacity, etc.), and (2) showing caravan images and videos of the Robredo campaign with no crowds.
On the Robredo algo, we have people showing how photos at Marcos rallies were photoshopped, and those who laugh at the math of head counts via photos. These responses to the same thing (rally numbers) actually reveal so much about the divide we are living through. It is polarization at work. What we think is silly actually works for their side; what we think makes so much sense, reveals our privilege.
This is where the ground campaign is crucial, and one hopes that the stories we've heard across eight provinces and so many barangays and municipalities that past week are exceptions to the rule. Because if true that the 31 per cent that needs converting are precisely in these communities in Visayas and Mindanao, then it boggles the mind that more effort hasn't been made to reach these spaces.
Then again, it doesn't surprise. Fund-raising is not for everyone, and is in fact an act that's cloaked in privilege and capital. Many of those we talked to who were already actively campaigning for Robredo didn't have the funds or the means to raise funds for materials, keeping efforts at the smallest scale.
But what might be important to talk about as well is how in the past week, what one also heard was a shift in the voice of the Robredo campaign, a shift to the elitism that harks back to the 2016 campaign, if not the Liberal admin of 2010 to 2016.
When Sharon Cuneta started talking about "returning decency to government," this feeds into the 2016 narrative of the Roxas campaign, which spelled its doom.
The Duterte campaign latched onto that for dear life, won the election, and for six years took down the Liberals precisely for being "disente."  They did it so well that they transformed "disente" into a pejorative. And no, it doesn't matter if you agree or not—in the battle for votes of the 31 per cent, "disente" rhetoric ain't going to help us.
The same might be said for the shift in VP Leni's speeches where she talks about corruption and how a government with receipts means a better life for everyone. This harks back to "Kung walang kurap, Walang mahirap," which the mahirap themselves have proven false.
Their lives in the present are proof positive that the connection between an incorruptible President and poverty alleviation is a false one. To fall back on that now might be a major misstep. Because how can "gobyernong tapat" promise "angat-buhay lahat," when "kung walang kurap" failed to deliver on its promise of "walang mahirap"?
Narrative-wise, this is something the official campaign of Robredo might want to re-think. The same for: "maghanap ng resibo." Because in a country where majority live off an informal economy, receipts are not default. It's also online speak that we have yet to prove has trickled down to the demographic that is barely online.
With 57* days to go, it's now more important to stick to narratives that resonate, not ones that feed into the divides. Think of the rallies as an expansion on the online echo chamber—except with a very real possibility of getting tricycle drivers and people in the margins of the city interested in Robredo.
That is of course if the language that's used reeks less of elitism, and speaks more to basic needs and the important demands of these times.
*This blog was published on March 14
If you liked what you just read and want more of Our Brew, subscribe to get notified. Just enter your email below.