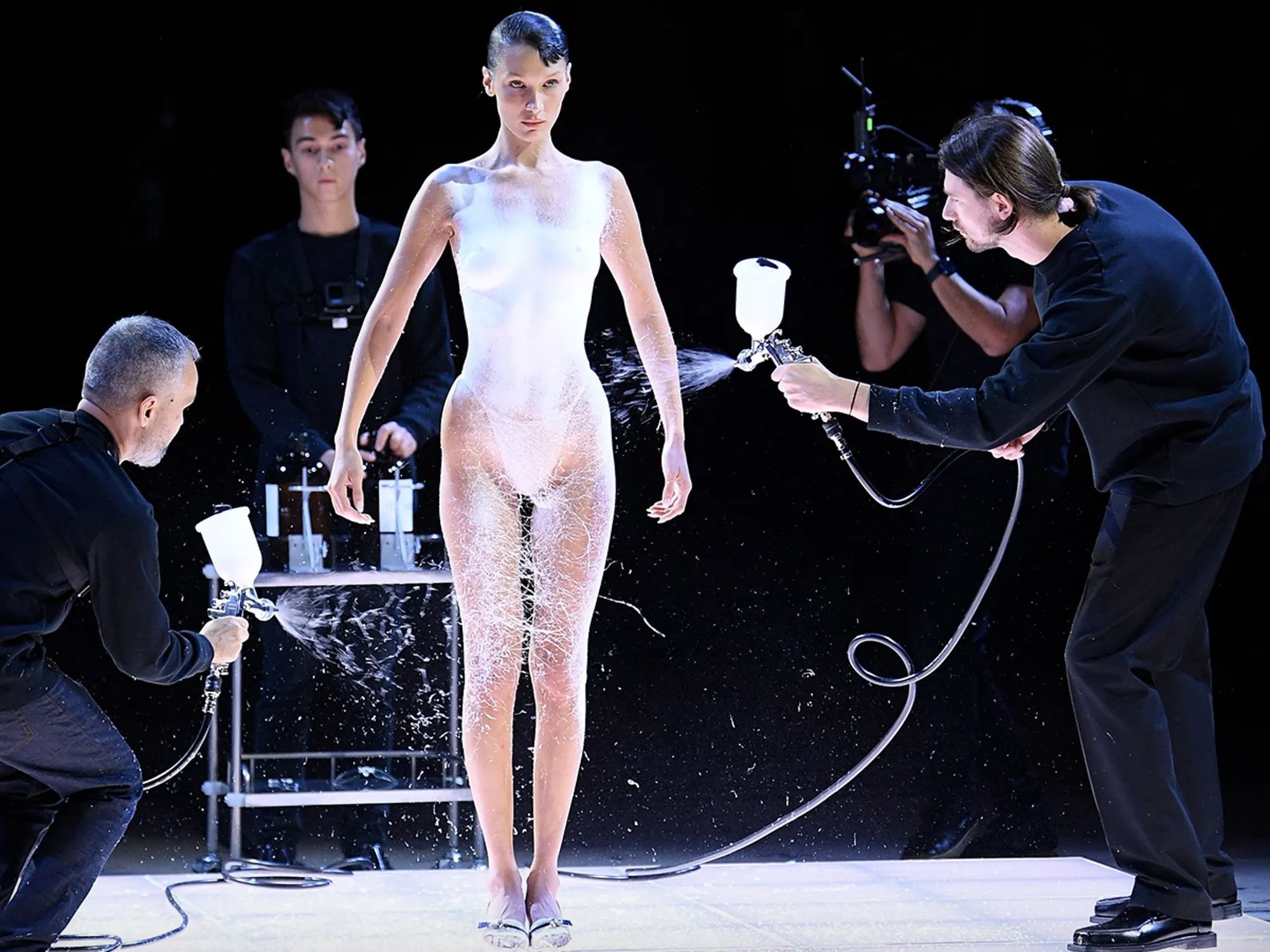 In the wake of its success at Paris Fashion Week, the iconic spray-on dress worn by Bella Hadid has become an internet sensation. But what does it say about sustainability?
by Napat Siriyium
One of the most widely shared videos from this year's Paris Fashion Week was from the French label Coperni, who spray-painted a dress onto a practically naked Bella Hadid during the climax of the Spring/Summer 2023 show.
Coperni is a Parisian ready-to-wear label, founded in 2013 by Sébastien Meyer and Arnaud Vaillant and widely known for its emphasis on tailored simplicity. However, the brand also makes an effort to use a fresh method of design that links its wares to the present while simultaneously focusing on the past.
The man behind the Coperni outfit is Manel Torres, a Spanish designer-turned-physicist. Torres earned the name "The Chemist Tailor" due to his invention of Fabrican, that revolutionary spray-on fabric that's composed of polymers, additives, and fiber. When exposed to air, the liquid turns into a solid, non-woven substance.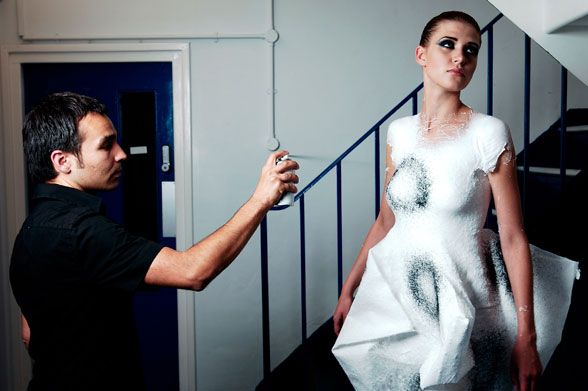 Charlotte Raymond, Coperni's head of design, assisted in styling the dress by cutting a slit into the side and modifying the straps to create an off-the-shoulder look. It wasn't long before the video of the transformation went viral on social media.
According to Coperni, "It can be used to create novel garments that are washable, reusable, and even incorporate diagnostic gadgets that can track the wearer's health."
Plus, they also stated that "The texture of the fabric can be modified depending on the fibres (natural and synthetic, such as cotton, linen, polyester, or nylon, as well as recycled) and binder utilized, as well as how the spray is applied."
Is all this sustainable?
As Bella Hadid walked off the runway in her paint-thin outfit, crowds around the world couldn't help but wonder: is this the future of clothing and style? Fabrican, the company behind the revolutionary spray-on method, ensures that this might very well be the case.
Fabrican employs cutting-edge technology that suspends cotton or synthetic fibres in a polymer solution that evaporates upon contact with the skin. A non-woven fabric is produced almost instantly and can be sprayed. In addition to not relying on ozone-depleting compounds, Fabrican's technology may be recycled by dissolving it for further usage. Therefore, Fabrican's technology has a wide range of applications in the fashion industry, from mending and recycling textiles to lengthening garments and adding embellishments like pockets and UV protection.
The final product of Bella Hadid's painted on dress at Coperni S/S 2023 pic.twitter.com/5eQ9JBfAJF

— Eboni🤍 (@VersaceVenus_) September 30, 2022
Fabrican can also replace leathers made from animals with plant-based, natural fibres. To further extend its useful life, the fabric can be washed and used again.
Torres envisions making Fabrican industrial with the use of a robotic arm spray system that can rapidly generate complicated forms with high precision and operate 24 hours a day, which has the potential to cut human labor and production costs involved with garment manufacture. He added that the fabric is "quite similar to the clothes we use daily but needs to be enhanced" in terms of durability. Today, Torres is helping the German government use Fabrican technology to mass-produce uniforms across the country.
"Try to stick with an idea long enough and see what occurs […] The time I've spent on this endeavor now totals well over a decade," Torres said. "Finally, I'm starting to see some real effects. As an artist, you want illumination in everything you do."
---
About the Author
Napat Siriyium
Napat Siriyium is an editorial intern in eco-lifestyle at Impakter. She was from Bangkok, Thailand, and is currently studying at ESC Rennes School of Business in Rennes. She has loved to read and collect magazines since she was young, and she's fond of visiting art galleries in Paris.
First published in Impakter. You can read the article here.
If you liked what you just read and want more of Our Brew, subscribe to get notified. Just enter your email below.