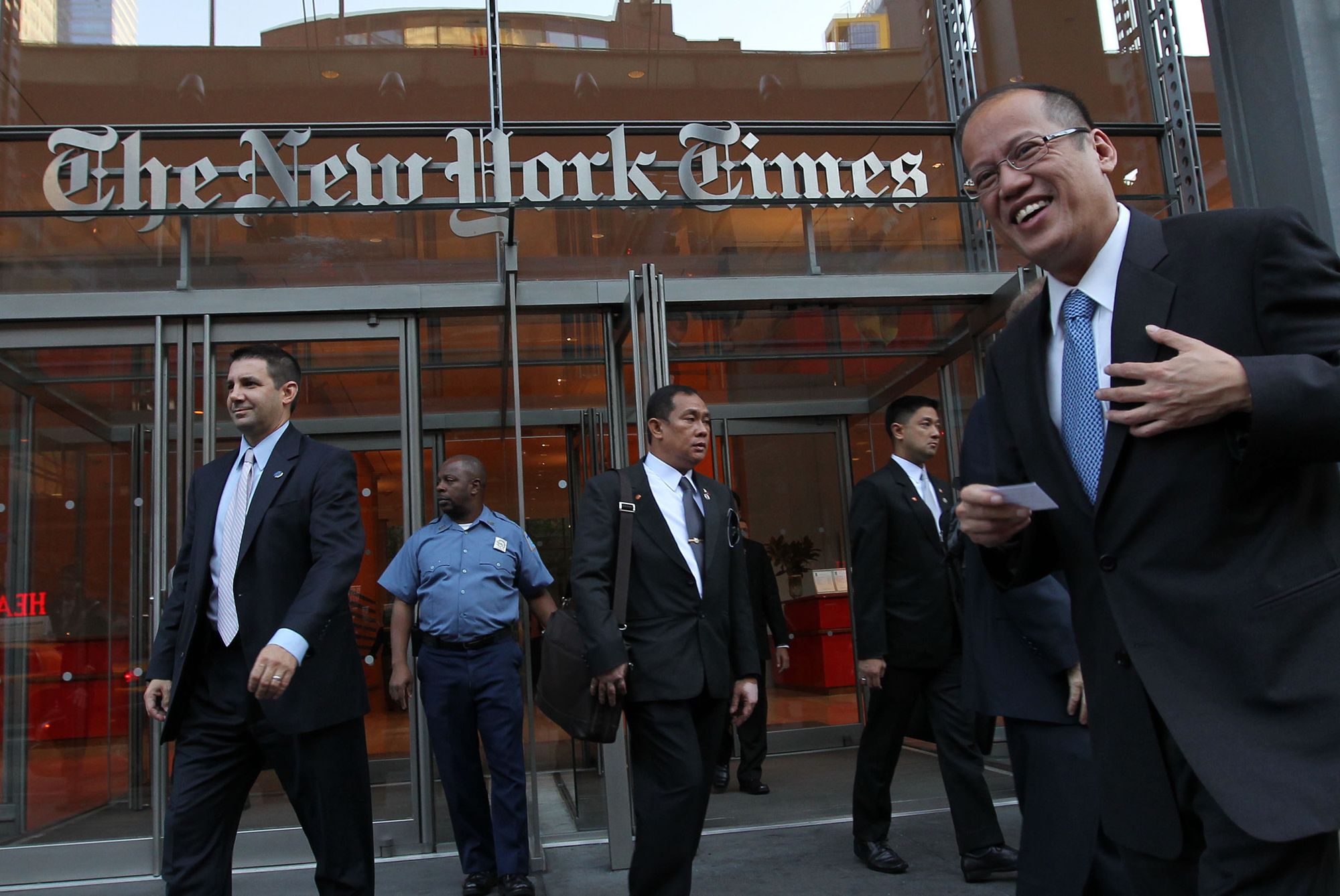 New York Times journalists strike while Congress fails to approve a law allowing news organizations to profit from social media ad revenues; in the past five years social media has grid locked the news audience with free articles.
by Elizabeth Partsch
On Thursday, 1,100 New York Times employees walked off the job over pay disputes between union workers and the Times.
Over the past few weeks, several of the biggest American news companies including CNN and Buzzfeed laid off hundreds of staffers.
Yet on Tuesday evening, Congress halted a law aimed at saving the news industry by allowing media companies to profit from social media sites' ad revenue.
At a time when journalism is most important with rampant political disagreement and widespread disinformation, journalism is dying while most of the reading public is completely unaware of the (slow-moving) but inexorable disaster.
What is happening to the news industry? Is it salvageable?
Journalism twitter is rough today. Serious cuts at NPR… threat of walkout at NYT… and people announcing their own layoffs at CNN and Gannett.

Be good to yourselves and each other, people.

— David Folkenflik (@davidfolkenflik) December 2, 2022
Trouble at the New York Times
Employees of arguably the biggest newspaper in the world, and certainly one of the most read, staged a walkout after months of pay disputes.
More than 1,100 NYT workers walked off the job Thursday, even asking readers to boycott the newspaper and editors were forced to take over writing for the day. Many of them stood outside the Time's Midtown Manhattan office waving signs and chanting "We make the paper, we make the profits."
The protest marked the first major protest at the Times in decades; the last two protests included a 1981 strike that lasted for 6 ½ hours and in 2017 when a brief lunch walkout was staged by employees over staff cuts.
Members of the New York Time Guild, the employee union, consist of roughly 1,400 workers spanning all departments in the company. Their previous employee contract ended in March 2021 and since then, for 20 months, the Times and the Guild have had back-and-forth disputes while negotiating the new contract.
According to The Guild, the protest was on a number of issues, but most importantly compensation. They accused the Times of failing to "bargain in good faith."
Unlike other media outlets who have suffered in 2022, this year Times' executives reported a major increase in the newsroom and outstanding profits of between $320 million – $330 million (303-313 million euros).
A majority of staffers are arguing that with the profitable year the Times has had, they deserve to be compensated more.
"The Times is in good financial shape now," said investigative reporter Jennifer Valentino-DeVries. "and we think that our work should be valued more highly than what they're currently offering."
In their negotiations, the guild is asking for average pay raises of 5.5% in 2023 and 2024; however, the company has countered with pay raises of 3% over the next two years.
In a video of the protest, the employees mentioned they are asking for a salary of $65,000 a year. According to CNBC, other professions like elevator repairers, funeral service managers and air traffic controllers make significantly more than the $65,000 salary employees are asking for — not to mention this issue of underpayment is coming from arguably the most successful newspaper in the world.
Some employees have expressed that their jobs don't pay enough for the cost of living now, many needing to take up second jobs or use their retirement savings to pay bills.
Politics correspondent Nick Confessore notes employees are aware of the disturbance for readers, however, mentions it is necessary to keep the paper running.
"It's painful," said Confessore. "Our duty is to lean into the story and not put our proverbial typewriters down." He goes on to say the employees feel the walkout is essential to continue providing economically viable salaries for "the young people with talent from any background."
The Guild is also criticizing the Times's performance review system. According to an analysis done in August by the members of the union, Black and Latino staffers were found to receive significantly weaker performance reviews than their white peers.
Continued negotiations happened Thursday via Zoom where employees were able to watch the company's lawyers respond to the Guild's arguments.
As of now, employees went back to work Friday, however, they noted if a contract deal isn't made by December 8th, they would stop working. As of now, no news has yet broken over whether an agreement has been made.
But the Times is an exception: Major media companies make staff cuts
Whilst the NYT's profits are at all-time highs, by contrast,  in the past few weeks, numerous giants in the American news industry have laid off hundreds of workers because of economic vitality and uncertainty concerns.
The news industry previously took a dive in 2020 when hundreds of staff cuts were made in the face of the COVID-19 pandemic and the uncertainty surrounding how the disease would affect the economy.
The latest wave of cuts is due to the rise in inflation and increased interest rates slapped on the economy by the Federal Reserve. Major companies that have resorted to layoffs include CNN, BuzzFeed and Gannett.
In October, CNN's chief executive Chris Licht hinted that layoffs were expected to happen and, as predicted,  on November 30, CNN started laying off hundreds of employees.
Layoffs are underway at @CNN . @OANN pic.twitter.com/TDXPYxflXx

— Stella Escobedo (@StellaEscoTV) November 30, 2022
High-profile reporters such as political reporter Chris Cillizza, on-air host Robin Meade and part-time analysts Susan Glasser and Johnathan Martin were laid off — CNN stated they are "shifting (their) approach to paid contributors."
Licht claims the layoffs "are necessary and will make us stronger and better positioned to place big bets going forward without fear of failure."
According to the Guardian, this is the company's second round of staff cuts made this year. CNN also cut its $100 million streaming platform CNN+, which hurt employees even further, affecting 350 staffers at CNN.
Likewise, Buzzfeed workers faced a similar fate, CEO Jonah Peretti announcing they would let go of 12% of the newsroom, roughly 180 employees on December 6th. Coinciding with the announcement, Buzzfeed's stock fell to an all-time low of $1.06 a share.
The company had a relatively hard year, with the value of its shares falling;  investors pushed for the company to get rid of Buzzfeed News, however, the company did not listen and instead top editors left on their own.
Gannett, the largest newspaper publisher in the country that owns USA Today and other papers, also laid off 200 employees at the beginning of December.
A Gannett spokesperson told the Poynter Institute, ""While incredibly difficult, implementing these efficiencies and responding decisively to the ongoing macroeconomic volatility will continue to propel Gannett's future."
Other major news companies made layoffs including NBCUniversal, the parent company of NBC News and MSNBC, Disney, who owns ABC News, and the Washington Post, which laid off its entire Sunday magazine.
What is hurting the news industry? Turn to social media for an answer
It is clear in recent years the news industry has been hit hard.
According to The United Nations Educational, Scientific and Cultural Organization's (UNESCO) latest report analyzing media development trends between the years 2016 and 2021, news outlets are struggling due to the number of increased voices on social media.
The report found social media users doubled from 2.3 billion in 2016 to 4.2 billion in 2021. This increase has allowed more new content and voices on social apps, but not necessarily correct and factual information — increasing the rate of disinformation in today's era.
The study explained that this forum of social media "has unleashed a flood of competing content and turned large internet companies into the new gatekeepers." (bolding added)
More importantly, the report notes the increase in social media companies has left news outlets struggling to get clicks from readers that determine ad revenue.
Advertising accounts for more than two-thirds (69%) of all U.S. domestic news companies' revenue according to Pew Research Center from research conducted in 2014.
In order to curb news companies' major losses, the U.S. Congress attempted to pass the Journalism Competition and Preservation Act (JCPA) as part of the National Defense Authorization Act  — something which would temporarily allow digital news organizations to negotiate against tech platforms like Meta (Facebook) and Google for a larger share of ad revenues.
Minnesota Democratic Sen. Amy Klobuchar, a major supporter of the JCPA, argued that passing this piece of legislation is urgent to help small, local journalism outlets survive from the onslaught of Google and Meta's ad revenue dominance.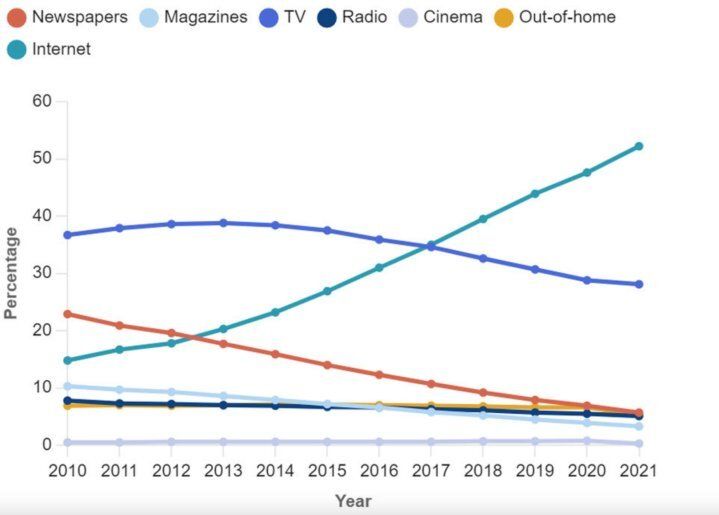 In opposition to the JCPA, Congress received a letter Monday from more than two dozen groups, including American Civil Liberties Union, the Electronic Frontier Foundation, The Wikimedia Foundation and Public Knowledge, claiming it would make disinformation worse by allowing news companies to sue tech companies for debilitating an article's reach and intimidating social media platforms to not censor offensive and misleading content.
They also maintained it would disproportionately favor larger media organizations, neglecting smaller ones.
I am no fan of Meta, but JCPA is terrible legislation that breaks the very structure of the internet and is designed to benefit big papers, not the small community startups that are the source of new ideas that will make news sustainable. https://t.co/xcoWKFFBwG

— Jeremy Littau (@JeremyLittau) December 6, 2022
Unsurprisingly, Meta was not in support of the JCPA and even threatened to take news off of social media platforms altogether if it got passed.
However, news on Meta is safe for now — as of Tuesday evening, the act was cut from the bill reportedly because of "ordinary give-and-take of high stakes legislation," claims Danielle Coffey, executive vice president of the News Media Alliance.
Coffey notes that congressional Republicans strongly opposed a number of other non-defense legislation included in the bill, which she states leaves an opportunity for the JCPA to get passed in the future.
"At the end of the day, that determines our fate, even though there's bipartisan support for this legislation," said Coffey. "I don't think anyone disagrees with the overall intention, which is to help newsrooms around the country."
Many agree that a journalism bill needs to be passed, however not the JCPA or at least the version Congress was trying to push through:
Not sad to see this version of the JCPA (Journalism Competition and Preservation Act) cut from the NDAA. There's ample room for Congress to help journalism — but this version of the legislation was a total trash fire. Good riddance. https://t.co/1kUAUMi2Ap

— Jonathan Kealing (@JKealing) December 7, 2022
The JCPA is among a number of tech-antitrust bills being debated with the aim of erecting new barriers for tech giants who have become increasingly more powerful and influential over the years.
Coffey promised to continue fighting for the JCPA and mentioned it would be "devastating" if nothing were to be passed as other countries around the world such as Canada and New Zealand look at implementing similar measures.
In Europe, the EU Commission has pushed forward regulation of big digital platforms that are generally viewed by the European public as limiting the freedom of information (or manipulating it for its own profit) and thus hurting both businesses and consumers of information.
Most recently, the European Commission in its State of the Union 2022 address on 16 September announced it had adopted the European Media Freedom Act aimed at protecting media pluralism and independence.
The Media Freedom Act is the latest measure within the broader context of the two regulation packages first proposed by the EU Commission in December 2020: on 25 March 2022 a political agreement was reached on the Digital Markets Act, and on 23 April 2022 on the Digital Services Act and together they are expected to have a major impact on both the tech and the news industry.
As the European Commission notes, "The accelerating digitalisation of society and the economy has created a situation where a few large platforms control important ecosystems in the digital economy. They have emerged as gatekeepers in digital markets, with the power to act as private rule-makers. These rules sometimes result in unfair conditions for businesses using these platforms and less choice for consumers."
The EU Digital Services Act package is supposed to prevent the spread of mis and disinformation, however many claim this puts both social media platforms and news organizations in a more precarious position. It is expected that social platforms will now have to work harder to regulate information and, on the other hand, media companies will have a harder time contesting decisions made by these sites to remove content from their platforms.
The Act also did not address the continued problem of social media stealing ad revenue from news companies as it draws its audiences away from them.
Despite the aforementioned expected complications, the Act will likely also achieve a number of positive things for news including protecting media from legal and physical threats, copyright protections and transparency of advertising — yet some are also concerned this could harm news's main source of revenue, advertising, especially at a time when ad revenue is already threatened.
Clearly, journalism is in danger and countries across the globe are taking note of it. However, how to protect perhaps the most important industry in the world in terms of providing information – which is universally understood to be an indispensable pillar of democracy –  is still being heavily debated and it is something that should not be decided lightly.
Nations across the globe must take measures to protect news organizations from threats posed by social media or soon there may be no news organizations to rely on — only "news" from nonsensical and unreliable sources on forums like Facebook and Twitter that will continue to spread disinformation.
Real, independent and factual journalism is vital for the survival of our democratic liberties. It must be protected.
---
About the Author
Elizabeth Partsch
Liz is a senior completing a bachelor's degree in journalism and a minor in Spanish at Ohio University. She is an editorial intern at Impakter and currently resides in Athens, Ohio, where she also writes and photographs for the Athens student-run newspaper The Post. Passionate about writing and photography, her interests include environmental/sustainability, economics, and community issues.
First published in Impakter. You can read the article here.
If you liked what you just read and want more of Our Brew, subscribe to get notified. Just enter your email below.