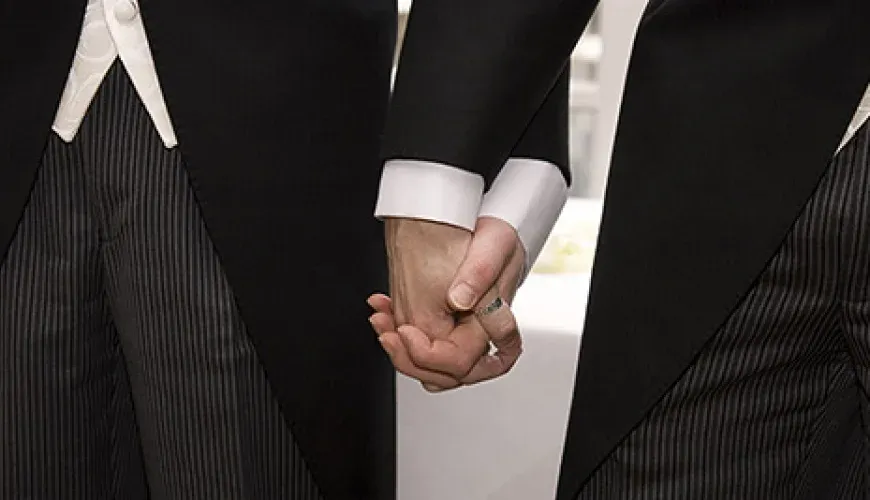 by J Oliver Conroy in New York and Helen Davidson in Taipei
Not long into the pandemic, Michael Foley, a radio host and licensed marriage officiant in Utah, was contacted with an unusual question: could he officiate a completely online marriage ceremony for a same-sex couple living in China?
Foley called the county clerk's office in Provo, Utah, to find out. Somewhat to his surprise, the office told him that as long as the couple were of age and their identities could be verified, it was legal. Foley has since performed enough online weddings for same-sex couples in China to establish a routine: wake up at 3am, put on a suit, go to his kitchen – where he has a green-screen – to perform the wedding over Zoom, then go back to sleep.
The couples have sometimes been waiting years to get married. They're not necessarily weeping or effusive, but "it shines through, that sense of 'this is finally happening,'" Foley told the Guardian. "That this is a long time coming, that they've finally found a way to do it."
In the predawn dark one June night in Xi'an, China, Shin and her girlfriend sat down in front of their laptop, the TV unit behind them adorned in silver and gold balloons. In the slightly lopsided marriage video, with animal emojis occasionally obscuring her face, Shin looked at her fiancee beside her.
"I cannot imagine a future without you, so that's why I want to marry you and that's why I'm here," she said.
Foley said that he's done about a dozen marriages for gay couples in China, though most of the time the couples are non-Chinese residents of China, or mixed couples where one person is a Chinese national and the other is not Chinese but lives in China. He is frequently contacted by people in the Philippines, where same-sex marriage is also illegal, as well.
Utah County, where Provo is located, began encouraging virtual weddings after Covid-19 forced it to close its physical offices. Trans-national couples, whether straight or gay, usually face daunting immigration and legal hurdles, particularly if the parties met online and live in different countries; they've flocked to avail themselves of Utah's flexibility.
The paperwork for an online wedding in Utah costs about $100, and applicants must submit proof of identity. "To verify who they are," Foley said, "to make sure they're of age, that it's not part of some kind of scam, that it's not some kind of human trafficking."
Foley said he charges about $100 for his services as officiant. Zoom weddings are typically short, joyful and cost-effective, since dozens of guests can join from anywhere in the world.
"It just makes me happy," Foley said. "That's the stuff that makes me get up at three o'clock in the morning to do it."
Additional reporting by Xiaoqian Zhu and Chi Hui Lin
Courtesy of Guardian News & Media Ltd. Read the complete article here.
If you liked what you just read and want more of Our Brew, subscribe to get notified. Just enter your email below.