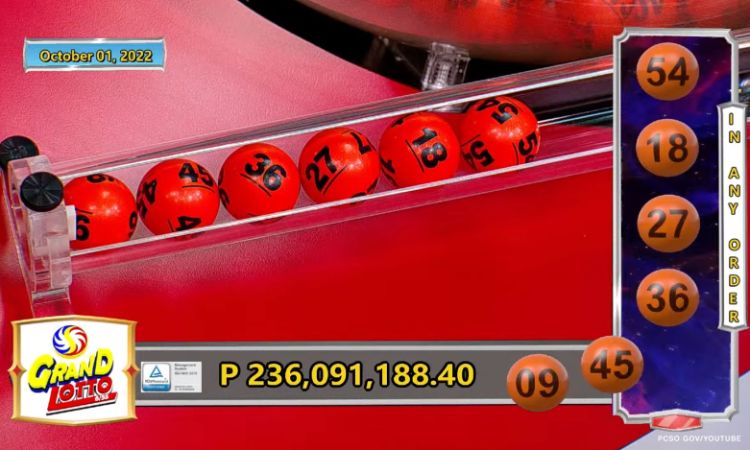 When conventional wisdom and math says you have a better chance of being hit by lightning than winning the lottery, 433 individuals betting on the same numbers and winning the grand prize was not only freaky, but, uhm, suspicious.
Twitter being the hub of experts, clowns, conspiracy theorists and everything in between, it did not take long for the "lucky 433 incident" - where 433 lucky souls shared the P236 million lotto jackpot - to spin sideways: It's payment for trolls, an inside job, wholesale fraud. It could even be a textbook case of Wag the Dog, pure political misdirection to keep patriotic citizens busy while the President hops on a jet to watch fast cars go vroom vroom in Singapore.
The general manager of the Philippine Charity Sweepstakes Office (PCSO), in a hastily called press conference, offered an explanation that's far from scientific: pure luck.
"There's a first time for everything." he says, adding that Filipino bettors are known to be loyal to a set of numbers. He then adds: "Loyalty pays. It's not only good to be loyal to your wives or husbands, it's also good to be loyal to your numbers."
Unfortunately for the PCSO exec, loyalty doesn't explain the math.
Edson Guido is the head of ABS CBN Data Analytics. He's an award-winning mathematician, surely not a nut case. Here's how he reacted to the news: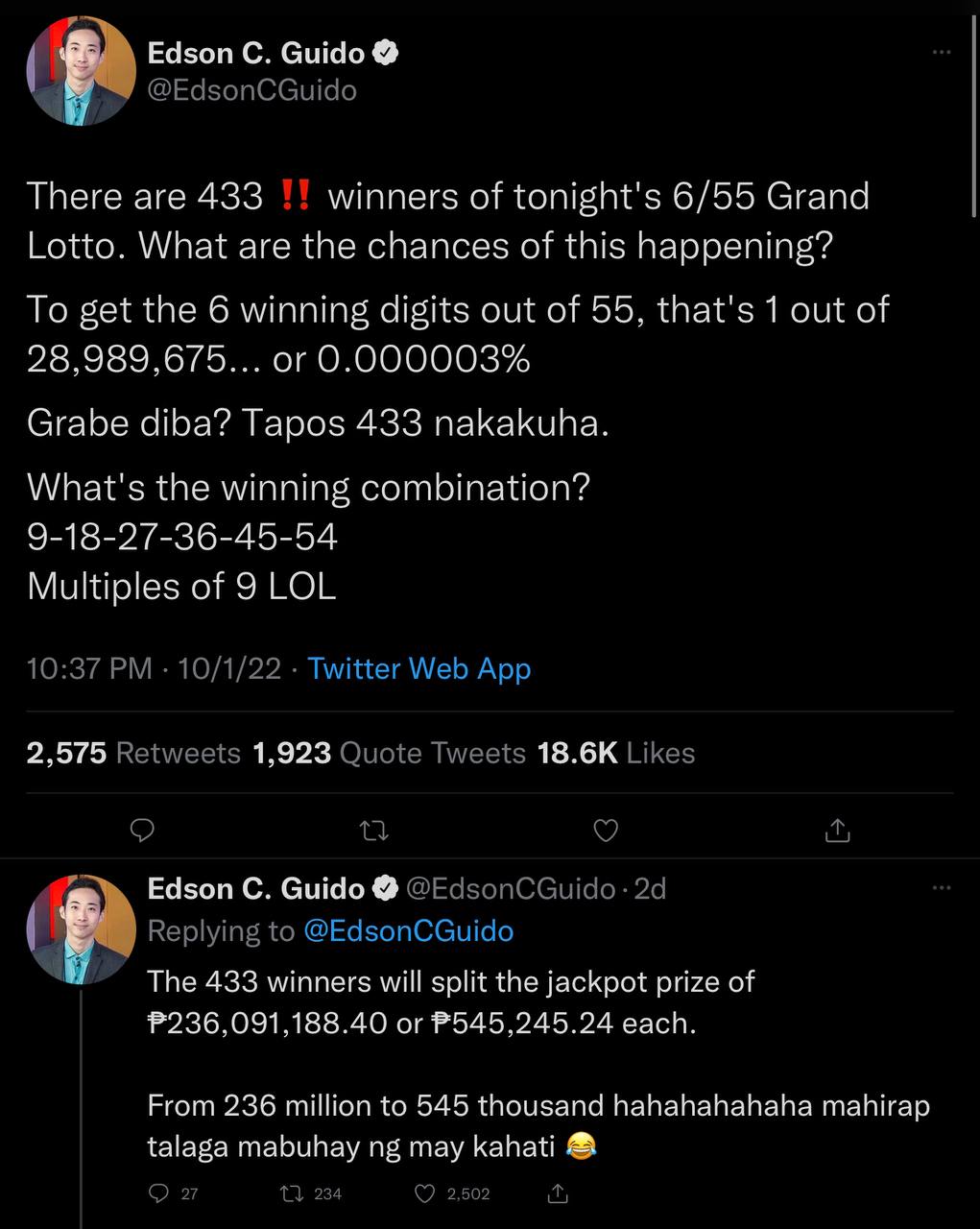 Mathematics professor Dr. Guido David may look the part of a mad professor in his zoom interviews at the height of the pandemic. He is a fellow and the visible face of OCTA Research.
David says it's highly unlikely - but not completely impossible - for 433 bettors to win the grand prize. But it's "unusual" for 433 bettors to get the right combination.
"Ang napansin natin na medyo unusual ay yung maraming nanalo…Parang hindi nangyayari ito madalas, in fact bihirang-bihira," he tells TeleRadyo.
In a separate tweet, David said the probability of having 433 winners is at "1 out of 1 followed by 1224 zeros."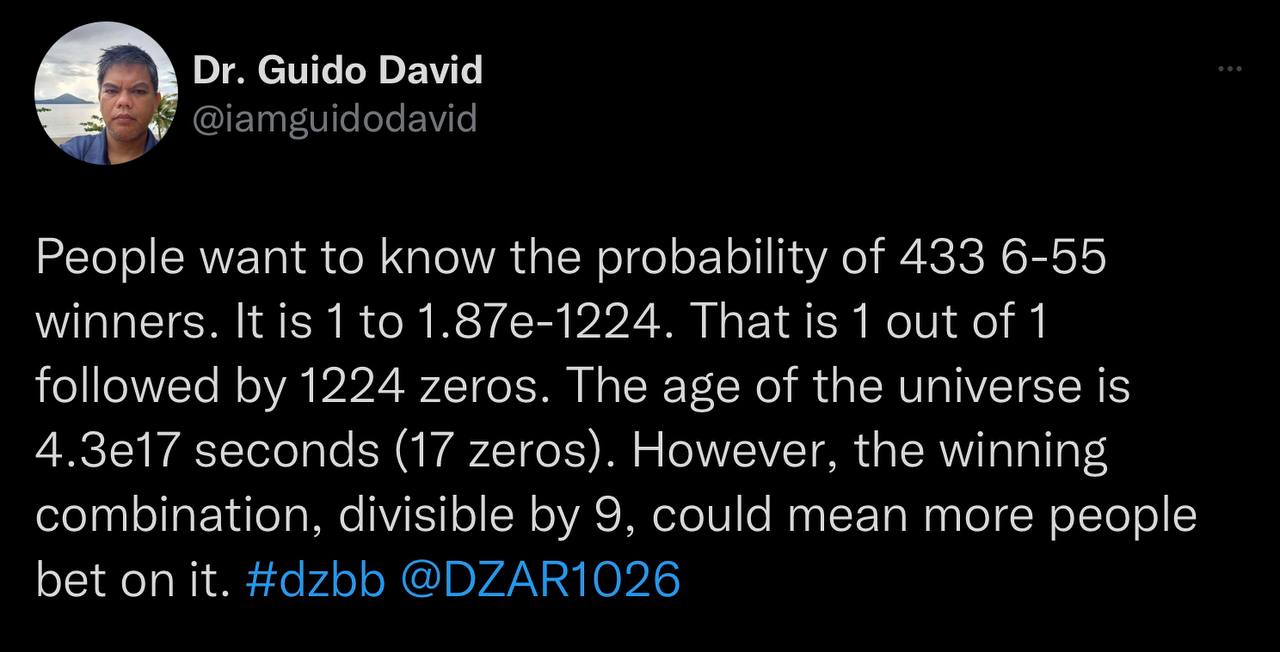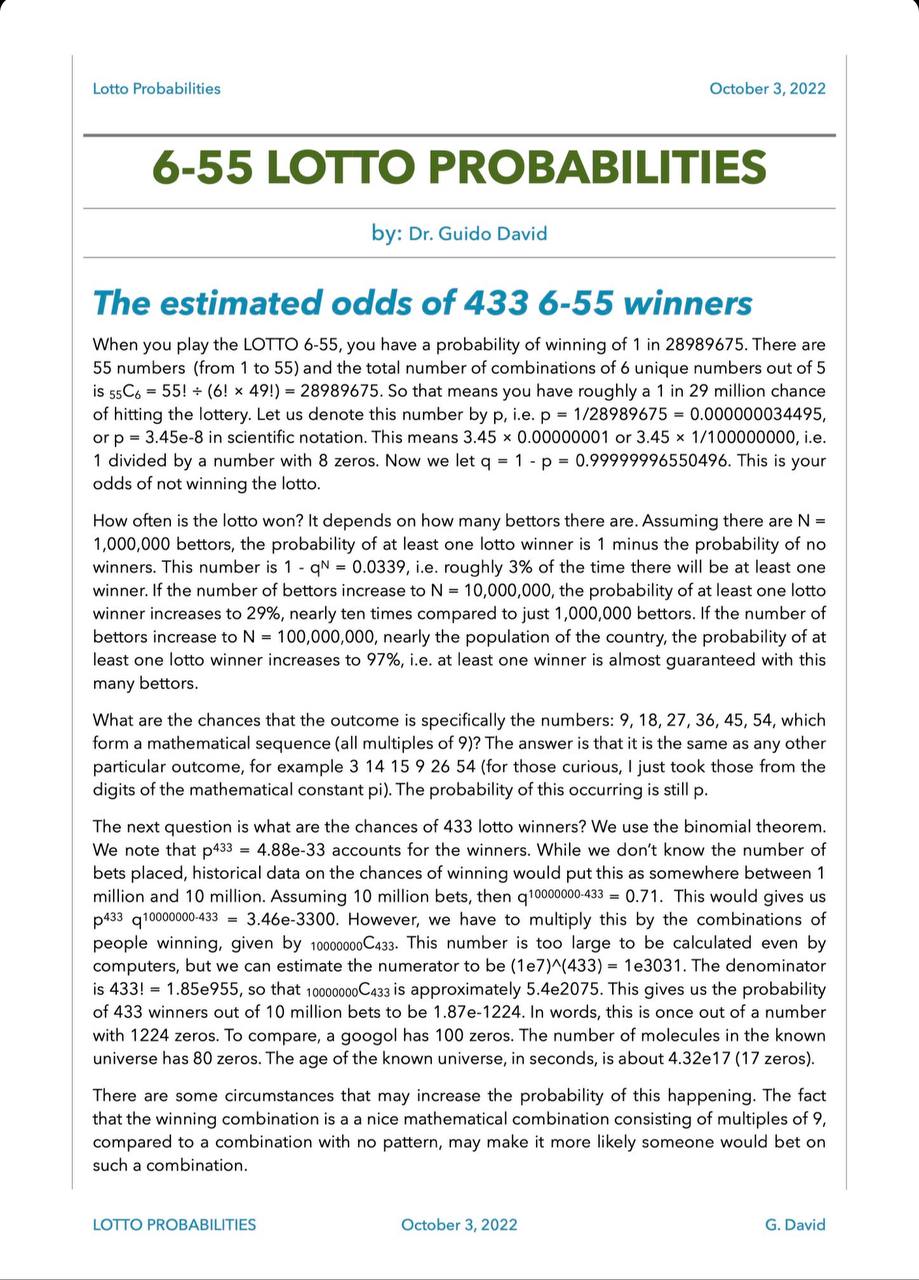 The story was intriguing enough for the BBC. The venerable news outlet, by way of background, mentioned a similar case in South Africa: "There were accusations of fraud after 20 people shared the jackpot in South Africa's national lottery (https://www.bbc.co.uk/news/world-africa-55154525) in December 2020, when the numbers five, six, seven, eight, nine and 10 were drawn.The organisers said the winners collected 5.7m rand ($370,000; £278,000) each."
The BBC cited similar incidents in Spain and the UK, although no one alleged fraud.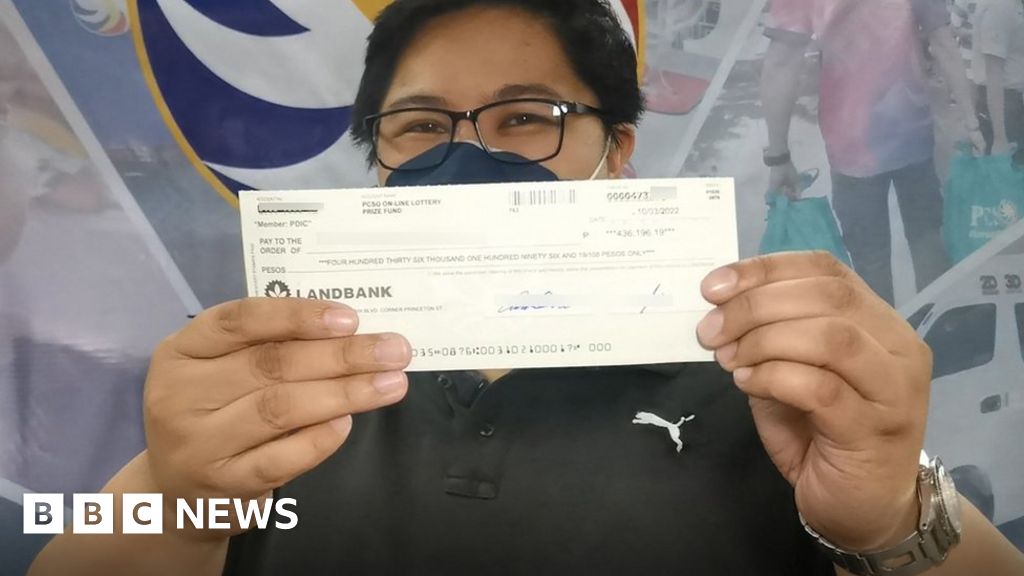 Several winning bettors have claimed their prizes at the PCSO. One winner allowed himself to be interviewed by the PCSO for their Facebook page:
"Yung winning number combination na 'yan matagal na 'yang inaalagaan ng tatay ko. Nagtatalo pa sila sa bahay kasi sinasabi ng mama ko yang number na yan in sequence masyado baka mahirap mapanalunan. Sabi ng tatay ko swerte yan swerte yan. Yan sum of 9, sum of 9 na yan sampung taon ko nang naririnig yan, paulit-ulit."
A minority senator called it a "rare event," so rare that it warrants a full investigation by the Senate. At the House, a separate probe is being demanded also by the minority, with the author citing allegations of fraud.
The PCSO says it's ready for these investigations. The process has always been transparent. Bettors are mad that their integrity and existence are being questioned. "Totoong tao po kami," one of them told CNN Philippines.
In the age of trolls, tribalism, partisan politics, and distrust in institutions, I guess it's time we retire the traditional greeting, "Uyyy, balato naman dyan!" - JS
If you liked what you just read and want more of Our Brew, subscribe to get notified. Just enter your email below.