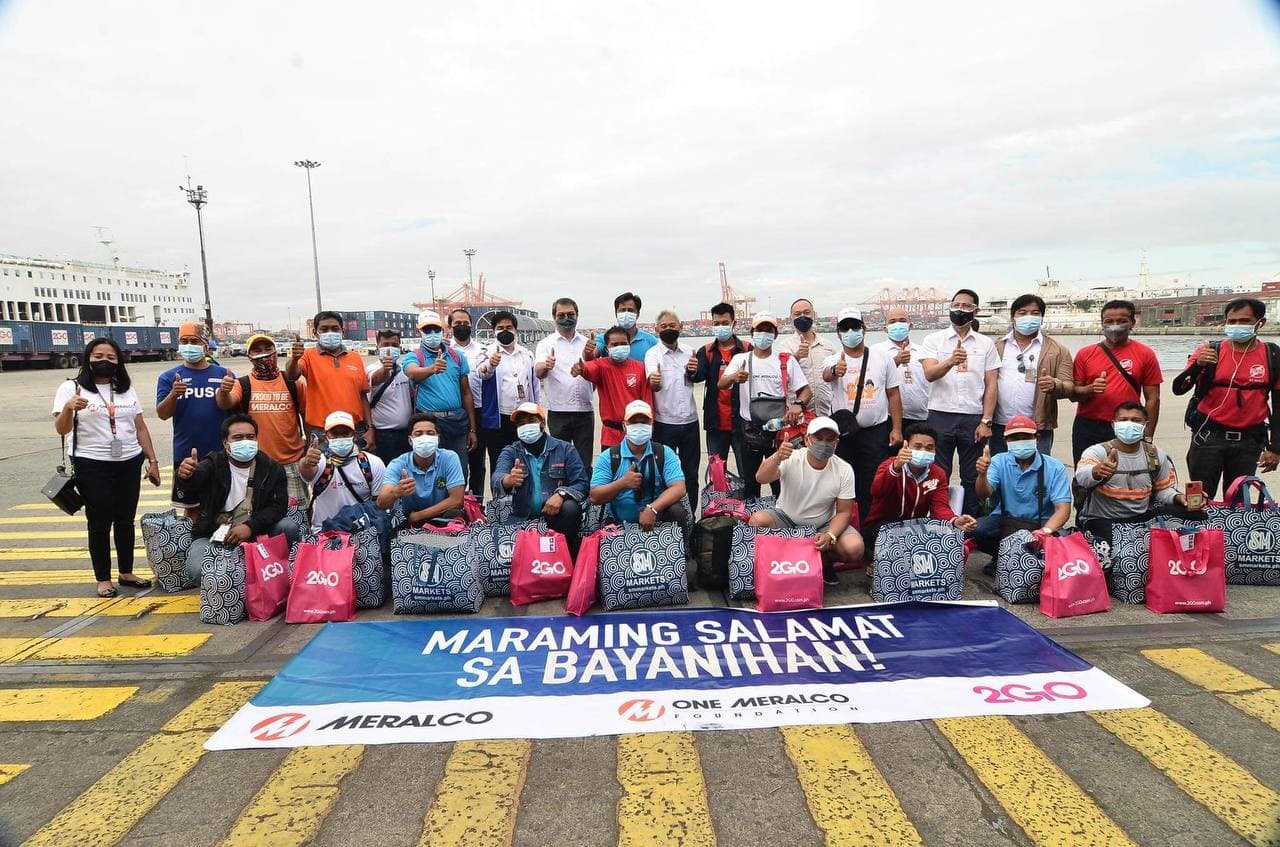 After spending more than a month helping restore power in areas devastated by Super Typhoon Odette, linemen and engineers of Manila Electric Company (Meralco) are finally back home.
Onboard 2Go vessels from Cebu and Bohol, 43 Meralco personnel on Wednesday, January 26, arrived at the North Harbor Pier 4 in Tondo, Manila.
They received a simple but meaningful heroes' welcome from 2Go and Meralco, which have been actively supporting efforts to help the severely affected areas recover.
2Go also brought home 23 trucks and vehicles of Meralco that were used for the power restoration efforts.
The logistics firm played a significant role in helping Meralco's Visayas contingent fulfill their mission, according to One Meralco Foundation (OMF) President Jeffrey Tarayao.
"Today, electricity service has been restored in more communities in Cebu City and Bohol as hundreds of poles have been erected and vital lines have been reconnected in these areas. Thanks to the bayanihan of so many stakeholders including one of our partners, 2Go, our kababayans severely affected by the typhoon are now recovering," Tarayao said.
"I would like to express gratitude to 2Go and its team for helping us bring our trucks and other vehicles needed to support the power restoration work in Cebu and Bohol," he added.
Meralco also partnered with the Armed Forces of the Philippines, particularly the Philippine Navy, the Department of Interior and Local Government and Philippine Airlines, to deploy crews and transport equipment and care packages to the affected areas.
The distribution utility continues to help areas that are still reeling from the impact of the typhoon. A total of 47 linemen and engineers, along with 11 vehicles, are currently assisting electric cooperatives in Surigao del Norte and Siargao Island.
"Extending help to our fellow Filipinos within and outside our franchise area, especially when it comes to power, has always been part of our DNA. We are very blessed to have employees who understand this and also exemplify malasakit, which is one of our core values," Meralco Senior Vice President and Head of Networks Ronnie Aperocho said.
"Despite the ongoing pandemic, we did not experience any difficulty in forming contingents who are more than willing to help. We will continue helping those affected by Typhoon Odette the best way we can," he added.
Besides help in bringing back electricity, OMF also partnered with other companies and non-profit organizations for the distribution of relief packages to affected families.
If you liked what you just read and want more of Our Brew, subscribe to get notified. Just enter your email below.