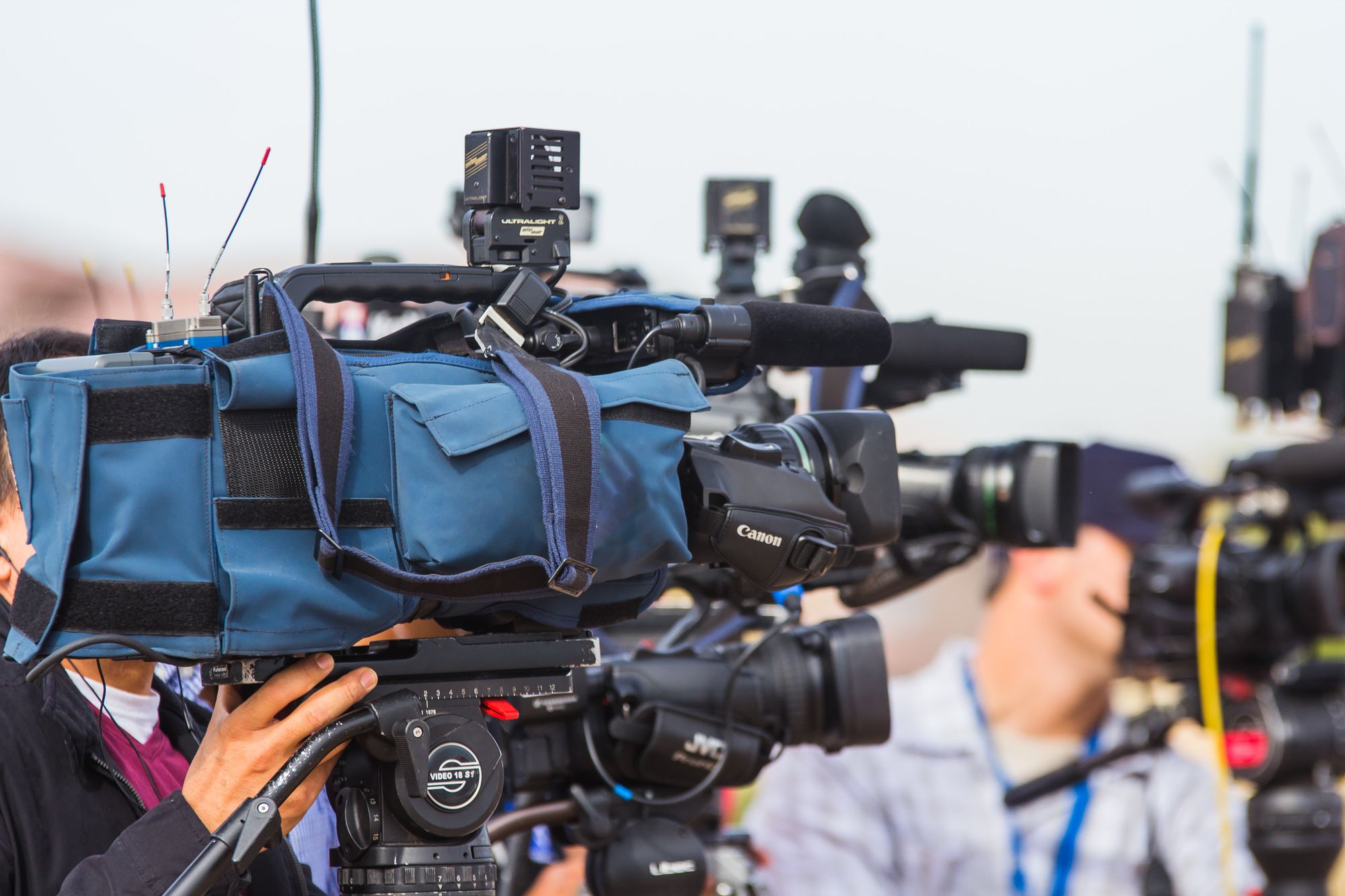 According to the 2022 Digital News Report, a global project of the Reuters Institute for the Study of Journalism on media consumption habits per country, more Filipinos trust the news, but would rather disengage. Trust in individual news brands have also fallen.
Yvonne T. Chua
The loosening of pandemic restrictions in March followed by a hard-fought presidential election campaign have further helped news organisations recoup advertising and other revenues lost during the prolonged lockdown. But concerns over press freedom have grown as incoming president Ferdinand Marcos Jr., the namesake and son of the late dictator, held professional journalists in low regard throughout his campaign.
Political advertisements started making their presence felt, especially on television, by the third quarter of 2021 ahead of the 8 October deadline for declarations of candidacy. They further picked up in early 2022 as the national and local campaigns got into full swing.
Across the whole population, television remains the most popular medium in the Philippines, but this year's Digital News Report confirmed a steady growth of online news consumption including heavy news use on a range of social platforms. Facebook remains the most widely used (73% for news weekly) but the biggest leap comes from TikTok, used by mere 2% for news in 2020 and now by 15%. News organisations correspondingly moved into the platform, especially in time for the elections. Besides being the largest radio and television network, GMA Network is now the country's largest news creator on TikTok, which it also partnered with for an election campaign series. Other brands that have attracted a loyal following are ABS-CBN, News5, The Philippine Star, Manila Bulletin, DZRH, and Rappler.
With the country awash with disinformation in the lead-up to the elections, media combined forces with academia and civil society to fact-check untruthful election narratives that mostly lionised Marcos and demonised his rival, Vice President Leni Robredo. Two fact-checking collaboratives took the lead: TsekPH, formed during the 2019 midterm elections and relaunched with 34 partners, and FactsFirstPH, a new initiative with 18 fact-checking partners.
However, journalists and fact-checkers alike continue to come under attack, a grim reality further highlighted when Rappler CEO Maria Ressa, who faces at least seven lawsuits, was conferred the Nobel Peace Prize for Journalism in December 2021. Ahead of the elections, Marcos barred professional journalists from covering his campaign events, snubbed media-hosted debates, and gave preferential treatment to friendly social media influencers and a partisan TV station that repeatedly lambasted mainstream media. Journalists and fact-checkers have been vilified not only by online trolls but also by public officials. A presidential communications official in February warned the government's anticommunist task force intended to take legal action against Rappler for allegedly spreading disinformation, as well as against Facebook for allowing Rappler and Vera Files 'to abuse the immense powers' of their designation as the platform's third-party fact-checkers.1
Big and small news organisations were targets of what seemed to be coordinated distributed denial-of-service (DDoS) attacks that crippled their websites for hours, even days. Apart from Rappler and Vera Files, ABS-CBN, GMA News, CNN Philippines, Interaksyon, PressOnePH, and Mindanao GoldStar Daily were attacked; so were alternative news sites Bulatlat and Pinoy Media Center. Months earlier, the attacks against Bulatlat and another alternative site were traced to an IP address assigned to the Philippine Army.2 The country's ranking in the World Press Freedom Index slipped further, by nine spots to 147th out of 180 countries.
Investments by media houses have been channelled mainly to growing their digital presence as Filipinos increasingly turn online for news. ABS-CBN Corp., for example, in January raised nearly US$10m from the sale of its shares and depositary receipts to fund digital initiatives and content production. These have kept the network afloat since mid-2020 when its free-to-air radio and TV stations closed after Congress refused to renew its franchise.
ABS-CBN's move preceded the government's decision to assign its highly coveted frequencies to three companies, two of them owned by allies of Ferdinand Marcos Jr. and outgoing President Rodrigo Duterte. Swara Sug Media Corp., owned by Duterte's spiritual adviser Apollo Quiboloy, who is wanted in the United States for sex trafficking,3 received the frequency formerly used for ABS-CBN's digital terrestrial television. The network's two other frequencies, including Channel 2, were awarded to Advanced Media Broadcasting System bought only in 2021 by Manuel Villar, former Senate president and the country's richest man.
While most online news sites still rely on advertising, revenue from paid online e-papers grew by 25% in 2021, outperforming those from Thailand, Indonesia, Singapore, and Malaysia.4 Revenue growth of e-magazines reached 19.5%. Around 70 titles, including leading newspapers, rely largely on PressReader to distribute their digital versions. The Philippine Daily Inquirer also sells digital subscriptions through the online shopping platform Lazada. Besides its basic plan, Inquirer is bundled with a choice of any of 10 local papers it has partnered with, or with 30 other publications, including Jakarta Post of Indonesia and The Star of Malaysia.
Yvonne T. Chua
University of the Philippines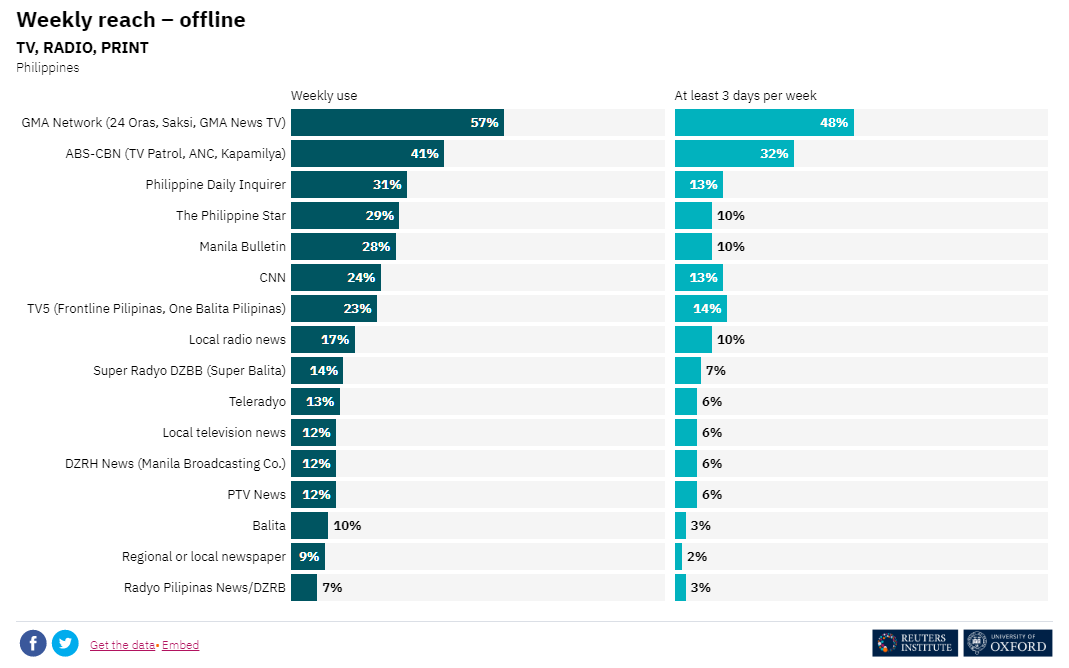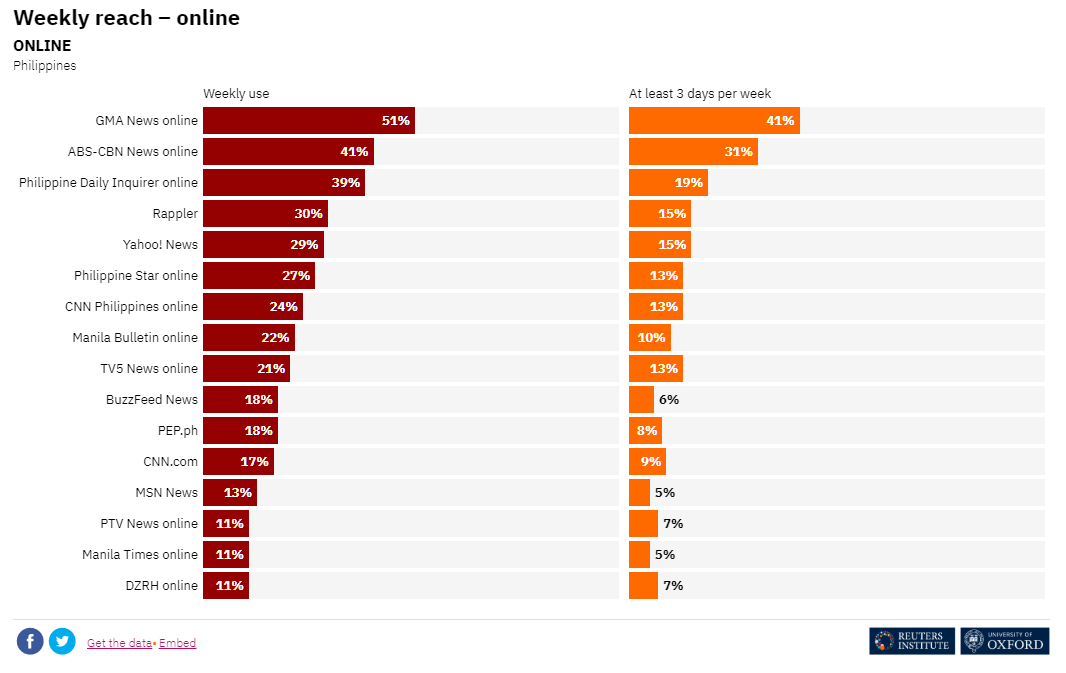 Changing media
Television news' reach continued its decline, from 66% in 2020 to 60% this year. The shift to social media and online sites of traditional media continues while the use of smartphones to access news has reached 80% of our sample.

Trust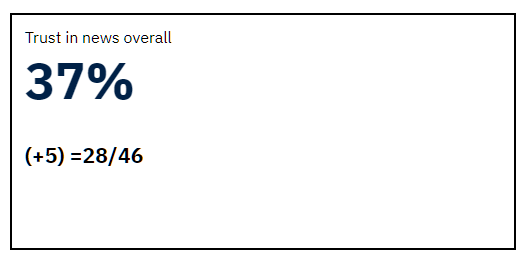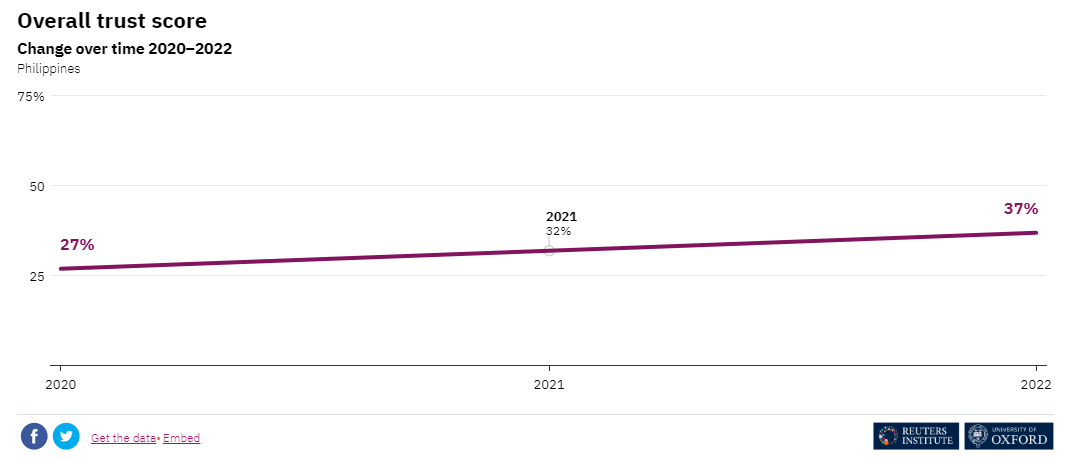 Overall trust in news rose as Filipinos turned to media amid a surge of COVID-19 cases around the time the survey was conducted. However, trust in brands slid, with the exception of DZBB, Teleradyo, Rappler, and the tabloid Abante. Independent outlets respected for their reporting on those in positions of power are often actively distrusted by supporters of the politicians in question.
Undue influence on the news media



Footnotes
1 https://www.facebook.com/lorraine.badoy/posts/10159683907769834 ↩
2 https://interaksyon.philstar.com/trends-spotlights/2021/09/23/200795/dict-unit-findings-bare-cyberattacks-vs-alternative-media-outlets-traced-to-philippine-army/ ↩
3 https://www.fbi.gov/wanted/human-trafficking/apollo-carreon-quiboloy ↩
4 https://www.statista.com/outlook/dmo/digital-media/epublishing/philippines ↩
Article Source: https://reutersinstitute.politics.ox.ac.uk/digital-news-report/2022/philippines
If you liked what you just read and want more of Our Brew, subscribe to get notified. Just enter your email below.