DALL-E painting of a politician doing The Pose
by Vincent R. Pozon
All presidents of late have heard this question thrown at them. Why? Because Filipinos insist on a feudal relationship with their officials.
The president is the national landlord. So it is asked, Bakit wala siya? Bakit secretary lang ang pumunta dito? Bakit hindi niya maibaba ang presyo ng bilihin? Eh, presidente siya?
The expectations are sky high. Gaano man kaliit ng problema, idudulog sa presidente. Kapag may kakulangan, gaano man kaliit, kasalanan ng presidente.
During calamities, the government official has but to tarry a minute and he will be terribly scorned.
The government official assumes that the system that is in place will work, and provisions will flow, that first responders will act expeditiously. The politically astute understand that this behavior is not what is anticipated of an individual in a government position, of an amo. An Amo is expected to be present physically. And it isn't just presence; they expect the people they voted for to take responsibility for their lives. Where will they live? How will they live? Who will replace their carabaos?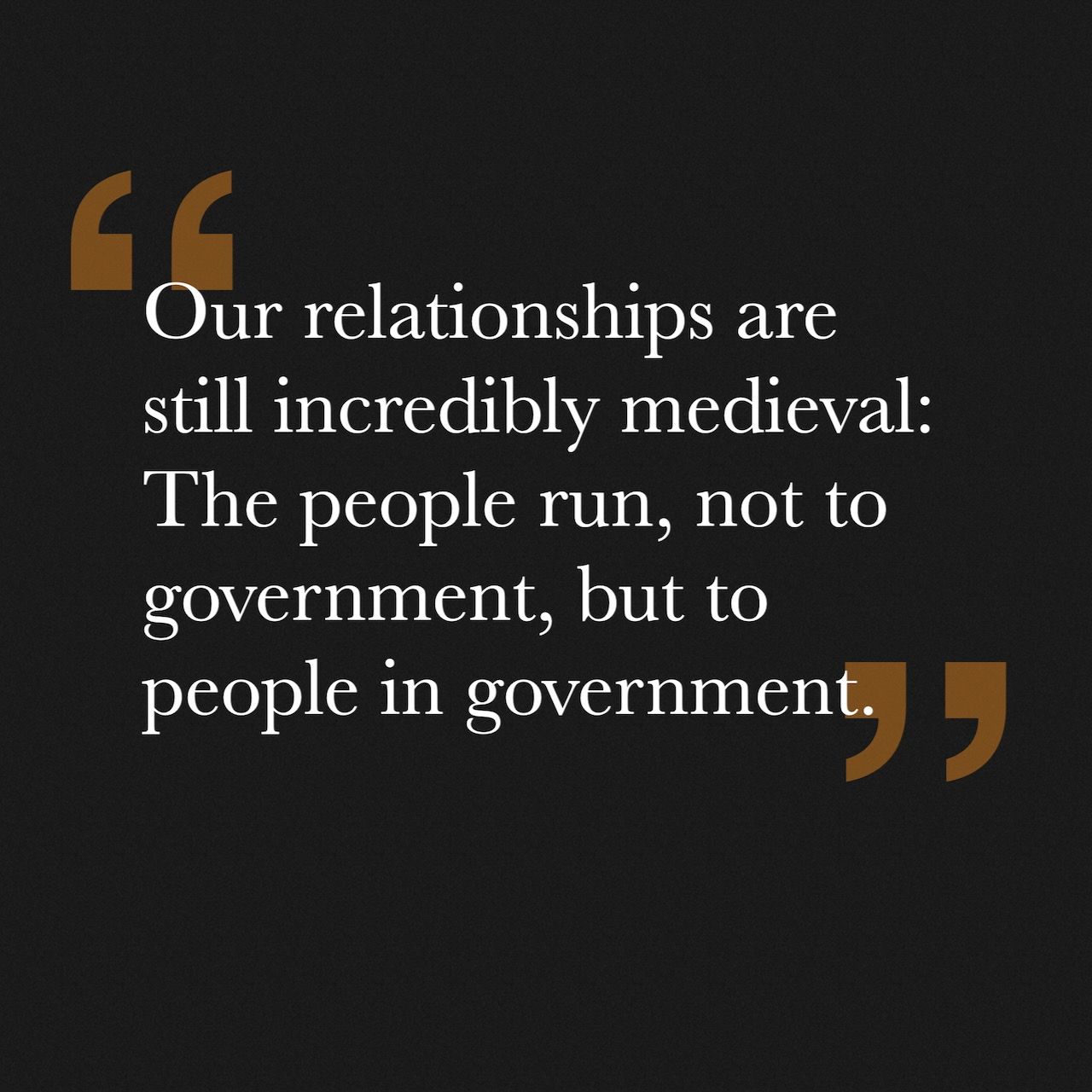 We See the Person, Not the Platform
Ikaw ang ninong ng bansa. Ikaw ang bahala sa akin.
Sa pamilya ko, sa pag-aaaral ng mga anak ko.

If you need seeds for the farm or money for matriculation for a child, for christenings, burials, weddings, pumunta ka sa 'Bahay na Malaki'.
When a politician does the role of feudal lord well, entire townships can be promised and delivered to him continuously. (Of the residues of Spanish Rule, the feudal relationship is the most injurious to the country, more injurious that the folk Christianity born of "three centuries of chapel").
While unsubtle and more palpable in the countryside, the feudal relationship with the voter is alive, well and throbbing in the city, and in the private sector.
An employee solicits his immediate supervisor to stand as godfather to his child. He will remember, as every proper vassal will, to bring gifts once in a while. The fief is employment, and, soon enough, homage and fealty are pled, and the supervisor becomes liege lord, godfather and protector of an entire family. The owner or president of a company has but to proclaim his preference for a candidate and, tacitly, a decree is given. The wage slave's loyalty is assumed; his personal choice of candidate is abandoned.
"You can take the boy out of the country, but you can't take the feudal out of the boy."
The feudalistic nature of our society puts the lord/godfather/candidate on the pedestal. The Filipino's vote is obligated, surrendered, or promised. He looks to these big people to care for him and family, as feudal kings are expected to. Fealty, regionalism, kinship, present or possible employment for any member of the family are paramount considerations. He will take a bullet for him.
The actors wear the mien of the ideal amo: kind, gentle, generous to a fault. They assume The Pose frequently: with firm and friendly hand on vassal's shoulder, the lord will inquire as to his health and that of his family. This he does sincerely, never perfunctorily. Done in public, The Pose leaves our man sheepishly smiling; he has just been honored, assured and insured.
His vote has just been bought for life.
THE POSE OF THE AMO: Arm around the shoulder of the needing constituent.
The feudal lord, no matter how morally infirm, corrupt, vicious to outsiders, is sustained by lifetime allegiance. "In exchange for the fief, the vassal would provide military service to the lord." New World Encyclopedia
A Problematic Relationship
People who win elections are people who are loved, which would not be a problem except the focus is on faces. The Philippines is a nation unable to wrench itself from the muck and mire of this medieval system because of a structure of government where only the known and loved are voted into office.
A system of government based on electing people protects and cultivates the feudal mindset. Since terms in office run 3 to 6 years, hardly any major program or vision of continued progress will be attempted. In such a system of government, instead of decades long masterplans, families are institutionalized. You can understand their hostility to the concept of a parliamentary government, which installs political parties and diminishes the person. In the present system, the political party has devolved into little more than a coat with an insignia, thus the phrase "turncoatism."  Outside of the partylists, our political parties are bereft of any semblance of philosophy.
And so "we all look to (presidents) to show the way, spit on both hands, rub rigorously like a front-line gladiator and come out fighting with cestus, broadsword, and all," wrote the late Teddy Benigno.
It's the person, not the platform in a feudal society, though academic research suggests that this also happens in America. "Time and time again, voters in the US showed no evidence of clear ideological thinking," says a paper from three professors of three universities.
Intriguing was this: "We are investigating the theory that people form candidate preferences and thereafter change… political attitudes and beliefs so they become more consistent with their candidate choice... We have found evidence of rationalization in… party identification, and stances on abortion and other national policy issues." Jon A. Krosnick, Professor of Communication, Political Science, and Psychology, Stanford University.
While the situation in the United States is not as severe as it is in the Philippines, the underlying denominator is the system of governance, which provides less opportunities for long-term masterplans that bear fruit after decades.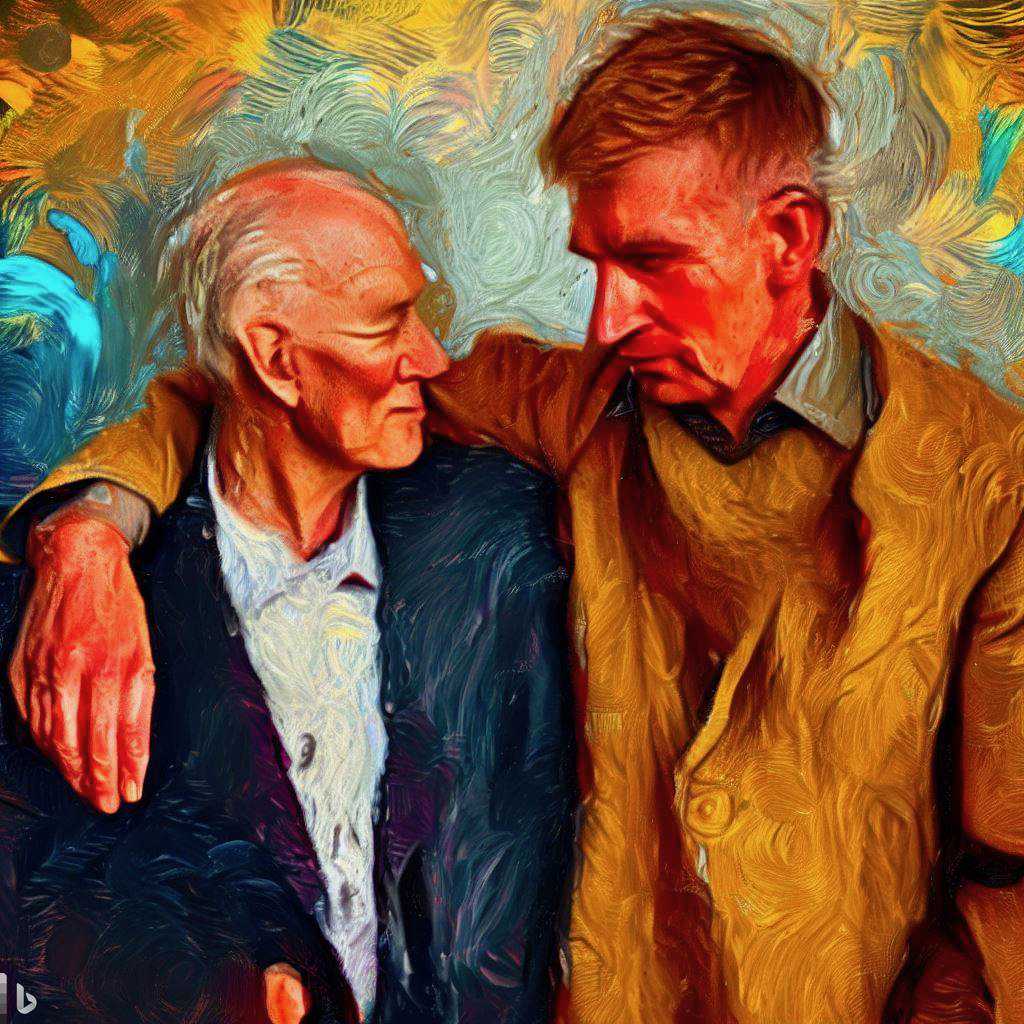 What Then to Do, Short of Upending the Constitution?
Invent a party and sell it as a person. If that appears oversimplified, well, it is because it has not been done, or has been done insufficiently.
We have not mounted an effort to sell a platform or party, to ask people to search for an honorable heart, a good lord, a national mabait na amo -- the desired personal attributes -- in a party.
We must give the party a face, a brand, and arms to lay on the shoulder of the voter. The objective is to see the party anthropomorphized into the godfather people need and want.
Commonsensical is to provide clear and detailed information about the party's platform and policies, how they align with their values and interests.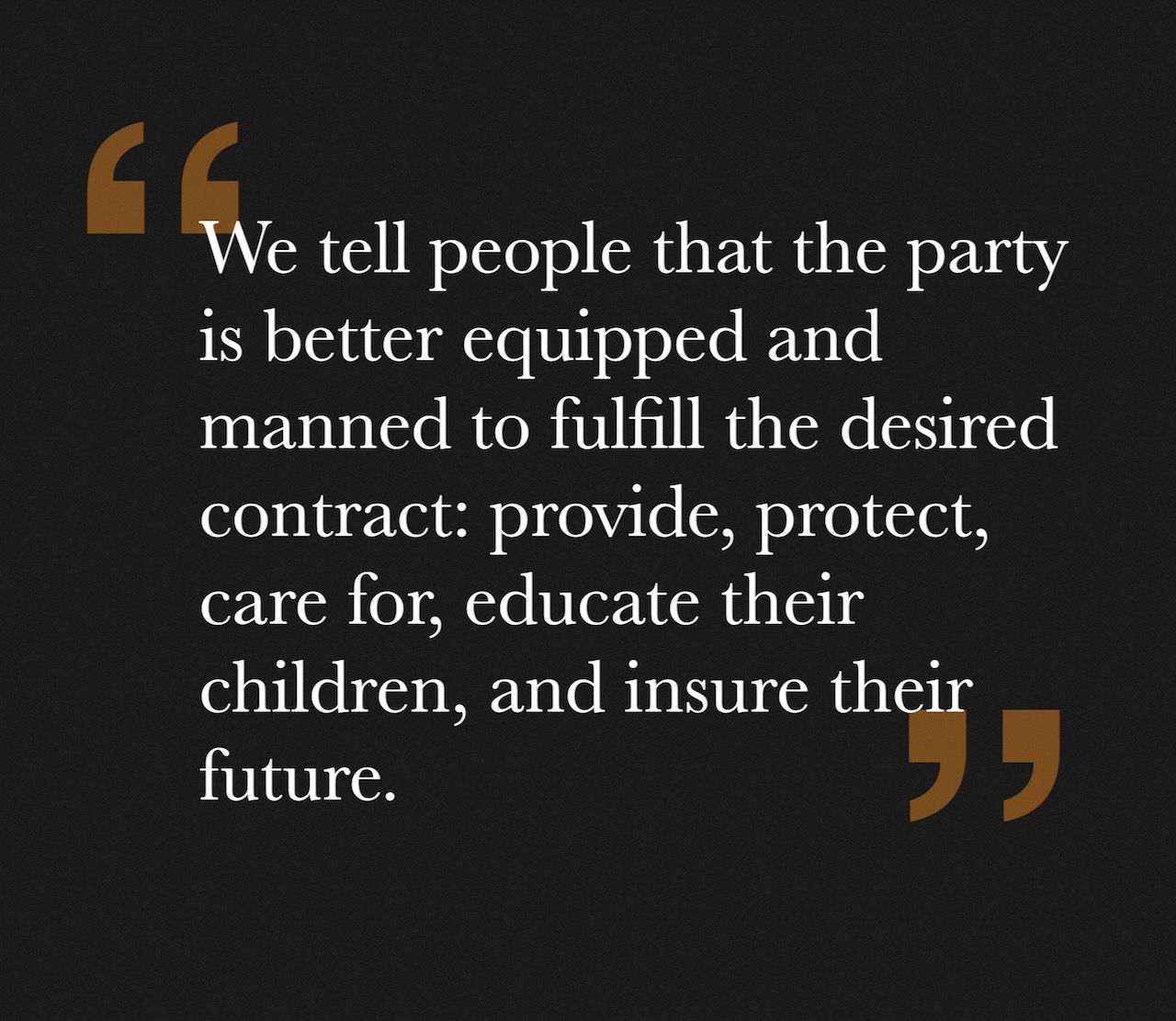 It is Not All "Air War", Of Course
We need more than propagation. There must be investment in grassroots organizing. Building strong local networks and mobilizing supporters through outreach efforts can help strengthen the party's brand and establish it as a trusted and reliable presence in people's lives.
There must be efforts to build coalitions and partnerships with church and civil society, NGOs, labor unions, and advocacy groups, with a strict filter: that they all share the same values and priorities.
How to Make the Filipino See Party as Godfather?
Turn the product -- the party -- into a brand that stands for the desired. Jumpstart the process by offering not a face, but faces believing in the brand. Give flesh to the concept of a party that cares for the human being in society with a credible selection of people.
Imagine the personhood of a party born of ideology, a party where the candidates are more similar than disparate, more homogenous than those merely collected for political alliances. Shape the party into the Beatles instead of a band with John, Paul, George and Ringo.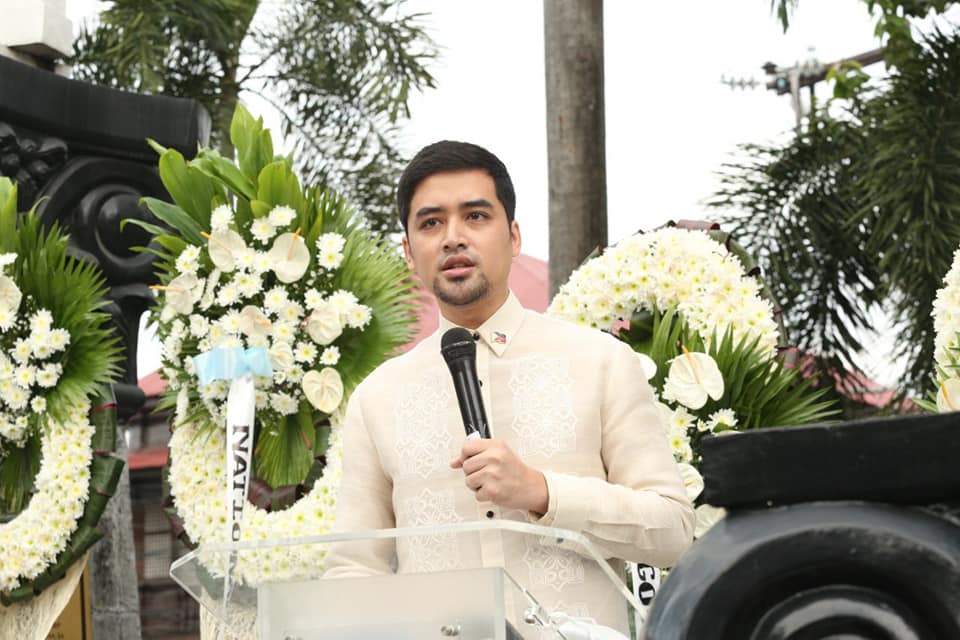 Consider choosing members who are fresh and untainted. Look for individuals who have non-traditional careers or life works, say, off the bat, Vico Sotto, a mayor who has demonstrated his integrity and cannot be associated with corruption, and Patreng Non, an organizer of a movement that helped provide food to the poor during the darkest days of the Pandemic.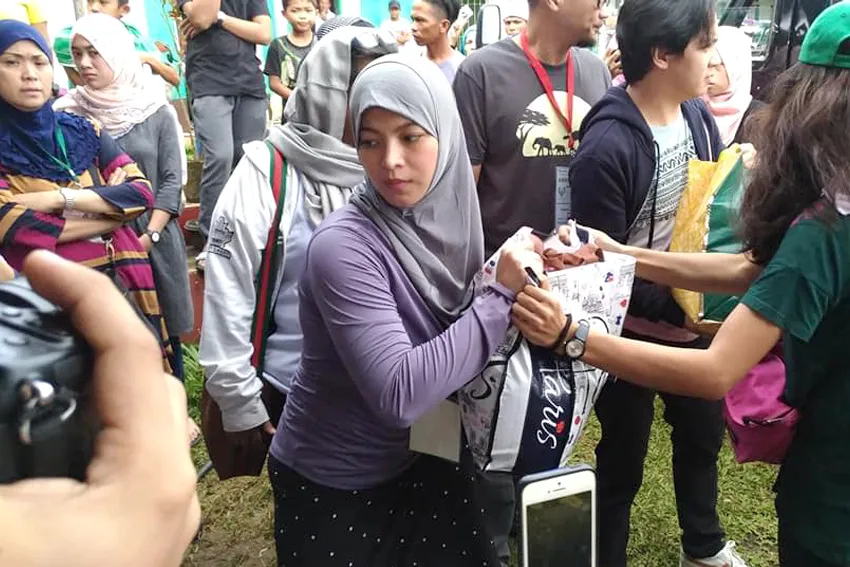 Utilize strategic celebrity endorsements. Although it may appear counterintuitive or paradoxical to employ celebrities when the goal is to shift the focus from individuals to the party, it can effectively increase the party's visibility and promote its core principles. Again, thinking on the fly, Catriona Grey, who has demonstrated a willingness to stand for good, and Angel Locsin, distinguished by her work for the poor, and one of Forbes' Heroes of Philanthropy.
A clear vision, a phalanx of good people, like-hearted, and well-liked, and the whole becomes greater than the sum of its parts.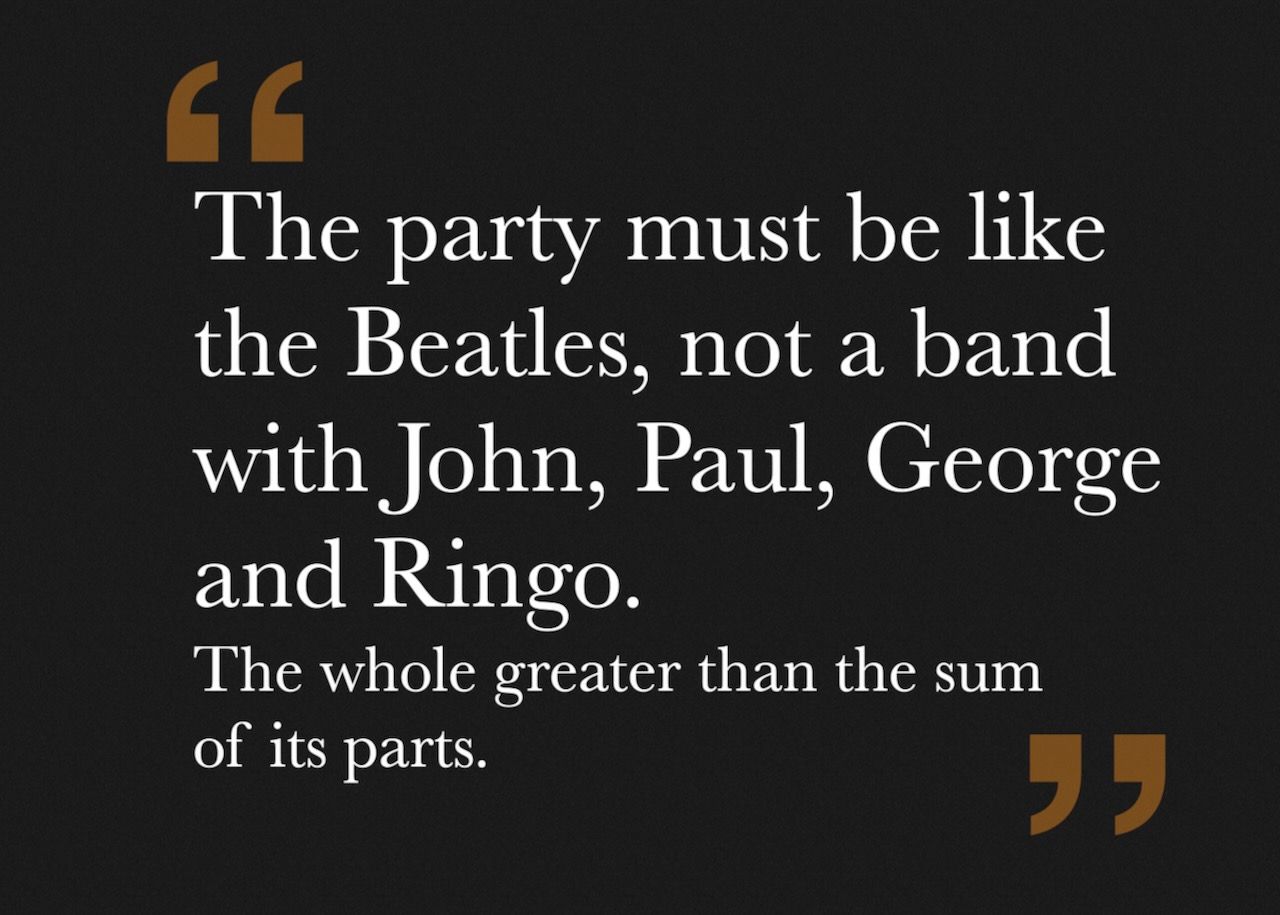 ---
After a year of college, Koyang entered advertising, and there he stayed for half a century, in various agencies, multinational and local. He is known for aberrant strategic successes (e.g., Clusivol's 'Bawal Magkasakit', Promil's 'The Gifted Child', RiteMED's 'May RiteMED ba nito?"). He is chairman of Estima, an ad agency dedicated to helping local industrialists, causes and candidates. He is co-founder and counselor for advertising, public relations, and crisis management of Caucus, Inc., a multi-discipline consultancy firm. He can be reached through vpozon@me.com.
If you liked what you just read and want more of Our Brew, subscribe to get notified. Just enter your email below.