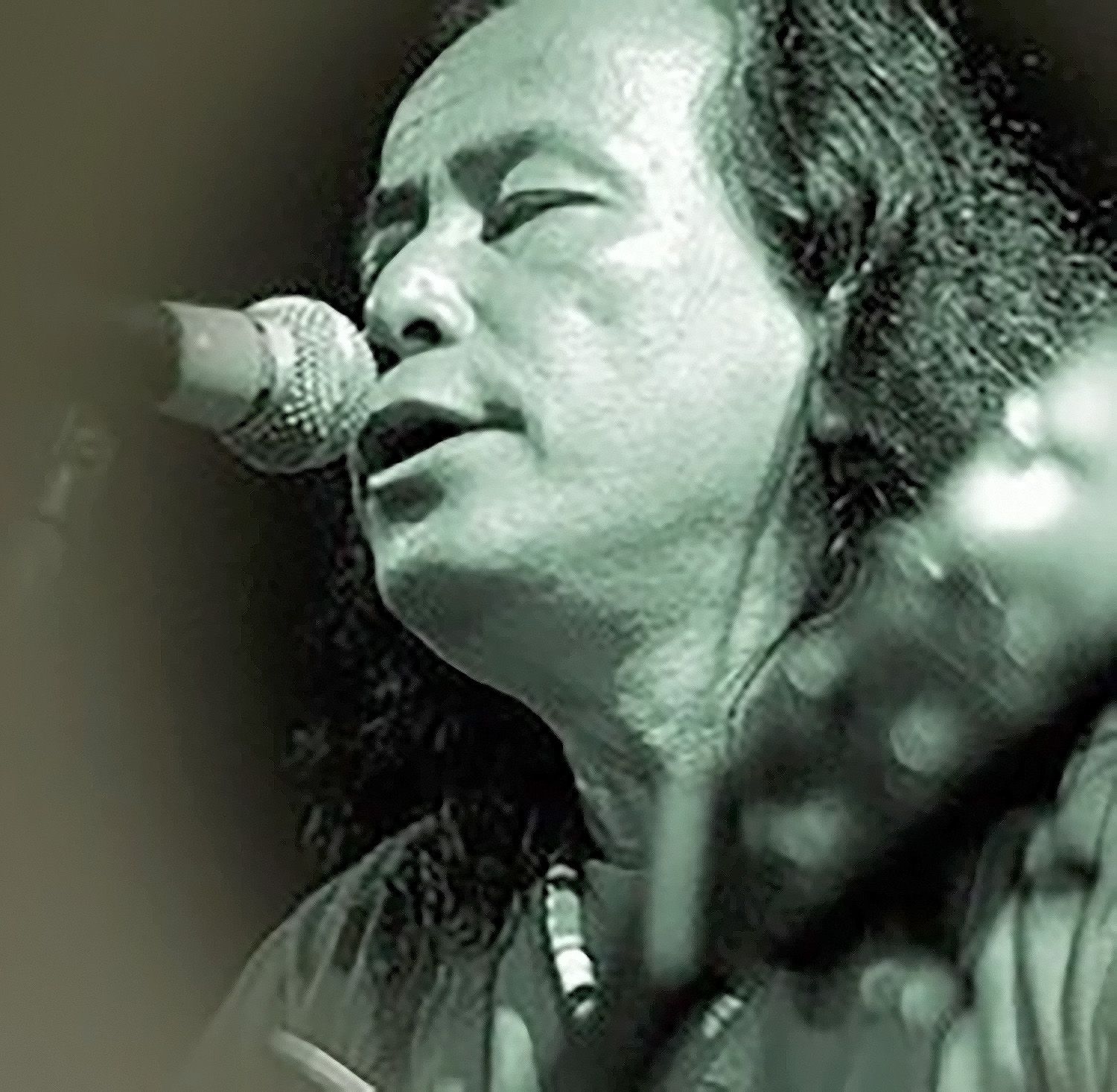 The power of singer-songwriters like Pendong Aban Jr. is in their near mystical ability to capture the present and speak to the future, to express complicated sentiments with a simple turn of phrase
By Joey Salgado
For habitues of 70s Bistro in the 1990s until the early 2000s, Friday nights were special nights.  It's when the bar becomes a community, a gathering of like minds, fellow travelers, and former and current comrades in arms. Presiding over this weekly ritual is Alfredo "Pendong" Aban, Jr. of Ang Grupong Pendong, founding member of the legendary folk-rock group Asin and a pillar of the alternative rock scene.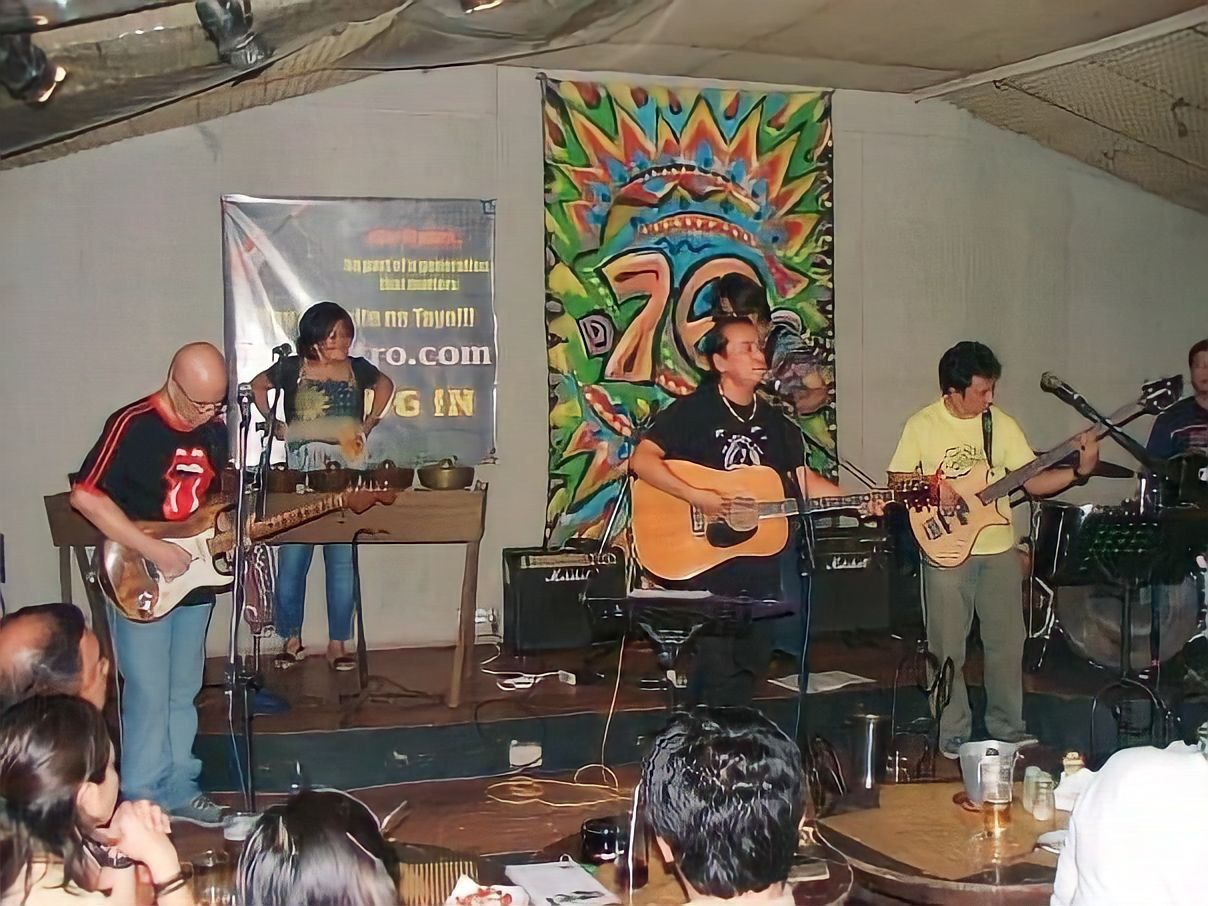 Few artists like Aban from Pinoy Rock's classic era thrived in the 90s. A working musician with a charismatic stage presence, Aban presides over the ritual with a voice that resonates shaman-like. And whether at 70s Bistro, on an international stage, or an intimate gathering of friends, Aban sings with conviction, an unyielding belief in the liberating power of music.
Bus Stop in Buenavista
Like most teenagers of his generation, Aban was captivated by this new sound called rock & roll. Already musically-inclined as a child, he learned to play the ukulele from his father, a postman in their hometown of Buenavista, Agusan del Norte. Aban recalls that his father, the senior Alfredo Aban, would spend his lunch breaks at home, a short walk from the post office.  After lunch he would lie on his hammock and sing Nat King Cole tunes while accompanying himself on the ukulele.
The teenage Aban would switch to a guitar in high school, a five-string purchased during a trip to Cebu. A friend taught him the chords, and he practiced by serenading ladies with standards from the 50s. Later, Aban joined a band and performed in town fiestas and even at a lumberyard in Butuan. They played hits from The Hollies, "Just One Look," "Bus Stop, "Carie Ann". It was strictly DIY: they played on old guitars and the drum kit was made from oil drums. But there was youthful energy and passion, and that was all that mattered.
By the time Aban travelled to Manila at the age of 18, rock & roll had evolved from pop-oriented bubblegum to folk rock, hard rock, and psychedelia. He found lodging in a dormitory in Quiapo - memorialized by the late Alfredo Navarro Salanga as Manila's "armpit" - where he met a guy named Keith, who also liked to sing and play guitar. Forced to stop schooling to allow a sister to finish her nursing course, Aban, with Keith, turned to folksinging. It was the mid-70s and the country was enthralled by Pinoy Rock.
Folkie
Pinoy Rock emerged from the living rooms of youngsters with radios, turntables, and guitars. Manila's folk houses played a key role in the birth and mainstream success of Pinoy Rock. They were the proving grounds for artists that would become major recording stars. Mabini St., in Manila's tourist district, was the epicenter of the folk scene.
Aban and Keith got their first gig at Charcoal House, a folk house along Recto, in the University Belt area. As Keith and Fred, they played two sets a night and were paid P20 each.
"Tapos may nagsabi sa amin na 'brad pwede na yata kayo sa Mabini' kasi nandoon 'yung sentro talaga, nandoon 'yung mga malulupit na folkhouses talaga. Kasi ang Charcoal House pang-masa naman talaga noon e, mga estudyante," Aban recalls.
Aban admits they were not yet ready to join the big leagues. "So pumunta kami ni Keith sa Mabini at sinubukan naming mag-audition sa Pension Filipina.  Naku, kinabahan kami kasi nandoon din 'yung God's Ego. Kaya medyo ooops teka muna, atras kaya muna tayo," he chuckles. (God's Ego were among the heavy-hitters of the 70s folk scene, known for their spot-on covers of Crosby, Stills, and Nash).
Eventually, Keith and Fred would find regular gigs at Kola House and the other established Mabini folk houses like My Father's Mustache, Bodega, and Pension Filipina. This was sometime 1975. Returning from a six-month gig in Japan, Pendong met two other folk singers who went by Mike and Cesar: Mike Pillora, from Negros Occidental, and Cesar Bañares, from South Cotabato. They also befriended a Manila-born solo singer with a powerful, soulful voice named Lolita Carbon.
Present at the Creation
Bañares, Carbon, and Pillora would form the trio Salt of the Earth, drawing crowds for their covers of Peter, Paul & Mary. By then, Keith had decided to continue his studies and Aban became a solo performer. His set list included David Bowie's early glam-folk hit "Space Oddity,"  and Bob Dylan's "Masters of War" and seven-minute topical opus, "Hurricane." He would alternate with Salt of the Earth.
One night, Pillora approached Aban. "At doon ako niligawan ni Nonoy Pillora," he says.
Aban  recalls Pillora telling him, "'Sali ka sa amin. Marunong ka bang mag-bass guitar?' Sabi ko oo kasi bahista naman ako nung sa Mindanao pa ako. O, sige. Nandoon na ako. Ako na 'yung nagba-bass sa kanila."
In 1977, Tony Ocampo, Vicor's general manager whom Pendong called "Smiley," approached the quartet during a break at Red Cow, a folk house on Taft Avenue.
"Ang tanong nung una, may composition na ba kayo? Si Saro ang sumagot, sabi niya meron. Kasi si Saro 'yung nag-compose ng 'Masdan Mo ang Kapaligiran,'" Aban recalls.
Ocampo told them to record the song on cassette and bring it to his office soonest. "Ni-record namin sa cassette lang, ordinaryo lang, walang mga reverb, basta 'raw' lang. E, nagustuhan. Nagustuhan lalo 'yung lyrics. At simpleng-simple lang ang mga chords. Three chords lang," Aban adds.
"Masdan Mo ang Kapaligiran" was released as a single, with "Sayang Ka" as its flipside. Only a few copies were initially pressed and given out to radio stations. The song, a three-chord folk ballad on protecting the environment, became a hit. "Pumatok, nagustuhan ng mga tao," says Aban. More copies were pressed to meet the growing demand, to the point that quality control became an afterthought (A 7" single with the misprinted title "Masdan Mo Ang Kapalaran" is a collector's item).
From Salt of the Earth, a reference to Matthew 5:13, the group's name was translated to Pilipino and shortened to Asin.
The group began writing and recording songs for their first album. "Kasi marami nang humihingi, marami nang nagde-demand na magawa ang album. So ayun, doon nagsimula," Aban says.
But the label wanted to promote Asin as a trio, a local version, as was the marketing strategy in those days, of Peter, Paul & Mary. Aban agreed to fade into the background. He was the unseen one, but not the silent one.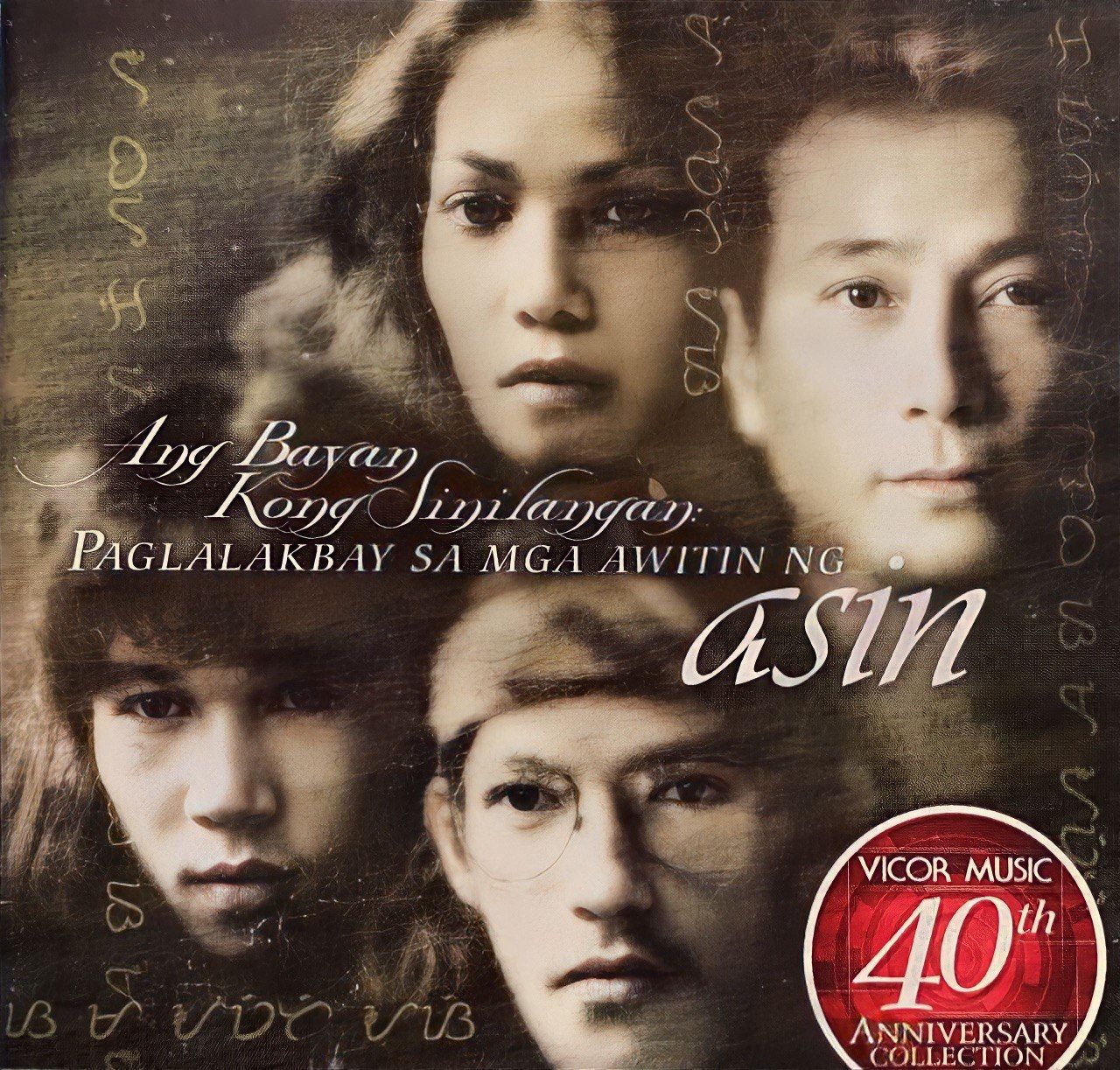 People's Songs
Asin's first two albums, "Asin" and "Himig ng Pag-Ibig," are regarded as Pinoy Rock canon. "Asin" introduced a sound that was new yet familiar. The songs were socially-conscious, tackling sensitive issues like the conflict in Mindanao. Acoustic guitars and four-part harmonies melded with the then unfamiliar sound of the "kulintang" and other indigenous musical instruments from Mindanao, the birthplace of Aban and Bañares.
On their first album, Aban collaborated with Pillora on "Mga Limot na Bayani." "Ako naman kasi hindi ako masyadong ano sa letra, kumbaga sa music ako, musika. Si Nonoy Pillora meron siyang (composition). 'Dong, itong Mga Limot na Bayani maganda ito.' Nakita ko 'yung niletra niya. Tatlong sektor ito: mga magsasaka, manggagawa, tsaka mga guro. So ako 'yung gumawa, nilapatan ko ng musika 'yun. Ako 'yung music diyan, ayun 'yung na-contribute ko sa first album," Aban recalls.
Aban is credited with co-writing four songs on their second album, "Himig ng Pag-Ibig," released in 1979. Compared to the folk-meets-kulintang template of the first album, "Himig ng Pag-Ibig" featured acoustic and electric guitars, strings, and the indigenous sounds of Mindanao and the Cordilleras. The album is more cohesive and richly textured, showcasing Asin's creative ambitions. And while the album cover again featured Bañares, Carbon, and Pillora, the back cover lists down for the first time all four founding members. The album also featured "Pag-Asa," a song that Aban co-wrote with a Baguio-based folksinger, Chat Coloma, who would become his wife.
This was a time when Asin was a cohesive unit, says Aban, collaborating on songs, doing press tours, and staging sold-out concerts. And they were restless, wanting to search deeper, to explore the music and the soul of tribal communities. "Nag-research kami, umikot kami sa Mindanao sa mga tribo para mag-aral lang ng mga indigenous instruments," Aban says.
For two months in 1983, Aban and Pillora immersed themselves in the culture, traditions, and musical heritage of the B'laans, Manobos and T'bolis. They talked to  shamans, learned to play the "faglong," a two-stringed lute, and other instruments from old masters, and even took part in a day-long ritual that swirled with chants, dances, and the incessant beat of the "agong."
Aban found wonder and magic in tribal music, and saw the possibilities of fusing it with folk rock and other Western musical forms.
Today it would be hard to imagine that these four folk singers would become rock music icons. They were unlikely rock stars. They did not possess the swagger, attitude, and riffs of their heavier-sounding contemporaries. Their songs resonated with activists and progressives, but they were not political.
"Hindi kami mga aktibista, mga lasenggero lang," Aban once said in jest.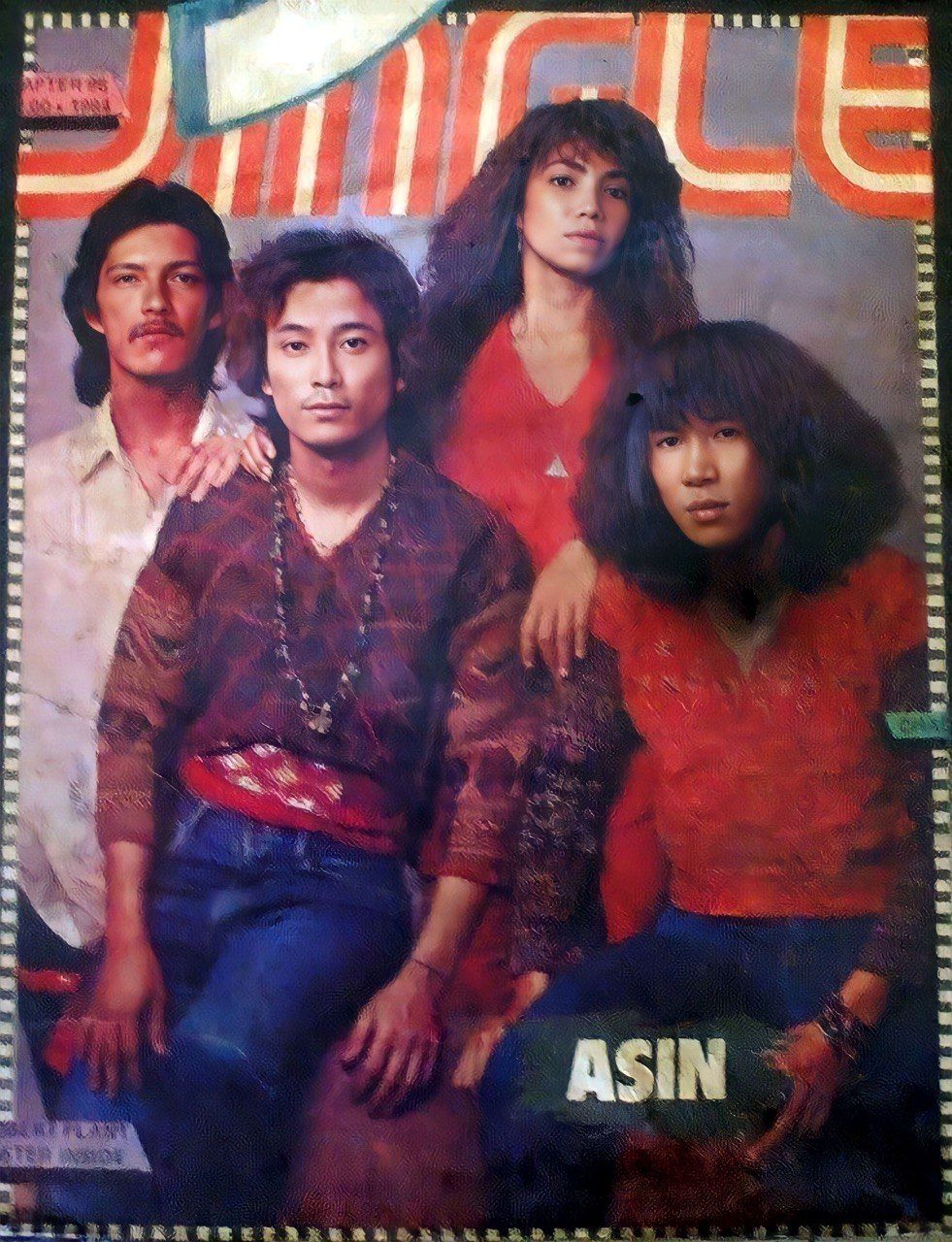 What Aban and the rest of Asin possessed were life experiences and the ability to turn these experiences into song-stories. And the common people heard their lives in these stories set to music. Asin's songs were devoid of posturing or artifice. They were authentic. And when they sang about social issues, they did not proselytize. They were not burdened by ideological rigidity.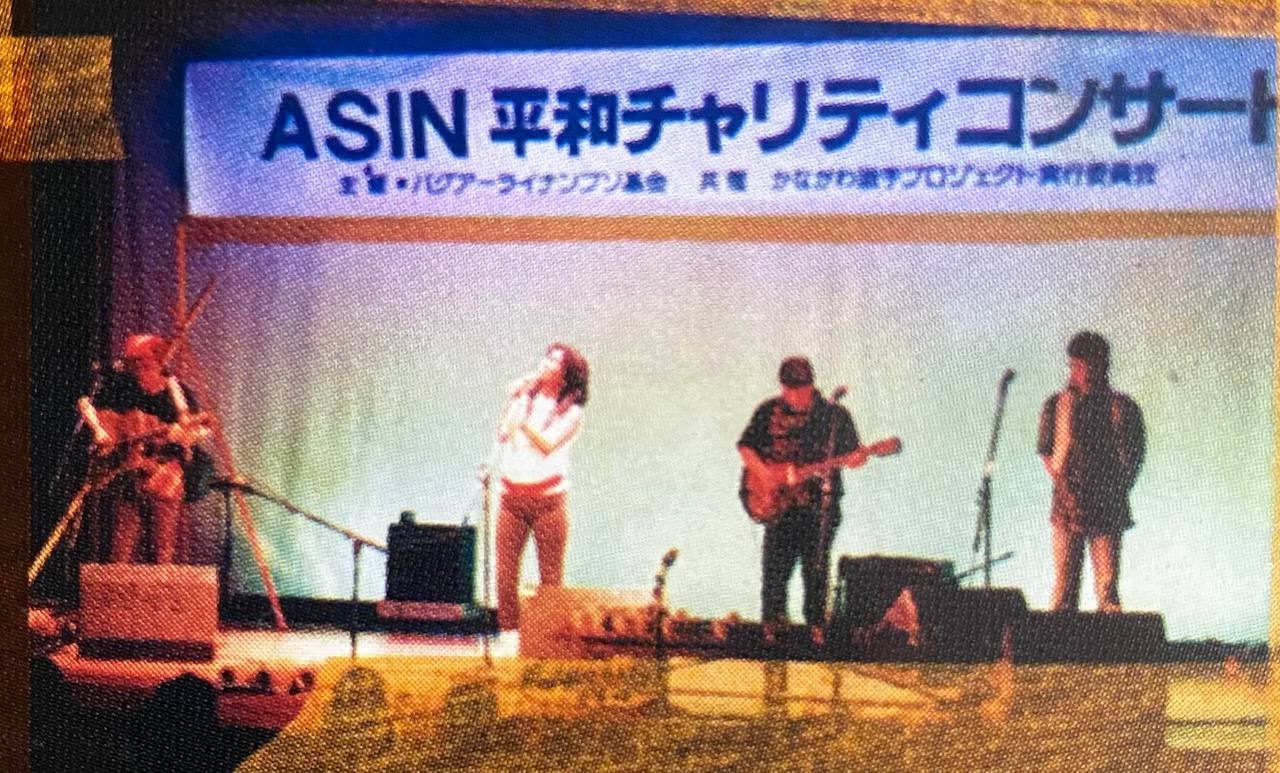 Poet Marne Kilates offers a succinct explanation for Asin's enduring legacy. "Sila 'yung sumasagap ng ethos ng protest even if they were not protestors themselves. Music ang nagdadala. I think that's one of the powers of music. (Ang Asin) 'yung maga-absorb ng kung ano 'yung nararamdaman ng lipunan, kahit hindi direktang involved sa movement, sa protesta."
And by embracing the music and the stories of tribal communities, Asin was also pivotal in helping define Filipino identity. "Filipino is not only Tagalog speaking but everyone who experience being Filipino in all the languages of the Philippines," Kilates adds.
Salty Separation
But Asin would be riven by disagreements that often blew up in public. There were walkouts and fist fights on stage. Asin was perhaps the only band that disintegrated in front of the public's eyes.  Asin disbanded but briefly reunited to record three more albums on another label. The songs on their last album, "Asin sa Atubiling Panahon," were written as a response to the protests stirred by the 1983 assassination of Ninoy Aquino. "Siglo," penned by Chat Aban, was the carrier single.
In 2001, After a long hiatus following the death of Bañares in 1993, Asin, on Aban's prompting, reunited as a duo with Aban and Carbon (Pillora reportedly declined an invitation to rejoin the group). They released the album "Pag-Ibig, Pagbabago at Pagpapatuloy," enriching the group's enduring catalog with some of their best compositions.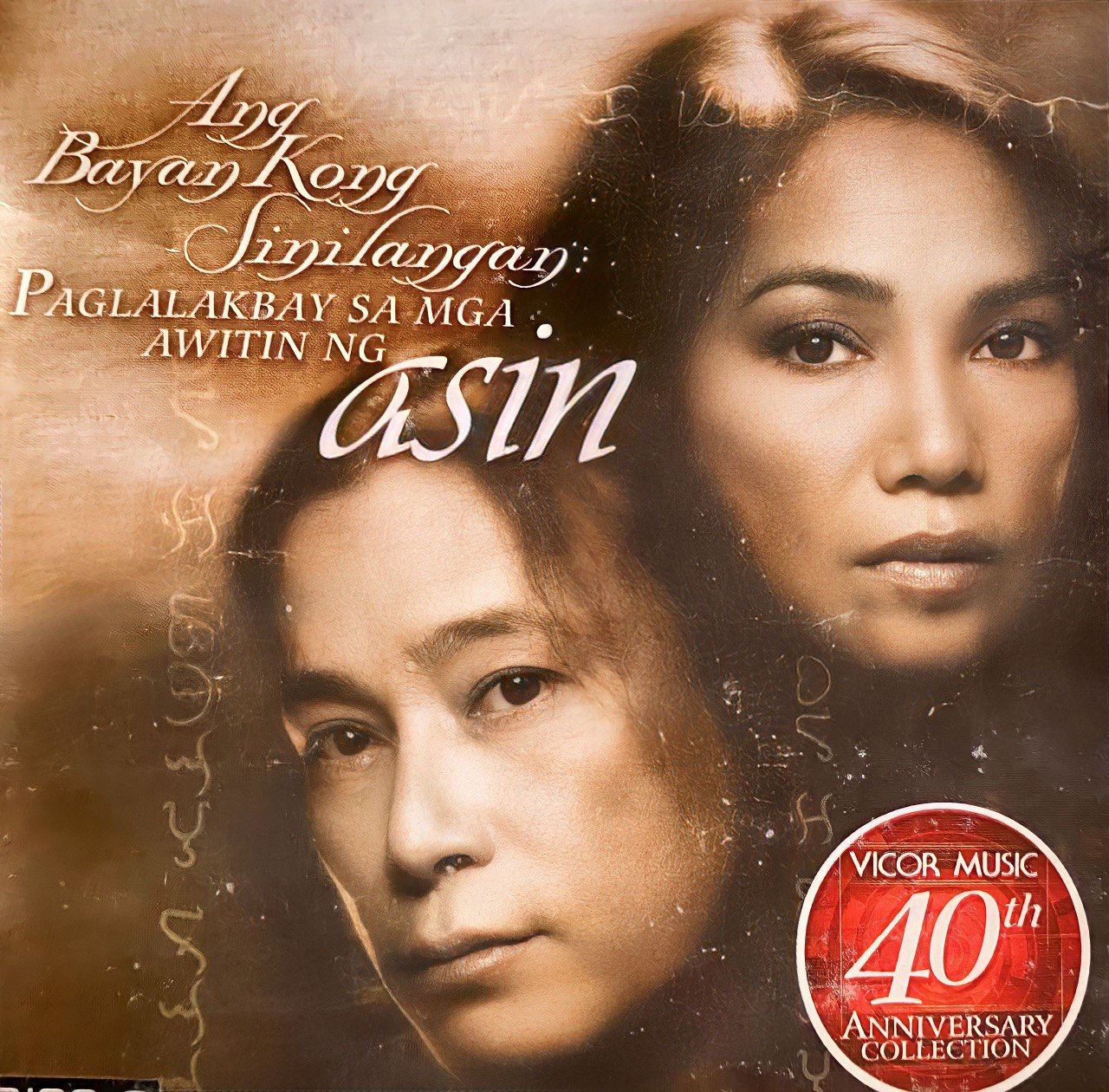 The resurgence was further fueled in 2003 when the rap/hip-hop group Black Eyed Peas sampled the Asin song "Balita" on "The APL Song," written and performed by Filipino-American Apl De Ap. The song appeared on their monster album "Elephunk." Aban and Carbon were guest performers during the Black Eyed Peas' Manila concert in 2006.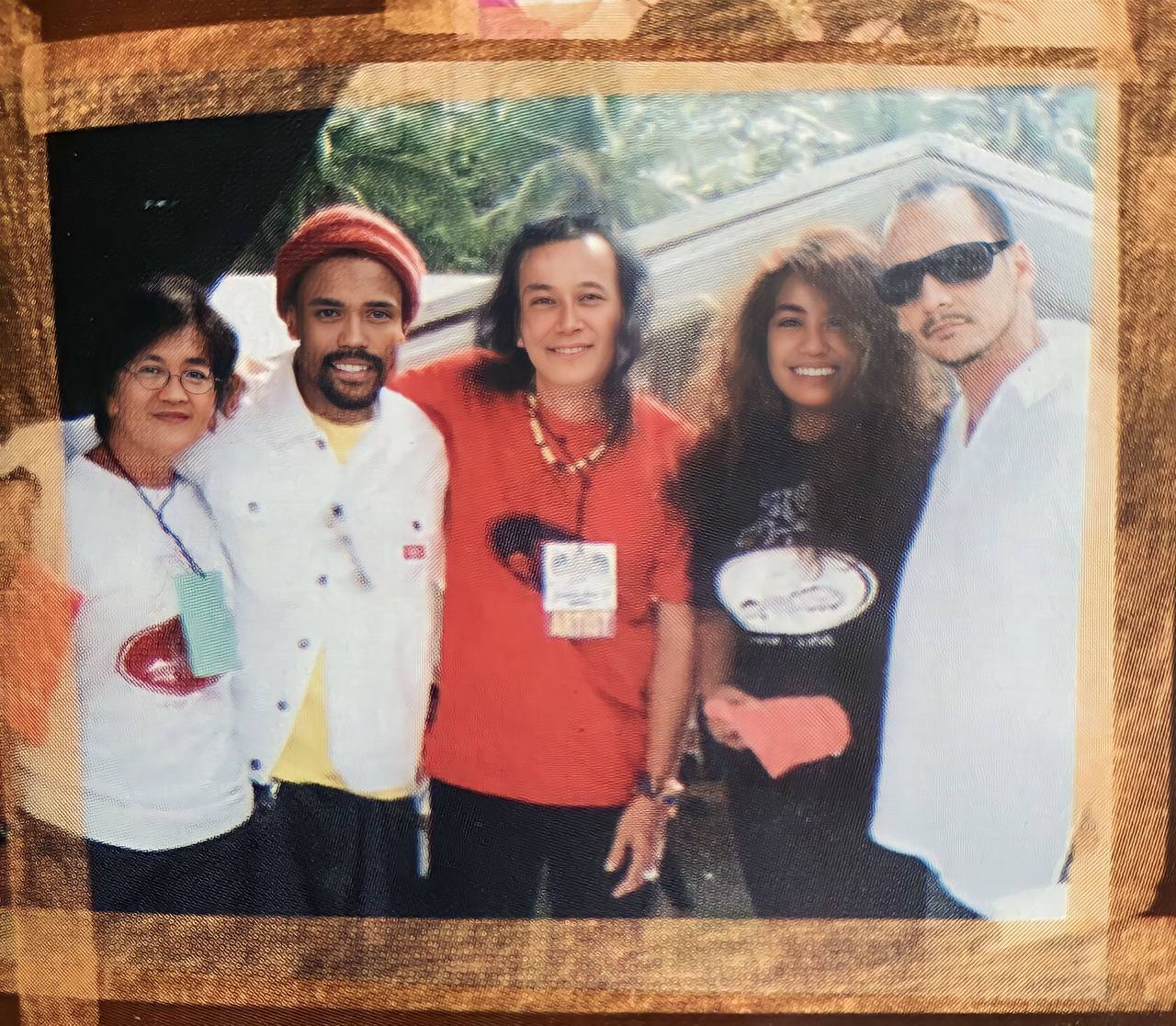 Asin represented the rear guard of Pinoy Rock. By 1987, the 70s rock scene was gasping for air. Pop music was back, basking in the sunshine glow and optimism of the EDSA Revolution. There was no room for music that questioned social realities or disturbed the status quo. The rock scene was driven underground, subsisting in clubs like Katrina's where the music was edgier and punk-driven.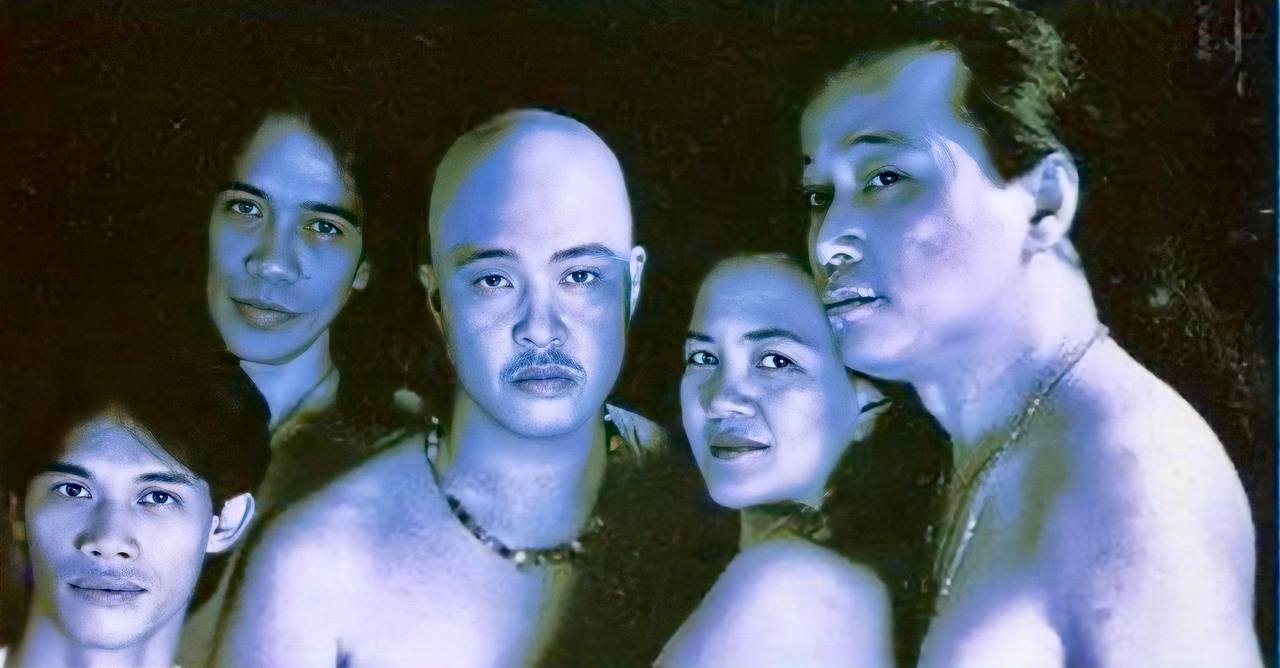 By 1988, a reunited Asin, minus Pillora, joined Lokal Brown, a collective of Pinoy Rock stalwarts, veteran musicians, and newer voices eager to assert Pinoy Rock's presence in a frosty environment. This "supergroup" included musicians from Aban's band, Ang Grupong Pendong, which he formed after Asin's last breakup.
Aban's Ang Grupong Pendong kept the legacy of Asin alive while enriching its musical palette with original songs that fused ethnic music and hard rock. The band, formed with his wife Chat, guitarist Lito Crisostomo, bassist Jovie Abella, and drummer Nowie Favila, gave Aban the outlet to grow his music and worldview. They held residencies at Mayric's and 70s Bistro, staged concerts, and performed in international festivals, a total of 27 performances in 23 cities in Europe, according to the music site last.fm. They also represented the country in Berlin and Singapore through the Department of Tourism. The band released two groundbreaking albums, "Panahon" and "Dito sa Lupa," the latter earning for them an award for Best World Music Album from KATHA, the association of Filipino composers. A third album remains unreleased.
'Aawit Ako'
Musically, Aban and Ang Grupong Pendong channel the sacred spirits of classic rock and tribal ancestors, offering a hearty cauldron of faglong, kubing and kulintang, handclaps, chants, tribal drums, searing guitar solos, and harmonies. Lyrically, they anchor their songs on the overarching theme of redemption through faith and collective struggle. If there is one truth that is often invoked, it is the Good Book.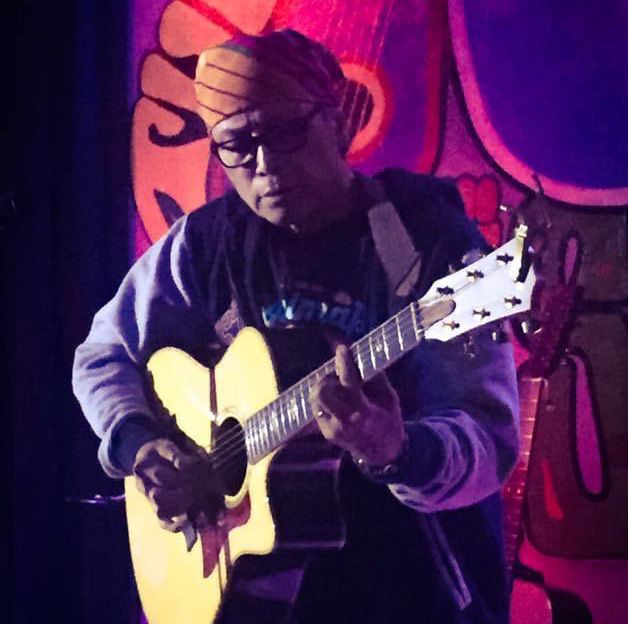 The power of singer-songwriters like Aban is in their near mystical ability to capture the present and speak to the future, to express complicated sentiments with a simple turn of phrase. They make music on their own terms, unbound by fame, commerce, or the machinations of record labels.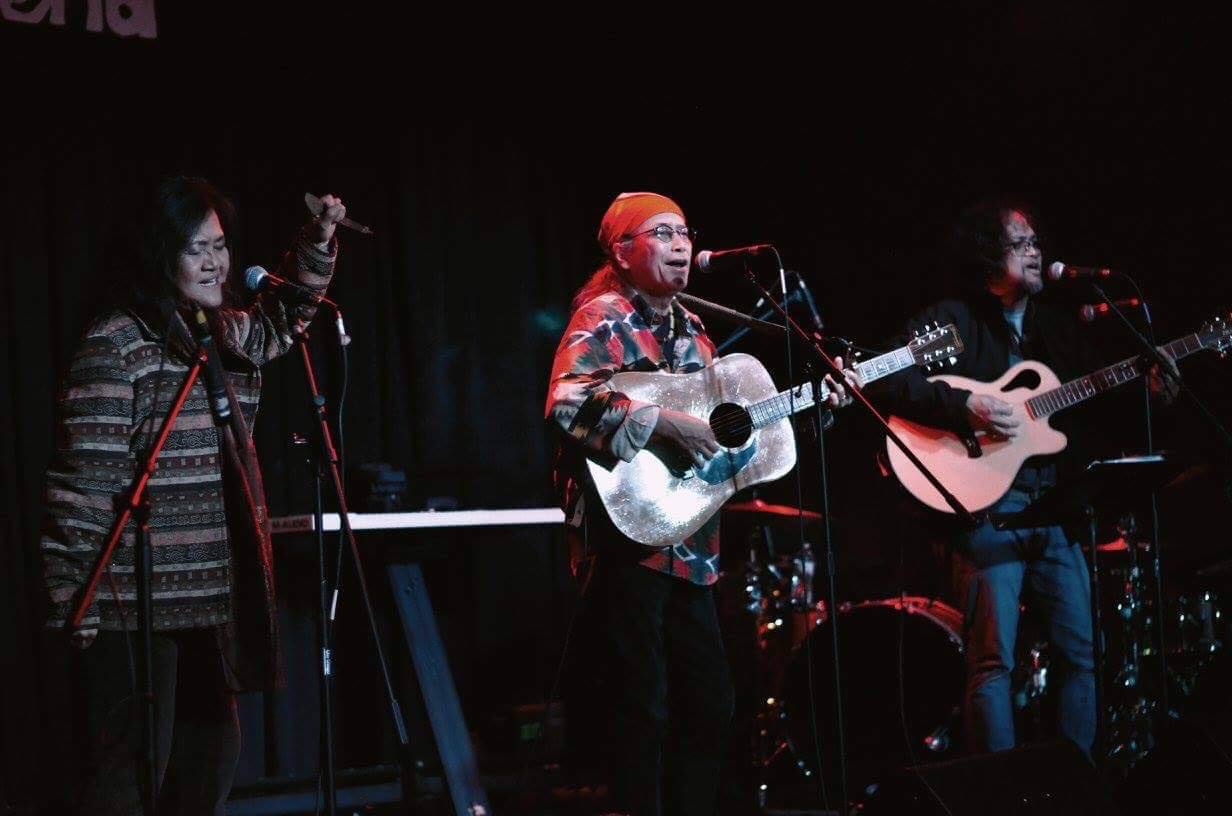 Aban did not lose his stride even after he relocated to California. He has performed at UC-Berkeley, where his wife lectures on Filipino Language and Philippine Studies at the Department of South and Southeast Asian Studies. He plays in church services and Filipino community gatherings. Together with Chat and Bobby Dulay of Pen-Pen, Aban will travel this July to London to play before the Filipino community. Once again, as he has been doing for more than 30 years, Aban will invoke the sacred and the secular, commune with the people, and sing his songs of redemption.
If you liked what you just read and want more of Our Brew, subscribe to get notified. Just enter your email below.