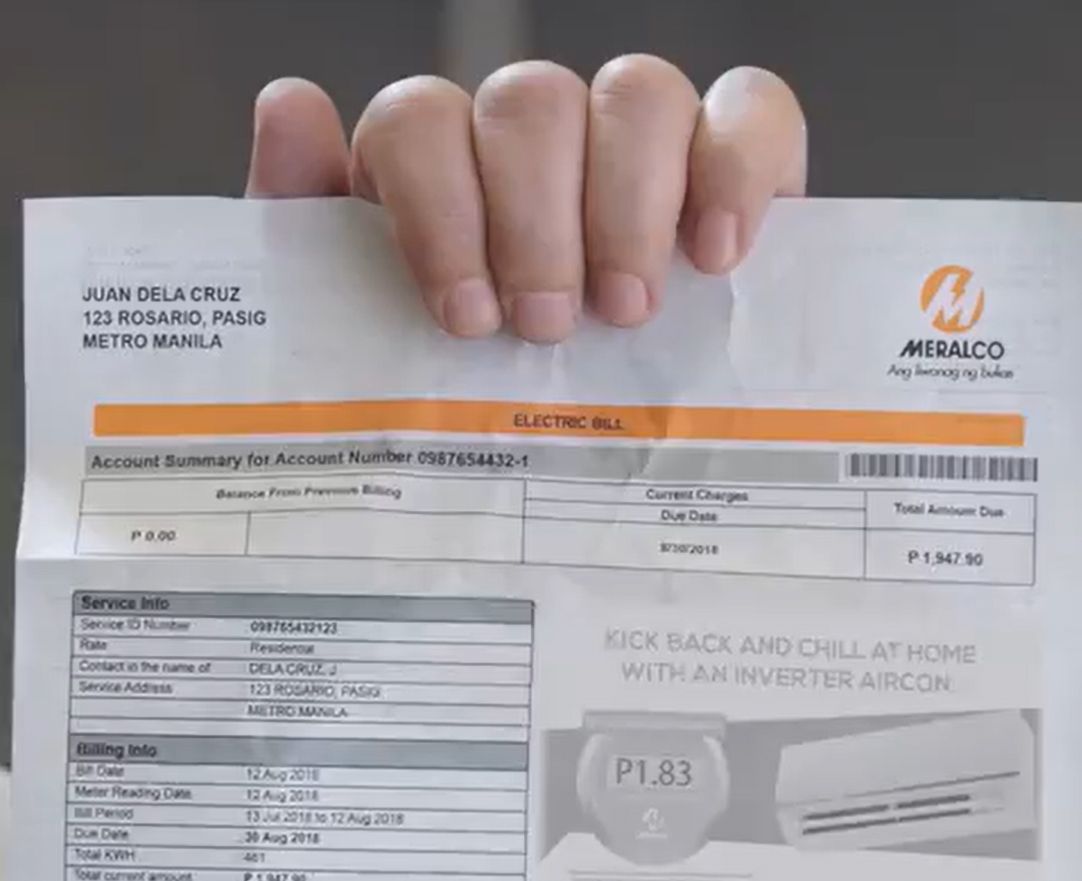 The Manila Electric Company (MERALCO) announced a "slight upward adjustment" in electricity rates this July as a result of "persistently high charges" in the Wholesale Electricity Spot Market (WESM).
As a result,Meralco said the total rate for a typical household increased by P0.2353 per kWh, from last month's P8.6718 to P8.9071 per kWh this month.
This is equivalent to an increase of around P47 in the total bill of a residential customer consuming 200 kWh, Meralco said in a statement.
The company said this month's increase was tempered by their continued implementation of the Distribution Rate True-Up refund, which began March 2021. The ERC provisionally approved MERALCO's proposal to refund around P13.9 billion over a period of 24 months or until the amount is fully refunded.
This amount represents the difference between the Actual Weighted Average Tariff and the ERC-approved Interim Average Rate for distribution-related charges for the period July 2015 to November 2020.
For residential customers, the refund rate is P0.2761 per kWh and appears in customer bills as a line item called "Dist True-Up".
Generation charge for July is at P4.8707 per kWh, a P0.2536 increase from last month's P4.6171 per kWh.
Meralco said WESM charges remained high at P8.7424 per kWh due to tight supply conditions in the Luzon grid, aggravated by the ongoing Malampaya natural gas supply restriction.
The Luzon grid was placed on Red Alert from May 31 to June 2 and on Yellow Alert on June 4 amid the unplanned shutdown of power plants, which shaved off as much as 4,000 MW of power from the grid. In addition, Luzon demand reached 11,640 MW on May 28, the highest so far on record.
Meralco said WESM prices were persistently high for extended periods, almost doubling the times when the secondary price cap was imposed during the June supply month.
Charges from IPPs also increased by P0.1929 per kWh. With reduced gas supply from Malampaya, affected plants resorted to the use of more expensive liquid fuel to continue operating and avoid more or longer brown outs. IPP charges were also pushed up by the Peso's depreciation. as dollar-denominated charges account for 97% of IPP costs. Meanwhile, cost of power from PSAs decreased by P0.0521 per kWh.
MERALCO said its distribution, supply, and metering charges, have remained unchanged for 72 months, after these registered reductions in July 2015.
MERALCO reiterated that it does not earn from the pass-through charges, such as the generation and transmission charges. Payment for the generation charge goes to the power suppliers, while payment for the transmission charge goes to the NGCP. Taxes and other public policy charges like the Universal Charges and the FIT-All are remitted to the government.
If you liked what you just read and want more of Our Brew, subscribe to get notified. Just enter your email below.