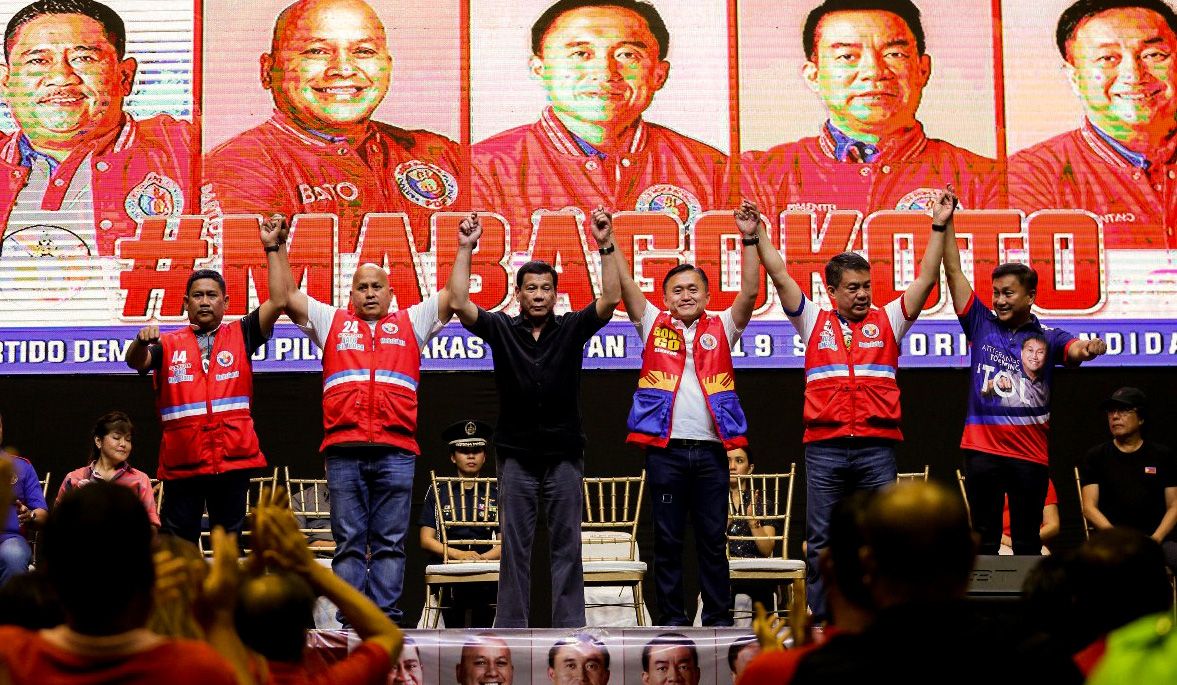 By Jing Montealegre
Our choice of leaders is informed by our political sophistication - or our lack of it. And oftentimes, we get it wrong.
In one full lifetime, you'd probably gone through Elpidio, Ramon, Carlos, Diosdado, Ferdinand, Corazon, Fidel, Joseph, Gloria, Benigno, and Rodrigo. If you're a hundred years old, you may have rubbed elbows with Jose, Sergio, and the two Manuels. If you rode with Emilio, you're definitely cheating on your age.
We've had two women presidents, three if you count Imelda. We're lucky to have had Cory, but extremely unlucky with the other one. In the past, countries such as Great Britain and Israel made sure that only men became president or prime minister. Margaret Thatcher and Golda Meir may have reigned over Great Britain and Israel then, but both were really men disguised as women.
Women leaders in the UK, Germany, New Zealand, Taiwan, Italy, Denmark, Sweden, Finland, Georgia, Iceland, Uganda, Bangladesh, even the EU - have quite recently taken over the helm of governments from the men.
The United States is one country that has denied the presidency to women. Hillary Clinton was poised to do so; but before she could get cooking, a wave of rock-star adulation swept Barack Obama to the White House. A cool and ambitious spellbinder, Barack appeared at the right time--young, hip, black, anointed by Hollywood, Oprah, mainstream media and the late-night talk shows as the intellectual messiah who'd change America. Liberals think he has done a splendidly fine job. Conservatives, on the other hand, think he messed up. Oh, well...
Then the 'Donald' clipped Ms. Clinton's wings in a succeeding election, making certain the White House remains an Old Boys' Club.
The U.S.'s two-party system limits voter choice to the Democrats and the Republicans. The 'Dems' stand for big government, social justice and spreading the wealth, which they believe is really cool. The Republicans, on the other hand, think small government, private enterprise and tea partying. Up until recently, they even had party queens: Sarah Palin for the sad Republicans and Nancy Pelosi for the shabby Democrats.
We used to be happy with the old Liberal and Nacionalista parties - although we couldn't tell the difference between the two. To set this right, we created the Kilusan Bagong Lipunan (KBL), the Christian Democrats, the Laban Ng Democratikong Pilipino (LDP), the PDP Laban, the Pwersa Ng Masang Pilipino (PMP), the UNA, the LAKAS, the KAMPI, and the LAKAS-Kampi, among others. Still, we couldn't tell the difference. What we know is (during their heyday) Marcos' KBL and Gloria's LAKAS-Kampi ran roughshod over the rest of the parties, monopolizing pork and making mincemeat of their political rivals.
We've always believed that political parties must really stand for something. So we came up with the Party-List to represent voiceless and marginalized sectors and achieve the "product differentiation" we've always wanted.
Winners in past elections included ACT-CIS, Ako Bikol, Senior Citizens, Akbayan, Gabriela, Abono, Bayan Muna, An Waray, Buhay, Butil, Anakpawis, Kabataan, Abante Mindanao, Alliance of Concerned Teachers, Youth Against Corruption and Poverty, Kasangga sa Kaunlaran, Ang Galing Pinoy, Puwersa ng Bayaning Atleta, Alyansa ng mga Grupong Haligi ng Agham at Teknolohiya, and Kapatiran ng mga Nakulong ng Walang Sala.
One way or the other, the Party-List system created a broader political agenda. Think AKO, AMIN, AKIN, CHINOY, KALAHI, Katribu, KABAYAN, AASENSO, BIDA, MARINO, ALL-FISH, Tinderong Pinoy, ANG NARS, A TEACHER, A TAMBAY, Ang Ladlad, Babae Ka, ALE, AMA, ANAK, and APO. There's a party for everyone. If you're gay or just undecided, there's a Party-List chap to speak for you, and if you're a grandchild (APO), or a fertilizer (Abono), you'll get one too.
Cynics can't help can't help denigrating the way we do things. Of course we have our warlords, assassins and human rights failings - but no Putin, al-Assad, Lukashenko, Iran's Ayatollahs, and African dictators (with their bloody armies that kill the civilians instead of each other) to harassed us. No Putin-like impunity is levelled on the population. And unlike the U.S., we don't get crazed loners killing mall shoppers and schoolchildren for breakfast.
Elections here and in the U.S. are all about money. In the United States, fund-raising is a public event, with funds raised used for candidate bashing. We don't do that here. We are more direct: we buy the votes. And give back to the people the public funds stolen by crooked government officials. Who ever said that our kind of democracy stinks? It doesn't work for the poor? Just look at the people trooping to the malls and supermarkets and Jollibee the day after elections.
If you liked what you just read and want more of Our Brew, subscribe to get notified. Just enter your email below.