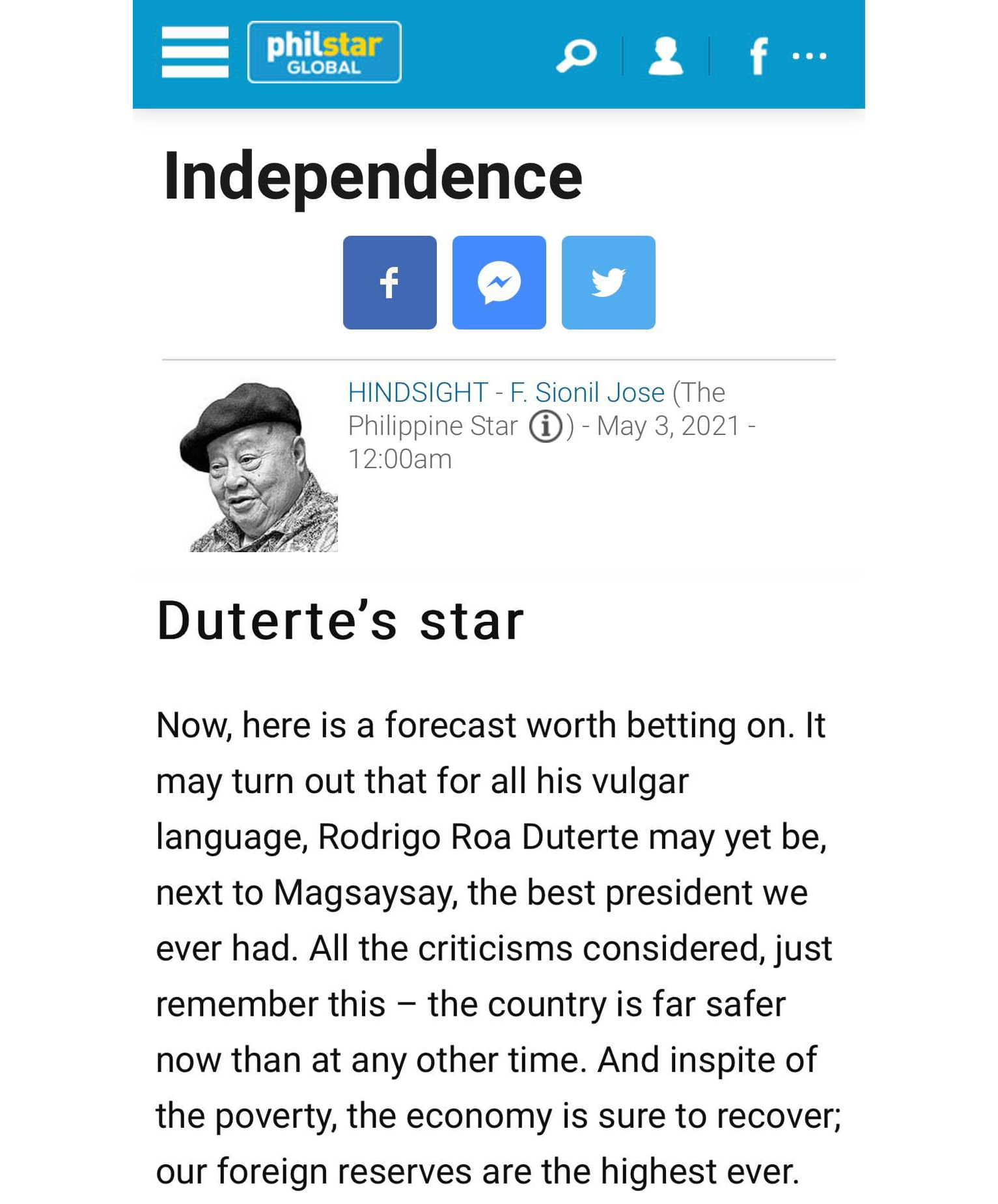 ---
F. Sionil Jose's bold claim that the country is "far safer" now has drawn a sharp rebuke from Krip Yuson
In his May 3 column for the Philippine Star, National Artist F. Sionil Jose made a bold and controversial assertion.
"Now, here is a forecast worth betting on. It may turn out that for all his vulgar language, Rodrigo Roa Duterte may yet be, next to Magsaysay, the best president we ever had. All the criticisms considered, just remember this – the country is far safer now than at any other time."
By day's end, that column item had gone viral. It elicited some very sharp replies, among them from Jose's fellow Star columnist, multi-awarded poet, fictionist, and book author Krip Yuson. We are reprinting Krip's Facebook post with his permission.
By Krip Yuson
Safe from what, Manong Frankie?
Certainly not from a still antsy national response to the pandemic, thanks to your president's initially cavalier reaction that, in typical populist braggadocio, had him declaring it as nothing to be concerned about — this before his Health Secretary and battery of retired military generals began to orchestrate confusing protocols that continue to befuddle most everyone.
Safer from what? Certainly not from the evident bullying of a country whose leader apparently beguiled yours into expressions of inordinate love and total embrace — despite arrogant and insulting manifestations of disregard for our sovereignty.
Safer from what? Not from treacherous conduct of our very own Commander-in-Chief, whose consistent kowtowing to PROC began with his furtive arrangement for criminal financial support for his presidential election campaign.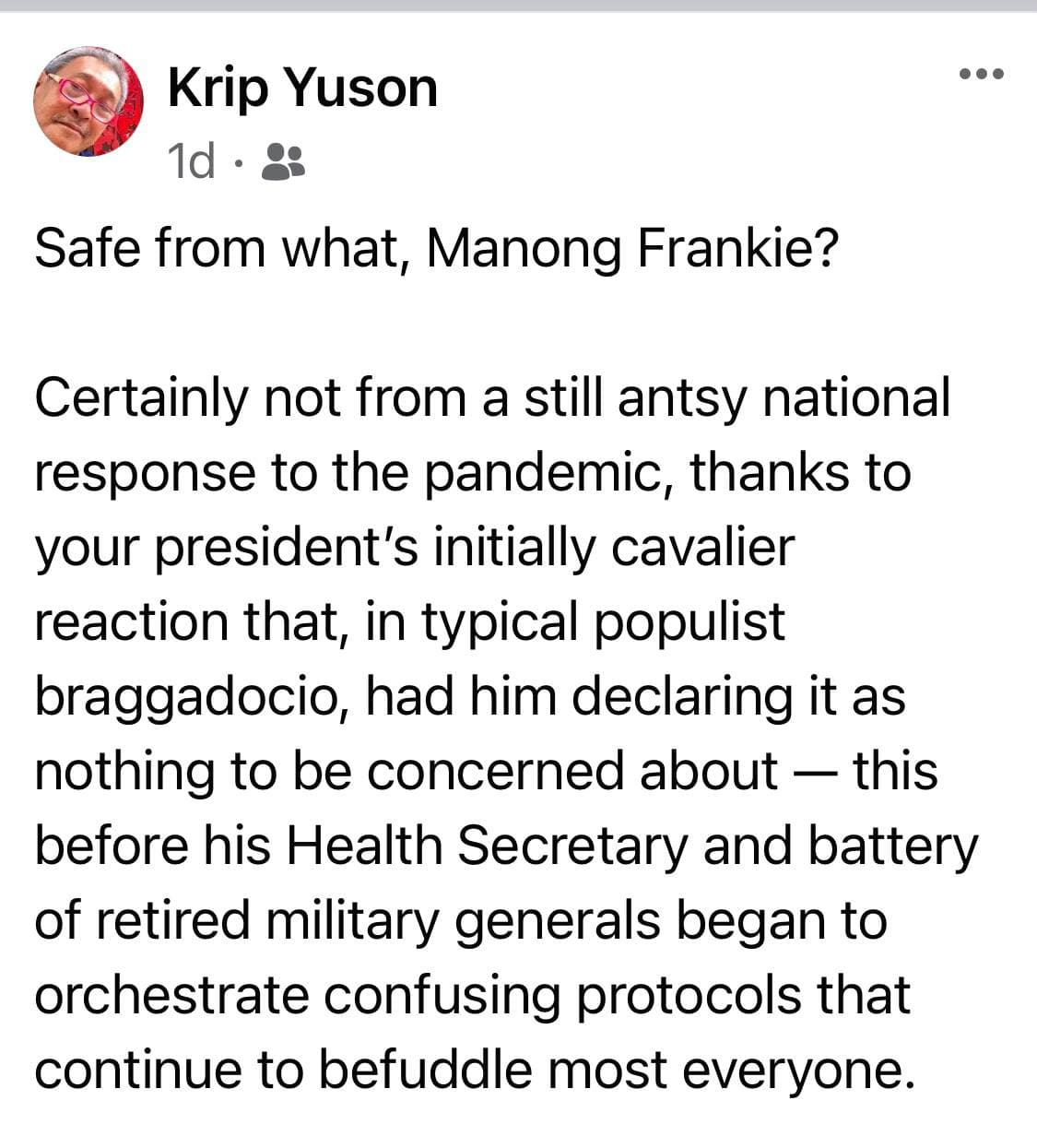 Safe from what? Historic plunder via manifold corruption and the reckless spiraling of our foreign debts, for future generations of Filipinos to account for?
Safe from what, Manong? A record-setting number of murders, assassinations and EJKs of journalists, lawyers, activists, progressives, indigenes, political opponents, critics, and the random poor alleged to have drug links — all in a concerted effort to stamp the threat of an iron fist with the negotiated connivance of corrupted police and military, and thus intimidate Congress, the Judiciary, political leaders and media into a state of subservience?
We are not even safe from manipulation of public perception by way of questionable poll surveys, the paid service of fake-news trolls and media bribery — so that it becomes easy even for a supposed public intellectual such as you, Manong, to believe in floated accomplishments in infrastructure, for much of which false credit has been claimed, while Marawi still lies in ruins.
No, you are not senile, in fact remain admirable for your indefatigability as a writer, for which reason you have gained distinctions. It's irrelevant to question the real merits of your prose. Maybe it's less important than to hark back to your numerous gaffes in the past that characterized you as a person of abysmally low EQ.
There was one unforgettable incident: when you couldn't wait for architect Lindy Locsin to be laid to rest before publicly criticizing him and his involvement with CCP. I cite that as one of the early reasons why, despite seasonal friendship with you, and total appreciation of Manang Tessie as a supportive wife, mother and person, I never felt comfortable visiting you at Solidaridad with other writers.
It has also been why I declined to join the organization you established, PEN Philippines, knowing it to have become a personal instrument for hegemony building as well as in obvious service to your ambition to become a Nobel Prize winner. Despite this, I never dissuaded younger writers from joining up, and confined myself with sharing a grin or two once others brought up the question of your literary worth.
Sure, we all have biases, as you state yourself, Manong Frankie.
But there has also been a history of warm camaraderie among Filipino writers that has always allowed us to acknowledge friendship, especially with our seniors.
This has limited me to head-shaking when again, you publicly berated a young writer who had just won a Palanca prize, during the very event when the prizes were awarded.
It has always seemed that your appreciation of beau geste has been to practice it in reverse default.
In your Star column several weeks ago, you suggested that a National Artist award for a particular category should only be filled upon the expiry of the sole holder. Why, it would have, if retrospectively applied, prevented Virgilio Almario, Bien Lumbera and Cirilo  Bautista from ever joining you in that pantheon.
Again, it was another ridiculous, outlandish statement that only joined your litany of provocative quips such as those that condemned Chinese Filipinos, then ABS-CBN (only because you despised its "elite" ownership).
This unflagging custom of dispensing outrageous personal statements can only appear to indicate your lack of confidence in having your considerable literary works stand for themselves. You just have to stir and roil up the cauldron, apparently to gain attention.
And now, this forecast that Duterte may yet be regarded as the next best president after Magsaysay, since "The country is far safer now than at any other time."
You are utterly wrong, Manong. And history will affirm that you were very wrong, as it will eventually condemn Duterte as the worst and most reviled ever among our presidents.
Why, he didn't even make you safe from yourself. Nor us from the incendiary inaccuracy of your big bold posturing.
If you liked what you just read and want more of Our Brew, subscribe to get notified. Just enter your email below.