These are concepts of short films that have not been realized for one reason or another. Our Brew hopes to produce the best one, turn it into a short film. The theme changes, but for now, it's all about the overseas Filipino worker. After all, regardless of what the OFW does for a living, scrubbing toilets or wiping backsides of masters and mistresses, he has the economy of an entire country riding on his back.
If you have a terrific idea for a short film, send a few paragraphs to ourbrewphil@gmail.com or through facebook.com/ourbrewph. We will not correct your English, so make it good. If it pleases the editors, we'll publish it; if it's really good, we'll turn it into a short film. Oh, and our decision is final.
---
Bejeweled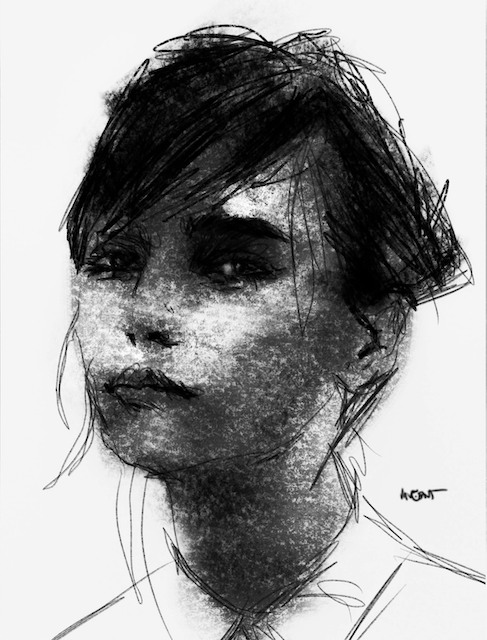 The matronly lady pushes her plate aside: it is time to talk about business. Across her is a mother and daughter. They barely touched the food on their plates, but the daughter rises to clear the table. The matron reaches for a large orange envelope that is bulging with papers and lays it on the dining table. All are silent as her bejeweled fingers search her files for relevant papers. She grunts:
"Sana kung nars lang siya, mas madaling hanapan ng trabaho."
She glances up at the mother, as if to emphasize her words:
"At mas mura."
The mother reaches for something that was apparently in her lap all the while. It is an envelope which she pushes over to the matron.
"Ito pa lang po ang nakayanan namin ngayon."
The matron continues with her scrutiny of her papers. She does not glance at the envelope, and almost appears uninterested. Without looking away from the papers in her hands, she says,
"Ay, naku, hindi tayo makakaalis niyan."
The mother looks at her daughter who is now taking her seat again. The daughter gives a sulky pout, not one of petulance, but more of disappointment. This does not escape her mother.
"Mangungutang pa po kami, pero puwede po bang... pagkaalis na niya?"
The matron is irritated. But she manages composure. She sighs and smiles, and assumes the stance of a person about to give advice.
"Alam mo, para ka lang naman bumili ng binhi. Babalik naman sa iyo pag anihan na.
"Pag nakapagtrabaho na siya".
The matron picks up the envelope, quickly surveys the contents and stuffs it into the yellow jacketed envelope.
"O sige, kukunin ko na muna to. Bale downpayment."
Very embarrassedly, the mother adds, "wala po bang... resibo?"
The matron smiles, as if asking the mother for understanding.
"At ano ang akala mo sa mga kausap ko, binibigyan ako ng resibo? Haay."
The daughter runs to her mother and thanks her.
If you liked what you just read and want more of Our Brew, subscribe to get notified. Just enter your email below.