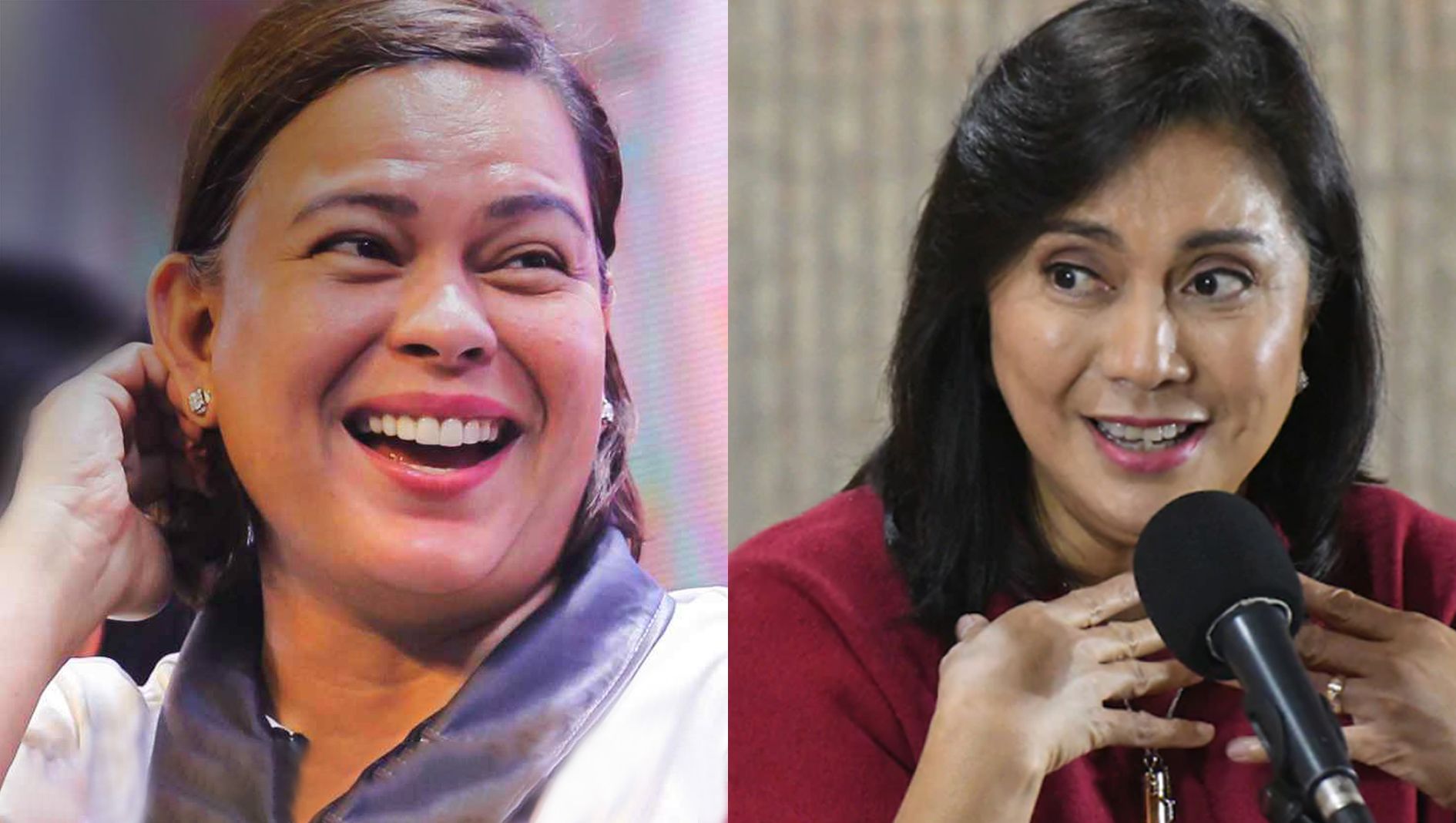 The stage is set for a Sara-Leni duel in 2022. And the game has become more interesting
If Davao City Mayor Sara Duterte's cutting remarks directed at Vice President Leni Robredo is a preview of how the presidential elections will be fought in 2022, then we are in for a bruising battle.
Responding to Robredo's statement during her radio show last June 13 that the surge in COVID-19 infections in Davao was "alarming," the city mayor told the Vice President to desist from "giving advice if she knows nothing about what is happening on the ground."
The presidential daughter, in short, was telling the Vice President to shut up.
"This has been the hallmark of her term as VP, where she puts forth comments on matters and affairs she lacks understanding and knowledge on and does not offer anything helpful to solve a problem," the younger Duterte said in a statement to media.
She added that Robredo should "avoid involving the COVID-19 surge in Davao City in her attempt at politicking."
"There will be a proper time to attack my performance as an LCE (local chief executive) in this pandemic if she dares to run for President."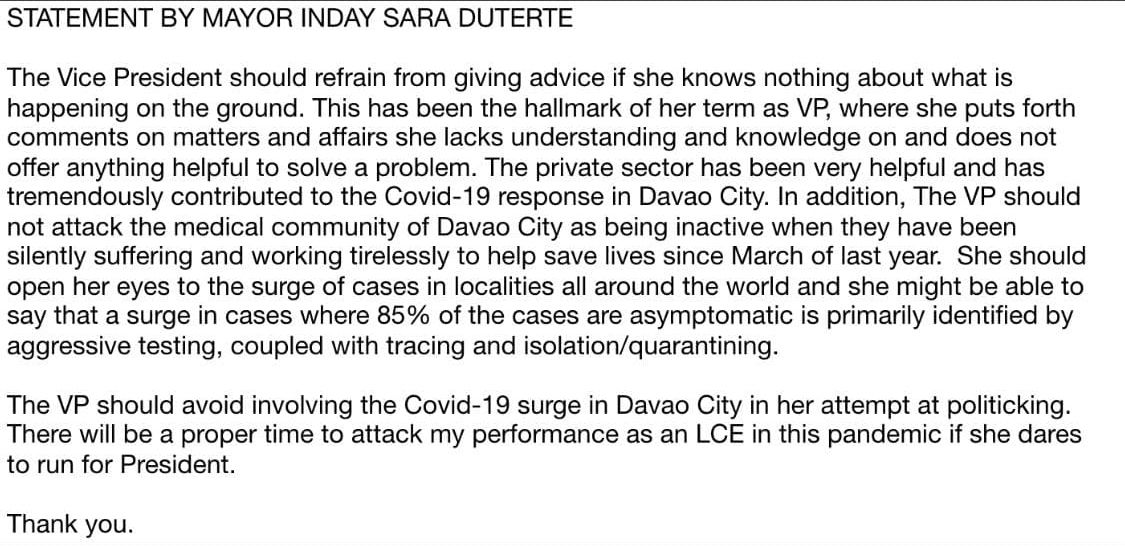 Robredo, the presumptive opposition standard bearer, had said Davao City could learn from Cebu City which has effectively managed its COVID-19 cases.
"Makakatulong na tingnan kung anong ginawa sa Cebu. Kasi kung titingnan mo ngayon na nagsa-spike na, sa Cebu parang controlled, 'di ba? Parang controlled and marami ang ginawa - ang partnership doon, hindi lang talaga LGU pero very active doon ang medical community," she said.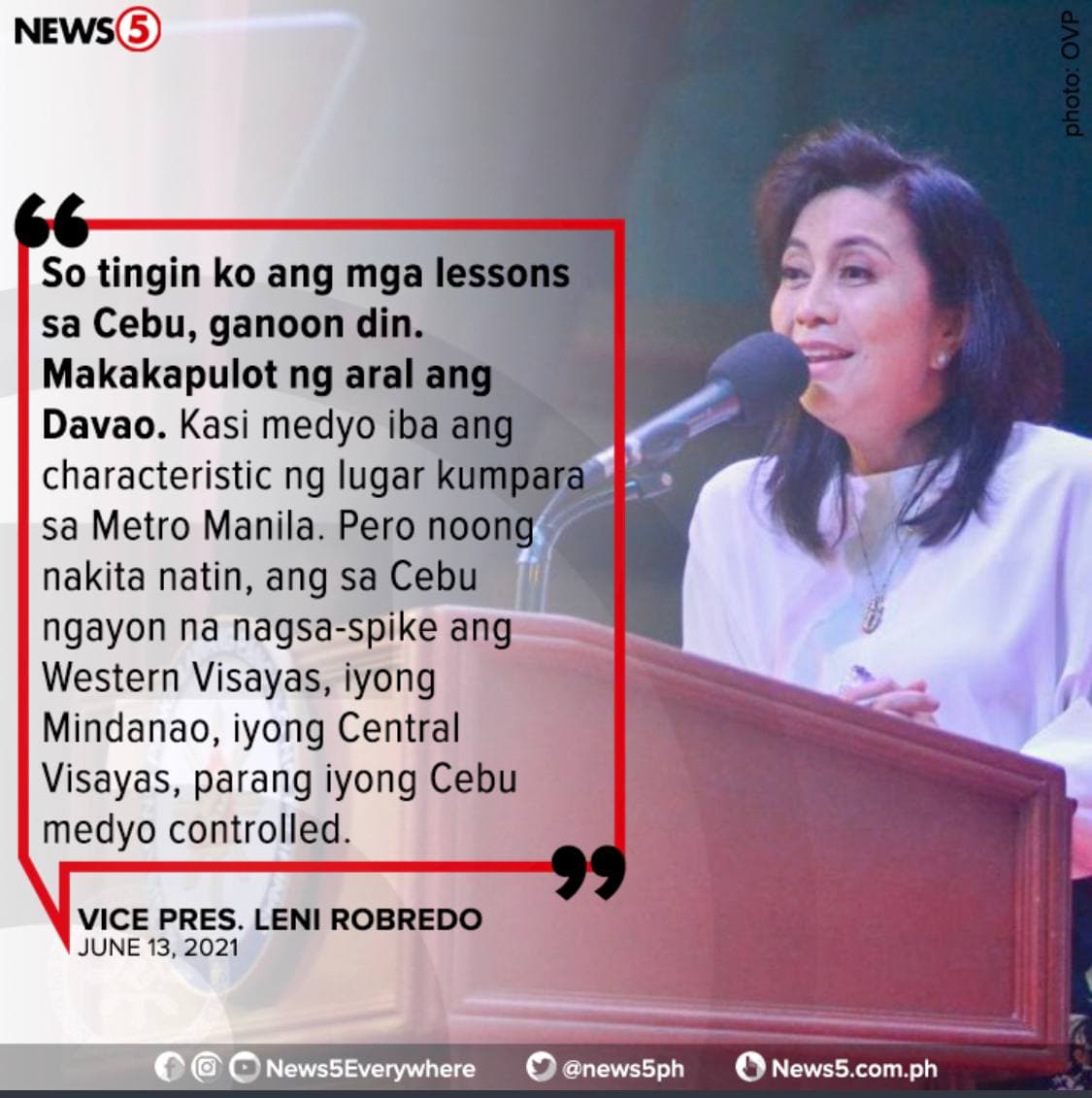 She added, "In fact noong pumunta kami, nakatrabaho talaga namin ang medical community, very, very active sila doon. So tingin ko ang mga lessons sa Cebu, ganoon din. Makakapulot ng aral ang Davao."
Calling out the younger Duterte on the COVID-19 infection surge in her city may be seen as a tactical move. It frames the coming presidential election as one of competence, and whether the Davao City mayor has what it takes to control the pandemic and bring the economy back on track.
The move also sets Robredo apart from the other contenders for the presidency, who are mostly allied with the administration and have failed to engage President Duterte on his handling of the pandemic.
But it is also risky. Between now and next year's election, Sara Duterte has more than enough time to manage the surge and create the perception of being a competent leader.
The administration will also not be a passive observer.
The stakes in next year's elections are high, as it involves the fate of the President once he steps down from office.
In December 2020, the International Criminal Court said it found "reasonable basis to believe" that alleged crimes against humanity were committed in the conduct of the government's controversial war on drugs. Opposition personalities have threatened to imprison the President should they win the elections.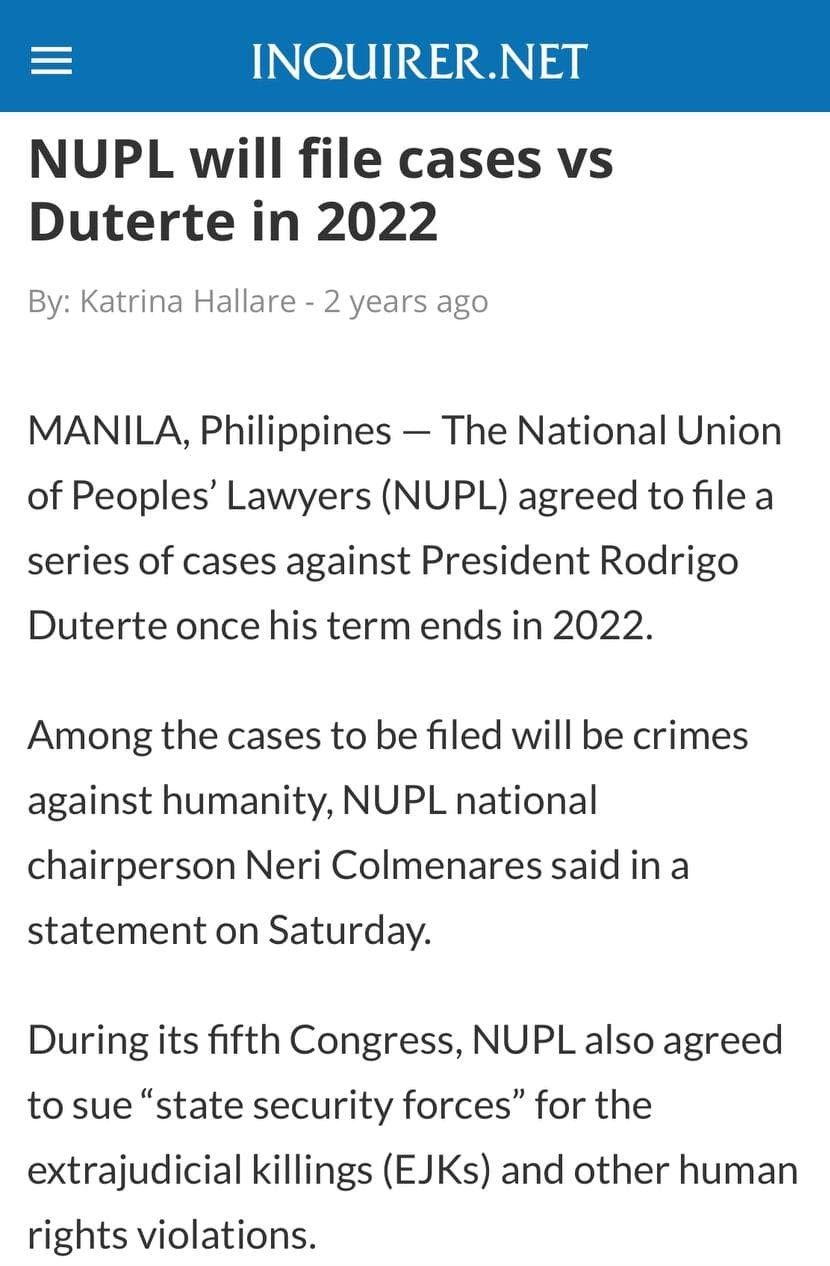 Expect the administration to go all out in aiding Davao City and presenting it, once again, as proof of effective governance under another Duterte.
By responding briskly and strongly, Sara Duterte, who has been leading in all pre-election surveys, displayed the trademark aggressiveness that partly helped elevate her father, himself a former city mayor, to the presidency in 2016.
But she may have unwittingly elevated the standing of Robredo, who currently polls at seven per cent. A reaction may be what Robredo's camp wanted, and she obliged.
The race for 2022 suddenly became more interesting. -JS
If you liked what you just read and want more of Our Brew, subscribe to get notified. Just enter your email below.