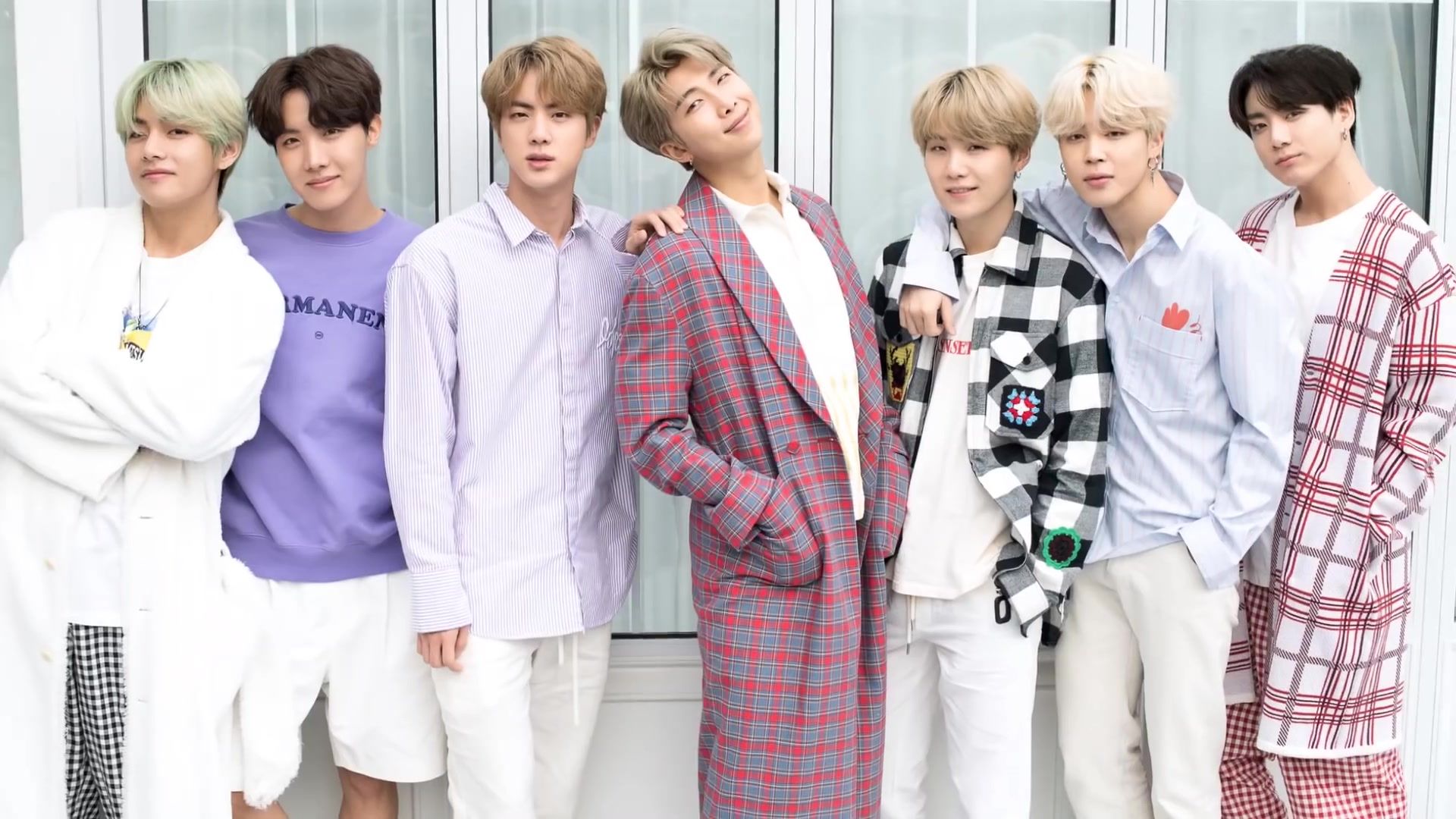 As Korean boy band, BTS, announce their two-year break from music to complete mandatory national conscription, the fallout from their hiatus ripples wider than just the K-pop industry, affecting not only their fans – but also their financial investors
by Lauren Richards
There's only one thing that can unite both teenage girls and investment bankers in South Korea to cry over a tub of icecream – and that's BTS announcing their break from music for the next two years to complete national military service.
Since their debut in 2013, the South Korean boy band BTS – the most-awarded group in Billboard Music Award history – have broken hearts, records and stock markets, as an international superpower that brings in 0.3% of the entire South Korean economy;a comparable contribution to that of the national airline; Korean Air.
Due to their artistic accomplishments, the group had previously been allowed to postpone their mandatory army conscription until the age of 30, and in June earlier this year, they announced a hiatus, so that each member will be going solo to pursue individual projects for some time.
After years of debate as to whether K-Pop stars like themselves should have to enlist in the army at all, given that some Olympic athletes, classical musicians and dancers have previously been granted exemption, the Korean Defence Minister even spoke of adapting their service, to make it more suited to their professional commitments.
However, despite the ongoing debate and their solo ambitions, as the eldest member of the group – 29 year old Jin – now approaches the landmark 30th birthday, the group have announced that instead of hiatus, all seven members of the band will begin their two year stint in the South Korean military.
In South Korea, conscription is compulsory for all able-bodied men aged 18-28, as the country is still technically at war with self-claimed nuclear weapons state, North Korea.
Many are surprised at this decision, and feel that due to their national contribution and prestige, the members of BTS or "Bangtan Boys" – Jin, Suga, J-Hope, RM, Jimin, V, and Jungkook – should be exempt from South Korean national conscription.
The thing is, the septet are not just a group of seven musicians, but in fact are the face of an ecosystem of enterprise. As artists, multi-millionaires, philanthropic ambassadors, national treasures, and the reason one in every 13 tourists visits South Korea – they definitely put the "r" in boy b(r)and.

In the Photo: BTS giving a landmark briefing on Asian diversity and inclusion at the White House in Washington, May 31, 2022. Photo Credit: Wikimedia Commons
Billion dollar "Bangtan Universe"
In 2018, researchers estimated BTS' contribution to the South Korean economy to be equivalent to that of 26 mid-sized companies combined – a whopping $3.6 billion a year.
Since then, the figures have grown. With the latest estimate of their national economic contribution standing at around $5 billion per year, analysts now expect the group's total contribution to the GDP of South Korea since 2014 to be around $29.4 billion – massively outcompeting the profit from the 2018 PyeongChang Winter Olympics.
After news of the band's hiatus broke earlier this year, shares in their management company, HYBE – the largest entertainment agency in the Republic of Korea – plummeted to their lowest in two years, losing a quarter in value. After Monday's revelation of conscription, they fell again, by another 2.5%.
It's safe to say, the news that for the next 21 months they'll be swapping their "army" fandom for the real thing, has certainly rocked not just their followers' boat, but the financial markets too.
South Korea stands to lose billions as a result of BTS' upcoming military service, Fortune reports.

"Between 2014 and 2023, analysts projected BTS would have contributed $29.1 trillion to the South Korean economy." pic.twitter.com/0KDab0j03l

— Pop Base (@PopBase) October 17, 2022
Aside from their hold on the markets, BTS also own an impressive intellectual property asset portfolio within their trademarked "Bangtan Universe" or "BU," owning more patents and copyrights than any other group across a spectrum of technology and media platforms, books, images, designs, comics, music videos, documentaries, mobile games and much, much more.
Their "richly diverse content strategy… creates multiple opportunities to connect with their fans and to generate new creative outputs," says Ana Clara Ribeiro, Intellectual Property attorney, in her op-ed for the World Intellectual Property Organisation's (WIPO) magazine.
The group's technological multimedia approach will certainly financially future proof their band and brand, not only for the time they will be out of action during their conscription, but also for the future.
Political soft power
In some ways, like many other K-Pop artists today, BTS are the face of South Korea, and their presence in the international community provides an opportunity to change global perspectives on Korean culture.
"It's why we have the 'K' in K-Pop because it's kind of like a nation branding strategy, we can immediately identify where it comes from," says Dr Sarah Keith, a media and music lecturer from Macquarie University in Sydney.
The K-Pop industry is a form of national pride, and the relationship between the music industry and the South Korean government is unlike that of many western countries – the pair are very closely intertwined and uniquely support one another.
Over the years, BTS have received a lot of support from the government, and had a particularly close partnership with the previous President of the Republic of Korea, who elected them as Special Presidential Envoys for Future Generations and Culture, inviting them to give talks at the United Nations on many occasions.
The interwoven nature of this special relationship can be traced back to the 1990's, when during the financial crisis, K-Pop, along with the film and television industries, was given a financial boost from the state, serving as a window into South Korea for the rest of the world, and a mutually beneficial lifeline into the international market for other industries within the country.
Much like many other popular Korean songs, artists and productions such as "Gangnam Style," "Squid Game," and "Parasite," the emergence of BTS has occurred against the backdrop of the Korean Wave or "Hallyu," a global phenomena which has seen the explosion of Korean popular culture ripple all over the world over the last ten years.
Besides their influence on international perspective however, BTS' impression closer to home on the South Korean youth cannot be overstated.
Over the course of the debate as to whether the members of BTS should be forced to complete the standard two years of national military service like all other eligible male citizens, their devoted fanbase or "Army" rallied and petitioned hard for their exemption from conscription in the name of their national importance.
This can't be done without your love and support😭 #VMAs Group of the Year Winner : @BTS_twt Thank you all, ARMY💜 pic.twitter.com/nIXK22zeJx

— 방탄소년단 (@BTS_twt) August 29, 2022
The Bangtan Boys themselves, however, never once demanded the privilege of exemption or asked for the rules to be bent to avoid completing their service, stating publicly their commitment to complying with the national standard of service, viewing it as a duty.
Their attitude alludes to one of the main prerogatives of the K-Pop industry, aside from music, which is to represent the best of Korean society, with idols taking on exemplified roles, free from scandal or immorality.
"Any kind of popular culture has to portray good messages," says Dr Keith, "they need to be they need to represent the best of youth, so idols will be hard working, they will have impeccable conduct."
Mille-Feuille musicians
As well as world-class musicians, economic superpowers, and ambassadors for their country, BTS are also very active in the international political, philanthropic and human rights spheres, as their influence and impact transcends language, cultural and national borders.
In addition to their role as Presidential Envoys, the group are also long-standing Unicef ambassadors, partnering with the Korean Committee of the non-profit to promote their "Love Myself" campaign – a support program for victims of violence.
The band have taken the podium at the UN general Assembly multiple times since 2018, giving performances and speeches about their campaign to help prevent further violence against children and teens.
Their grasp on the attention of the international youth has even been noticed by the White House, as in June earlier this year, the band was invited by President Biden to give a landmark briefing on Asian inclusion and ending anti-Asian hate crime in the US.
After their time in the military is complete, the group have announced plans to reunite in 2025 – a return to stardom that even after two to three years break, will surely be nothing short of hotly anticipated by their followers, fanbase, and financial investors.
The group's many layers of innovation, talent and entrepreneurial prowess will surely serve them well despite taking time off from performing, as rather than following the trend, BTS are building a legacy – instead of musician, mille-feuille would serve as a much better description of the members.
In the words of BTS themselves, "We don't need to worry, 'cause when we fall, we know how to land."
Editor's Note: The opinions expressed here by the authors are their own, not those of Impakter.com — In the Featured Photo: Korean boy band BTS. Featured Photo Credit: Wikimedia Commons
---
About the Author
Lauren Richards
Lauren is a research scientist turned writer, currently working in open-access publishing in London alongside a Journalism Internship at Impakter. As a graduate of Medical Biological Sciences, Lauren's origins in science have taught her to be forever curious, which is reflected in her love for sharing new concepts, perspectives, and ideas. When not reading/writing about science, culture, art, and everything in between, Lauren can most likely be found in a coffee shop or travelling.
First published in Impakter. You can read the original article here.
If you liked what you just read and want more of Our Brew, subscribe to get notified. Just enter your email below.