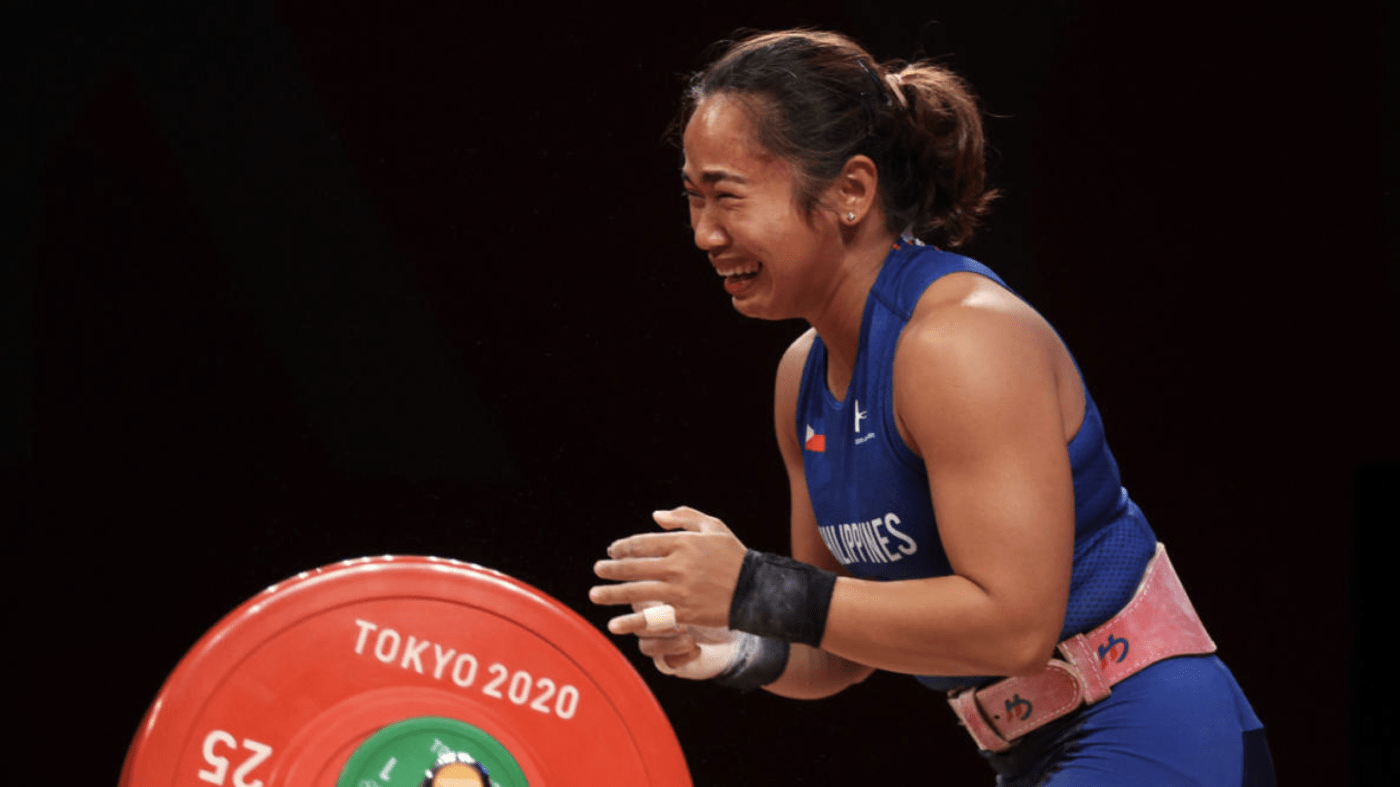 by Vincent R. Pozon

A second after she had let go of the weights, she bent into that pained posture, her face in a grimace shaped by the need to thank her god, the reflex to give in and scream a hurrah, and the compulsion to weep; that expression, hands lifting towards face, almost in prayer, like those of a boxer when vulnerable, and vulnerable she was, emotions unrestrained standing on a global stage alone for a few moments, with millions watching. She turned to her right, to where her teammates stood, her eyes begging for them to come; she took a step back, shrinking into a crouch, sat on her haunches for a split second, when her teammates caught and hugged her, and helped her off the stage. That hunch is now etched in the minds of compatriots.
An entire country wanted to rush to the stage to embrace and comfort her.
We secretly admired the poise of Liao Qiuyun, the best of China and erstwhile solitary best of the world. We watched her go through her routines with stoic confidence; she was ungenerous with smiles, allowing the corners of her mouth to turn slightly upward only to teammates.
"There are three basic types of the human smile: "reward", "affiliative", and "dominance", so wrote psychologists recently. Liao's was "dominance". "Dominance smiles serve to maintain and negotiate social or moral status and are associated with superiority or pride." Discover Magazine
We saw Hidilyn almost not make it
While we prayed for victory, the Filipino heart is inured to loss, accustomed to athletes not making it. We know the face of defeat all too well, and we would have forgiven her if she lost, and we would have moved on, and we knew whom to blame.
We half-expected the disappointment.
After Hidilyn's expression of relief after her penultimate lift, it did appear that "this is it -- this is the farthest she can go".
Seb Ostrowicz of Weightlifting House thought that as well.
"'Liao is very physically strong over Diaz' given the Chinese's skeletal strength. 'Liao has an incredible lock out', referring to a lifter's ability to fully extend all applicable limbs or joints when hoisting the bar. 'She is able to hyperextend and is able to hold the weight over her head without using her musculature as much,'" explained Ostrowicz to Philstar.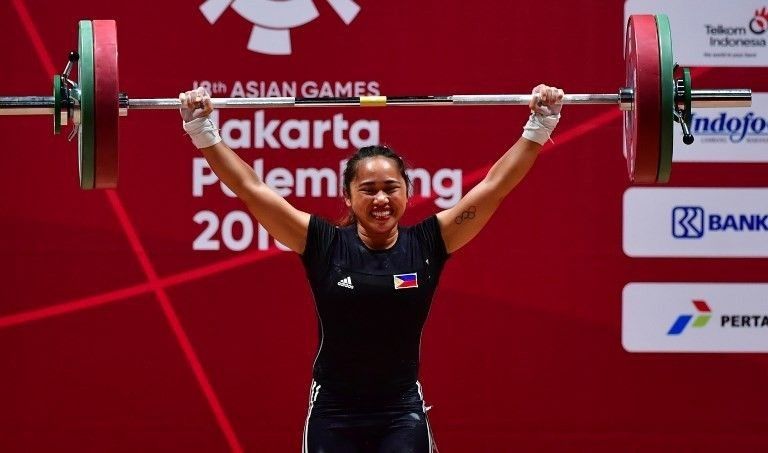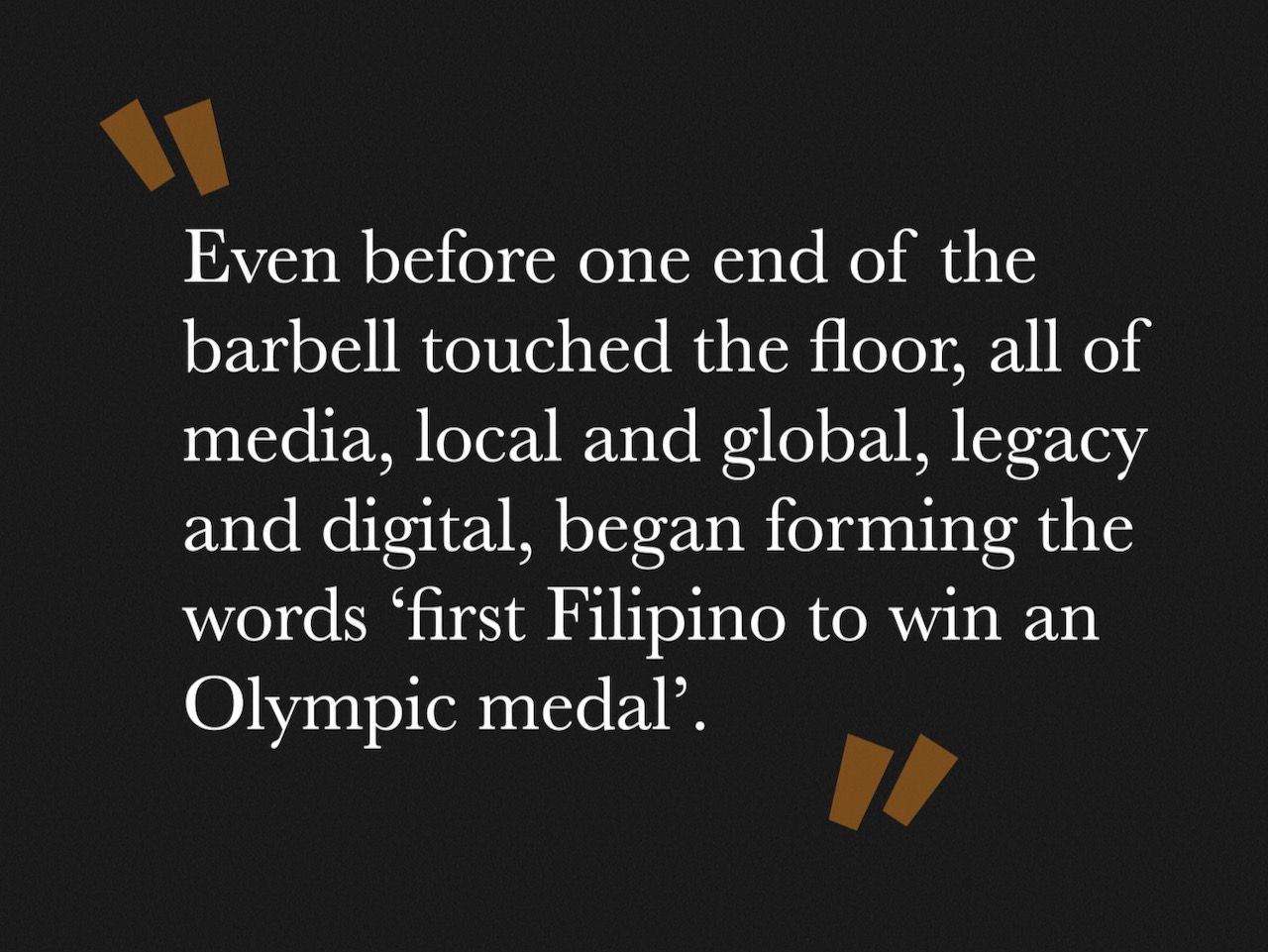 If Hidilyn Diaz was Rocky, Liao Qiuyun was Ivan Drago
Liao Qiuyun comes from the country with the most well-developed weightlifting program.
"Apart from weightlifting being a major sport in China and a well-funded one, the sport's global powerhouse enjoys the numbers." Philstar
While there are many good weightlifters there already, the population can supply countless talents from which to choose.
And Liao was the strongest; she is Hidilyn's Ivan Drago, the powerful and emotionless behemoth of Rocky. Emotionless until that day.
At Hidilyn's final lift, we saw the grit of a woman who has sacrificed much. We watched her heave her left foot forward, in a manner ungainly to the trained eye. But we, the hoi polloi, who know only that white lights indicate a successful lift, saw spirit, a determination you might call 'Filipino', for somehow Filipinos find themselves always needing to clamber and claw one's way out. The unsteady foot moved to share the weight as she jerked 127 kilograms above her head, one kilogram more than Liao's last.
Even before one end of the barbell touched the floor, all of media, local and global, legacy and digital, began forming the words "first Filipino to win an Olympic medal".
But if that were all, that she was first in a stretch of almost one hundred years, then the accomplishment was simply one waiting for time and training, one a matter of investment, a matter of better government.
Well, that wasn't all.
What transpired before the day
Malay Mail describes her journey in detail.
"Diaz's journey to the Tokyo 2020 Olympic Games began when she moved to an apartment in Kuala Lumpur in February 2020 on advice of her Chinese coach Gao Kaiwen and began training in the city.
"Once the Covid-19 pandemic hit, however, everything was brought to a standstill and she improvised by using bamboo sticks and large water bottles as impromptu weightlifting equipment.
"In October 2020, she and her team relocated to a kampung house in Jasin, Melaka where they initially were able to train at a gym nearby.
"Due to tighter restrictions, the gym was forced to close, leaving Diaz with no choice but to train in her backyard with a makeshift gym.
"She spent more than a year in isolation without her family members and only her trainers for company."
Finally, a Filipino stood where no Filipino has before
She sobbed while singing the national anthem under her face mask, hand on chest, index finger pointing to the small Philippine flag sewn on her jacket, which had many of us either sniveling or bawling. "Hidilyn Diaz just quenched the thirst of 110 million warm bodies so hungry for heroes", wrote Clarita Carlos.
But, again, that wasn't all we saw.
"Hidilyn explained that the actual physical effort of lifting the weights had to be executed in just a few seconds. All the training and preparation... come down to those few seconds", narrated Mon Isberto.
Hidilyn had but seconds in which to expend all her energy, apply all her training, the wisdom of the coaches, the careful tending to her psyche, the help of the people who believe in her. She had to pour all that into a particular set of seconds, on a specific hour, a specific day, on that postponed Olympic year.
Burdens no athlete should have to carry
This was her fourth stab at the Olympics, and now "comma 30" comes after her name.
The decisions that brought her to that bright red stage emblazoned with the Olympic rings, to those seconds, were they correct decisions?
She was working towards the Olympic dream since she was eleven years old. But the dream burgeoned into something knottier, more unwieldy. She had to worry for family, and for her father who was accused of being one with insurgents because her name was included in an 'Oust Duterte' matrix of colluders. She had to unshackle herself from the grip of gloom that accusations can bring. How can an athlete perform – win anything -- under such a dark cloud? If there was a way for her to heal the wounds and welts inflicted by the vile and the vicious of the commissioned on social media, the slurs and insults of known allies of the powerful, it was to win that damn medal.
In those few seconds, all concerns and doubts end, right or wrong: the anxiety of where to stay, where to train; the need to prove that she was right to obey her coach to stop studying, to not see her family for more than a year; to carry a begging bowl to friends and corporations so publicly.
These were weights added to the total weight of her bumper plates, what she had to lift above her head during those seconds, weights no weightlifter should ever have to again, a burden the Chinese superstars, coddled and beloved as they are by their government, would not be able to understand, much less lift.
"Diaz fought breaking down mentally during her ordeal, and credits her team, including sports psychologist Dr. Karen Katrina Trinidad and trauma therapist Gang Badoy Capati for her well-being." Wikipedia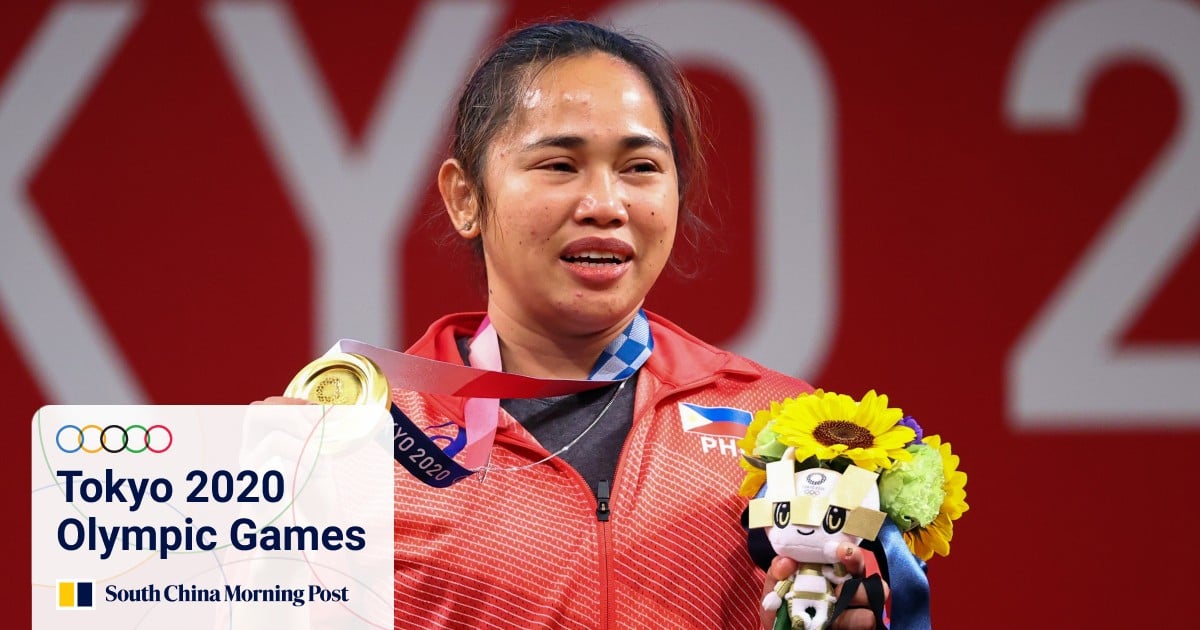 Why a begging bowl?
Hidilyn Diaz went on a campaign to raise funds to help her prepare for Tokyo. While social media allies of government are now extolling her to high heavens, besmirch and blemish her motives and reputation, they did. Since trolls are partial to argumentum ad hominem, even her boyfriend was dragged through the mire.
RESIBO nung tinarget si Hidilyn ng mga DDS at troll farms. Don't erase history, this is what she dealt with, hands off mga gago. Kagagawan kaya to ng DOF consultant? UP

(Reupload to remove a non-troll comment) pic.twitter.com/aOo0p624Y2

— Antonlyn (@goodkidbikecity) July 26, 2021
The uninitiated do not know that an athlete is really a team. However romantic the imagined is, an athlete is not a solitary creature, as Michelangelo was not "a lonely artist" lying prostrate on scaffolding inches away from the vast ceiling of the Sistine chapel, doing a fresco for every important biblical event, with paint dripping on him.
There are team members to pay, feed, house, be concerned for
"Team HD includes Coach Jeaneth Aro, her nutritionist; sports psychologist Dr. Karen Trinidad; weightlifting coach Kaiwen Gao; and her strength and conditioning coach Julius Naranjo who is also assistant to Coach Gao and, as the public might already know, is also Hidilyn's boyfriend." ABS-CBN News
Her coach was no ordinary coach. Gao Kaiwen helped train two of China's Olympic Gold medallists.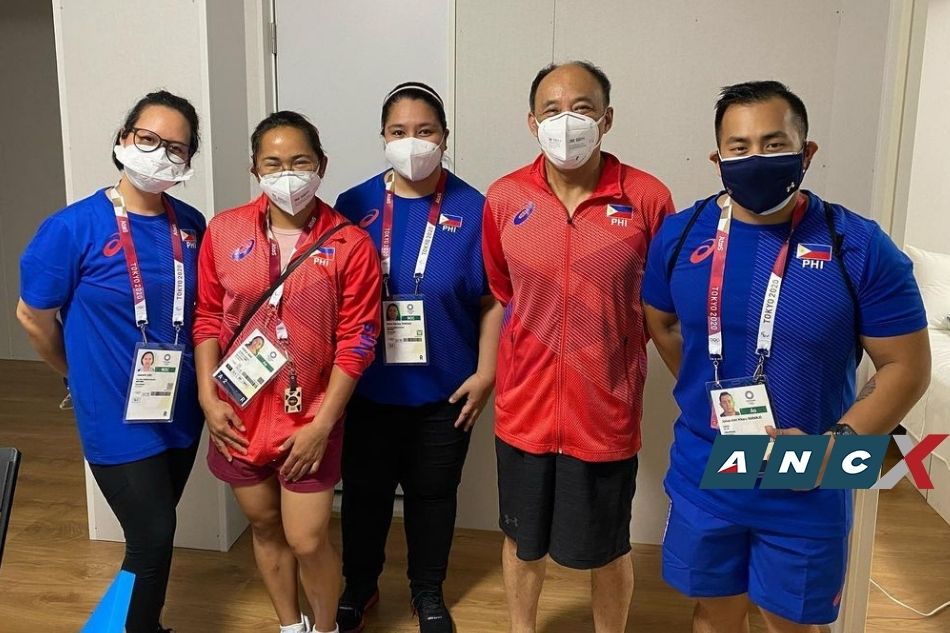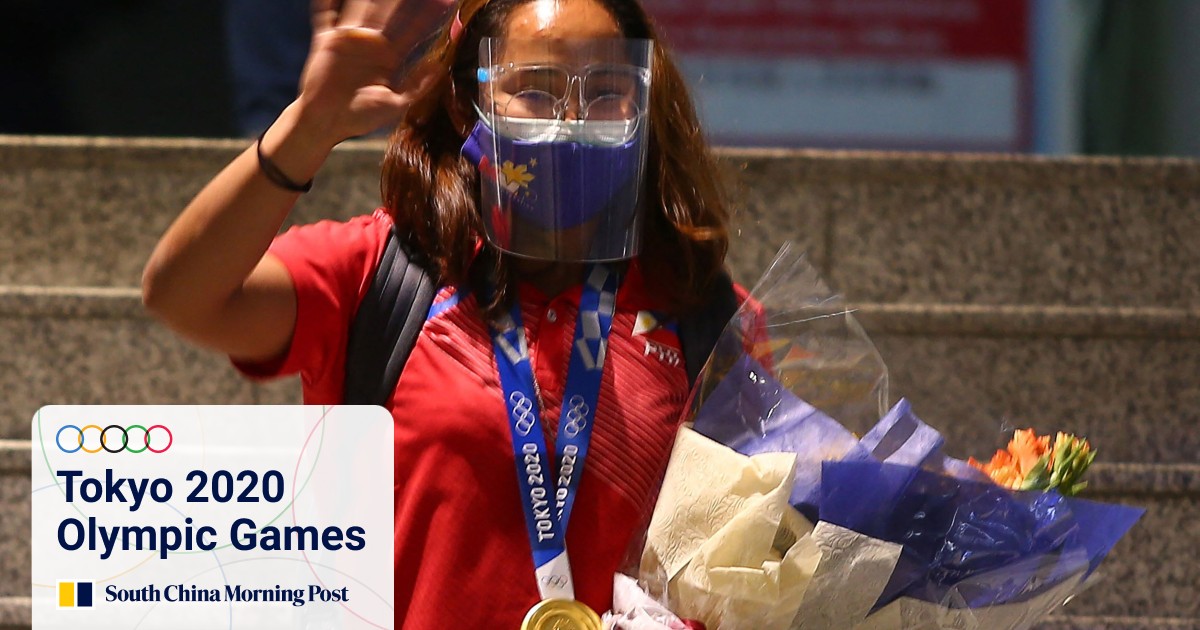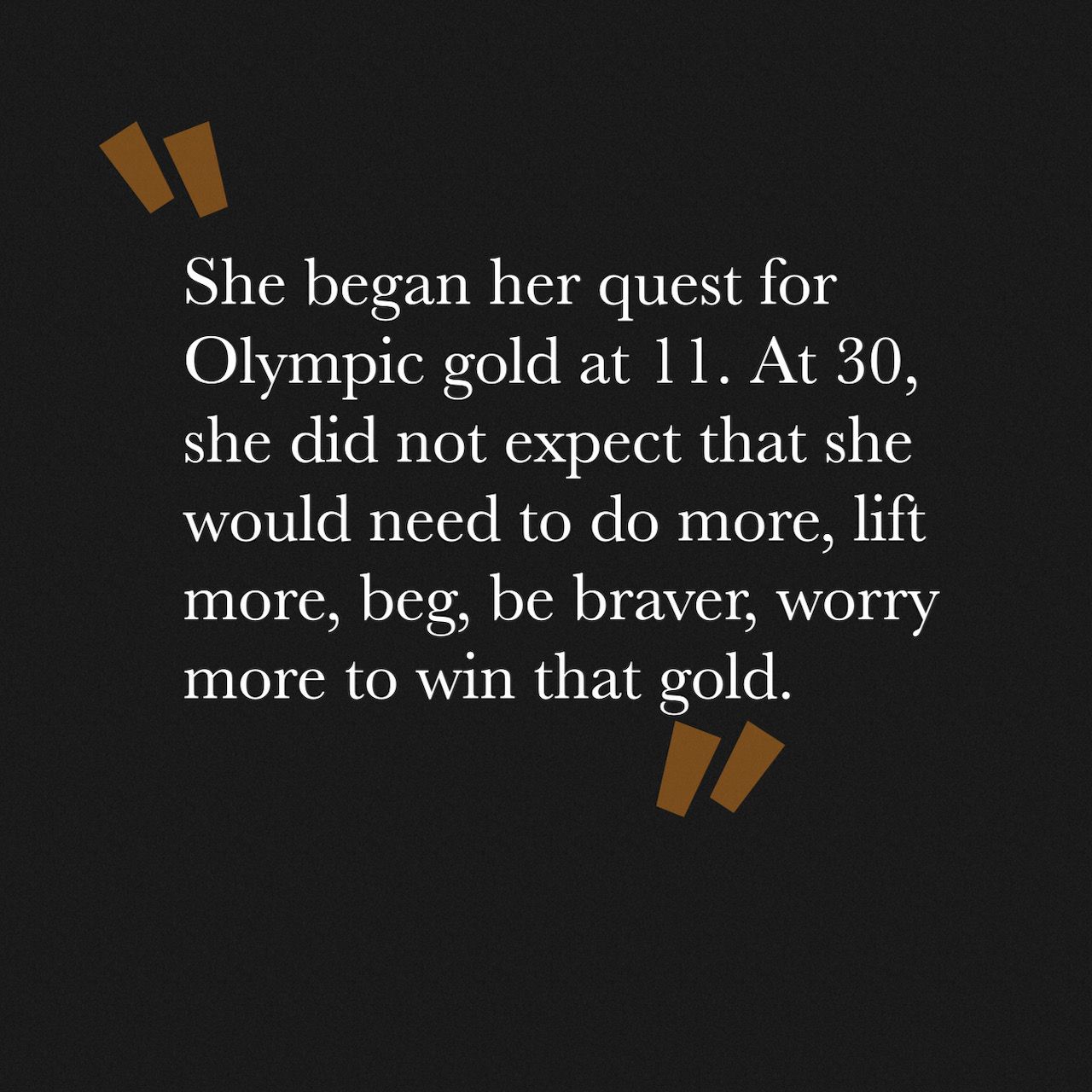 While we only see a lift, a wobbly pause and the drama that exploded, strategy was involved. It is said that Hidilyn's team outsmarted Liao's.
Ostrowicz, who predicted a loss, "was so impressed with Hidilyn's shape and performance, even commenting that not only did the Filipina 'outlift' her closest Chinese competitor, her coaches outcoached the Chinese as well". Philstar
(By the way, 13 people helped Michelangelo paint the Sistine chapel. He was not only an artist; he was the head of a good-sized entrepreneurial enterprise).
Imagine if she did not have those peculiar burdens
She began her quest for Olympic gold at the age of 11. At 30, Hidilyn Diaz did not expect that she would need to do more, lift more, beg, be braver, worry about personal safety and the safety of her family to win that gold. Without the welts and worries, without the persecution, she would have probably done more, lifted heavier, won more, pleased a people sorely needing successes and achievements.
"Sa totoo lang, ang dami kong pinagdaanan."
If you liked what you just read and want more of Our Brew, subscribe to get notified. Just enter your email below.