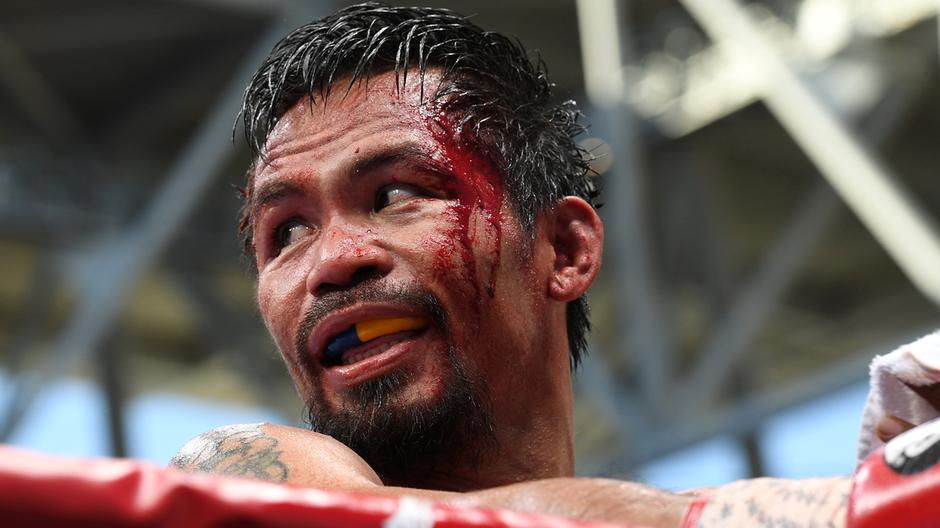 The presidency would be the biggest fight of his life, but boxing champ and Senator Manny Pacquiao is getting a beating from his own partymates
A member of the ruling PDP-Laban has disclosed plans to replace acting party president Senator Manny Pacquiao with Speaker Lord Allan Velasco when the party convenes for its national assembly in July.
This is seen as paving the way for Davao City Mayor Sara Duterte's proclamation as the party's standard bearer in the 2022 election. Velasco is an ally and supporter of the presidential daughter.
During a council meeting in Cebu City last May 31 - a gathering that Pacquiao had opposed - party members approved a resolution urging President Duterte to run for vice president in 2022. Supporters have been floating a possible Duterte-Duterte ticket.
While she continues to lead in pre-election surveys, the younger Duterte heads her own local party, Hugpong ng Pagbabago.
There seems to be little incentive for Pacquiao to stay on if he is not chosen by his party as their presidential candidate. Over the past months he has been quietly making preparations for a presidential run next year.
The boxer-turned-senator has his own core of supporters from PDP-Laban. But given the beating Pacquiao has been getting from his partymates, other political parties are already eager to get him into their fold.
"Knocked Out?"
The boxing champ is banking on his rags-to-riches story and underdog image to propel him to the presidency.  A victory over Earl Spence Jr. in a title fight set for August could fire up his base. Ranked fifth in the most recent pre-election survey conducted by Pulse Asia, a win over Spence could create the momentum he needs to push his poll numbers.
Back to training. pic.twitter.com/FMbMgMQpJE

— Manny Pacquiao (@MannyPacquiao) June 1, 2021
Manny Pacquiao Twitter account
But fame and popularity are not enough to secure victory in a presidential run. Pacquiao would also need a strong ground game. He would need to grow a legion of loyal volunteers to complement the traditional, if unreliable, party machinery.
And if President Duterte is able to maintain his high performance and trust ratings until the early part of 2022, a presidential endorsement - and the implicit advantage in resources - would make Pacquiao a formidable administration candidate.
Manila Bulletin Online
President Duterte had once referred to Pacquiao as the future president. But last week, the President backed a party council meeting that Pacquiao had opposed, to the point of urging his partymates not to attend. The clear rebuff is seen by some observers as a knock out punch from no less than the President.
Writes Boo Chanco in the Philippine Star:
"Manny Pacquiao, at age 42, is set to fight 31-year-old Earl Spence Jr. on Aug. 21 in Las Vegas. It will be Manny's 72nd professional fight.
"But two months before the Las Vegas fight, Duterte may have knocked him out already… from the presidential race next year. Duterte, as party chairman, insisted on convening the PDP-Laban against the wishes of Manny, who is supposed to be its president.
"Manny issued a memo telling PDP-Laban members to ignore Energy Secretary Al Cusi's call for a national council meeting last Monday, but Harry Roque confirmed Cusi was acting on the instruction of Duterte.
"After it was over, Manny is no longer president of PDP-Laban and a strange resolution was passed urging Duterte to run for vice president and choose his running mate for president in 2022.
"Manny must be very disappointed over the turn of events. He must have thought Duterte was serious when he called Manny the next president. It now looks like it was another Duterte joke, like the jet ski.
"How Manny reacts to the rebuff should be interesting. Will he be, like a dog with its tail between his legs, go quietly in the night? Or will his wounded pride make him go for broke against a formidable power?
"I imagine Manny knows it is easier to beat up an opponent in a Las Vegas ring than it is to beat up Duterte in our political ring.
Manny's celebrity status will only get him so far if he goes against Duterte.
"But those who look down on Manny's qualifications should remember that unlike Bongbong Marcos, Manny has a bachelor's degree in political science. The guy is also a survivor and not a stranger to tough fights."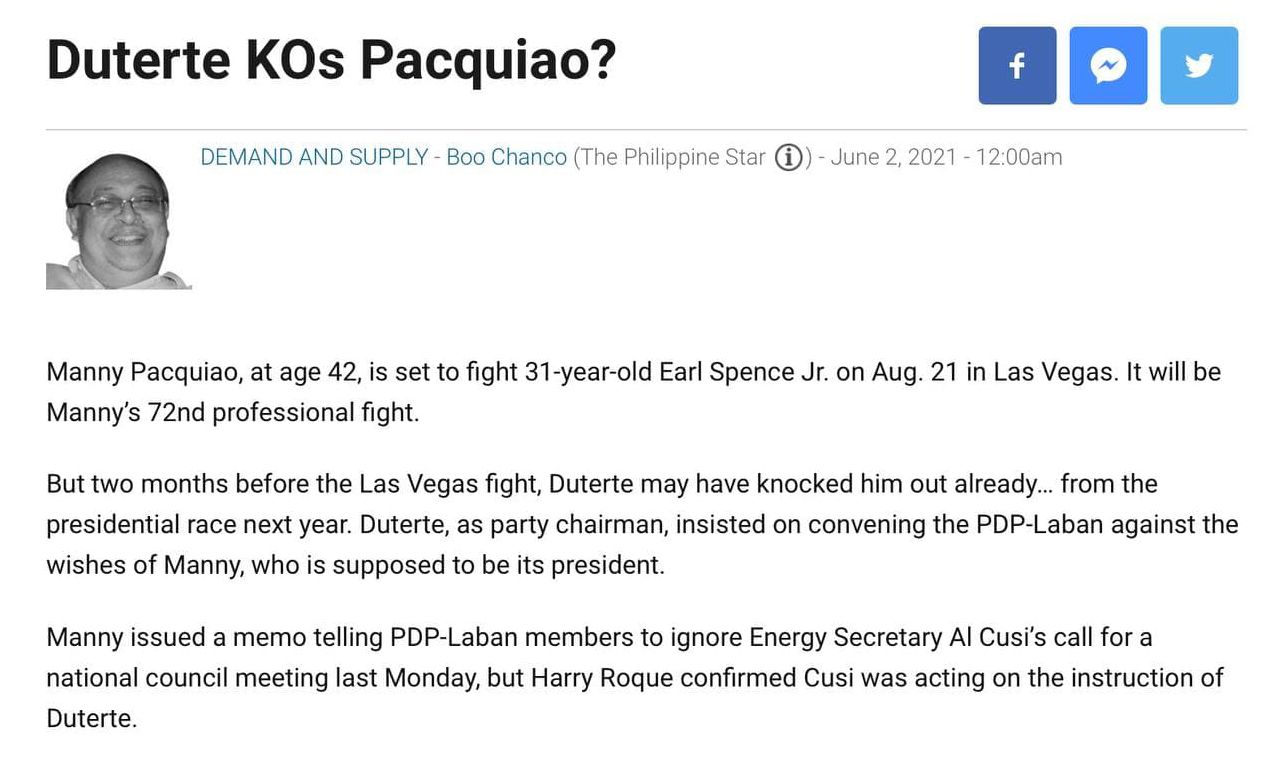 Ouster
The website Politiko posted on June 1 an interview with Atty. Rogelio "Bicbic" Garcia, who heads a faction of the PDP-Laban. A known critic of Pacquiao ally Senator Koko Pimentel, Garcia claimed the party does not recognize Pacquiao's presidency.
"We don't recognize him as the acting president, so therefore as of today naging bakante po yung national president," Garcia said in the interview.
The party will hold its National Assembly on July 17, where Garcia said they intend to elect Velasco as party president.
Raul Lambino, PDP-Laban Vice President for External Affairs, told ANC that Pacquiao became party president as a result of Pimentel's resignation. He was not elected by the party's national assembly.
"We have to follow the constitution and by-laws of PDP-Laban. It's not stated that the executive vice president should be the president. It's only stated that he shall take over the function of the president. It doesn't mean that he will be the president in case there is a vacancy of the presidency of the party," he said.
A report in the Manila Bulletin said a group of congressmen identified with Velasco were ready to press for Pacquiao's ouster during the meeting in Cebu City. However, they were told that the election of officers was not on the agenda.
Lambino said the election of officers is "long overdue" but refused to speculate on Pacquiao's reported ouster.
A party official, however, maintained that Pacquiao is in no danger of being ousted and his leadership of the party "remains strong."
"His (Pacquiao) leadership remains strong. We're in constant communication with our over 100,000 party members all over the country, they're in the grassroots, and they continue to support him," PDP-Laban executive director and spokesman Ronwald Munsayac said in an online press conference on June 1.
"We heard of such reports but we would like to be fair to vice chairman Cusi, that that is not their objective," he said, referring to Energy Secretary Alfonso Cusi, who called for the May 31 meeting.
"We don't think he will be ousted, we're confident on the leadership of Senator Pacquiao because of the support of our grassroots members," Munsayac said, before adding:
"But in politics, we're ready for all scenarios."
At Senate session. Another day's work to serve our people. Happy Monday to all! 🇵🇭 pic.twitter.com/rPoxozC5hO

— Manny Pacquiao (@MannyPacquiao) May 31, 2021
Manny Pacquiao Twitter account
"Underdog"
Pacquiao would have no difficulty finding a new party should he be ousted or if he decides to bolt PDP-Laban.
This early, several political parties are reportedly sending feelers for the boxing champ to join them, according to an unnamed House official quoted in media.
Pacquiao's advantage right now is that he is perceived as the underdog.
"You know how Filipinos love underdogs. They emerge victorious in the end," the House official said. - JS
If you liked what you just read and want more of Our Brew, subscribe to get notified. Just enter your email below.