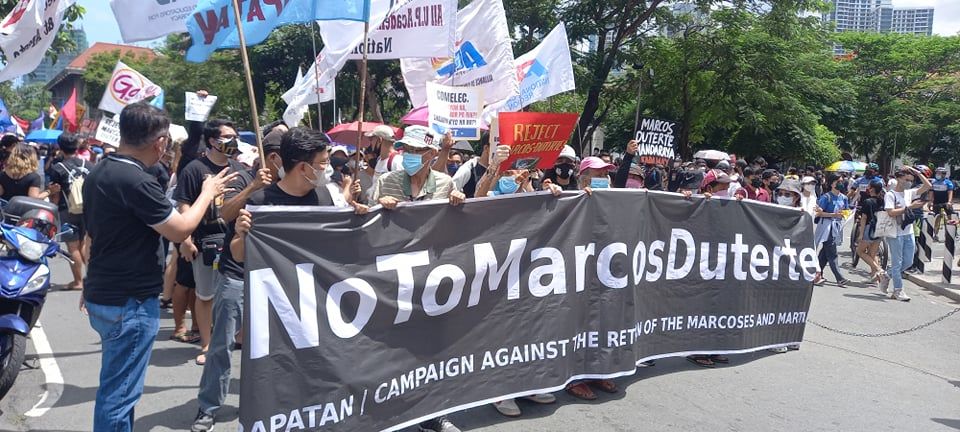 Ina Alleco R. Silverio
Weeks after the May 9 national presidential election, there is widespread dismay and disgust in the Philippines. The ranks of human rights activists, progressives as well as supporters of outgoing Philippine vice-president and independent presidential candidate Leni Robredo dreaded that the Philippines will be set back politically and economically by another Marcos presidency.
Bongbong, son of the ousted dictator Ferdinand E. Marcos, is now the presumptive 17th president of the country after supposedly winning via a landslide victory.  Marcos Jr. and his running mate Sara Duterte, daughter of outgoing president Rodrigo R. Duterte, have already begun to make initial announcements regarding their immediate plans for their respective offices.
While the camp of Marcos-Duterte claimed to have secured a massive victory against their closest rivals Robredo and her running mate Senator Francis "Kiko" Pangilinan (35 million against Robredo's 14 million votes), the election is now considered one of the most fraudulent in history.
There were numerous reports of Vote Counting Machines (VCM) breaking down or malfunctioning; of voters being compelled to sign waivers to allow election officers to be the ones to feed the ballots to the machines later; and vote buying at P500 to P3,000 (US$9.50 to US$57) per vote.
Electoral watchdog KontraDaya (Against Cheating) firmly said that the Commission on Elections (Comelec) and vote machine service provider Smartmatic dismally failed to implement smooth, transparent and orderly elections. KontraDaya spokesman, University of the Philippines (UP) professor Danilo Arao, said that the Comelec is complicit in increasing the possibility of poll fraud.
Not even a week after the May 9 election, and with official canvassing results not even out, the Comelec declared that the polls were successful, despite controversies surrounding the elections, prominent of which were the VCM breakdowns, widespread disinformation, voter disenfranchisement, and rampant vote-buying cases.
Almost 50 percent of complaints validated by Vote Report PH were of VCM errors during election day. Despite the expectedly secretive nature of vote-buying, the group still succeeded in validating the complaints it received regarding vote-buying in selected regions of Luzon, Visayas, and Mindanao.
Aside from VCM errors, other issues that arose were voters complaining about their names missing from official voting lists, illegal campaigning and red-tagging of progressive candidates. Before election day, the media reported cases of misuse and abuse of government resources such as the chair of the Commission on Higher Education (CHED) endorsing specific candidates in an official voter education forum with students.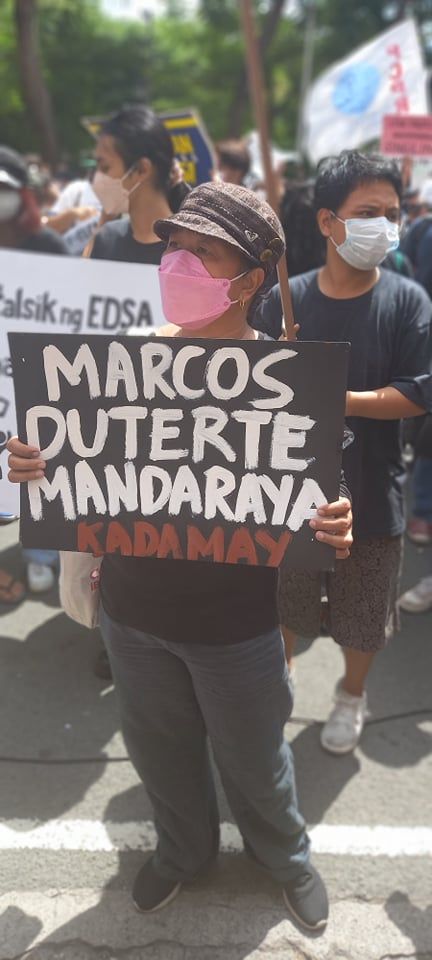 University of the Philippines (UP) Prof. Arao of KontraDaya said: "The ongoing Philippine election tally is the result of a chronically dysfunctional political system; a massive and long running disinformation campaign; rampant and entrenched vote-buying; malicious and wanton red-tagging; political repression leading to disenfranchisement; a non-transparent voting system and a Duterte handpicked Comelec.
"Marcos Jr. and Duterte have benefited from a system that was already rigged in their favor. It is this system that is now laying the ground for a Marcos restoration and a Duterte extension.
"Filipinos – especially the victims of the Marcos and Duterte regimes, are well within their rights to reject the undemocratic and fraud-tainted results of the 2022 elections.  Elections here have notoriously been dirty, unfree and non- transparent."
Affirming Arao's conclusions, the group Vote Report PH announced that it received over 9,500 reports, documenting various incidents of possible elections-related anomalies. The majority of the 2,927 validated entries have reported election incidents. A small fraction comprised campaign reports, as well as final testing and sealing reports.
Vote Report PH is an alliance of Information and Communications Technology (ICT) professionals and organizations aiming to engage the ICT community to participate in the electoral process. Formed in 2010, the group started as a grassroots-based electoral campaign by the Computer Professionals' Union during the first national automated election in the Philippines.
Based on Vote Report PH's findings, after screening, validating, and verifying reports of election anomalies and violations, there were 2,683 unique verified incidents so far documented.
Reports of VCM and SD card errors (52.3 percent of validated reports in total), electioneering or campaigning on election day (14 percent), and errors in the election process (11.2 percent) were among the most frequent types of reports verified. A number of reports also documented vote-buying, military presence, general disenfranchisement, and general delayed voting, among others.
Vote Report also pointed out that the number of documented VCM errors in the polls were far greater than those of the previous two automated elections by a significant margin. It alleged that the breakdowns affected voter participation, leading to delayed voting and disenfranchisement in several cases.
Mainstream media outlets for their part documented how thousands of people were made to wait even up until the early hours of May 10, a day after the election, just so they could cast their votes.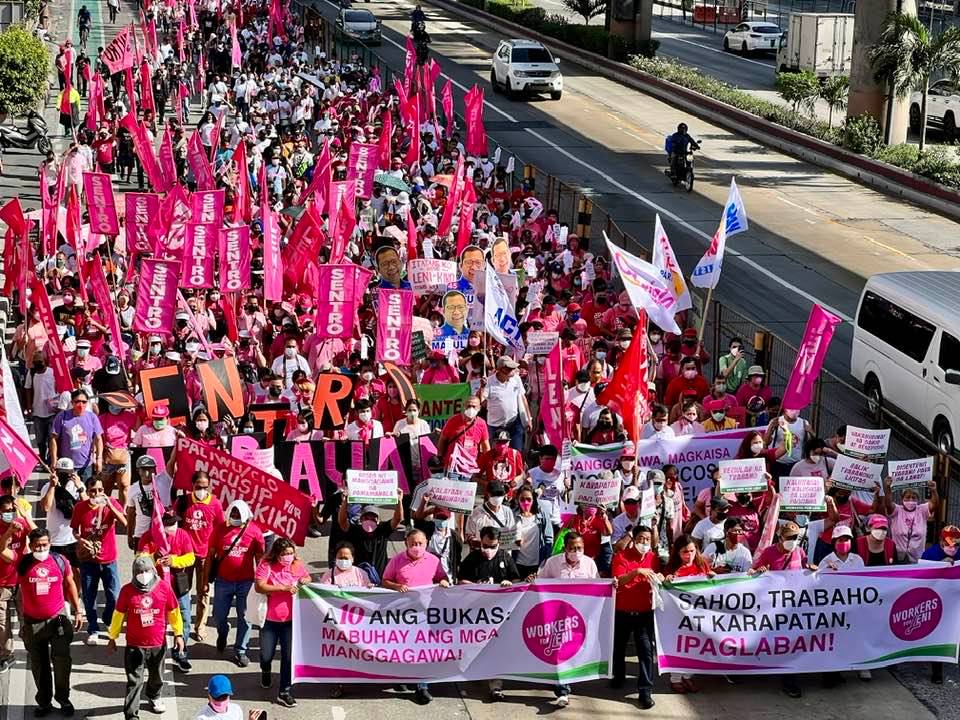 Questions arise about Marcos Jr's track record
What then after the polls? In the aftermath of the election, expectations of the new leadership could not be said to be positive.
London School of Economics and Political Science (LSE)-trained economist Sonny Africa of the independent think-tank IBON Foundation pointed out that it was not difficult to understand why the protests against Marcos continue and why many have even declared that they would not recognize his presidency.
Africa said: "It's a matter of his track record itself, not just his being the son of a dictator. What did Bongbong Marcos Jr. do for labor in his six years as senator in the 15th and 16th Congress (2010-2016)? Nothing.
"What about the 54 laws his official website proudly declares he "authored/co-authored/sponsored/co-sponsored"? This disingenuously lumps different levels of involvement together. But taking his "legislative accomplishments" at face value, his biggest achievement is declaring holidays (16 laws), renaming roads (three laws), and celebrating tree-planting (one law), which is 20 or almost two out of five laws he claims to be responsible for."
The other laws that Marcos Jr. also passed were 16 on the gerrymandering-driven creation of legislative districts (eight laws), cities (seven), and a province (one). He also credited himself for a law postponing two Sangguniang Kabataan (SK or Youth Council) elections, and the synchronized elections in the then Autonomous Region of Muslim Mindanao (ARMM).
"Not known for honesty, it's useful to ask how much work Marcos Jr. really did on laws he takes credit for like the National Health Insurance Act (as amended) and Expanded Anti-Trafficking in Persons Act (principally authored by Sen. Legarda), Expanded Senior Citizens Act and Children's Emergency Relief and Protection Act (authored by Sen. Pia Cayetano), Cybercrime Law (authored by Sen. Ed Angara), among others," Africa argued.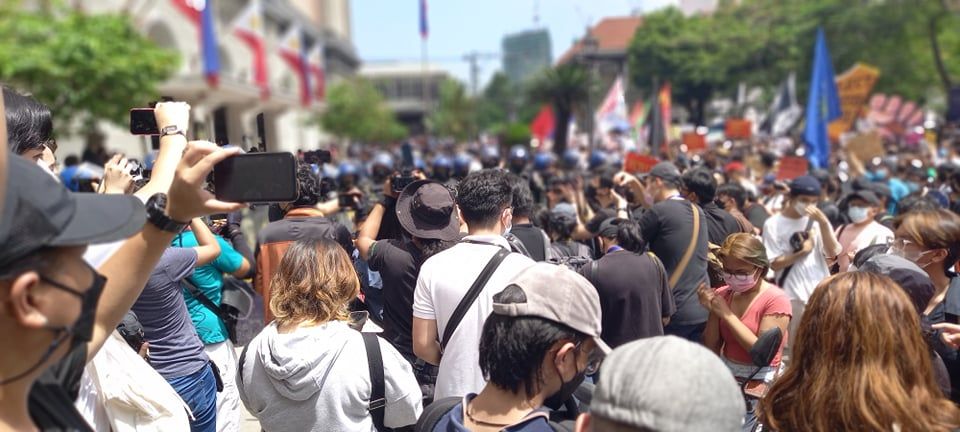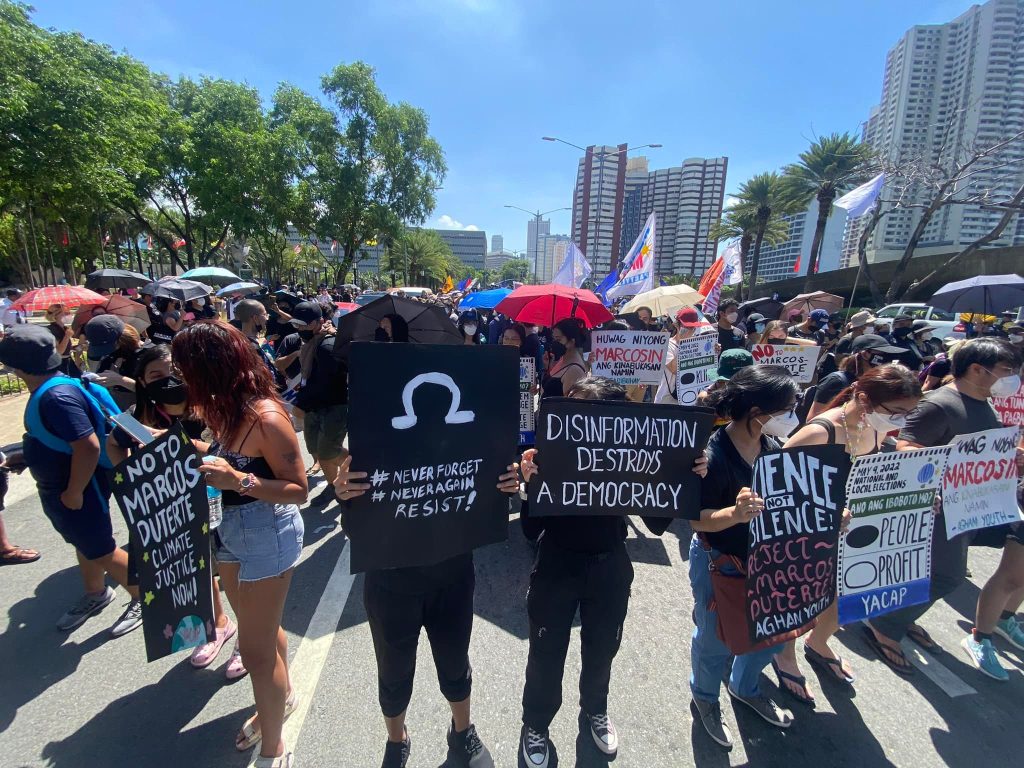 Allegations of Duterte's economic mismanagement
As the countdown to his inauguration begins, observers said that Marcos Jr. should already be preparing to take over a country that the incumbent Duterte has not succeeded in improving.
Africa said that Duterte and his economic managers gave priority to amassing personal wealth and generating profits for those in the inner circle of allies over the Filipino people, even during the first year of the Covid-19 pandemic.
"Proof? Filipinos in the Forbes billionaire list increased from 17 to 20. The richest Filipino, construction magnate and businessman Manny Villar's wealth rose 25 percent or by Php85.9 billion. On the other hand, unemployment increased by 1.1 million, already pegged at 8.2 million in 2020. The number of poor Filipinos grew by 3.8 million and 139,000 small businesses closed," he said.
Another point that bolstered Africa's allegation is the difference in assistance the government gave out during the pandemic. Under the Bayanihan 1 and 2 programs, pandemic-affected ordinary Filipinos received P234 billion in welfare dole-outs. In contrast, under the Corporate Recovery and Tax Incentives for Enterprises (CREATE) law which congress rushed into passage and Duterte signed, corporations were given P257 billion in tax cuts.
Africa also debunked claims that Duterte "masterfully steered" the Philippine economy because his government allegedly brought in many foreign investments.
He said: "There's no reason to get so excited about that. Foreign direct investment has been pouring in for decades. The Philippines' FDI stock grew 40-fold from US$2.7 billion (1986) to $103.2 billion (2020), with its share to the gross domestic product (GDP) rising from 8.2 percent to 29.9 percent.
"Over that period, however, manufacturing's share in GDP fell from 24.8 percent to 18.6 percent. The number of unemployed doubled from 2.5 million (1986) to 4.7 million (2019, recomputed to be comparable with 1986); it tripled to 8.2 million in 2020 because of the lockdowns."
In short, Africa said that foreign investors generated huge profits from the Philippines but did nothing to help the country industrialize or provide enough jobs for the mass of unemployed and underemployed Filipinos.
"Why is this happening? Because the economics of our economic managers is all wrong," he said. "Marcos' Jr. will have to address a massive crisis, but given his lack of a comprehensive economic plan for the country, we don't have high hopes for this."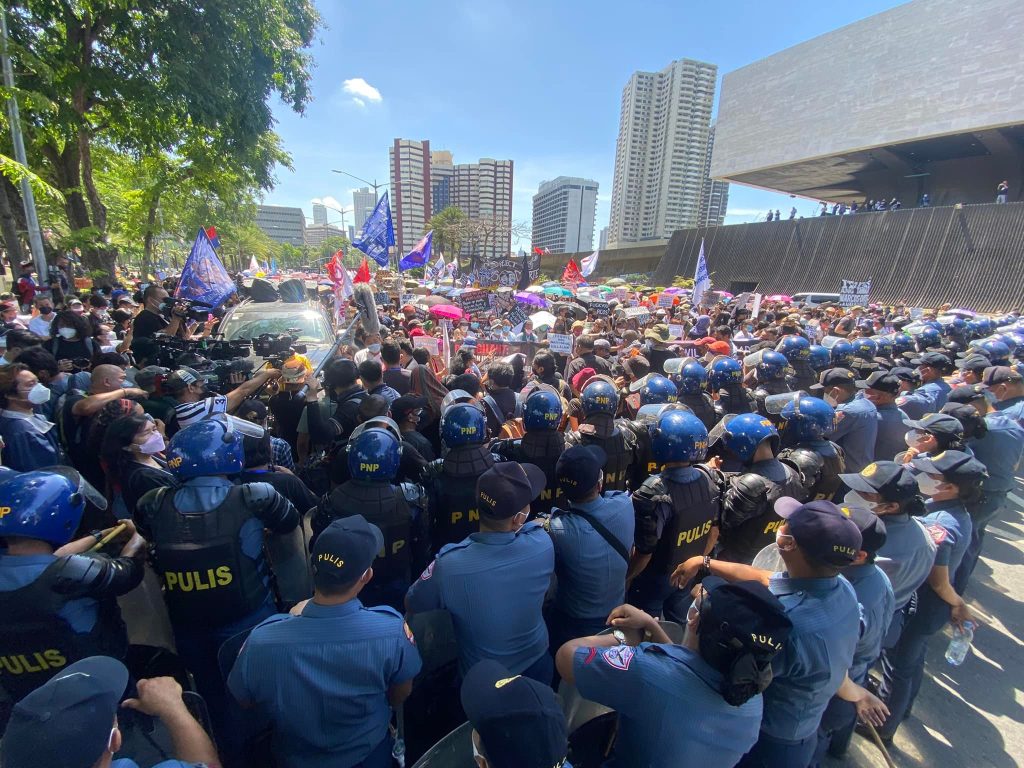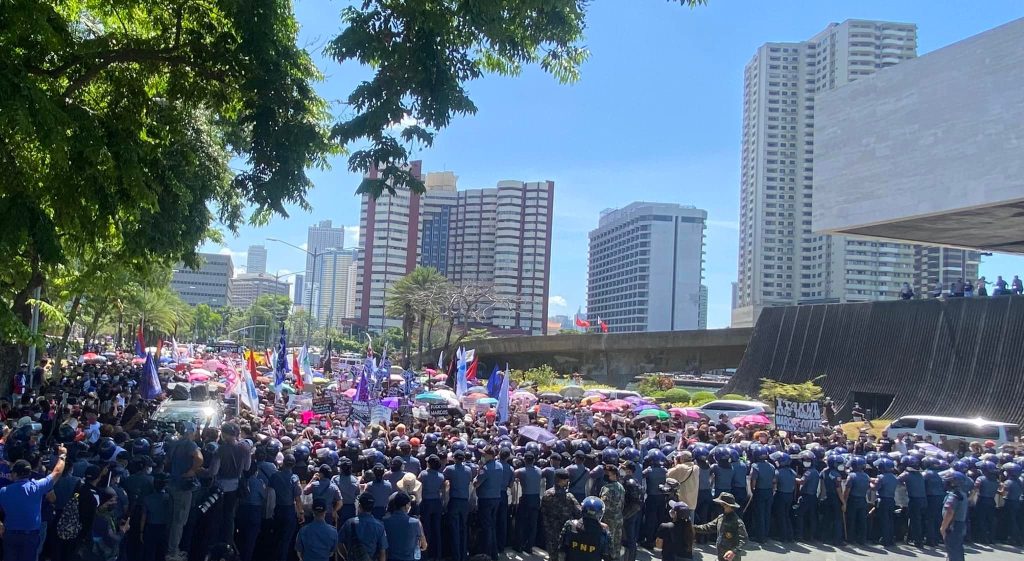 Protests against Marcos Jr
While Marcos' spokesman Atty. Vic Rodriguez announced that Marcos was putting together his new cabinet, the protests were not letting up.
Despite the dismissal of their appeals by the Comelec a day after the election, petitioners who sought the cancelation of Marcos Jr.'s certificate of candidacy (COC)  continued to fight as they seek to restrain the canvassing of the latter's votes and proclamation in a petition they have filed at the Supreme Court.
Kapatid, one of the human rights organizations established during martial law which petitioned the election commission to cancel the COC of Marcos Jr.  said that they were working over-time as congress will convene as a national canvassing body on May 23.
"We ask the Supreme Court: Give due course now to our petition to avoid proclaiming someone who was never a valid candidate from the start due to false material representation about the plain fact of his prior criminal conviction for violating the National Internal Revenue Code. This carries with it the penalty of perpetual disqualification from public office but which the Comelec brushed aside," said Fides Lim, the group's spokesperson.
Pending the resolution of our petition, Kapatid said that the high court should immediately issue a temporary restraining order to stop the Senate and House of Representatives from canvassing the votes cast for Marcos Jr. and from proclaiming him should he be adjudged to have the highest number of votes obtained as president.
"The Comelec committed grave abuse of discretion amounting to lack or excess of jurisdiction. We thus ask the High Court to reverse and set aside the questionable Comelec ruling and to cancel and declare void from the start the certificate of candidacy of Marcos Jr. and in the process, declare him to have never been a candidate in the 2022 national elections," Lim said.
Lim argued that Marcos Jr.'s supposed victory cannot address or bypass the issue of his ineligibility.
"Elections are not only numbers game – they cannot bypass election requirements and the rule of law. The Comelec should never have allowed Marcos Jr.'s candidacy to proceed for violating constitutional and legal requirements," she said.
The human rights advocate also argued that the high court must consider that the more qualified candidate for the position obtaining the highest number of votes cast (sans Marcos) be declared the president.
"Marcos Jr. lied when he filed his COC despite knowing the fact of his conviction and its repercussions, said Lim.
"If the Supreme Court were to allow such a brazen lie to trump the rule of law, all substantive eligibility requirements in all future elections can be circumvented by ineligible candidates who happen to secure a victory. The will of the people, as it has been expressed through law, will be silenced in perpetuity," she said.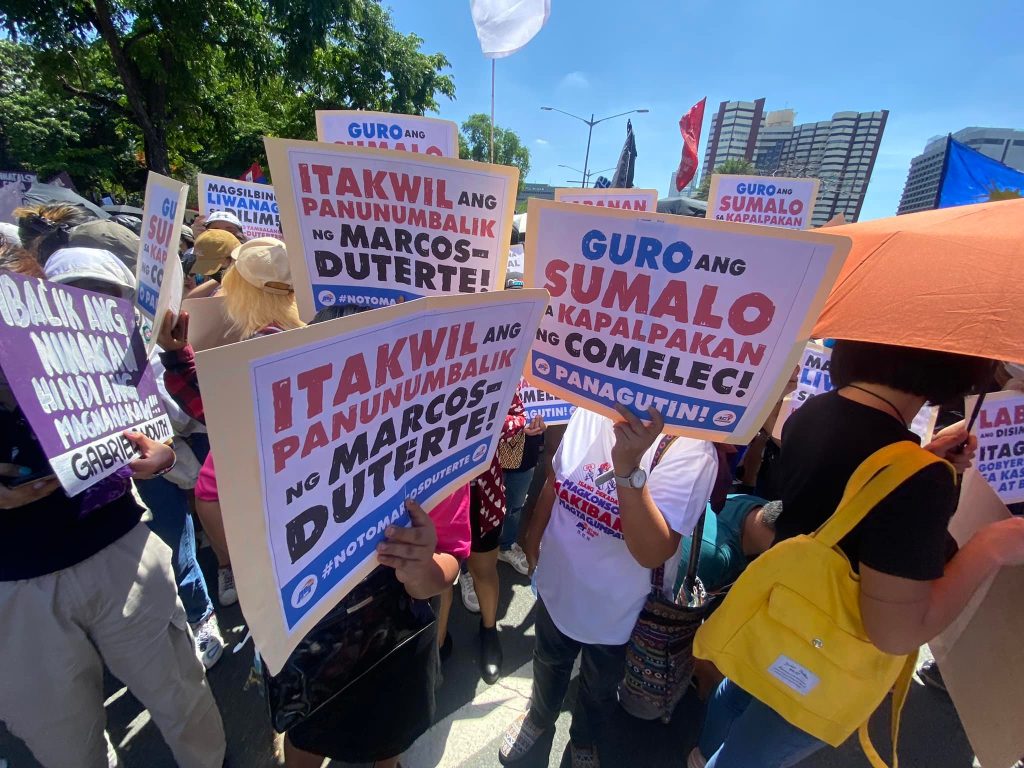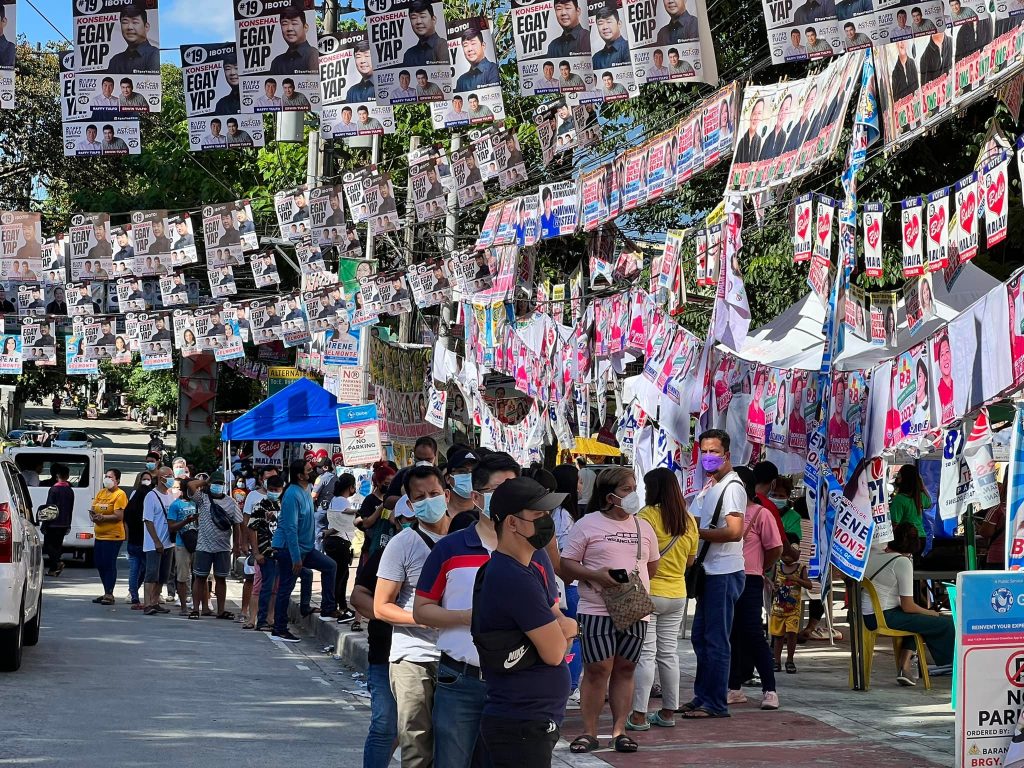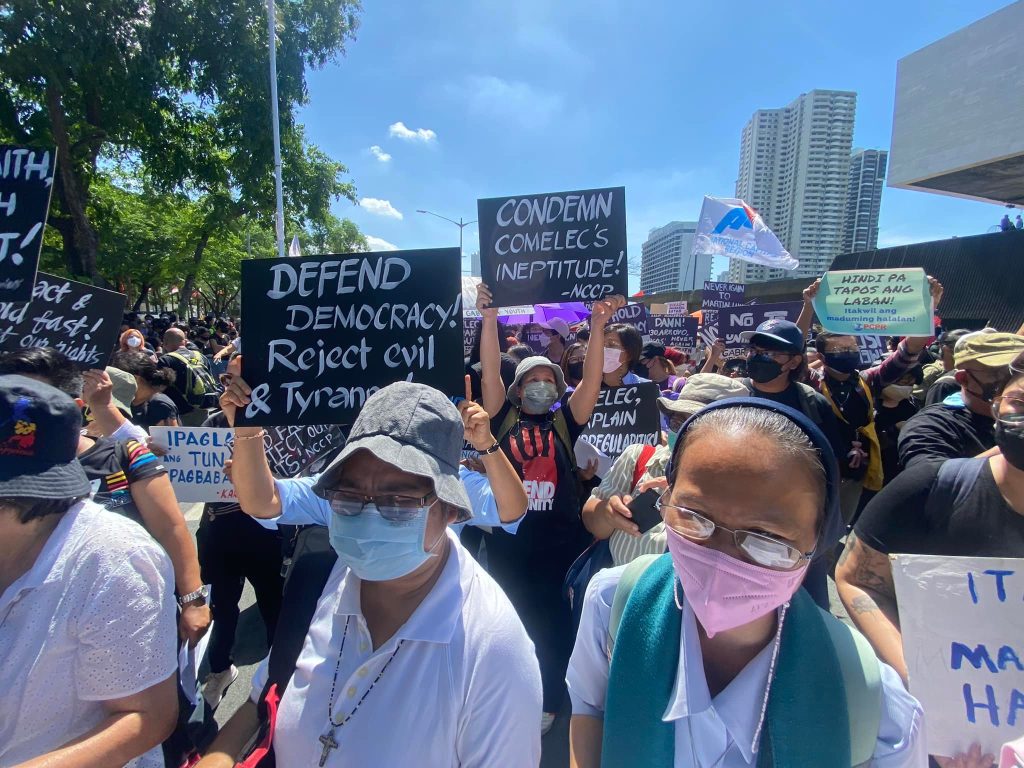 The challenge to Marcos Jr.
Whatever the outcome of the legal battle, grassroots organizations said that what cannot be denied was how the 2022 polls have politicized more Filipinos, encouraging them to espouse more progressive views.
Renato Reyes, secretary-general of the Bagong Alyansang Makabayan (BAYAN or New Patriotic Alliance), said: "The political opposition had to contend with massive cheating and dirty tactics of all kinds, but their campaign opened the eyes of millions. Consider the 14 million who voted for Robredo and Pangilinan. Most of them were volunteers.
"This spirit of volunteerism and solidarity should continue beyond the election.  There are limits to what the traditional electoral exercise can achieve in terms of meaningful social change.  Filipinos should now look beyond the electoral arena and strengthen, expand people's organizations and movements for change."
Reyes said that the Marcos's administration will have to address the serious jobs crisis that the current administration has worsened.
"The question is, will it have the political will to implement measures that will really help Filipinos and the country's economy to recover?"
Photo credit: Ina Silverio and the Bagong Alyansang Makabayan (BAYAN).
---
Source: Maritime Fairtrade (https://maritimefairtrade.org)
Photos: Ina Silverio and the Bagong Alyansang Makabayan (BAYAN)
If you liked what you just read and want more of Our Brew, subscribe to get notified. Just enter your email below.