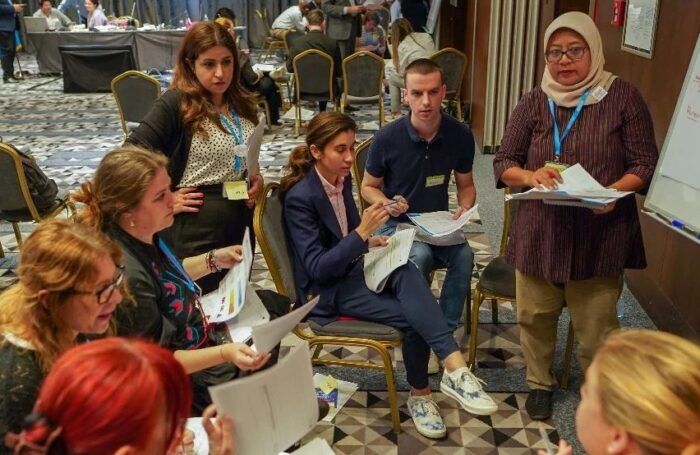 "During a casual conversation in an informal setting, people would listen to us."
By HANAA' TAMEEZ
Sitting on the sofa watching TV one night at home in Indonesia, Pak Yana gets a video call from his daughter. She tells him that he needs to get his Covid-19 booster shot so that he can visit her when her child is born. Irritated and skeptical, Pak Yana fumbles the phone into his wife Bu Iroh's hands in exchange for the TV remote.
Bu Iroh is determined to see her grandchild and to get her husband to stop believing every WhatsApp forward over factual information. Dressed in a red trench coat and cap with a giant magnifying glass in hand, she takes her husband around town listening to people's false ideas about the vaccine and debunking them.
This story — from a 22-minute sitcom-style video on YouTube — is one of the tools Mafindo (an acronym for the Indonesian Anti-Slander Society) is using to combat misinformation and elevate media literacy in Indonesia, the world's third-largest democracy.
Mafindo has a core team of nine people, with thousands of volunteers across Indonesia helping conduct trainings, fact-check, and get more members of the public connected with the organization's work.
Mafindo offers lots of resources beyond video that aim to be conversational, relatable, and meet people where they are. Its Facebook group — more on that below — has 98,000 members; on TurnBackHoax.id, Mafindo keeps an archive of all of the debunked misinformation from that group. The organization runs trainings on the real-world dangers of election disinformation and incitement. It's also created a WhatsApp chatbot to check dubious information and a hoax-busting app. It's a Facebook third-party fact-checking partner and received Google News Initiative funding to run a media literacy program.
Indonesia's media environment is complicated. Though independent news outlets are technically free to operate, the country's laws on libel and defamation are vague, putting both journalists and uninformed citizens at risk. Last year, Indonesia's parliament passed legislation that bans "insulting" state institutions, "regulates the criminal act of broadcasting or disseminating false news or notifications," and "regulates criminal acts against anyone who broadcasts news that is uncertain, exaggerated, or incomplete." The United Nations has warned that the law could suppress free speech and silence dissent, and Human Rights Watch called it "an unmitigated disaster for human rights in Indonesia."
In 2022, 68% of Indonesians said they primarily got their news from social media, and only 39% said they trust the news media overall. In the country's 2019 presidential election, nearly half of the false information shared about candidates originated on Facebook, the BBC found.
These laws make the stakes for sharing misinformation, even accidentally, incredibly high. (In 2019, Mafindo ran several fact-checking workshops for Indonesian housewives after a few women were arrested for sharing fake news.) They also don't address the root problems, like platform algorithms that boost false content because it's engaging, said Harry Sufehmi, Mafindo's founder. Instead, they punish people who aren't digitally savvy.
Most "hoax spreaders are not criminals," Sufehmi said in an email. "They are actually victims. Don't put them in jail, instead rehabilitate them, and make a better effort to educate the public. Target the hoax actors instead, especially their sponsors. Follow the money."
That's why Mafindo's focus is on citizens. One of the group's key tenets is that the spread of false information is a societal problem, not something that can be fixed top-down by government. At a World Health Organization event in 2021, Mafindo board member Santi Indra Astuti outlined the organization's overarching belief that solutions to misinformation should "avoid government intervention as much as possible." (Mafindo has partnered with the Indonesian government's Covid-19 task force on fact-checking initiatives, but it doesn't accept government funding.)
Mafindo was borne out of a misinformation-debunking Facebook group that Sufehmi created in 2014. After seeing family members and friends argue over the false information they were sharing about that year's presidential election, he wanted to do something to help. The group, whose title translates to the Anti Defamation, Incitement, and Hoax Forum, grew by tens of thousands of members in its first two years, which led Sufehmi to found Mafindo as grassroots organization in 2016.
Eight years into this work, Mafindo is going into the next presidential election in 2024, along with its current programs, focused on pre-bunking, meaning encouraging users to think critically about the information they're receiving and consuming, especially before they share it.
"With debunking, it's like the house is already on fire and we are doing the firefighting," Sufehmi said. "But with pre-bunking, we are hoping to be able to actually prevent the fires."
Mafindo's goal is to be fair, neutral, and empathetic in its work and with its community, according to its code of ethics. That principle was reinforced in 2020, at the beginning of the Covid-19 pandemic. During that time, Astuti said, Mafindo was equipped with frameworks and tools to debunk misinformation — but facts were not enough.
"People didn't want to listen to us when we [just] warned them about misinformation," Astuti told me in an email.
Instead, Mafindo representatives worked with communities to help meet their most immediate needs.
"We joined forces with [people] to collect donations, food, meals, medicine, and anything that could make them help them and suffer less," Astuti recalled. "During these activities, windows of opportunity to talk about misinformation suddenly appeared. It was during a casual conversation in an informal setting, people would listen to us again."
Working with communities in crisis on their most immediate needs also builds trust in Mafindo's other work, the organization has found. People need basic supplies before they need fact-checks. But, Astuti said, "Without immersing in everyday life, I think we'll lose opportunities to listen and to feel people's emotions, perceptions, and why such perceptions did exist."
MAFINDO BOARD MEMBER SANTI INDRA ASTUTI, RIGHT, LEADING AN INTERACTIVE WORKSHOP AT A WORLD HEALTH ORGANIZATION FORUM IN MARCH. PHOTO COURTESY OF MAFINDO.
Published in NeimanLab. You can read the original article  .
If you liked what you just read and want more of Our Brew, subscribe to get notified. Just enter your email below.