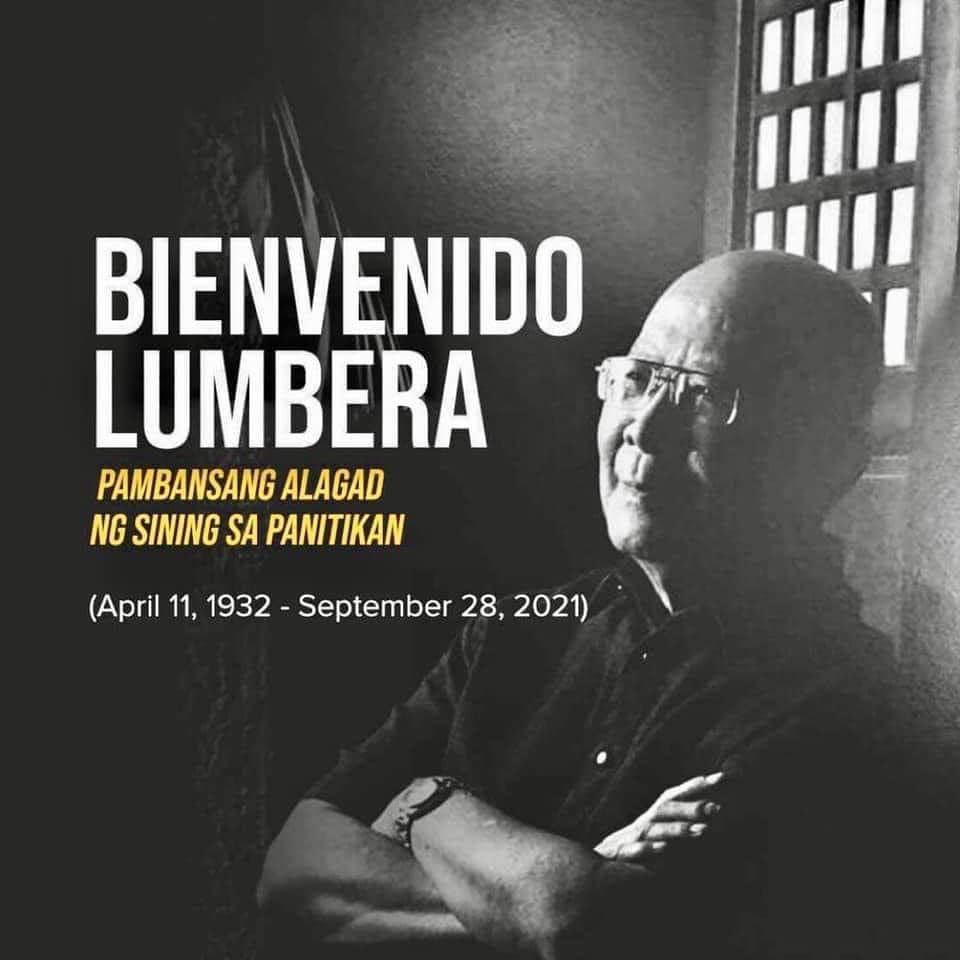 By Marne Kilates
Bienvenido Lumbera, National Artist for Literature, and longtime professor at the University of the Philippines in Diliman, has died due to complications of a stroke and his weakened condition due to the pandemic. He was 89. Lumbera was born in Lipa, Batangas on April 11, 1932. He received his Litt.B and M.A. from the University of Santo Tomas and his doctorate in Comparatiove Literature at Indiana University. Together with his fellow Ateneo professor and later also National Artist, Rolando Tinio, Bien made a decision to write his literary output solely in the National Language, Filipino.
Apart from the Order of National Artist, Bien's other honors are the Ramon Magsaysay Award for Journalism, Literature, and Creative Communications, and the Don Carlos Palanca Memorial Award. Lumbera is survived by his wife, Cynthia Nograles Lumbera (Shayne).
DR. Bien, or simply Bien to his friends and colleagues, his old and young admirers, has been a longtime mentor and friend to many writers, especially among the 'socially committed'. He is a literary historian and critic, scholar, author of fine textbooks on Philippine literature, a poet, and playwright, and librettist for the popular and musical stage. His most popular creation was "Tales of the Manuvu," a ballet and pop musical featuring Kuh Ledesma and the Philippine Ballet
Theater.  His other librettos for musical theater were for "Rama Hari" and "Noli Me Tangere." Bien was named to the Order of National Artist (for Literature) in 2006.
Bien is much admired and beloved of students, friends, and colleagues alike, for his ever gentle and imperturbable demeanor even during impassioned debates, whether in the classroom or public forums and writers' workshops. He taught at the Ateneo de Manila University, De La Salle University, and University of the Philippines in Diliman. As editor of the scholarly journal, Diliman Review, Bien was a vocal opponent of Marcos' martial law, and of htose arrested upon its imposition.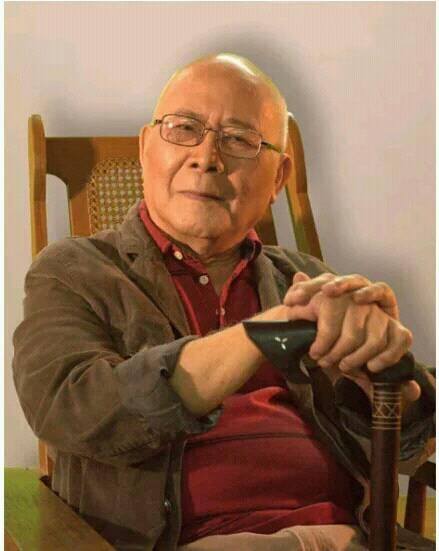 First among the pagpupugay or salutes was from Bien's fellow National Artist and longtime friend Virgilio S. Almario:
BIEN
Paano kita tatawagin?
Guro? Patnubay? Uliran?
Kaibigan, kalahati ng danas ko'y nagunaw
Sa iyong pagpanaw.
Rio Alma
(28 Setyembre 2021)
From author Joel Pablo Salud, former editor-in-chief of Philippines Graphic Magazine:
I was once asked to submit a paper on the debate about 'art for art's sake' and 'committed writing' to a panel of authors at the Philippine Center of International PEN in 2012. National Artist Bien Lumbera sat as one of the members of the panel. The paper, "Neither Slaves to Lesser Gods: Revisiting Erudition and Enchantment" (included in my book, 'Blood Republic') discussed the different views of S.P. Lopez and Jose Garcia Villa on the matter. After my presentation, Bien approached me and requested for a copy of my paper. This is very good, he said. "I want my personal copy." I gave him the only hard copy I brought with me, thanking him for taking notice. He folded the paper gently and tucked it in his shirt pocket like it was some precious material he will do everything to protect. I went home thrilled at the thought that a National Artist had taken interest in what I have to say on the subject. Since then, I took no notice of whatever dwindling confidence I had and went about my life writing--to hell what other people say. We've met on several occasions after that, my most memorable being the one-on-one interview I had with Bien on Joma Sison and the protest literature of Amado V. Hernandez. Thank you for the courage, sir Bien. Rest now, sir.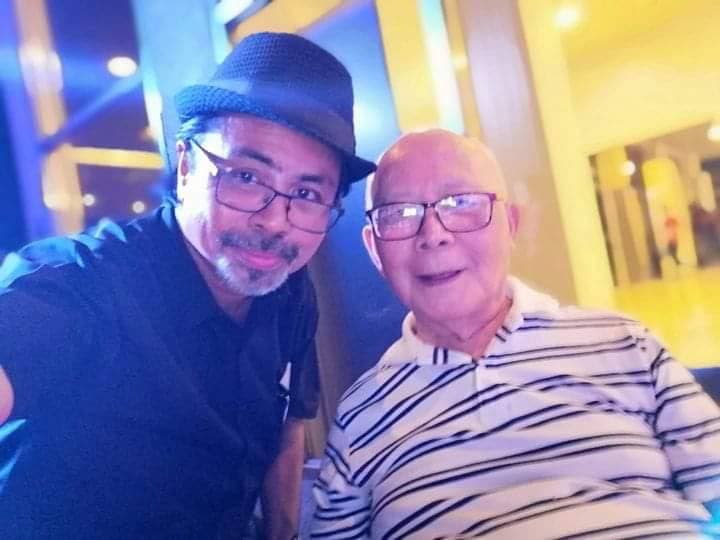 Poet Marne Kilates posted a sample of his translations of Bien's poetry:
MGA KULAY NG LUMBAY/THE COLORS OF SADNESS
(Translations by Marne Kilates)
Himala
Dumadaluyong ang mga salita
Inaanod ako sa daloy ng wika.
May isinasampa sa pampang ng dila,
Lunday na may lulang babasaging tula.
Laot ng hiwaga'y tila walang hanggan,
Karatig ng langit ang tubig na bughaw.
Sa aking ulunan, halos abot-kamay
Ang sutlang bandila ng isang balangaw.
Subalit, ay, aba, ang kristal na tula,
Tulad ng balangaw, kaydaling mawala.
Malikmata yatang sindupok ng bula,
Kasisilay lamang, mamaya'y gunita.
Halina, hiwaga ng mga salita,
Nais kong malunod sa inyong himala!
Magic
Words are the surge of a tide,
In its swift current I am adrift.
It washes on the shore of the tongue
A dugout bearing a fragile poem.
This sea of mystery is without end:
Blue of water touches blue of sky.
Above I can reach for the rainbow,
A banner fluttering its silken hem.
But, oh, behold the fragile poem,
Like the rainbow how soon it is gone.
Flimsy as froth, it vanishes in a blink,
A memory no sooner than the glimpse.
Come, mystery and magic of words,
Drown me in your wonder.
***
Uyayi ng Yaya
Buhok na kaypino,
Sinlambot ng sutla,
Ang sinusuklyan
Ay alagang bata.
Ang sariling anak
Hindi mapagpala,
May ibang kandungang
Nag-aaruga.
Buhok ng alaga'y
May samyo ng hardin,
Bango ng bulaklak
Na wala sa amin.
Katawang malusog
Ang sarap yakapin,
Ang nilalambing ko
Ay hindi sa akin.
Ang kandong-kandong ko'y
Supling ng mayaman,
Ang buong araw ko'y
Kanyang-kanya lamang.
Sa sariling bunso,
Gusto sanang mag-iwan,
Kapirasong puso,
Tirang pagmamahal.
The Yaya's* Lullaby
Hair so fine,
Soft as silk,
Gently I comb
This yaya'spet.
To my own child
This caring I can't give,
In another bosom,
Mine I had left.
Hair of my ward
The scent of gardens,
Sweetness of flowers
We don't have.
Body so pink,
So nice to embrace,
Ah, it's not mine,
This child I caress.
The one I dandle
Is a child of the rich,
My day, whole
And entire, is hers.
To my own beloved
I would've wanted to leave
A wee bit of my heart,
My leftover love.
​
*Nanny
***
Dalangin para sa Batang Grasa
Sanlagok na tubig
Sansubong kanin,
Kapirasong bubong,
Sambutil na asin.
Apo sa itaas, ito
Ay dukhang dalanging
Namamalimos ng
Kalingang sangkusing.
Sa siyudad na ito
Ng gabing maningning,
Ang tanging kanlunga'y
Sira-sirang dilim,
Nagbitin sa langit
Pangaraping bituin,
Sana may mahulog
Na maigsing himbing.
Gulanit na araw
Susungaw na umaga.
Babangon ang banal,
Magsisipagsimba.
Tatanga sa wala
Ang walang pag-asa.
Apo Diyos sa itaas,
Dungawin mo sana!
Prayer for the Street Urchin
A drink of water,
A handful of rice,
A patch of roof,
A pinch of salt.
Lord above, hear
This beggar's prayer,
Drop me a small
Coin of care.
In this lovely city
Of flickering night,
The unkempt darkness
Is my only bed.
From the sky hang
The stars of my dreams,
Please let fall
A moment's sleep.
From morning's window
The tattered sun peeps,
Then the pious widows
Will rise and flock to church.
Those who hope for nothing,
At nothing will stare,
Lord God above,
Spare me a glimpse!
If you liked what you just read and want more of Our Brew, subscribe to get notified. Just enter your email below.