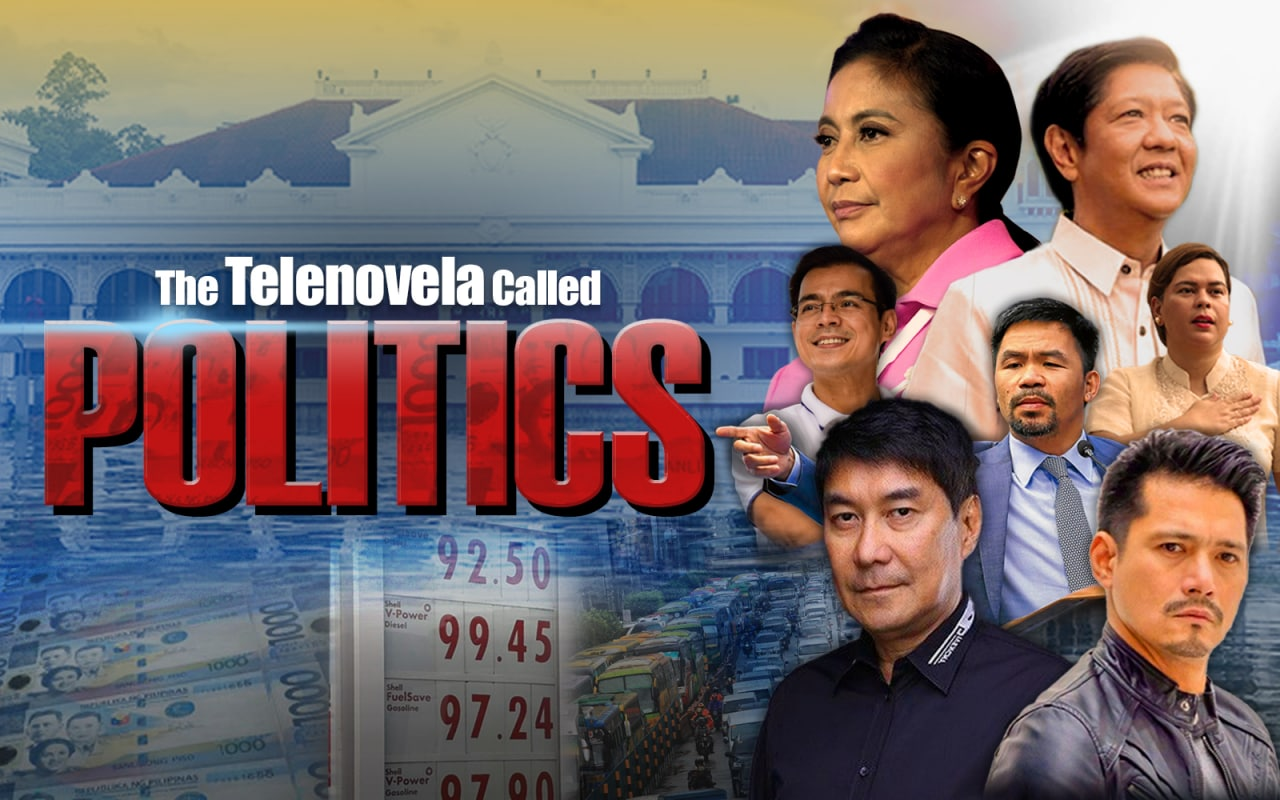 by Vincent R. Pozon
Some years back, in front of the theatres in Greenhills, was an expanse for parking. There were children there who hawk sampaguita so sparsely strung, they were really begging bowls poorly disguised.  That is what they do, beg, and that is who they are, beggars, or "street urchins", a term only the wealthy and hearts that aspire to wealth can use so liberally. They are managed, these kids. Ensconced in a corner, seated on an island was an old woman who appeared to be shepherd or, if they were hawking flesh, their pimp.
Being poor in this country is an experience difficult to impart. If you grew up rich, if you were fed three meals and two meriendas a day, never had salabat or Pepsi as viand, you will not understand poor. A well developed empathetic gland might allow you to see it the eyes of the street children, when you see them looking at you, eager, spring in their legs, to jut out the open palm, for crumbs or a coin, eyes darting to see what's within reach inside your car.
When the poor lie at night, and the worry is stronger than sleep, they stare at ceilings needing patching and paint, feeling the hunger, and, worse, knowing that the children lying beside them feel the same coldness in their bellies.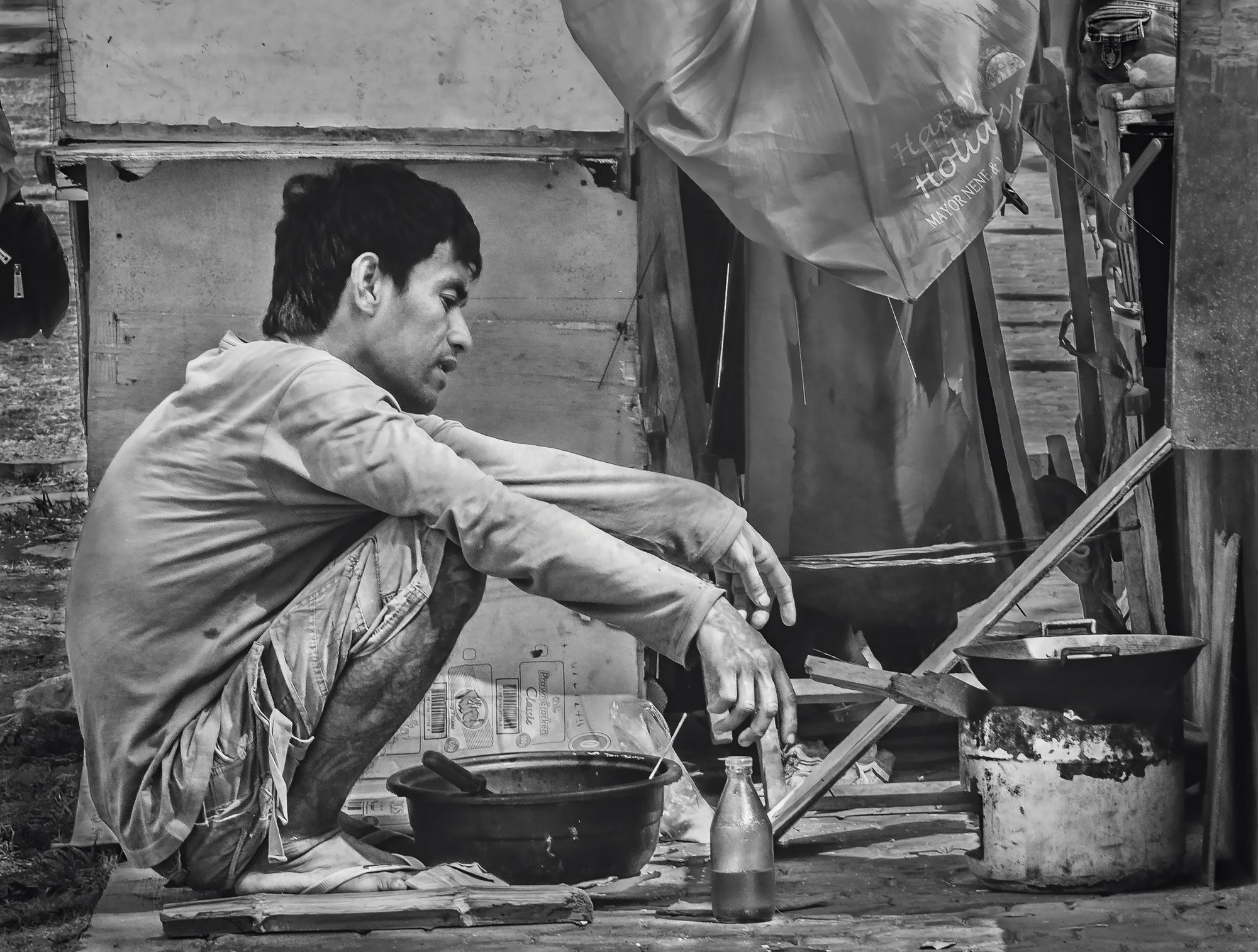 Their present poverty is more palpable, and the troubles of the future draw nigh. According to the latest national survey of SWS, 48% of Filipino families rate themselves Mahirap or Poor, 31% believe that they are Borderline Poor. For a total of 79%.
Only 21% consider themselves fortunate or Not Poor.
The times they were hungry were made many: "12.2% of Filipino families, or an estimated 3.1 million, experienced involuntary hunger – being hungry and not having anything to eat".
A good third of adult Filipinos -- 34% believe that their quality of life has worsened.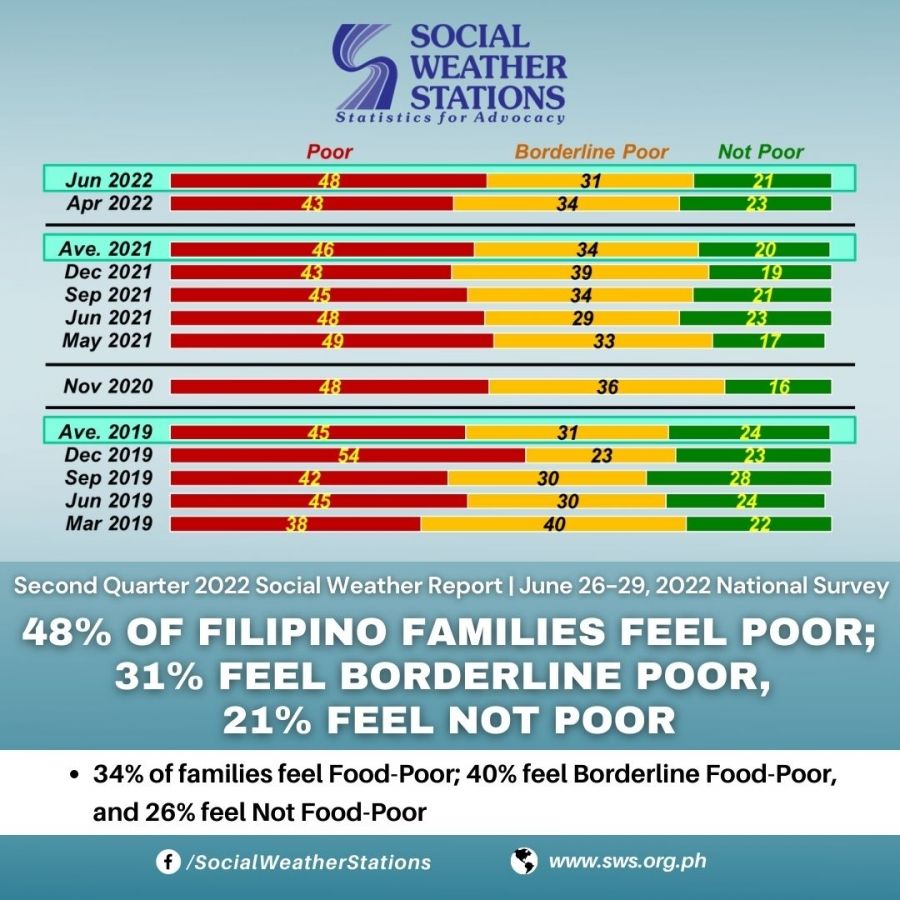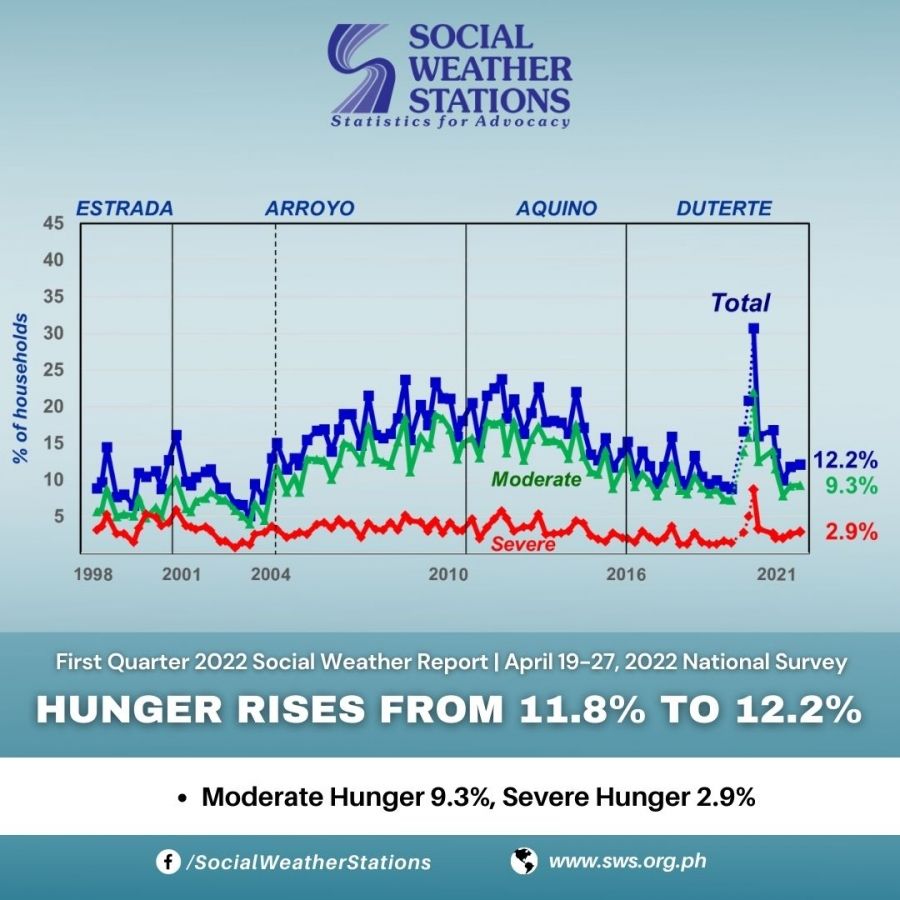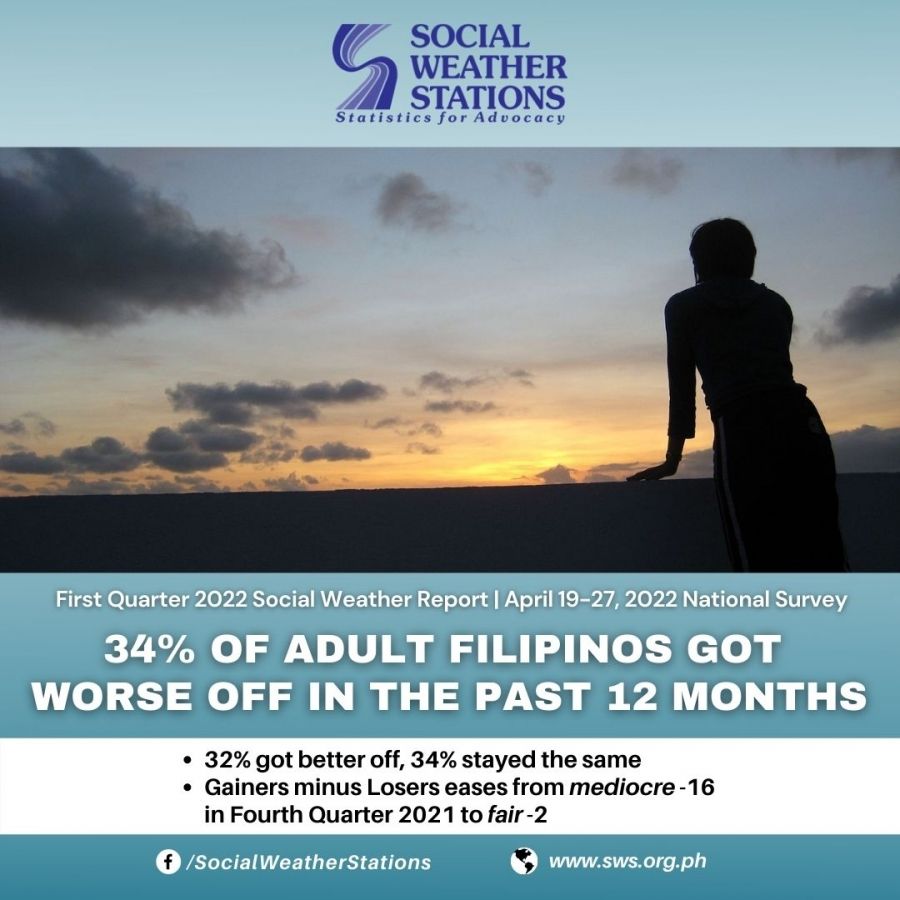 You would expect that the many who bemoan their condition and regard themselves poor would want to better their lot, to, at least, elect better leaders, carp perhaps, demonstrate in the streets.
And this is what has the opposition flummoxed. If the people are poor, hungry and angry, why are there no hordes with torches and pitchforks outside the gates of government?
While Duterte did not ride a jetski on stolen seas and plant a flag on rocks that rise and submerge, while he failed to stop the drug problem in six months, as promised, or corruption, his ratings did not plummet. His trust and approval ratings are unmatched. He ended his term even higher than when last measured.
The man is loved, and loved exceedingly.
Scratching their heads, opposition leaders do either of two things: blame the voter, point to his lack of political maturity (whatever that means), or suspect the surveys.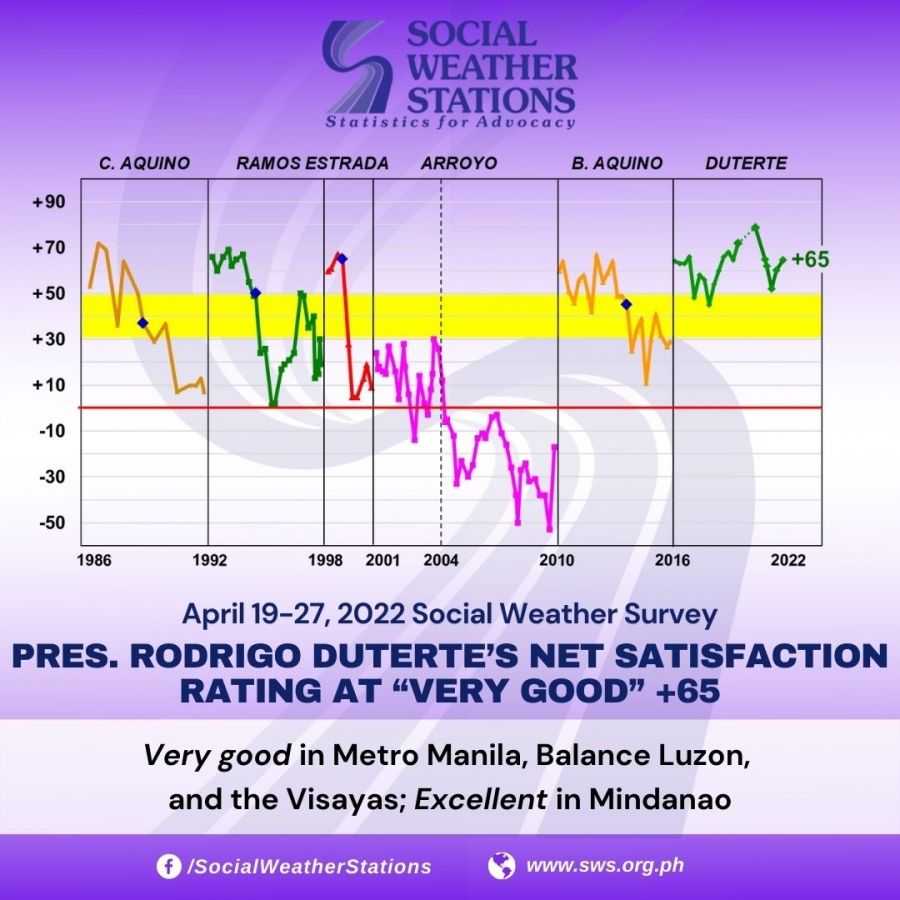 But didn't Duterte fail to fulfill major promises?
"Duterte's ambitious dream was to end the drug problem within the first three to six months of his term. From 2016 to May 2022, law enforcement agencies conducted a total of 239,218 drug operations that resulted in the arrest of 345,216 drug suspects, while 6,252 people were killed. .. He later admitted he was wrong in thinking that the drug problem can be eradicated with his timeline." so wrote Third Anne Peralta-Malonzo of Sunstar.
"Duterte also vowed to end corruption in the government within the first six months of his term... It did not happen."
"During the campaign period in 2016, Duterte said, 'the moment I assume the presidency, contractualization will stop'. However, in 2019, Duterte vetoed the Security of Tenure Bill, which sought to end the labor contracting scheme."
Ed Lingao, respected journalist, wondered on television whether the voter expects fulfillment of campaign promises. Hindi ba naniningil ang botante?
Does performance matter? Is love blind?
Surveys say that many believe the economy will improve. But then we always do hope. Historically, with every change of government, and at every end of the year, we are hopeful.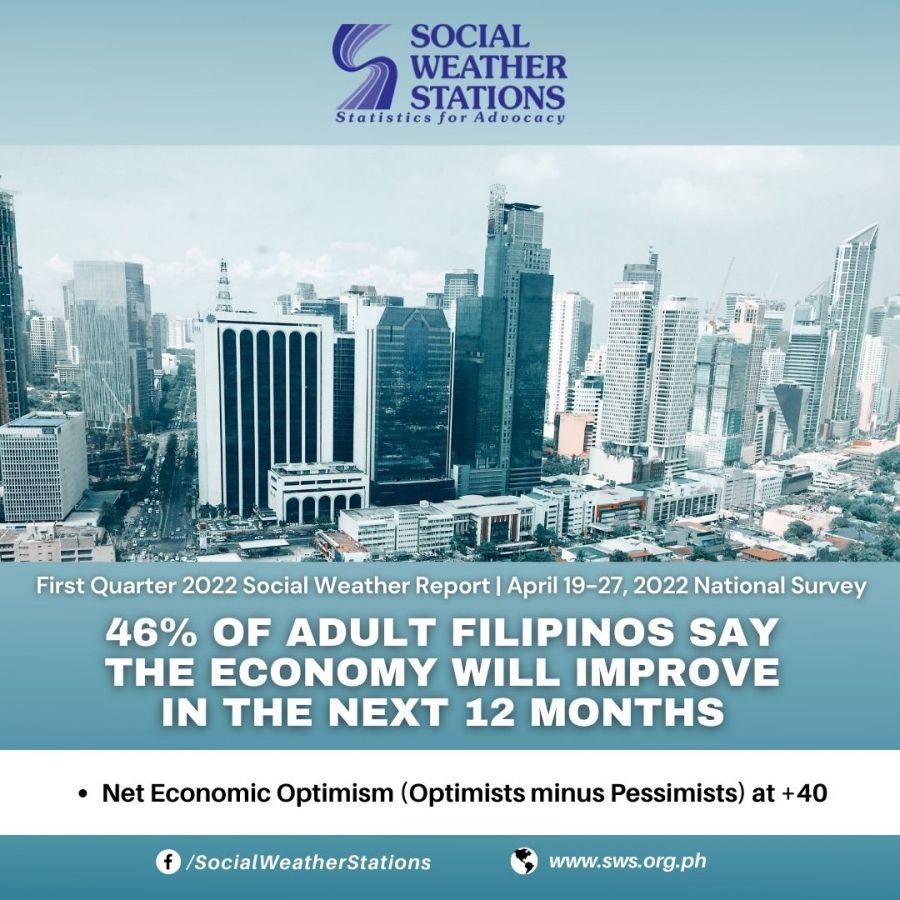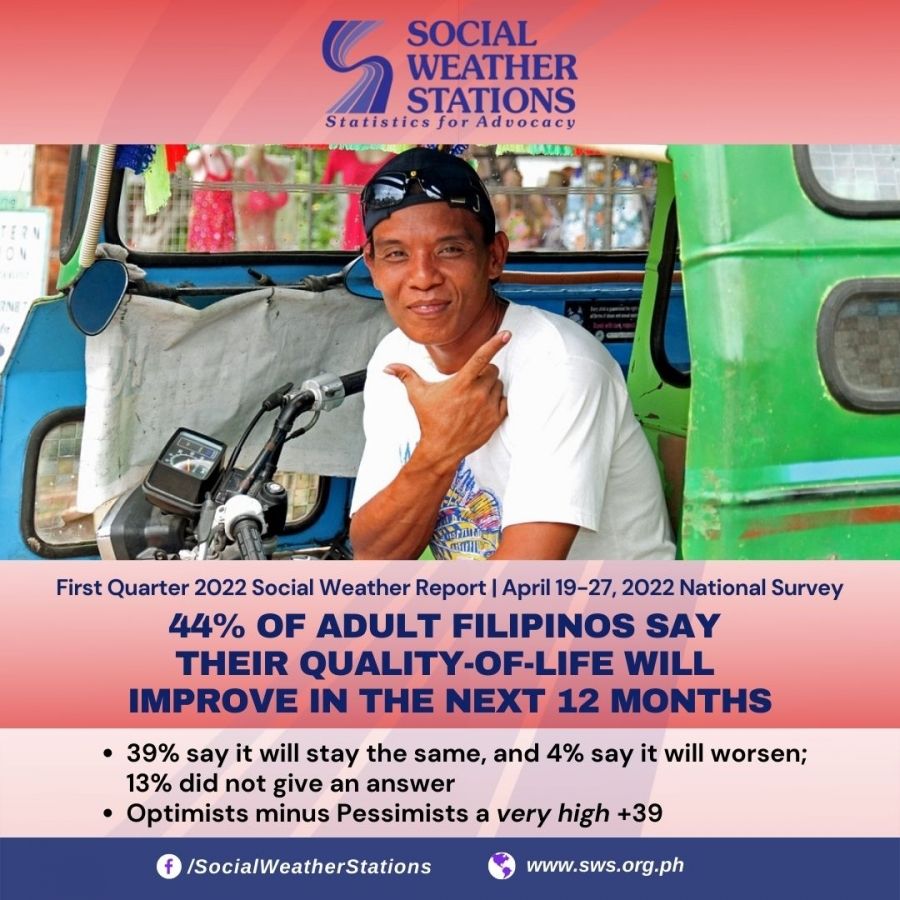 Our optimism is calibrated to paltry
We suspect that whatever optimism the Filipino harbors in his heart is twiddled to lowest, his expectations but knee-high. Singapore was a small, impoverished country with no natural resources that managed to become a tiger economy. It is often proffered as a viable template for developing countries. The Filipino will think it more plausible to become a caregiver there and send money home. To expect our governments to 'do a Singapore'... Why, we can't even keep our airports out of lists of 'worst airports'.
Why do people hope despite an absence of tangible change in the conditions that could have allowed an improvement in their lives? The answer, we believe, is in our resignation. We depend on our resilience, not on government fixing what needs fixing. And so we can smile.
Bahala na ang Diyos. Patay kung patay. We are happy because we accept our lot. To quote Tim Rice's translation of Matthew 26:11, "there will be poor always pathetically struggling, look at the good things you've got".
Politics is a telenovela, only with real blood
We are watching a soap opera and we are invested in the actors and actresses playing their parts, so much so that we will march for them, do battle for them. We ourselves are in the cast, with placards and posts, tweets and comments, presence in rallies. When a politician's arm rests on our shoulders, the vote is assured, support is given, as is the further acceptance of life as a telenovela and our roles in it.
And so this is life in the Philippines, Stressed Pearl of the Orient
"'The Philippines is the most stressed, second angriest, saddest country in Southeast Asia in 2021", according to a report conducted by global analytic firm Gallup. The Gallup Global Emotions Report measures 'the world's emotional temperature' through extensive surveys and studies that discover the 'emotional states of people in more than 100 countries and areas.' The results of the report were derived from surveys done in 2021 up to early 2022." - Khriscielle Yalao, Manila Bulletin.
The poor wouldn't know any better
Not ever having seen better days, not knowing how better days could even look like, they will say, as they have been saying all their lives, ipinanganak na mahirap, mamamatay na mahirap.
Kaya laro na lang, basta cute si Sandro, basta pag-aralin at ipadala ang mga anak sa ibang bansa, oks na.
The slaughter and the deprivation of decades do not matter. We will forgive. It is all a telenovela.
The games held in Rome's Colosseum were designed to keep "the people of Rome content and to prevent uprisings", so explained Steven Fife in the World History Encyclopedia. "These blood sports are ways of keeping citizens and communities aligned as well as making examples of transgressors through violence and entertainment."
"President Ferdinand and First Lady Imelda Marcos appealed to the public like media celebrities. Carmen Nakpil, a former Senior Aide of Imelda, revealed that 'Filipino masses were convinced that it (Ferdinand and Imelda Marcos) was a love team. It was part of their political persona, together helping each other, together helping the country. It was very effective. It was like a soap opera", wrote Elmina Rayah Dizon Maniago, in her paper, 'Communication Variables Favoring Celebrity Candidates in Becoming Politicians: A Case Study of the 1998 and 2004 Elections in the Philippines'.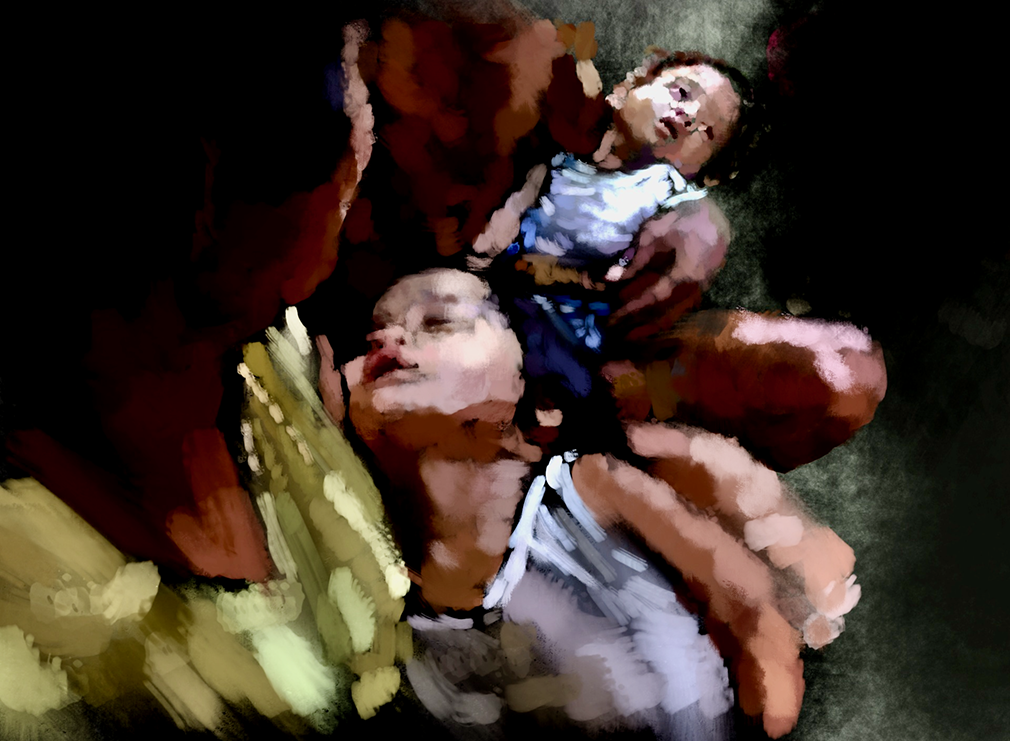 /Vincent Pozon
It wasn't always like this
Perhaps for the first time in a long while, the People Power Revolution triggered true hope that we could upend the old, decrepit order. We saw the world applauding us and expecting more than mere recovery for the Sick Man of Asia. It actually felt as if the good-intentioned could run for office without funding. The failure of governments post-EDSA -- failure relative to the size of the expectation – prevents us from hoping that large again.
And so we have learned to moderate our expectations. That is why anyone sufficiently familiar and funded can be allowed into government by the voter. The guy who dances Budots trumps names who can pass a meticulous inspection of character and qualifications. It is not that we are a people who cannot distinguish actor from role, Bong Revilla from Agimat ng Agila, Lito Lapid from Leon Guerrero. Since government matters little, since it cannot help assuage the hunger at night, then, yes, let us be entertained. The poor do not see rising from poverty as anywhere near possible, basta may ayuda, yes. Basta may 4Ps. Basta may puwet ng puting matanda sa ibang bansa na pupunasan ni nanay, at makapagpapadala siya ng pera, oks na.
The opposition has yet to understand that the communications objective is never hardsell, never about facts and figures, never about corruption, Pharmally, Customs, or even about hunger, or murders in the deep of the night. If the Filipino allows the unallowable, that comes from a larger disenchantment with governments. He is prevented from even considering helping fix government for he will need obscene amounts of money to do so.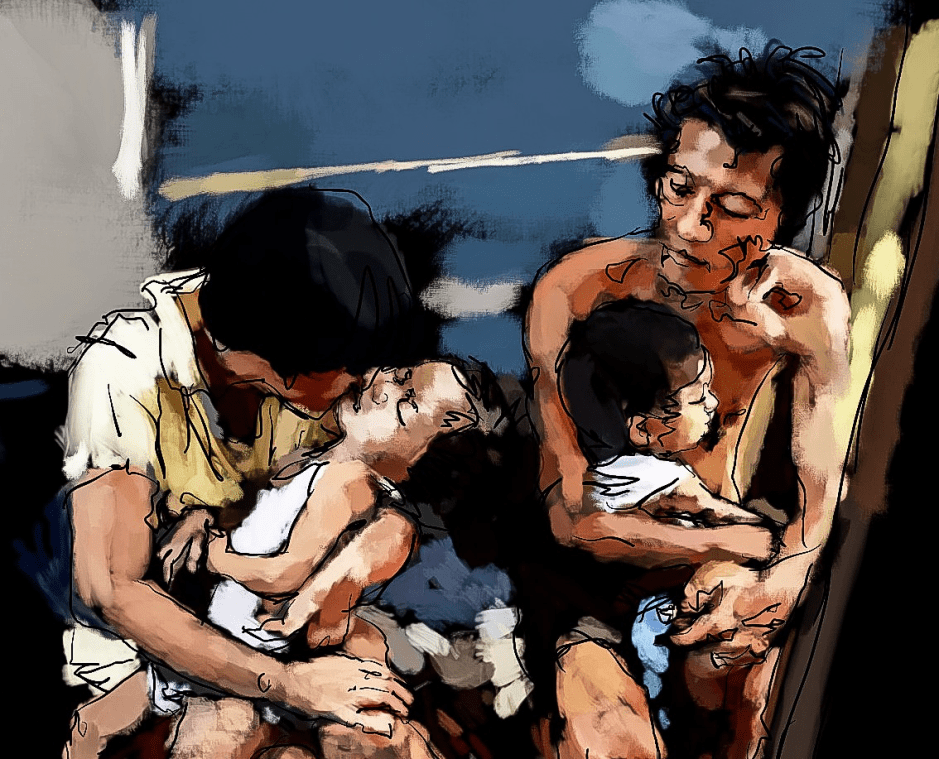 /Vincent Pozon
Communications?
Yes, it is communications. "If the battlefield is in the mind, it is a war we can win". The task at hand is how to bring back trust and reliance in government, how to associate whatever legislators, assuming good intentions, are debating and hunkering down on with the prospect of lower hunger statistics, less times staring at ceilings with cold stomachs. The people will need to believe -- not in issues, not in a color – but in a cast and cause they can defend, in people who can present the viability of dreaming large again.
Two years ago, a mother was asked on television whether her fresh graduate could stay to help the country. She humphed, pag-aaralin mo, tapos dito lang magtratrabaho? Our task is to make personal sacrifice, investing in the country, acceptable, reasonable, a viable deal, because the government's promise of better days is something one can take to the bank.
Absent that faith-restoring force and phalanx, well, the hungry are happy and hopeful, no need to trouble deaf heaven. Crackers and coins for the urchins will suffice.
Let the games begin.
---
After a year of college, Koyang entered advertising, and there he stayed for half a century, in various agencies, multinational and local. He is known for aberrant strategic successes (e.g., Clusivol's 'Bawal Magkasakit', Promil's 'The Gifted Child', RiteMED's 'May RiteMED ba nito?"). He is chairman of Estima, an ad agency dedicated to helping local industrialists, causes and candidates. He is co-founder and counselor for advertising, public relations, and crisis management of Caucus, Inc., a multi-discipline consultancy firm. He can be reached through vpozon@me.com.
If you liked what you just read and want more of Our Brew, subscribe to get notified. Just enter your email below.