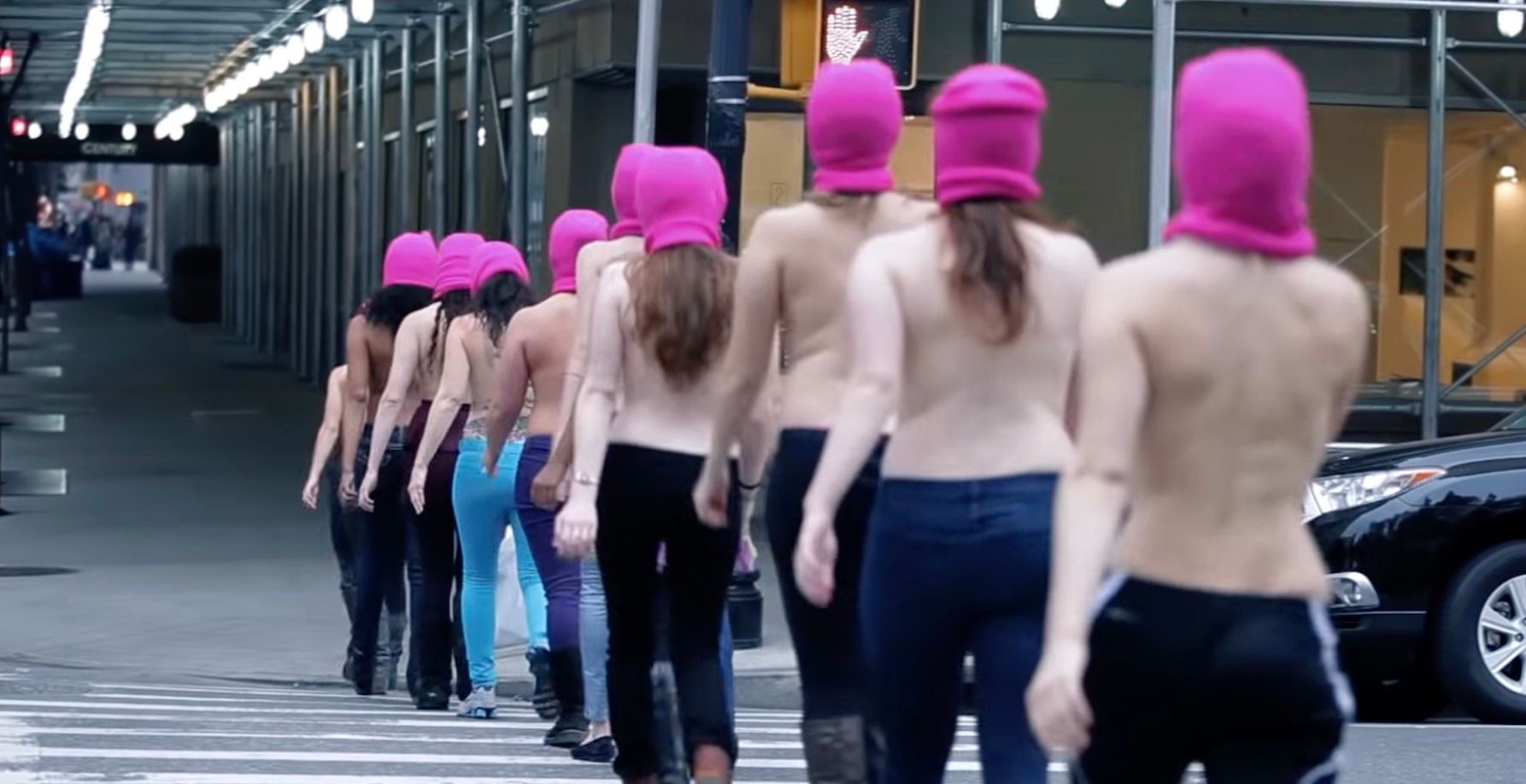 Meta's independent oversight board has done a u-turn on adult nudity policy, now recommending the company drop its nipple ban and censorship of female bodies which impede freedom of expression
by Lauren Richards
Is the sight of a woman's bare breast more offensive than hate speech?
No? Well, according to many social media platforms' current content policies, it is, because posts exposing female nipples are still censored, whereas hate speech is often not.
This may, however, be about to change, as after over a decade since the "Free the Nipple" campaign began in 2012, Meta's Oversight Board has recommended Facebook and Instagram's strict adult nudity policies be overturned, allowing women to expose their bodies in the same ways as men are free to do in online posts.
In a statement released earlier this week, the advisory board stated that the platforms' female nipple censorship obstructs freedom of expression for women, trans, and gender non-binary people.
They now recommend Meta reworks its nudity policy "so that all people are treated in a manner consistent with international human rights standards, without discrimination on the basis of sex or gender."
The board behind the ruling is made up of 40 members from a diverse range of cultural and professional backgrounds, who together oversee Meta's content decisions and help determine which posts to take down, and which to leave up.
The board are able to take independent action on specific cases where users have appealed censorship or reported harmful content, with the mission of maintaining a safe online environment whilst also "ensuring respect for free expression, through independent judgement."
This is the first time the board has recommended such a u-turn in the company's nudity policy, and comes after they recently overturned one of Meta's content decisions in taking down two posts which it deemed violated its Adult Nudity and Sexual Activity Community Standards.
Today the Board overturned Meta's original decisions to remove 2 posts depicting transgender and non-binary people with bare chests.

The Board recommends Meta change its rules on adult nudity and sexual activity so that they are governed by international human rights standards.

— Oversight Board (@OversightBoard) January 17, 2023
Meta's flawed policies
The content that sparked the overhaul was posted on Instagram by a couple who identify as transgender and non-binary, and featured images of the couple "bare-chested with the nipples covered," accompanied by captions that discussed transgender healthcare and gender-affirming surgery.
The posts were flagged by Meta's Artificial Intelligence (AI) systems for breaching the platform's nudity policy, and were also reported as inappropriate by other users, after which both posts were removed by Meta for their exposure of breasts.
The oversight board reviewed this specific case after receiving an appeal from the accused users, and found that "removing these posts is not in line with Meta's Community Standards, values or human rights responsibilities."
The couple's posts have since been reinstated by Meta, who stated it "welcomes the board's decision in this case," and that the company is "constantly evolving [its] policies to help make [its] platforms safer for everyone."
But in investigating the circumstances aurrounding the removal of these posts, the oversight board also found that this case highlights "fundamental issues with Meta's policies."
"This policy is based on a binary view of gender and a distinction between male and female bodies," states the board.
They go on to highlight how these flawed policies are causing widespread confusion for both users and moderators over which kinds of posts of womens nipples should be deemed as sexually solicitous, and which are simply just a natural expression of human freedom.
"The lack of clarity inherent in this policy creates uncertainty for users and reviewers, and makes it unworkable in practice," says the board, explaining that it forces discriminatory and subjective decisions to be made, disproportionately affecting members of the LGBTQI+ community.
In the past, any kind of female nipple exposure on Facebook and Instagram was prohibited. However, as time has passed and perspectives have evolved, content policies have progressed somewhat, with exceptions now being made for posts with maternal context such as breastfeeding or childbirth, health and medical contexts such as surgery and breast cancer awareness, and also in the context of activism or protest.
But despite these efforts to distinguish nude posts of acceptable and unacceptable context, the board went on to express how these exceptions are "convoluted and poorly defined," and that the existing policies still result in "greater barriers to expression."
In light of these findings, Meta's content advisory board are now directly calling on the company to "change its approach to managing nudity on its platforms;" a significant step forward in raising awareness for online equality, human rights and freedom of expression.
Hopefully this means we're one step closer to "freeing the nipple" across social media, but we will have to wait and see what kind of changes Meta chooses to make, as they have 60 days to respond accordingly.
"Free the Nipple" – the movement that started it all
No doubt you've heard the words "Free the Nipple" spoken many times, both in reference to the feminist campaign and in casual conversation – the phrase has been nothing less than fully integrated into popular feminist language.
Free the nipple, but make it fashion. https://t.co/w4WhxeBHs3

— Vogue Magazine (@voguemagazine) September 21, 2022
Yet, if you begin typing "free the nip…" into YouTube, no suggestions appear in the drop down menu; a disappointing lack of recognition given the importance and popularity of the movement.
If you continue to search regardless, there is in fact an entire documentary created by the founder of the "Free the Nipple" cause, hidden from recommendations, but there on the platform nonetheless.
In 2012, Lina Esco, American actress, producer, director and activist, released the independent film as a satirical commentary, and cinematographic gender equality protest, aiming to open dialogue on the decriminalisation of female toplessness in in popular culture and in public.
The movie – inspired by true events — depicts a fictional army of pink balaclava-wearing women activists protesting censorship hypocrisy across New York City, and soon became a global movement as Esco shared clips of the film accompanied by the hashtag "#FreetheNipple" online.
However, much of the film's footage that was posted across social media, to raise public awareness for the cause and the injustice of female censorship, was taken down by moderators in line with nudity content policies.
But this was not enough to silence Esco's voice, as "Free the Nipple" went on to premiere at Sundance Film Festival after being picked up by New York production company, IFC Films, who describe the picture as "[m]ore than just a movie," explaining:
"Free the Nipple has launched an empowering real-life movement, inspiring women across the globe to take back their bodies."
Since then, the movie and movement have gone from critics choice to global phenomenon with a global following, sparking protests and garnering widespread support from many celebrities such as Miley Cyrus, Cara Delevigne, Lena Dunham, Rihanna and Chrissy Teigen.
FREE THE NIPPLE 💋 #freethenipple http://t.co/if6i4RloPE

— Cara Delevingne (@Caradelevingne) June 25, 2014
Controversy surrounding the cause continues to dominate public discourse, as many women still face disproportionate criticism and unwarranted censorship of their bodies, for what they wear, and for the ways they choose to express themselves in public or online.
Actress Florence Pugh is the latest target of the anti-nipple narrative, after she wore a sheer pink Valentino gown that exposed her nipples on the red carpet of the designer's fashion show last year in Rome.
The actress has faced widespread criticism for her "Free the Nipple" moment ever since, and in an interview with Vogue last week responded to the undue controversy by simply saying:
"I don't want to offend people, but I think my point is: How can my nipples offend you that much?"
Florence Pugh wore a sheer pink @MaisonValentino gown to the brand's couture show in Rome, but internet trolls felt they had the right to comment about her look – or more specifically, her breasts: https://t.co/0ut5hmyvcJ pic.twitter.com/DgPEk6kbrb

— British Vogue (@BritishVogue) July 11, 2022
A question that many more women like Pugh have expressed frustration over, as well as the oppressive societal norms and taboos that still grossly restrict female freedom. Especially given that hate speech and other offenses are, for the most part, allowed to circulate freely online due to miscategorisation under the civil liberty of freedom of speech or expression.
Whether this apparent hypocrisy is a result of misogyny, or in fact just one of the many caveats of using AI to govern online safety, is however unclear.
Facebook's CEO Mark Zuckerberg has previously justified this apparent injustice by explaining that "[i]t's much easier to build an AI system that can detect a nipple than it is to determine what is linguistically hate speech."
As the world and AI evolve, so must the policies that govern them
Another issue in navigating the regulation of female nipple nudity is that of consent, which is difficult to determine even with the benefit of human judgement, and is certainly a significant challenge at scale.
As the online world expands, so does the reach and responsibility bestowed on the AI systems required to govern it – humans simply cannot regulate the internet on this scale without assistance from automation.
As such, in the wake of the ChatGPT storm, the integration, influence and exponential growth of AI, as well as how we can harness its power whilst simultaneously preventing undue harm, has been one of the main talking points at the World Economic Forum (WEF) annual meeting in Davos, Switzerland, this week.
Google's EMEA president, Matt Brittin, explained in an interview on the sidelines of the meeting that the content moderation policies used by tech companies should be viewed as "a set of moving targets," in that they must be continuously reviewed, updated and encouraged to evolve.
The bottom line is that although technology provides us with an infinite capacity to progress, it has its own equally-sized capacity to cause harm, and maintaining the right balance between human judgement and AI systems in content moderation procedures ultimately defines the bounds of our wellbeing online.
Therefore, for the sake of safety and equality on the internet, it's imperative that big companies maintain an open mind and rulebook on the fact that, just as their technologies evolve, so must the dialogue and policy that defines how we navigate their use.
We must work harder to ensure the values upheld by both humans and AI in the virtual world accurately reflect those that we advocate in the real one. If the past few years have taught us anything, it's that the lines between the two are getting blurrier.
It's about time we freed the nipple on social media, as well as on the street, because the only people who should have the power to make decisions about women's bodies and how they choose to express them are those who identify as women themselves.
First published in Impakter. You can read the article here.
---
About the Author
Lauren Richards
Lauren is a research scientist turned writer, currently working as a Journalist at Impakter. As a graduate of Medical Biological Sciences, Lauren's origins in science have taught her to be forever curious, which is reflected in her love for sharing new concepts, perspectives, and ideas. When not reading/writing about science, culture, art, and everything in between, Lauren can most likely be found in a coffee shop.
If you liked what you just read and want more of Our Brew, subscribe to get notified. Just enter your email below.