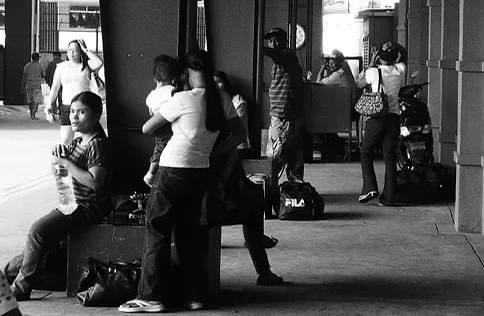 By Marne Kilates
1
Between inhale and exhale
Between exhale and expire
Is the instinct of our being
The instant of our becoming.
It is the pause to kill or regain
Time: It is the future present.
Between the orbit and the obituary
The nebulae and the whirling
Galaxy, the lightyear and the blink:
We put chaos in order.
2
We sit on a piece of luggage
In bus station or park bench
In the eternal interlude between
Departures and destinations―
Between goodbye and greeting
Between exile and homecoming:
The peace and turmoil of waiting.
3
We scan the intent or averted
Faces in bus windows
At the turning of the carousel
The turnstile and revolving doors
It is the cancelled flight or postponement
At the down escalator
Between terminal and junction
We anticipate the flash of
Recognition or regret the blind stare.
4
Oh, waiting is neither fate nor
Faith: It is the bated breath, the sigh
Of exhilaration. It is the all and
In-between that keeps us hanging
9 June 2019; rev. 11 October 2021, 10 August 2022
If you liked what you just read and want more of Our Brew, subscribe to get notified. Just enter your email below.