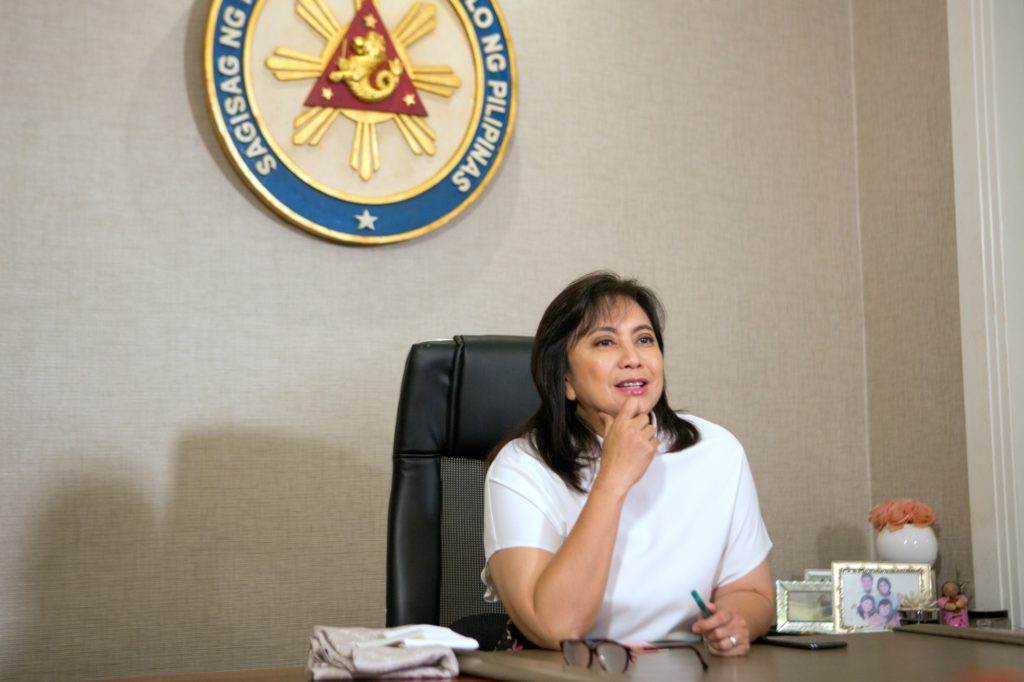 By Carlos Hidalgo
Just for the sake of nothing, let me ask, what do you think is going on in the mind of Vice President Leni Robredo right now?
I'm sure even her most ardent supporters are flummoxed by her continuing reluctance to declare her candidacy. What's holding her back? The feeling across the entire opposition camp, I suppose, is that the more she tarries, the more their chances of winning are fading away. Faster and faster.
Her dream of having a united opposition against the administration is a lost cause, and even she knows that. So what gives?
The election campaign machinery that is backing her – those multisectoral, grassroots groups with supposedly three million members – is a coiled spring waiting to be released. Atat na atat na 'tong mga 'to. But there's nothing from Leni but her reticence.
Lately she hints that she will run if Bongbong Marcos seeks the presidency, a reprise of the 2016 battle but for a much higher stake. But what if BBM runs for VP, with Sara as the standard bearer? At this stage, BBM may be the least of her worries. There's Ping Lacson, and then Manny Pacquiao, and now Yorme, whose campaign seems to be gaining momentum by the day.
And as Ping has said in one of his left and right media interviews, it doesn't exactly look right if you're running for the position just because you don't want another candidate to win.
Besides, let's say she throws her support behind another candidate – Isko or Pacquiao, for instance – do you think the people who are supporting her now will automatically shift their allegiance to whoever she anoints? Highly unlikely. Senator Trillanes is eager to take her place, but I don't think many in the opposition believe that he's good enough for a substitute.
But Trillanes is correct in saying that everyday that she tarries is a disservice to the "real opposition" because they can't even complete a senatorial slate without a standard bearer. They don't even have a campaign manager yet coz they assume that Leni will pick her own. Everyone is just waiting.
And they can't just allow themselves to lose by default.
The way I see it, Leni just doesn't want to run for president. For whatever reason. Perhaps she hasn't recovered from the 2019 wipeout, or she just feels that the enormous responsibilities of the office are simply too much for her.  No doubt she wants to help, to right everything that's wrong with the current dispensation, to rid this society of Duterte and his minions. But in her heart of hearts she probably feels that she can do more in another, less challenging role, like a spiritual leader, an adviser, or a provincial governor – but first and foremost, a mother to her daughters.
But she finds it hard to let so many people down. In one of her most recent interviews, she says she's prepared to face the backlash if she drops out of the race, although that is premised on her insistence that there should be just one opposition candidate.
"Siguradong maraming magtatampo, sasama 'yong loob, pero 'yong para sa akin, ready nga akong i-take 'yon lahat," she is quoted as saying.
The problem is that whoever she gives way to will most likely not be acceptable to her supporters. It's her they want to run. A classic damned if you do, damned if you don't, Catch-22 situation.
The perception is that she's shirking from this great challenge of history. But on the other hand, it takes courage to be true to oneself, to stand by her beliefs, her assessment of her true worth, her value judgment.
On the other hand, if tomorrow or next week, she finally announces that she is running for president, her cobwebbed campaign will spring into action. But what has that long furlough accomplished? Nothing much, except to give her rivals another ammunition, which is her perceived indecision, reluctance, unwillingness, half-heartedness, et cetera, et cetera.
If you liked what you just read and want more of Our Brew, subscribe to get notified. Just enter your email below.