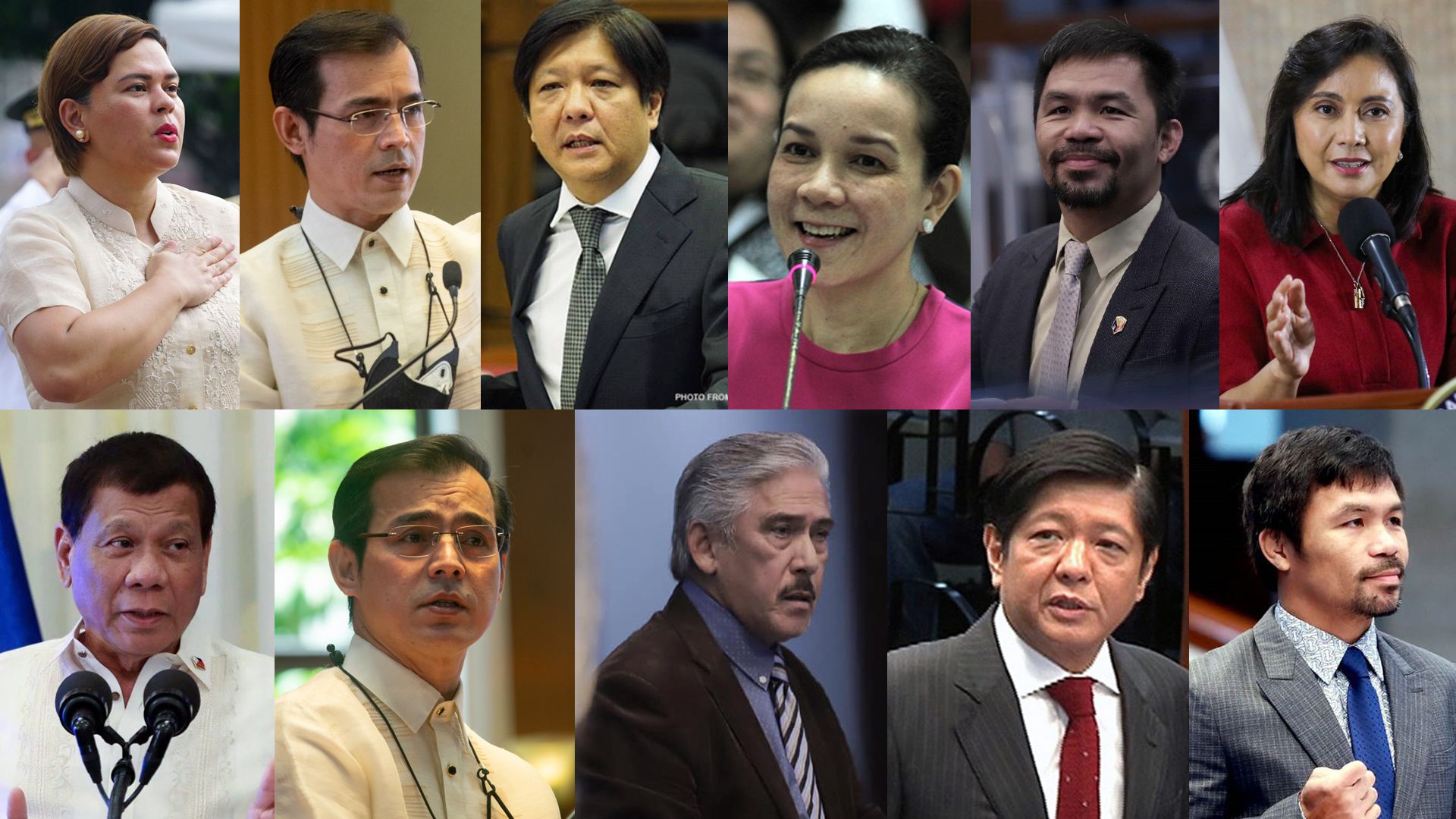 Visayas and Mindanao are key to a Duterte-Duterte victory in 2022. But why are President Duterte's VP numbers surprisingly anemic?
By Joey Salgado
For political partisans, a survey is a crutch or a salve. It is useful only if it validates their biases. Favorable survey results are treated as nothing more than PR fodder - to be liked, shared, or commented on to create an illusory "bandwagon effect." Surprisingly, even seasoned politicians and operators are guilty of misusing research in this manner.
Advertising titan David Ogilvy is credited with this famous line: "We all have a tendency to use research as a drunkard uses a lamppost: for support but not for illumination."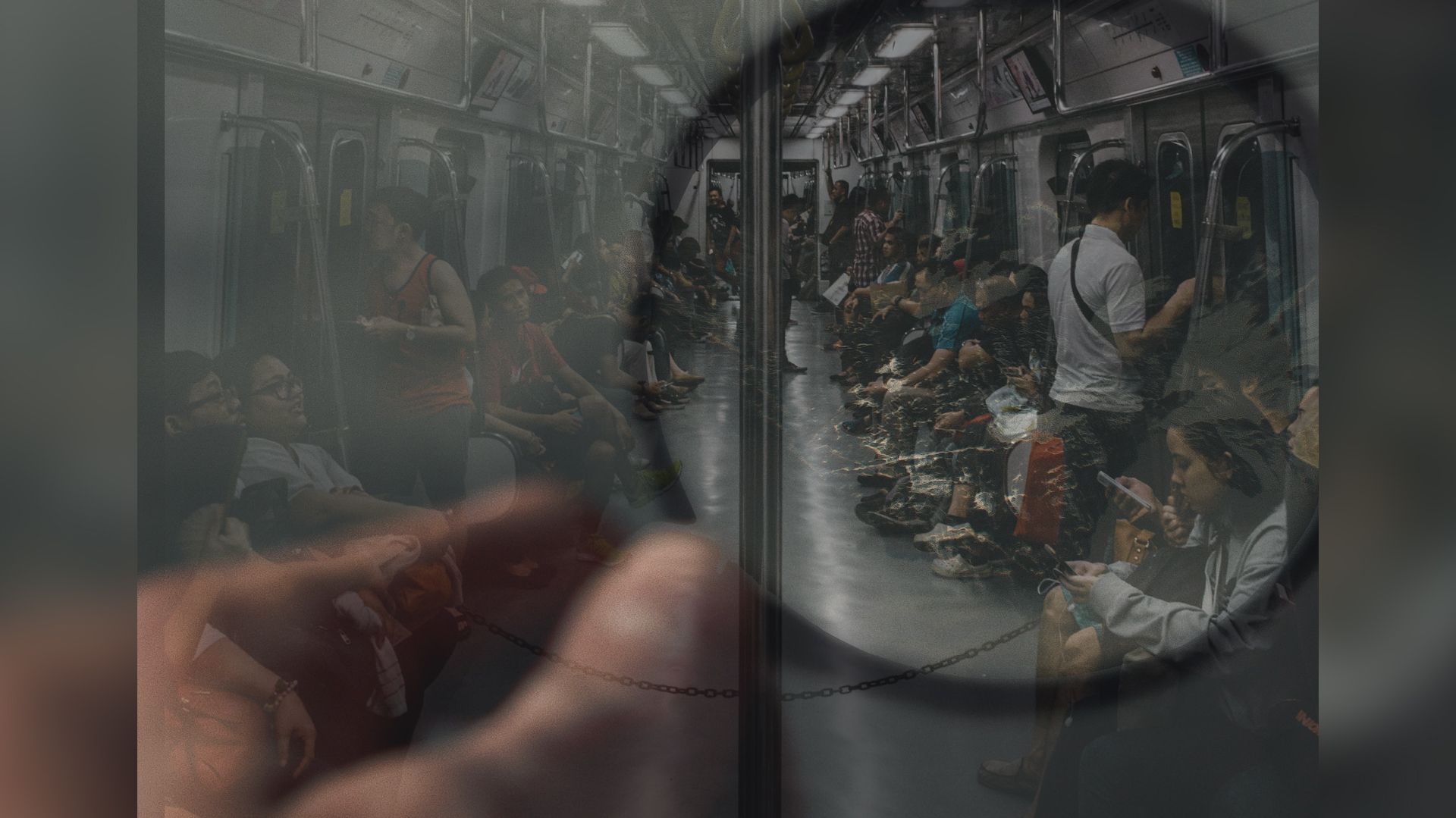 Depending on which side of the political fence you're on, the results of Pulse Asia's second quarter presidential and vice presidential preference survey are either gospel truth or fake news.
But survey results published in media are not helpful tools for winning elections.They only show voter sentiments at the time the survey was taken, which is usually two to three weeks prior to its release to media. Pollsters refer to them as "snapshots." And these sentiments can and will change over time.
The value of research is in the drill-down, the details that provide insights and opportunities. The magic is in how one uses these insights and opportunities. Alas, these details are available only to those who either commission or subscribe to surveys. And the smart ones hold research findings close to their chests.
Still, survey results released to media are enough to form impressions and catch a glimpse of the voters' mood.
What's Happening?
Aside from pandemic-related news stories, three significant political developments were captured during the survey period June 7 to 16:
The opposition coalition 1Sambayan announced its list of nominees for president. These nominees were supposed to go through a selection process to decide which one will be the opposition's sole candidate in 2022. Almost all the names mentioned immediately declined. Vice President Leni Robredo is seen as the frontrunner.
Pulse Asia notes that on the same day, the Vice President called on the opposition to field a single candidate "if it wants to defeat whoever will be endorsed by President Duterte."  The pollster also noted that Robredo supporters "also launched Team Leni Robredo on Independence Day, with the objective of convincing her to run for president in the coming elections."
The fieldwork also captured the worsening rift within the administration party PDP-Laban. A meeting called by the Energy Secretary, who is also the party's vice chairman, passed a resolution urging President Duterte to run for vice president in the 2022 elections. The said meeting was disowned by its acting president, Senator Manny Pacquiao.
Also during the fieldwork period, Davao City Mayor Sara Duterte hit back at Vice President Robredo after the latter commented on the rising number of COVID-19 cases in Davao City.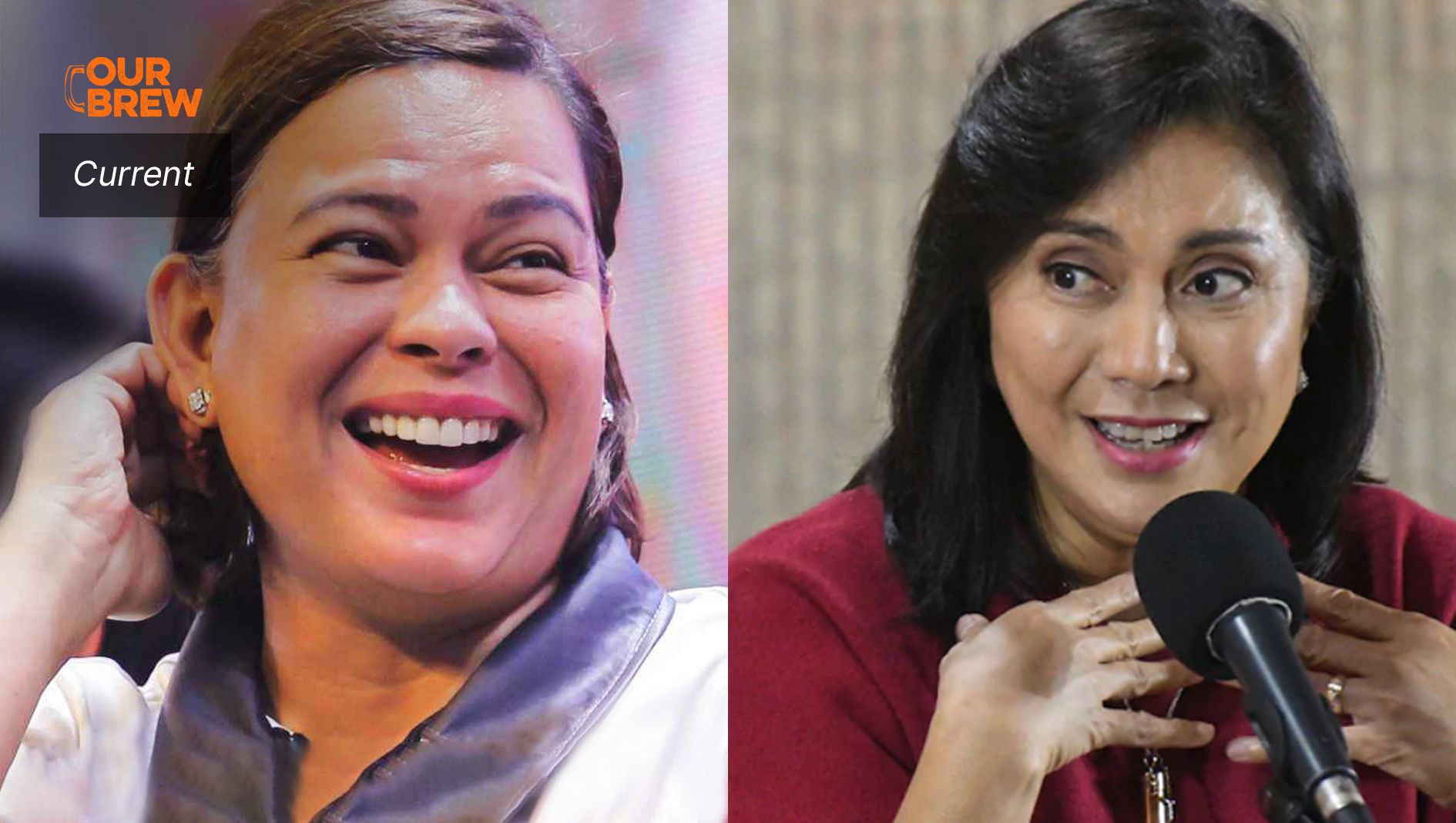 Did these political developments affect the survey results?
Apparently not. The survey showed the numbers moving marginally, or within the margin of error, for all personalities in the list.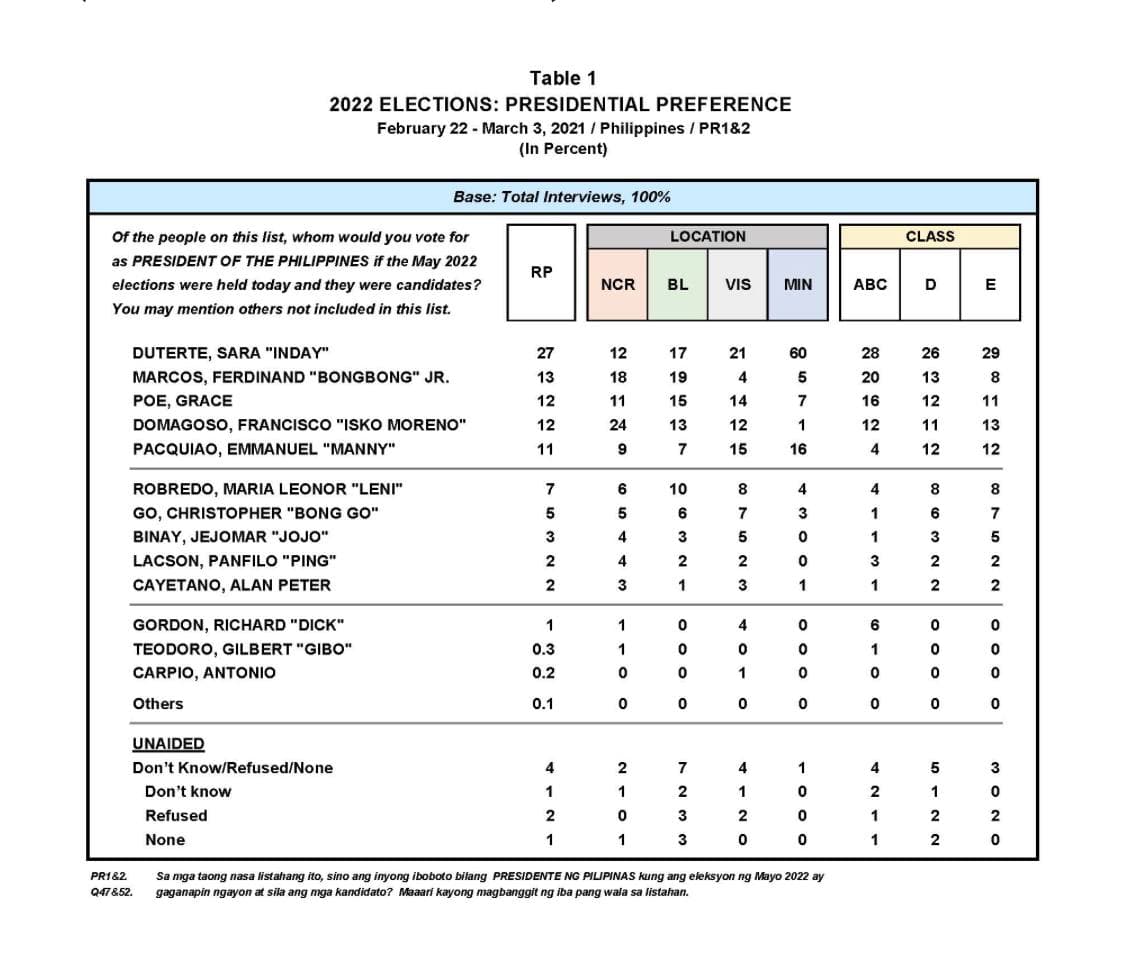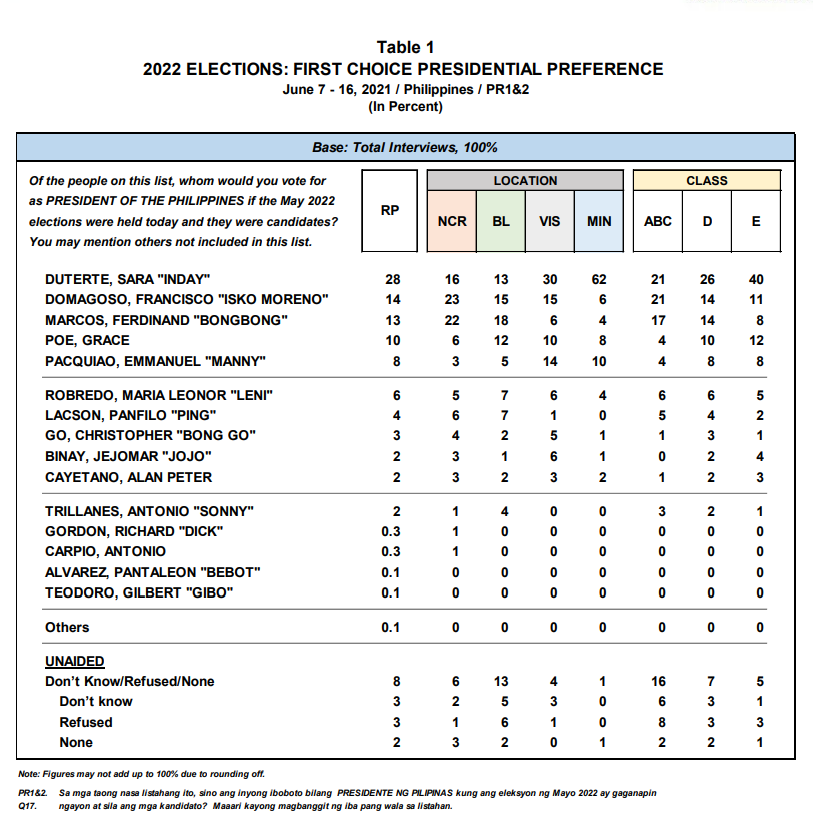 If her handlers expected a bump for Vice President Robredo as a result of the hype surrounding her 1Sambayan nomination, her call for unity, and her slight dig at frontrunner Mayor Duterte, it did not materialize. She remains at sixth place, with six per cent preference.
Capturing The Base
Mayor Duterte remains formidable in Mindanao, which was also her father's bailiwick in 2016.  "A small majority" of Mindanao residents or 62 per cent support the mayor, and so does a "plurality of voters" in the Visayas at 30 per cent.
Visayas and Mindanao are considered Duterte strongholds. The only other name with a considerable following in these two areas is Senator Pacquiao. In Pulse Asia's first quarter survey, the senator was at 15 per cent in the Visayas and 16 per cent in Mindanao. In the latest survey, his support in the Visayas is at 14 per cent, and in Mindanao, 10 per cent.
The boxing champ-turned-senator is clearly a threat to the Duterte base, and this explains the severe beatings he has been receiving from his own partymates and President Duterte himself. These blows are intended to knock Senator Pacquiao out of the race early.
Will One Opposition Bet Clinch the Presidency?
Senator Francis Pangilinan, the Liberal Party (LP) president, offers the view that the survey results validate the importance of fielding a single opposition candidate.
He argues that if all the other names in the list would give way and back a single candidate, their combined numbers are more than enough to defeat the presumed administration bet, Mayor Duterte. Since Vice President Robredo is presumed to be the opposition bet at this point, the conclusion is that the other non-Duterte votes would shift automatically to her.
This view is simplistic, and betrays a shallow understanding of election dynamics.
If such a scenario happens, the votes will not go to the Vice President. According to Pulse Asia, it would even increase votes for Mayor Duterte, who leads the list of "second choice" presidential candidates at 16 per cent.
She is followed by Senator Grace Poe (13 per cent), former Senator Bongbong Marcos (13 per cent), and Senator Pacquiao (12 per cent). Only six per cent of those surveyed prefer Vice President Robredo as their "second choice" candidate.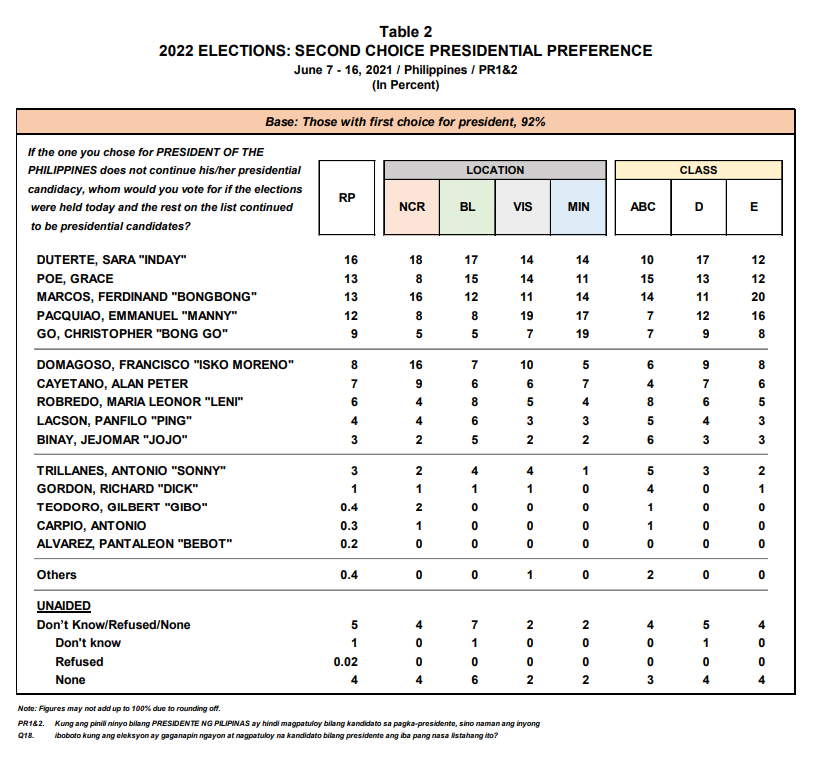 President Duterte's Lackluster Survey Showing
President Duterte enjoys a slim lead of four per cent over Manila Mayor Isko Moreno (18 per cent as against 14 per cent) in the vice presidential race.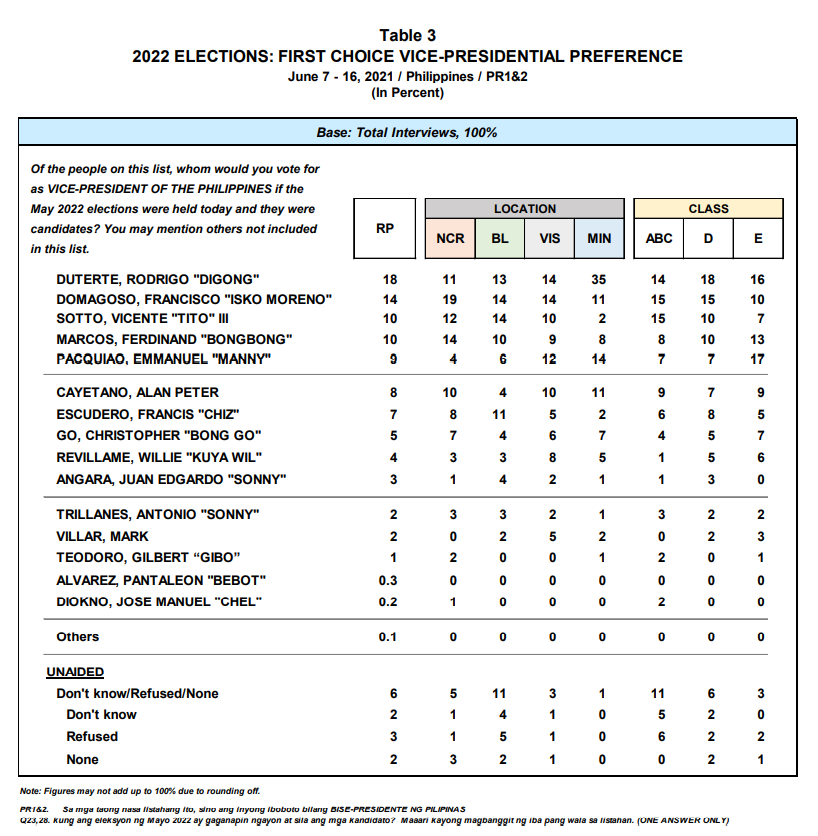 The Mindanao numbers (35 per cent) lifted the President's ranking to the top spot. While considered a plurality, it is disappointing if you consider that his daughter got 62 per cent in their turf.
Senator Pacquiao ranks second at 14 per cent, and Moreno at 11 per cent.
In the Visayas, also regarded as Duterte country, the President is tied with Moreno at 14 per cent each. Senator Pacquiao managed to snatch 12 per cent, Senate President Tito Sotto 10 per cent, Taguig Rep. Allan Cayetano 10 per cent, and former Senator Marcos nine per cent.
For Metro Manila and Balance Luzon, President Duterte ranks third.
For now, the vice presidency does not look like a walk in the park for the President. And whether its the presidency or the vice presidency, Senator Pacquiao is clearly the spoiler.
If you liked what you just read and want more of Our Brew, subscribe to get notified. Just enter your email below.