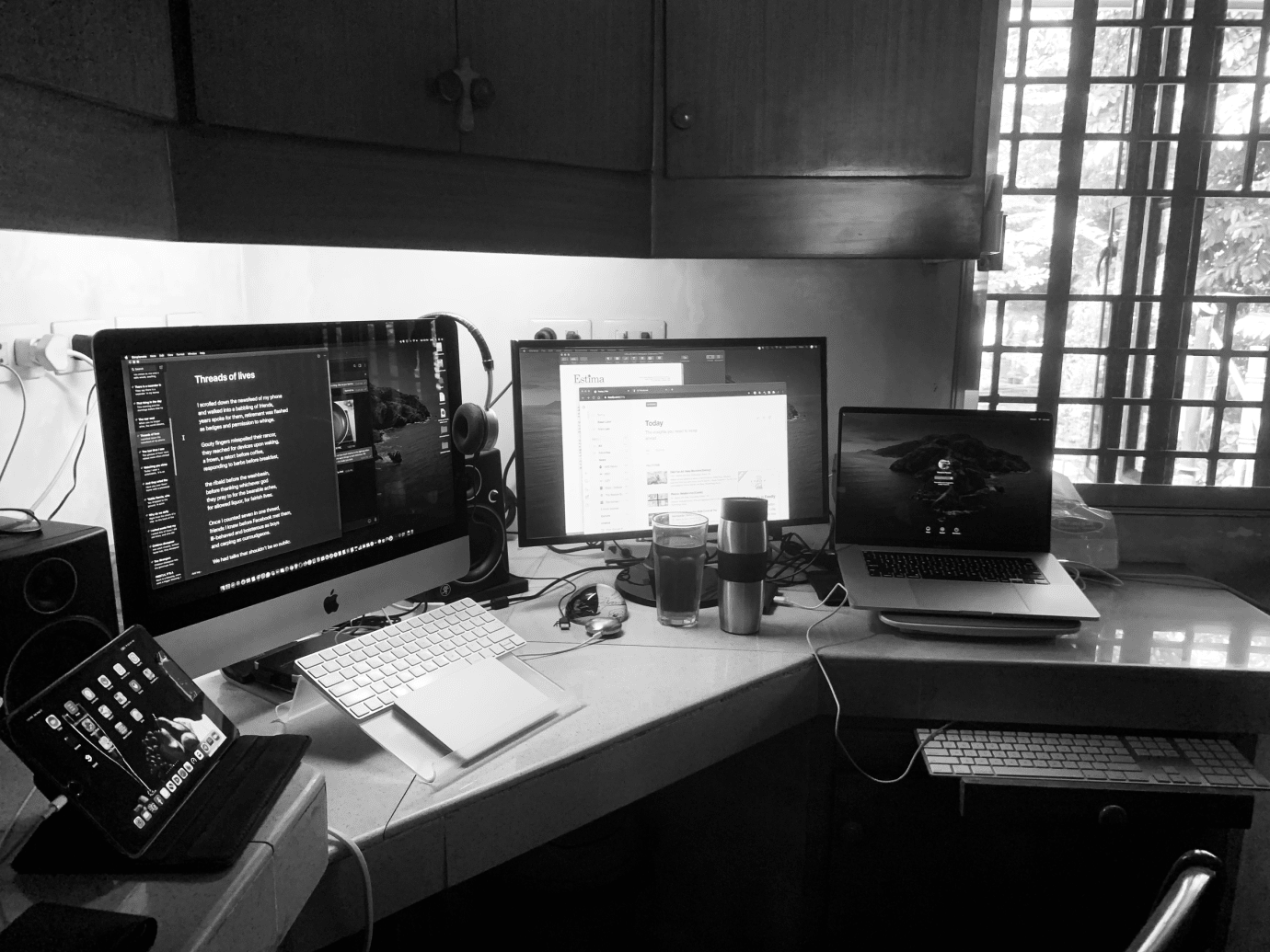 By Vincent R. Pozon
IT TOOK ME A WHILE, more than five months, to wrap my head and heart around the prospect of working from home forever. The uncertainty was paralyzing. Every country was in a tizzy, with their best and their brightest pulling hair and clueless about what the world was up against. While everybody knew it was temporary, it felt endless.
"This morning and the mornings before this,
he sat across me,
at the other end of the breakfast table,
he sat coffeed before me,
he sat as the head of the household would,
and he smiled,
threatening largeness,
threatening to loom and own days
left of life and many.

There is a visitor in the house
and he is Covid."
Before resolution, I confess to having been difficult for the people I live with. I consumed days of sleep, wanting to stay under longer, wanting to delay waking up and seeing this visitor sitting across me at the other end of the breakfast table, coffeed before me, smiling.
For months we were regarding this Covid Climate as a transient storm, the world having a viciously bad mood.  And then it didn't look very temporary.
We simply had to learn to co-exist with the poison in the air.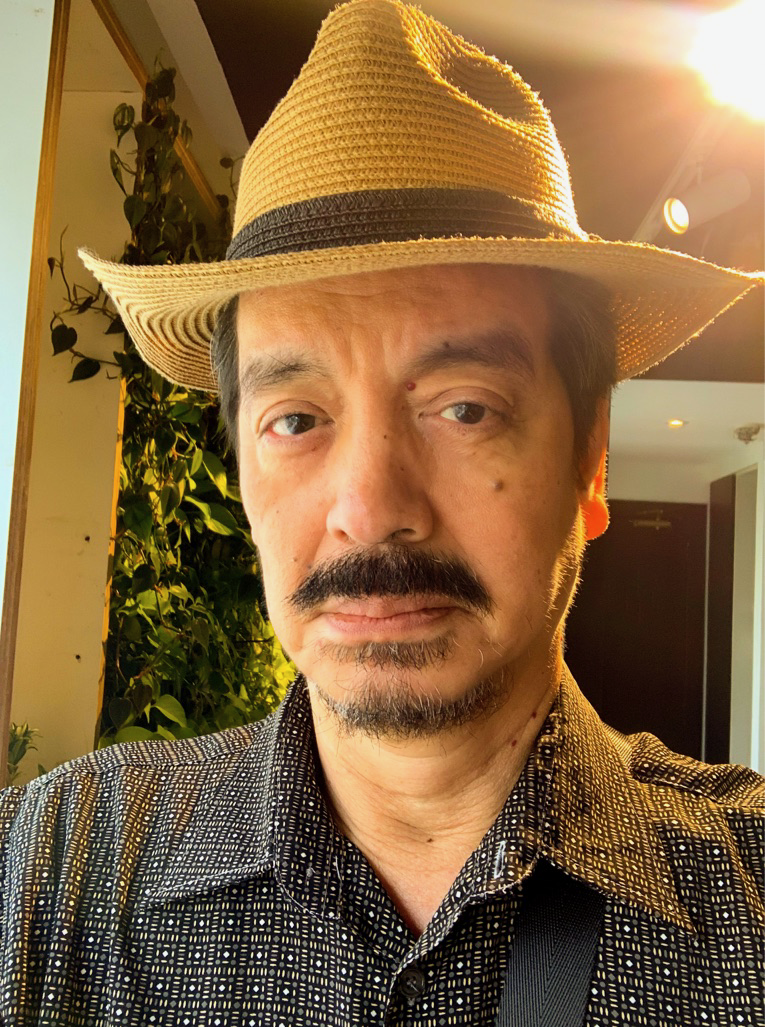 Gethsemane praying, and then poetry.
I prayed like I have never prayed before, unceasingly. So did many. Don Moen had a message and a song almost everyday. I noticed that the country began to stir, people began to move inside their bubbles and started to create with their hands and voices and crafts. Artists, singers, writers were first, driven by the prodding to do something for the country, and they started to do what they do best.
Marne Kilates wrote; Lea Salonga and Gary Valenciano raised millions for Covid-19 charities by singing to us via their cell phones; Director Louie Neri Cabigas finished two movie scripts and was working on his third. Their ebullience was inspiring and encouraging.
I was imagining a country producing a plethora of ideas and actual work that can be of value. Sana makarami ang bayan, I thought. Maybe we will see backyards replanted. Reconciliation with estranged relatives. Someone could come up with a new management philosophy, or invent protective gear for senior citizens for the post-Quarantine Age. Halip na magbangayan, may gawin. Halip pulitika, may produkto ang kamay. Imagine the bounty, the cornucopia of gems and craft and ideas. Imagine the good we will release to the world.
"Halip na magbangayan, may gawin.
Halip pulitika, may produkto ang kamay."
Well, that was a silly thought. That didn't happen. The Filipino is monomanic: politics is occupation and hobby and the moonlighting job of many in the country.
While I still have my day-job, worked on remotely, I thought I'd try to do something else, take up a previous interest. So I began to write poems, now numbering sixty-something.
But is it poetry? In a pandemic, I thought and think the question moot. That I did it helped me cope with Covid; and a fairly large work exists today because of that need.
What you love and care for gives back.
My wife is allergic to dogs, or whatever the allergen is with dogs; she could smell them a house away. So it has been awhile since we had one. Suddenly the house welcomed corgis, thanks to my son, and, lo and behold, her immune system decided to allow the dogs into her life and bubble.
The dogs, being commitments, require effort and care, some expense and understanding.
In return, they have been sources of immeasurable joy.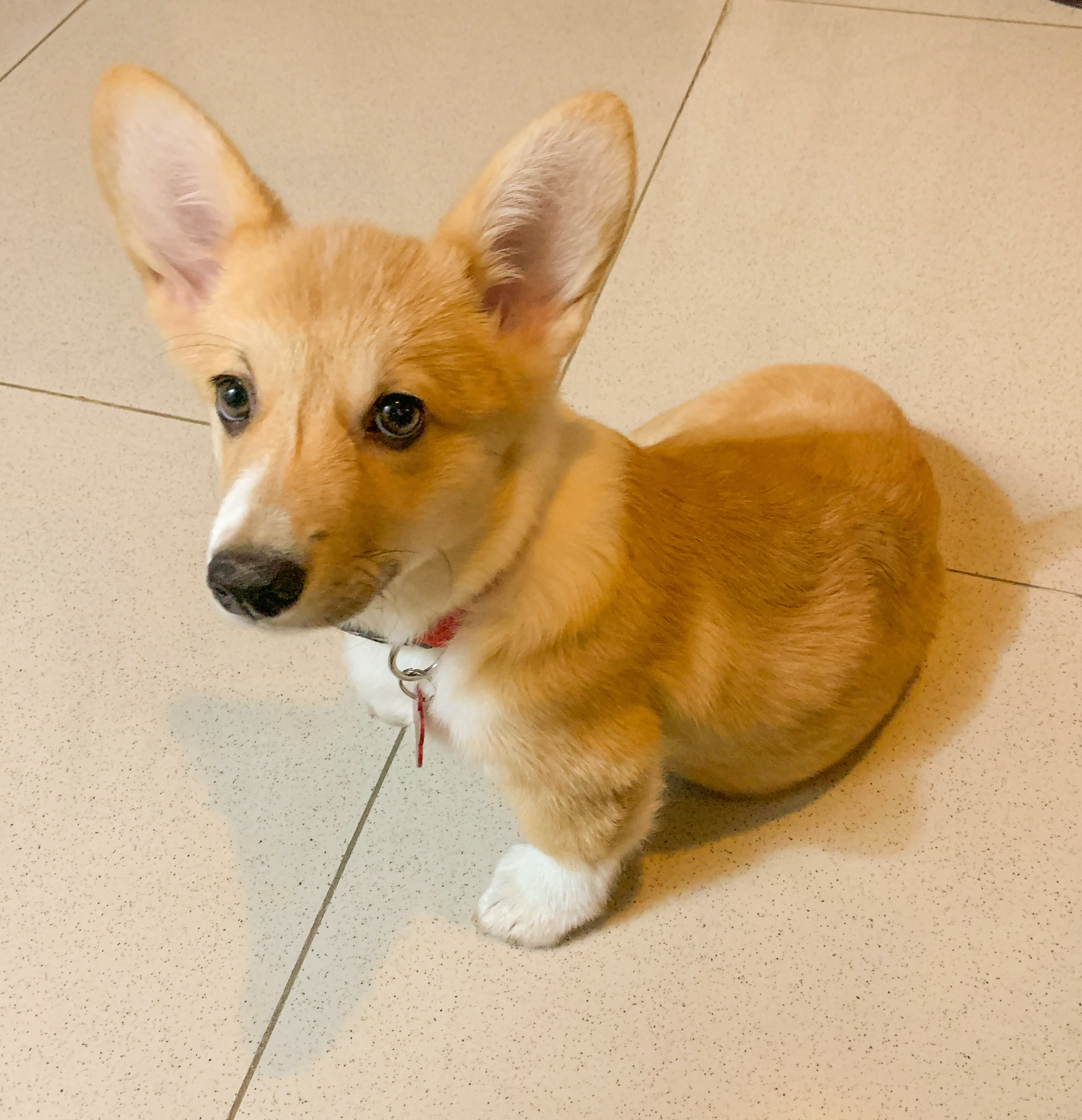 My working conditions are no longer makeshift or thrown together. I no longer work lying down, or dashing something on the tablet while in the tumba-tumba. I had my monitor and iMac and peripherals, speakers and headset, brought in from the office.
Better working conditions make for better work.
In many aspects, these are better working conditions. I no longer have to leave for meetings when my wife is unwell. I no longer have to heave myself into unfruitful days. I can monitor shoots without becoming a wet duck; I can dash from meeting to meeting without getting into traffic, or into a car.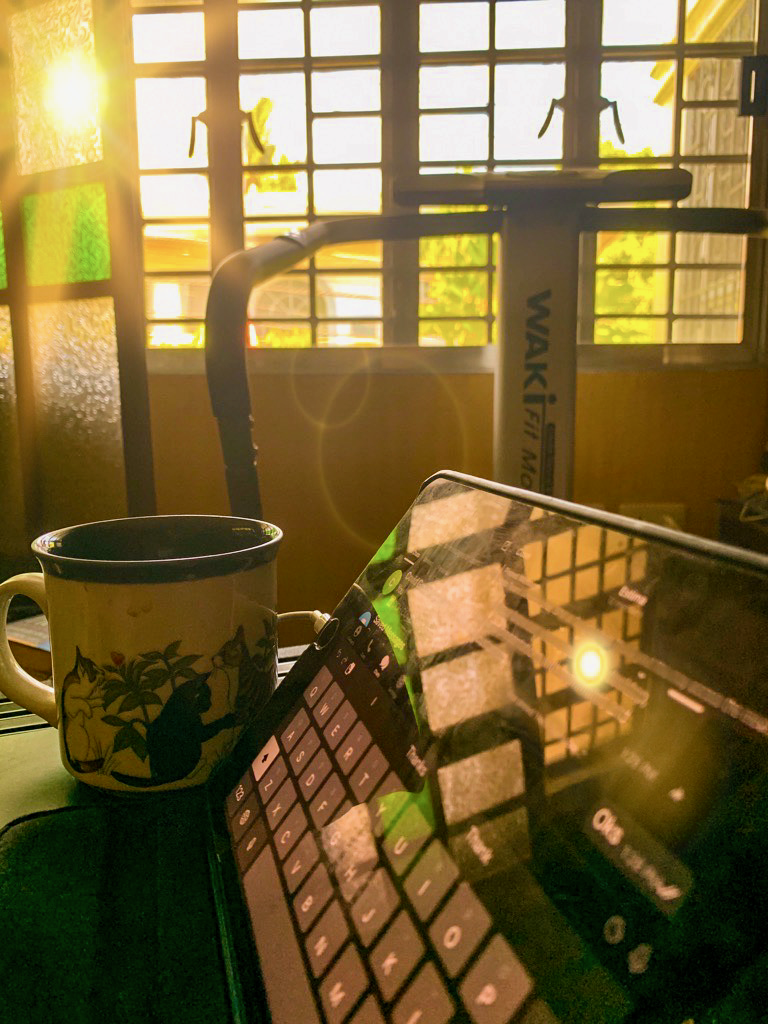 We managed to create two campaigns -- remotely; all in all, we produced thirteen commercials during the first two months of the quarantine. The first campaign, Bahay Muna, Bawal Manghawa, was a pro bono effort, aired on television, radio, LED billboards, and social media, It even had a second component addressed to the young, equipped with an earworm of a jingle. This was made possible by Pico Roberto, Jr. who managed to rally media partners into the effort. Components of the entire campaign were contributions of friends: the jingle, thanks to Kahlil Refuerzo of Wonder Collab Studios, and the soothing voice of Anya Santos-Uy.
The other campaign, Takot Ako sa Covid, involved eight commercials, each with a personality talking to the camera. We had Robin Padilla, Mariel Padilla, Mike Enriquez, Sen. Sonny Angara, Romnick Sarmenta, Almira Muhlach, Dr. Jean Marquez of Dare Clinic, Suzi Entrata-Abrera, and Danielle Karla Eltanal, a radiologic technologist and frontliner dealing with Covid patients daily. We edited and scored and released them in just over a weekend.
Both campaigns were designed, shot, recorded, finished, scored, delivered and aired without our physical presence.
No tug o' war between home and office
The entire office is working without having to go to office, and, we must admit that in many aspects, work is more productive, more efficient. We're no longer spending time in ablutions or traffic -- this business of preparing and getting to and from work, and we're not spending money on lunches.
There is no tug o' war between work and home. The question of work-life balance is an answered question. While writing this, I had Sinatra on the other monitor, and there's rum, on the rocks. And I had just finished looking at advertising copy and a video sent to me on Telegram.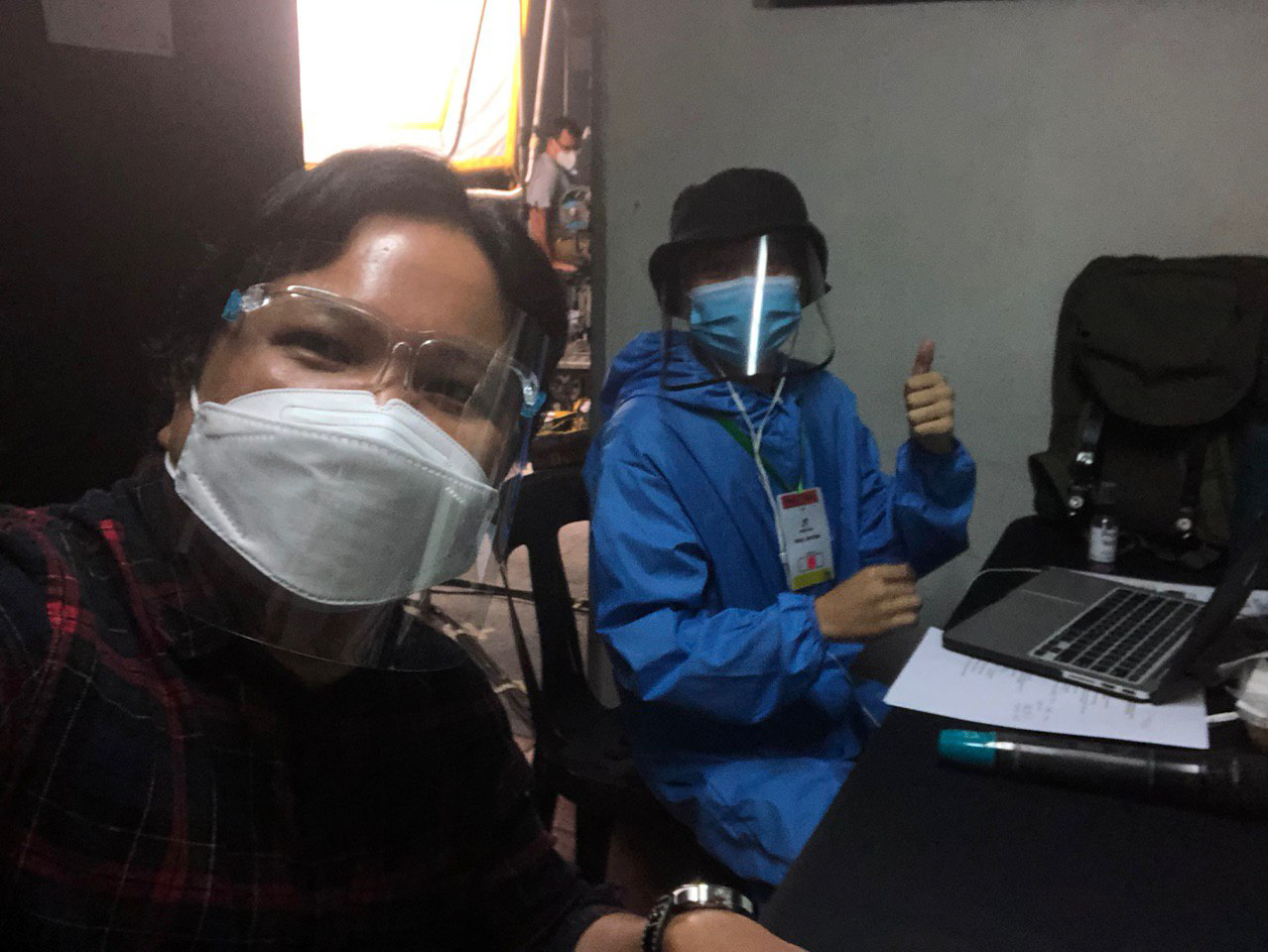 We're meeting each other in shorts (or pyjamas, I suspect), uncombed, un-made up. We presented, planned, preproduced and supervised entire campaigns. Having produced so many, and so early, a distinct and valuable collection of learnings was created.
We are abuzz with whatever we want to do, including pro bono work to help the country handle the pandemic. Busy is a blessing, be that with dogs, loved ones, Covid or commercial work. Even untutored poetry. Upskill or learn a skill -- anything, the point is not to stay at home and mope about not being productive.
The pandemic is no longer the first thing on the mind when the busy wake up. It probably isn't even second. We are not just learning to live with it, we are dancing with the virus now, and doing what we need to do to avoid it; we're starting to fix things, tending to our loved ones, be they family, pets or plants.
I have a former student who started baking during the pandemic and became successful. A production manager of ours took to delivering Korean delicacies during the really dark days last year. A food stylist decided to make face masks on the side, sold them to the US market and did well.
To borrow from BDO -- we find ways. While this may not be forever, I think it's a better perspective than waiting, surlily, for that miracle vaccine to fix the world.
"We expect seasons to end
including this one, the one
with the undetermined length,
the one with the poison in the air.
It is a season needing
no preference in clothing,
We will wait it out, kickstart
old fantasies, paint and plant
and poetry, court the cattleya,
tickle the dancing lady,
collect words and stare at them,
rearrange them again and again,
or we will bake or be middlemen
for the wares of the bakers."
---
If you have a terrific pandemic story, send it to ourbrewphil@gmail.com. Accompany it with the relevant photographs. If it pleases the editors, Our Brew will publish it.
If you liked what you just read and want more of Our Brew, subscribe to get notified. Just enter your email below.